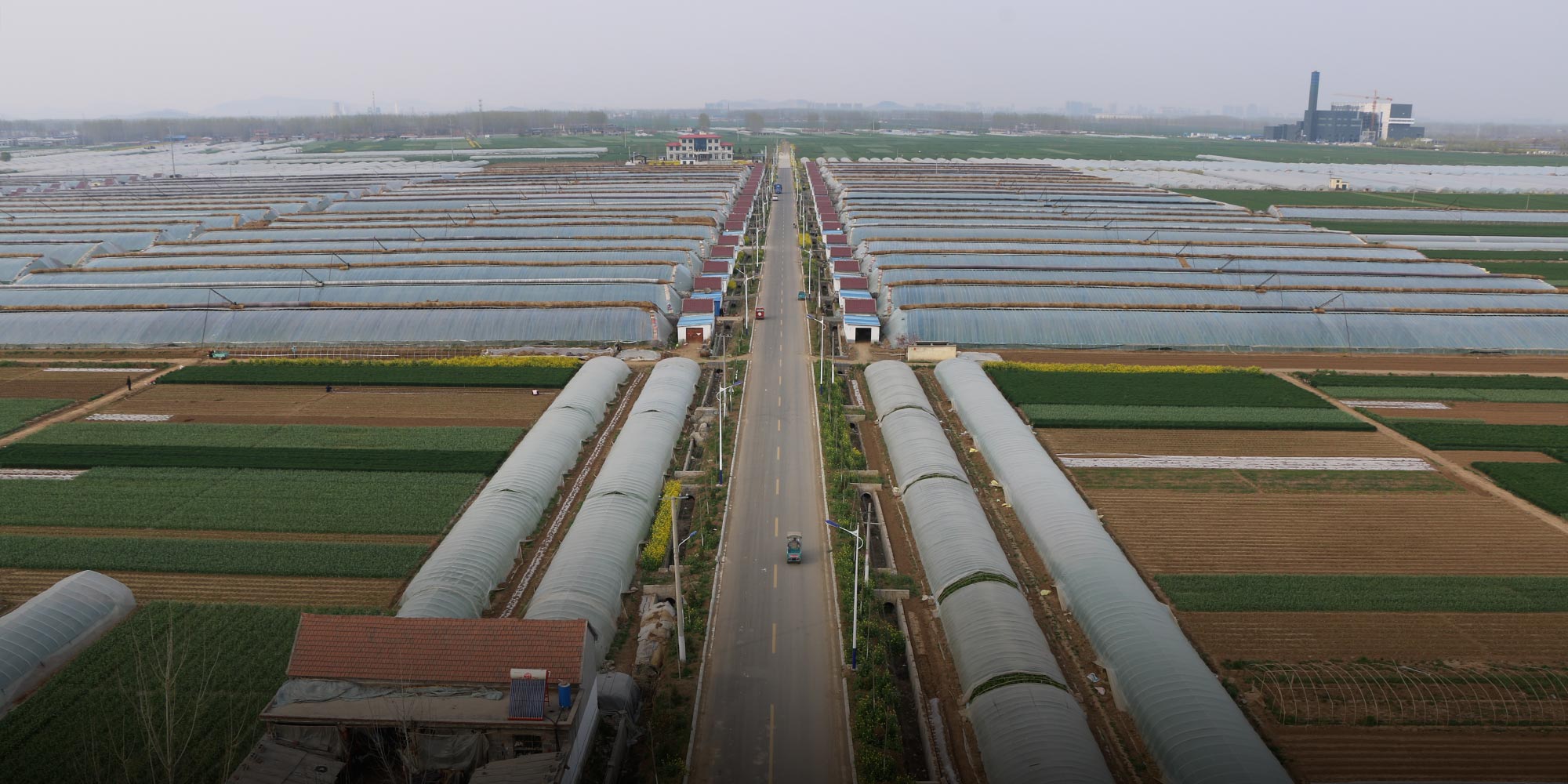 VOICES & OPINION
How China's 'Head Geese' Are Changing Village Governance
The country is empowering businesspeople to remake and revitalize the countryside, but the results are not always ideal.
I first met Xu Zhendong in June 2018. The party secretary of Xuhuanglu — a small, underdeveloped village in eastern Shandong province — he was still relentlessly upbeat about the area's prospects.
In May, a year after our conversation, I returned to find Xuhuanglu barely recognizable. The noisy construction site that had been surrounded by wheat fields and greenhouses when I visited 11 months prior was gone. In its place stood dozens of new three-story villas and a large public square like those found in urban centers. The village's rapid transformation had apparently attracted the notice of Xu's peers and higher-ups: In the 20 days I spent conducting fieldwork in the area, a steady procession of officials and other important figures passed through the village, checking to see what, if any, lessons they could glean from Xu's success.
Xu is part of a rising generation of new-style village leaders in China. In 2017, the government announced a new campaign to help revitalize the country's economically stagnant countryside. A big part of this push has involved identifying and recruiting talented individuals capable of realizing the state's goals for rural development. Past generations of model grassroots officials were, like model workers, often chosen based on some remarkable achievement or behavior that the state wanted others to imitate. Leaders like Xu are more often picked for their ability to gather or apply material resources, navigate and balance complex interpersonal networks, and drive residents forward. In official discourse, they're compared to locomotives — the train can only run as fast as its engine — or "head geese," guiding their flock.
Lanling County, where Xuhuanglu is located, opted for the goose simile. In 2018, it instituted a series of policies known locally as the "Four Geese Project." The project seeks to train so-called head geese for rural areas; attract "returning geese," or talented individuals who left the countryside for opportunities elsewhere, back to their homes; cultivate "swan geese," or large-scale breeding and aquaculture operations; and build "goose flocks," a reference to the need to improve farmer organization and cooperation.
"To develop the countryside, there must be leaders," the party secretary of the township administratively responsible for Xuhuanglu told me. "Without a good leader in the village and no one to drive the villagers, development is very difficult."
In 1997, the then 21-year-old Xu left Xuhuanglu for Shanghai, where he sold vegetables out of a borrowed cart. Today, he runs three companies in that city, including a vegetable processing and distribution firm. His commercial success eventually attracted the attention of the government back in his hometown; in 2008, the local county party branch recommended him for membership in the Communist Party of China (CPC).
Two years later, in 2010, he returned to Xuhuanglu as the new village party secretary. In this role, he set up a new village co-op, to which the village transferred about one-third of its land. The co-op unified the planning and construction process for greenhouses. Upon completion, it then leased them back to villagers in exchange for a usage fee.
Today, villagers tending vegetables in greenhouses net 20,000 yuan ($2,900) per year, per mu of land (roughly 0.16 acres). That's almost eight to 10 times higher than traditional field crops such as wheat or corn. Although the co-op remains dependent on government subsidies to operate, it also earns money through usage fees and from the village's newly built vegetable market.
This model of social and economic development, in which a charismatic and capable leader guides an area to prosperity, has been an important feature of social governance in China since the country's civil war in the first half of the 20th century. During those chaotic years, the CPC's revolutionary bases were concentrated in remote areas with poor agricultural productivity and backward industry. The revolutionary struggle required a strong material and economic foundation, but increasing labor output in such conditions wasn't easy.
Early party leaders ultimately came to rely on raising production through boosting people's morale. They found worker enthusiasm could be stimulated, at least temporarily, through a program of advocacy and reward, including the promotion of so-called model workers or model villages.
These model leaders embodied the concept of "exemplarity," which the anthropologist Sacha Cody has described as "a form of morality and social governance that achieves order through leadership by example and the emulation of role models." Over the years, the country has continued to expand and develop this paradigm, and today's model leaders can be found in fields as diverse as politics, economics, society, and culture.
But the definition of "model" is changing. In the early years, the state tended to expect models to lead simply by existing — as personifications of state goals, their mere presence was seen as enough to inspire those around them to work harder and produce more. By contrast, today's model leaders must possess the acumen to manage villages through a period of economic transition, including by mobilizing and utilizing available economic resources and balancing local interest groups. Given the needs of the position, it should come as no surprise that modern rural leaders increasingly come from business backgrounds.
Xu is a good example of this trend in action. Returning after having been away for years, he quickly won his fellow villagers' trust not by outworking everyone in the fields, but by donating some of his own money to build roads in the village. And when the village's debts threatened to derail the launch of the co-op, Xu advanced it with 5 million yuan.
In order to get villagers to actually join the co-op, however, Xu had to rely on more than just his money. He assuaged local fears by making it clear that the cooperative wouldn't reduce farmers to sharecroppers. Rather, he designed a system that would retain each family's management of land. Farmers would still be responsible for the work of growing and selling, and the income they derived belonged to them alone. The cooperative simply collected rental fees for the use of its land improvements.
Even when Xu did seek to lead by example — as when he transferred his own land to the co-op to win villager buy-in — it was less a case of traditional exemplarity than a side benefit of access to material resources. His success in business meant he didn't need the land and could therefore afford to risk it on the co-op.
Xuhuanglu proves that, in the right circumstances, this leadership model can work. But not every new-style businessman-cum-mayor has been a success story. The state empowers these leaders with nigh-absolute authority over their domains. When it works, the system breaks through entrenched interests, bringing prosperity to an area. But it can also set the stage for the emergence of overbearing village hegemons, especially if the new leader is themselves a member of a particular network or interest group. After the local government recommended successful businessman Cai Dongjia as leader of Boshe, a village in southern Guangdong province, he used his position, authority, and connections to turn the village into the meth production capital of China.
The singularity of these leaders also makes it challenging to replicate their success elsewhere. Although the co-op model has proven a success in Xuhuanglu, residents of neighboring villages continue to worry whether, if the county rolls the model out in more areas, it could result in them losing their land. And if a successful leader leaves, it can be difficult finding a suitable successor.
None of this has discouraged Xu: He intends to stay in Xuhuanglu for the foreseeable future, and he plans to expand the cooperative into neighboring villages, restore more old houses, and build a senior citizen apartment complex. But his bosses should be taking the longer view. If China wants to revitalize the countryside, it needs to conduct a critical reevaluation of the village leader program and decide whether, in the absence of a more systematic approach, the good done by people like Xu truly outweighs the risks.
Translator: Matt Turner; editors: Lu Hua and Kilian O'Donnell.
(Header image: An aerial view of sheds belonging to the Xuhuanglu Village co-op, Shandong province, 2017. Courtesy of Liao Yue)