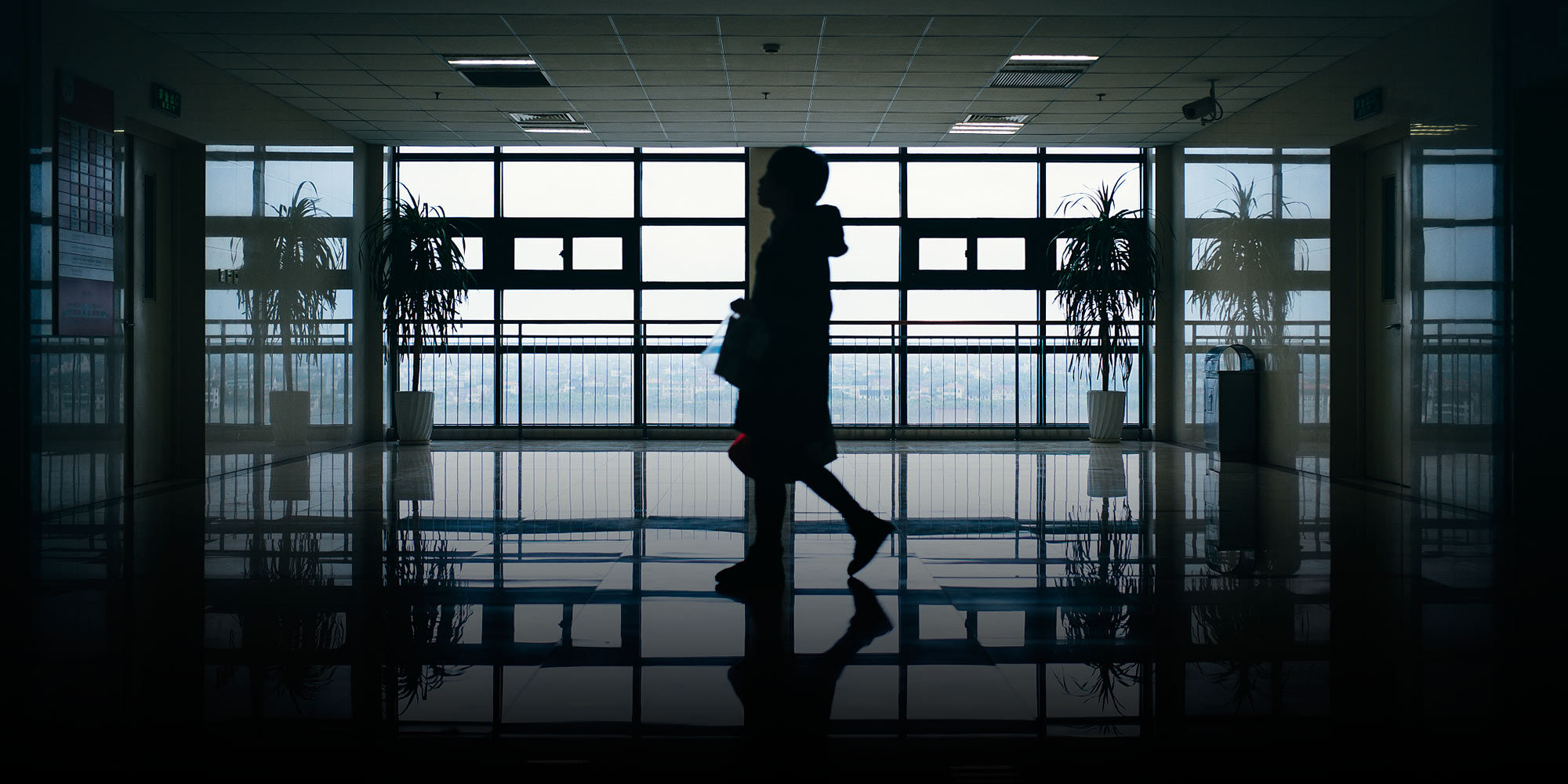 FEATURES
Shedding Light on China's Patients With Rare Diseases
The country has expanded its list of recognized rare conditions. But the struggle for proper care remains untreated.
BEIJING — Twenty-six-year-old Yang Maomao — a pseudonym — may be young, but when she took to the stage at a recent forum to exhort some of the country's leading doctors and policymakers to update an official list of rare diseases, she spoke with a confidence that belied her youth.
Yang, who works for the Illness Challenge Foundation (ICF), a Beijing-based advocacy group, has what is considered in China to be a rare disorder herself. In 2014, she was diagnosed with multiple sclerosis (MS), an autoimmune disease that occurs when the body attacks the fatty tissue surrounding its own nerves. Over time, MS can disrupt balance, mobility, cognition, and vision, potentially leading to lasting disabilities.
Yang's experiences with MS are familiar to many Chinese people who live with rare diseases. In Western countries, where MS is comparatively prevalent, a variety of mechanisms exist to diagnose, treat, and manage the disorder. Medications that suppress the immune system, for instance, help many people with MS preserve their independence well into their adult lives.
In China, however, most people — even doctors — have never heard of MS, despite its recent inclusion on a government list of rare diseases. The country's first report on the disease, published in February by the Chinese Society of Neurology (CSN), estimated that MS affected around 30,000 people in China, or 0.002% of the population. If those figures are correct, the country's MS prevalence would be much lower than the global average, which was 0.03% in 2013. However, it's likely that many more people in China live with the condition undiagnosed.
And as Yang knows all too well, getting diagnosed with MS in China doesn't mean you'll get the best treatment, or indeed any treatment at all. Although up to 16 MS medications are available in other countries and territories — Hong Kong, for example, offers eight — until recently, the Chinese mainland had a sputtering supply of just one. (Two other MS drugs won approval in China last year and last week, respectively).
Additionally, even after they've been diagnosed and treated, people in China who live with rare conditions often face deep-seated stigma against the disease. People who know about MS, for example, sometimes incorrectly nickname it a "non-lethal cancer," because it progressively weakens the body without being fatal. To Yang, such terms write off those with MS as hopeless cases, even though the disease is manageable with the right approach. "Just because people like us are rare shouldn't mean we don't have the same right to adequate treatment (as everyone else)," she says. "The reality is that we simply lack essential drugs and experienced specialists."
Despite China's poor management of MS, Yang counts herself lucky to live in Beijing, where health care standards are among the highest in the country. When she went to a hospital in April 2014 complaining of dizziness, blurred vision, and mobility issues in her legs, doctors flagged her for further tests. Yang's condition was confirmed one week later. However, the vast majority of people with MS in China wait between one and five years for their diagnoses to be confirmed, during which time their conditions often worsen significantly, according to the CSN report.
Yang's legs recovered after a few days of hormone therapy, but her next move was less clear. Her doctor recommended she take injections of the only MS drug on the Chinese mainland at the time — interferon beta-1b — sold by the German pharmaceutical giant Bayer under the trademark Betaferon. But there was a catch: Each shot cost 850 yuan ($140), and Yang needed one every two days. For a family earning a total of 50,000 yuan a year selling dried foods and spices, the cost was exorbitant. Indeed, as the CSN report indicates, approximately 60% of China's diagnosed MS patients refuse treatment, and 31% say they are unable to afford medication.
Fortunately, help was at hand from the China Charity Federation, a nonprofit social entity administered by the country's Ministry of Civil Affairs. One of the federation's programs was a collaboration with Bayer that provided cut-price Betaferon to people in China who couldn't afford it. Under the program's conditions, patients only paid for three months' worth of medication, and the other nine months' worth was provided free of charge.
Thanks to the program, the cost of Yang's care fell to less than 40,000 yuan a year — just about affordable. Even then, the treatment wasn't perfect. "The reimbursement procedure was extremely complex, and sometimes the supply was unreliable," Yang recalls. "Once, I was cut off from my medicine for an entire month."
But in January 2016, the charity abruptly announced it was suspending its Betaferon program at the end of August — Bayer was suspected of planning to withdraw the drug from an unprofitable Chinese market. Despite posting global sales revenues of over 1 billion euros ($1.11 billion) in 2013 — the most recent year for which data is available — Betaferon made just 10 million yuan in China, accounting for just 1.25% of the total, according to a report by the Chinese financial news outlet Caixin.
The charity's announcement devastated China's MS community but felt familiar to people across the country living with rare diseases, many of whom rely on expensive, hard-to-find, and often outdated treatments. According to a 2018 survey of nearly 2,000 people by the ICF, most of those who live with rare diseases spend more than 50,000 yuan annually on treatment, only a fraction of which is covered by health insurance. Patients also paid as much as 80% of their fees out of pocket.
After Betaferon's withdrawal was announced, an incensed Yang took matters into her own hands. At the time, she was volunteering at the China-Dolls Care and Support Association — a nonprofit that cares for people with the rare condition osteogenesis imperfecta, also known as brittle bone disease. Yang publicized the charity's decision through the association's official account on WeChat, China's widely used social messaging app. "People say everyone is born equal, but what happens when we're denied our right to treatment simply because we're a minority and the drug we need is expensive?" she wrote.
Yang's outcry won the support of others with rare diseases as well as the attention of many Chinese outlets. Ten days after Caixin reported the incident in March 2016, Bayer announced it would continue to supply Betaferon to the Chinese market. But because the drug-maker had not renewed its license to distribute Betaferon in the mainland market, the injections were withdrawn between September 2016 and February 2018. Immediately after the announcement of the resumed supply at the end of February last year, Yang, along with an online community of around 1,000 other people with MS, scoured the country for hospitals with stocks of Betaferon. Yang eventually received treatment at one of Beijing's four such institutions, but her condition worsened nonetheless as the months went by.
Fortunately for Yang, two things happened in July 2017 that revolutionized her care. First, China added Betaferon to its public health insurance scheme, meaning that Beijing residents like Yang would get their injections at an 85% discount once Bayer's license was renewed. Then, Bayer lowered the price of Betaferon from 850 to 590 yuan per shot. These days, Yang spends less than 1,500 yuan a month on her MS medication, allowing her to live a virtually normal life.
Yang also takes heart in the fact that the government included MS on last year's first national list of rare diseases, a step that is expected to focus on how the country treats people with such conditions in the future. The list is comprised of 121 conditions that affect an estimated 3 million people but is not exhaustive: The government estimates that a total of 20 million people live with rare diseases, some of which are not included on the list.
In other ways, though, the list seems little more than a gesture. Yang's treatment hasn't substantially changed since the list's publication, and the authorities still seem unsure of its significance. Indeed, the government hasn't even decided on the definition of a rare disease. The World Health Organization provides little guidance, leaving other countries and international blocs to their own interpretations. The European Union, for example, defines a rare disease as one that affects fewer than 5 in 10,000, while the United States defines it as a condition that affects fewer than 200,000 people in the nation.
"Some experts have proposed that China should define a rare disease as one that affects fewer than 500,000 people. But this has remained controversial," says Wang Yi'ou, secretary-general of the ICF. Wang speculates that people diagnosed with officially recognized rare diseases might receive cheaper, more accessible medication than those whose ailments are not on the list.
Although Yang's medication is now much more affordable, she says the current policy still has its flaws. For one thing, only people who have paid social insurance in Beijing for at least two years are eligible for cut-price versions of Betaferon, a policy that excludes many with short-term or unstable jobs.
One such person is 33-year-old Shi Chengjian, a native of southwestern China's Sichuan province who lived in Beijing for 10 years without a stable job and was forced to leave last year after being diagnosed with MS. Due to China's restrictive household registration laws, the government would only cover any treatment costs in Shi's home city of Chengdu. There, he can be reimbursed for 70% of his much-needed medication.
Shi's thankful that Chengdu is still comparatively MS-friendly — many smaller cities don't cover the disease on public health insurance at all. Nonetheless, Shi frequently bumps up against problems in the system. The procedures for obtaining and getting reimbursed for Betaferon could be simplified, he says. "But whenever I complain to the local health authorities, they assume the problem affects just a tiny minority of people. So they promise to help me resolve my personal issue but are reluctant to make any changes to the overall system."
Improvements in China's MS treatments in the last few years bring hope to people with other rare disorders, including Wang, of the ICF. Wang, who has osteogenesis imperfecta, has to take constant care not to fall and break her fragile bones. The inherited disorder was also included on China's inaugural list of rare diseases. Wang hopes the list will fast-track imports of essential drugs and encourage more domestic companies to develop their own. "This would make medications substantially more affordable for patients," she says.
All the same, Yang and others with rare diseases still face discrimination in China. According to the CSN, report, 34% of the country's MS patients feel helplessness and 23% feel self-hatred. Soon after Yang's diagnosis, she says she was treated callously by a staff member in her college's accounting office. "When I gave her my medical bills for reimbursement, she just said, 'I see you've got a non-lethal cancer.' Then she said, 'Now that you're sick, are you still going to get married and have kids?' I was so saddened by what she said; I felt it was really unfair," Yang recalls.
Yang still visits the hospital regularly for checkups and medication. When she does, she sometimes sees Yin Jian, a neurologist who has seen far more MS patients than the average Chinese doctor in his 20-year career — albeit only around 200. Yin says that a lack of knowledge in medical circles still hampers treatment of MS in China. Nearly 20% of the doctors interviewed for the CSN report said they believed MS patients don't require constant medication.
The knowledge gap means that Yin often brings younger doctors into his consultations with MS patients. On the day of Yang's visit, Yin invites a handful of youngsters in white coats into his office to talk with her face-to-face about her experiences. "Younger doctors understandably have a limited understanding of rare diseases, because medical school prepares them to deal with common ones," Yin says. "So, from a clinical perspective, we need to better connect doctors, who need to know this stuff, with the patients themselves."
Yang travels across town to see an MS specialist at Peking Union Medical College Hospital. "She's probably the only specialist around," Yang says. "When you have a rare disease, you learn to treasure every doctor who has experience and expertise with diagnosing and treating you. And as a patient of MS, you have to learn how to live well alongside the disease."
Additional reporting: Liu Jingwen.
(Header image: A woman walks through a hospital corridor in Shanghai, Jan. 4, 2016. Yang Qingyue/VCG)