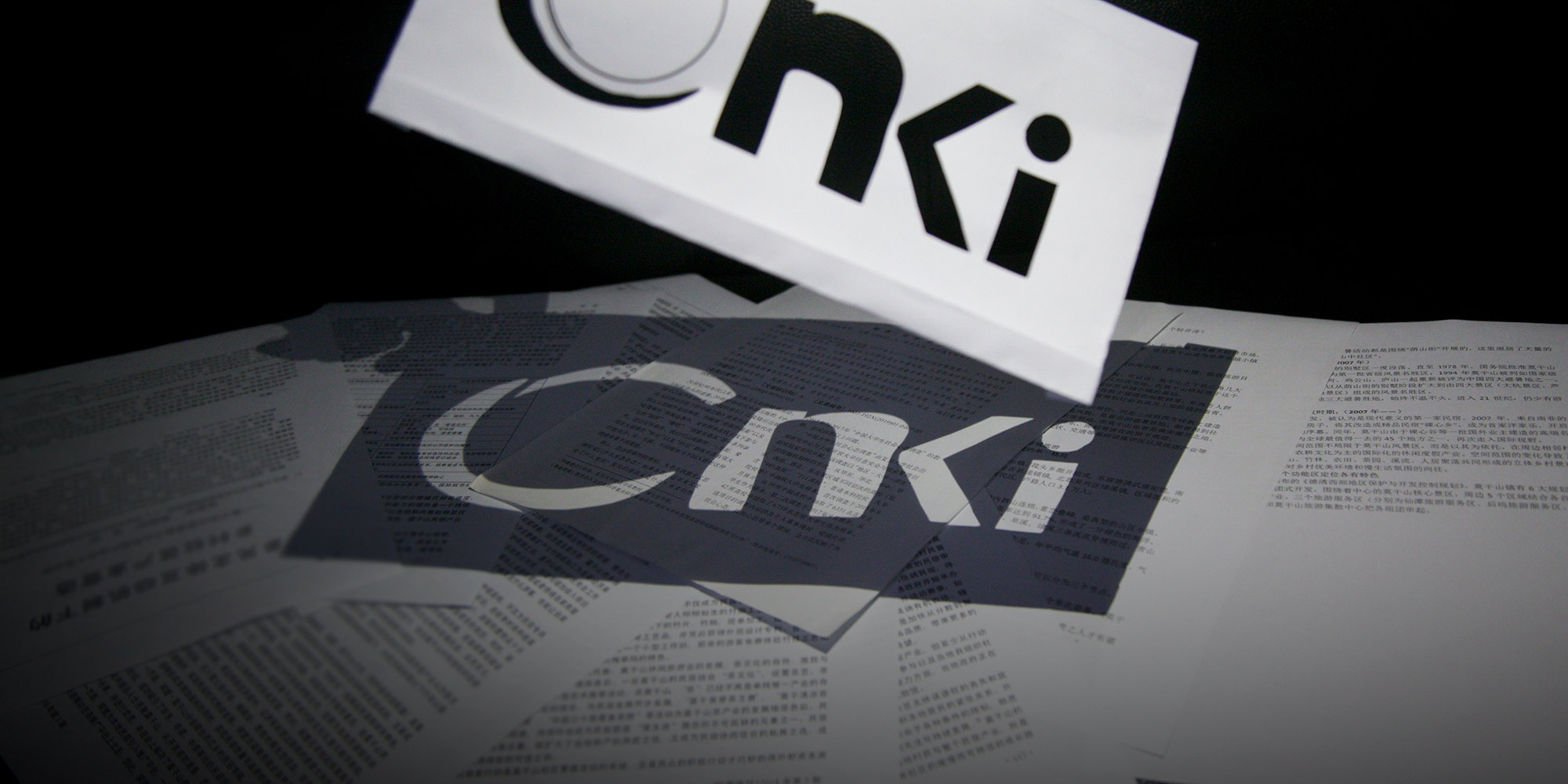 FEATURES
Publish or Perish: How China's Elsevier Made its Fortune
With state backing, the China National Knowledge Infrastructure is muscling its way to monopoly.
This article is part two in a series on Chinese academic publishing. Read part one here.
During a livestreamed Q-and-A session in February, young actor Zhai Tianlin sits in front of a champagne-colored curtain holding a list of questions from his fans. He responds to each one as cutesy visual effects pop up around him, but then he's stumped. "Is your Ph.D. paper available on Zhiwang?" He reads the question with a puzzled look, then looks straight into the camera: "What is Zhiwang?" He repeats: "What is Zhiwang?"
Known for being a "smart" actor, Zhai had then just received a doctorate degree in film studies at the prestigious Beijing Film Academy. But, viewers knew, nobody working on their dissertation in China can avoid using Zhiwang, the country's largest database of academic papers, more formally known as the China National Knowledge Infrastructure, or CNKI. Clearly, something didn't add up, and the video went viral. Later, Zhai was found to have plagiarized papers and to have graduated without publishing a dissertation.
Zhai apologized, and his reputation took a hit, but that wasn't the end of the saga. People in academia noticed the sudden interest in CNKI and seized the opportunity to air their grievances with the website. CNKI abuses its legacy of state ownership to keep the Chinese world of academic publishing in a monopolistic stranglehold, they say, and uses its position to pay writers pittances while forcing universities to accept steep price hikes. All in all, CNKI makes exorbitant profits that are hard to justify, critics argue.
Such objections echo those leveled at academic publishers in the West: Why do universities that employ researchers to write papers have to pay unreasonably high prices to access those papers? For example, Dutch publisher Reed Elsevier, which also runs several online databases, has faced protests from European libraries for maintaining annual profit margins of about 37%. Still, that figure pales in comparison with CNKI's, which for the past decade has posted an average annual profit margin of nearly 60%.
Gaming the System
CNKI — informally known as Zhiwang, a combination of the words for "knowledge" and "internet" — was established in 1999 as a government-supported national digitization project. It was then, as now, owned by Beijing's Tsinghua University, one of China's most reputable schools, and its affiliated companies.
That year, China had been plugged into the internet for half a decade, and many of China's later online behemoths, like Alibaba, Tencent, and Sina, had just come into being. China's first online academic databases, such as Wanfang Data and Chongqing Weipu, had also been established in the 1990s. But, unlike its rivals, CNKI was endorsed by the central government and would soon overtake them. CNKI could easily approach universities and journals for cooperation and convince them to agree to low prices, even exclusive deals.
Due to the incentives in the academic system, CNKI's dominance snowballed, some experts say. "Schools want (good) citation rates, and students want to graduate," says Tao Xinliang, a professor at Shanghai University and a lawyer with more than 30 years of experience in intellectual property. He explains that with CNKI serving as the main source of academic data in China, schools know they have to cooperate. It gives CNKI absolute power, Tao says, and schools have no other option but to demand their students turn over the digital copyright of their theses as a condition for graduation.
Academics and journals similarly feel pressured to give up their copyrights. "For authors, having their papers published and circulated is much more important," says Zhu Jian, former editor-in-chief of the Journal of Nanjing University. As far as he knows, even at journals that have policies allowing authors to refuse to hand over authorization to CNKI, no one has ever said no. Journals rely on CNKI for exposure and citations, which boost their domestic rankings.
Publishers are also put at a disadvantage because the Chinese government restricts how many journals they can issue. Unlike in the West, where institutes could theoretically publish an unlimited array of journals, publishers in China are usually only given one or two serial numbers. As such, they don't own a big catalog of content they could threaten to take elsewhere. "The scale of domestic journal publishers is too small, allowing aggregators to seize the (business) opportunity," says an employee of a public library in Shanghai who asked for anonymity because of the sensitivity of the topic.
Enjoying these advantages, CNKI by 2018 had grown to include nearly 1,300 exclusive top-rated journals and the most comprehensive database of master's and doctorate papers — nearly half of which are only available on CNKI. It claims not just to be the domestic market leader, but also to be the "biggest academic database in the world." For many doing research in China, the website is indispensable.
No Room for Negotiations
In 2014, China Academic Journal (CD-ROM) Electronic Magazine Co. Ltd., the Tsinghua University subsidiary that runs CNKI, changed its enterprise property from state ownership to private. In practice, little changed. On its website, the Ministry of Education is still listed as CNKI's "supervising organization." But the change does coincide with increasingly contentious negotiations with customers. Between 2010 and 2016, CNKI raised its prices by an average of nearly 20% annually. In comparison, Elsevier last year reportedly pushed for a 4.5% annual increase.
At the end of 2018, the library at Taiyuan University of Technology, in northern China's Shanxi province, published a notice on its website saying it could not agree with CNKI on pricing and usage, and would suspend teachers' and students' access. CNKI was asking for 588,000 yuan ($85,500), the highest among all of the Chinese databases to which the university subscribes. But service has since been restored, according to a library official at Taiyuan who declined further questions when reached by Sixth Tone.
A similar sequence of events had occurred two years earlier at Peking University, one of China's most prominent schools. It warned that students' access to CNKI could be cut off, saying the database provider had "raised the price too high," but the university eventually renewed its contract with CNKI. Also in 2016, Wuhan University of Technology, in central China's Hubei province, temporarily suspended the use of CNKI because of an "outrageous inflation in price," until the two parties finally reached an agreement.
Despite surging prices, Chinese subscribers find it hard to protest against CNKI. "It is a very, very hard situation for libraries," the library employee in Shanghai tells Sixth Tone. "Universities rely largely on electronic versions of academic databases, so the pressure on them is huge and urgent." This is especially true for small universities with more limited budgets.
Universities also cannot easily band together, as CNKI's pricing and packages differ from one school to another. A person familiar with the negotiations between university libraries and CNKI tells Sixth Tone that in some provinces, the provincial library community, an institute under the local education bureau, represents the area's universities in negotiations with CNKI. "But the negotiations are almost never successful," says the person, who was not authorized to speak to the media. Even when they do succeed, the agreed-upon price is merely a nonbinding reference, and universities still need to sign separate contracts.
Several libraries and provincial library communities, as well as CNKI's department responsible for such negotiations, declined Sixth Tone's interview requests, citing confidentiality reasons or saying they were simply "busy."
Copyright Infringement
CNKI places an apparent focus on including master's and doctoral theses in its database. It offers them for reference as it does papers from journals. Their value to the company also lies in how they bolster the plagiarism-checking service CNKI sells to universities. Many Chinese students, however, complain that CNKI published their essays without consent or payment. "I never received any money or request for authorization," says Pan Yue, a fresh doctoral graduate who has over 20 articles published on CNKI.
In 2008, 79 students collectively sued CNKI for copyright infringement, and only 21 of them won, with compensations of 2,000 to 3,500 yuan paid to each. Zhang Hongbo, director-general of China Written Works Copyright Society (CWWC), a nonprofit dedicated to the copyright protection of written pieces including academic papers, says this is just the tip of the iceberg. Over the past decade, CWWC has received more than 200 complaints about over 30,000 pieces of writing having appeared on CNKI without copyright authorization, including papers from graduate students and those that were only published during conferences.
On its website, CNKI claims it pays each master's or doctoral student several hundred yuan plus a prepaid card worth up to 100 yuan per paper — but that copyright holders have to reach out to them to get the remuneration. "This is a bullying policy," Zhang says, explaining the payment is unfair, as it is an underpriced one-time deal which allows CNKI to permanently use the paper.
Publishing papers without consent could be problematic in more ways than one, Zhang says, because making early work public could endanger students' later research: "Some students may not want to publish their papers because they think the research isn't fully developed; CNKI infringes their publishing rights by doing so, and possibly some other rights if the papers should be confidential."
CNKI declined Sixth Tone's interview request, and, given the confidentiality of its contracts, it is unclear whether CNKI has settled copyright issues. Some schools, like Dalian University of Technology, demand students sign a letter agreeing to give their authorization of digital copyright to CNKI. Refusal means the students will not be approved for their thesis defense, the last step before graduation.
In most cases, CNKI pays journals relatively modest fees to acquire their copyrights. Zhu, the former journal editor, tells Sixth Tone that an ordinary journal receives just 2,000 to 3,000 yuan annually from CNKI for all of its articles. Authors don't usually get a share of this money. "(CNKI's) contract with journals usually mixes the copyright fees it should pay the authors with the fees it should pay to the journals," he says. Some journals put a notice in their pages saying authors automatically authorize CNKI to publish when they send in a paper. However, CWWC director Zhang says such notices do not imply consent from the author. "In reality, many authors are unaware of such a notice," he says.
In early July, CWWC celebrated a rare victory when it won a lawsuit against CNKI. It represented the relatives of the late Wang Zengqi, a famous writer who accused CNKI of infringing the copyright of one of his novels. The judge fined CNKI 10,000 yuan, a relatively high sum in such cases.
Zhang says that the result took too long to come out and that the compensation is still far below their expectations. "Judgments in (these) cases are too lenient," he says, adding that, before the lawsuit, they had filed multiple complaints about CNKI to government bodies without effect. Zhang says they will bring more collective lawsuits against CNKI in the future.
For most people, however, the price of pursuing justice is too high, and the payoff too low. "Cases (against CNKI) are very few," says Tao, the lawyer. He says it is often hard for authors to collect evidence, as counting CNKI's income from one single article is virtually impossible. At the same time, compensation for such cases is usually very low, ranging from several hundred yuan to at most several thousand yuan.
"Zhiwang (CNKI) is a business that seeks profits in every way; that is why supervision is especially important," says Tao. "What we want is not only to regulate CNKI, but also to construct principles for the whole system. If we don't get rid of historical influence and reconstruct the rules, more entities like CNKI will emerge in the future."
Editor: Kevin Schoenmakers.
(Header image: Shi Yangkun and Ding Yining/Sixth Tone)