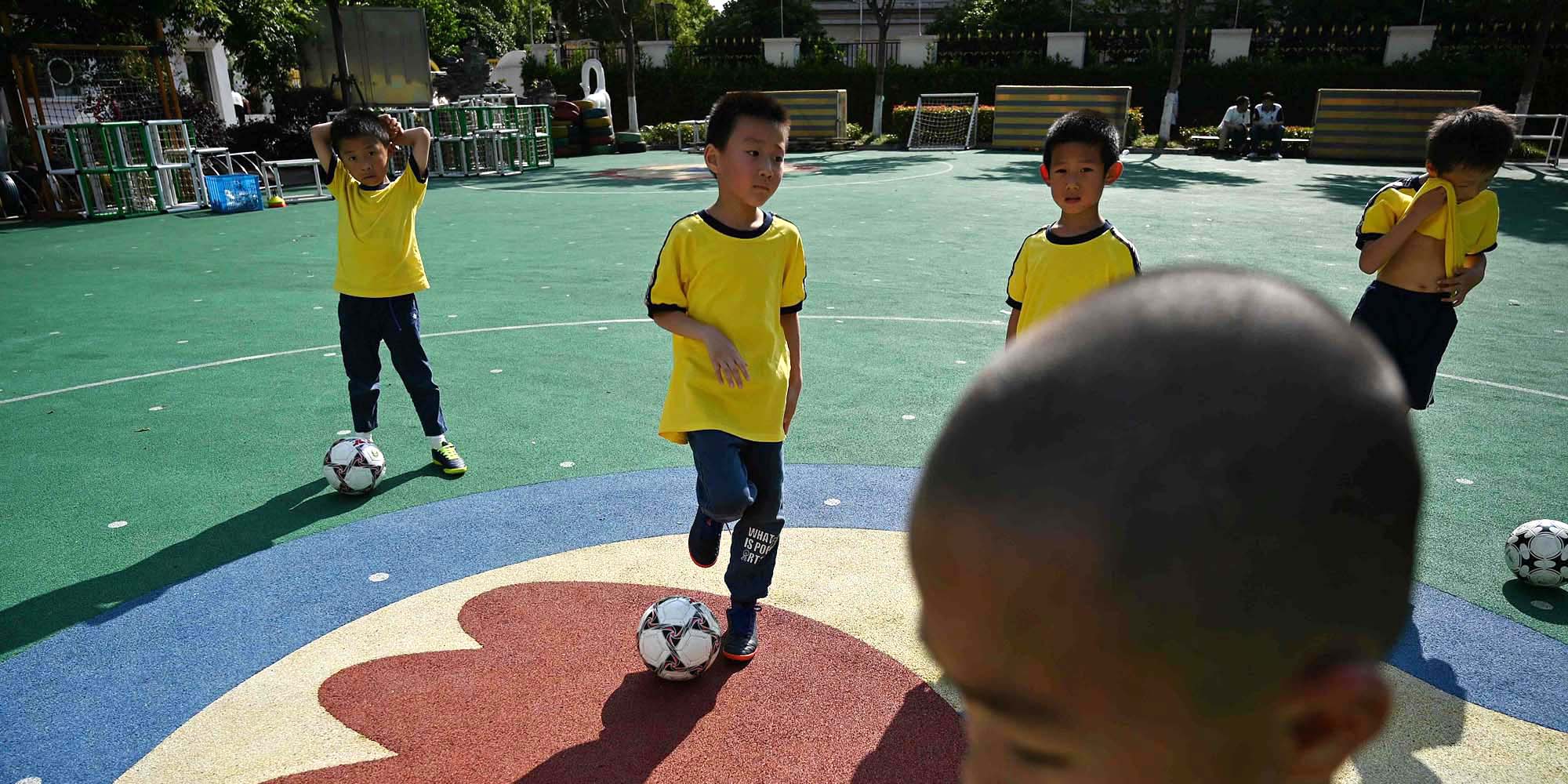 NEWS
Kindergartens Enlisted To Help China Become Soccer Superpower
The country is pushing to add 3,000 'soccer schools' for young children by the end of the year.
China wants to start training its future soccer stars as soon as they can kick a ball.
The Ministry of Education on Tuesday announced plans to set up 3,000 "soccer kindergartens" nationwide by the end of 2019 in an effort to realize the country's global soccer ambitions. The initiative is aimed at "grabbing the sporting interests of 3- to 6-year-olds" and guiding kindergartens to develop soccer-related activities for young children.
China's dream of becoming a soccer superpower has gained massive momentum and political backing in recent years, with President Xi Jinping largely leading the drive. As vice president in 2011, Xi declared his "three soccer wishes" for China, which included hosting and winning the FIFA World Cup by 2050.
In 2016, the China Football Association and four government bodies including the education ministry released a long-term plan to achieve their World Cup goals by building more soccer fields, developing two to three domestic soccer clubs into international brands, and cultivating a nationwide love for the sport. In a bid to increase its competitiveness, the men's national team accepted its first naturalized citizen, London-born Nico Yennaris, in May, and two Brazilian players reportedly agreed the same month to become naturalized Chinese citizens.
Since the release of the 2016 plan, the education ministry has selected more than 24,000 elementary and middle schools to be developed into "soccer schools" that require students to participate in at least one soccer lesson, after-school training session, and soccer match each week. The addition of 3,000 kindergartens would expand this program to reach an even younger crowd.
But the country's focus on kindergartners "doesn't reflect the reality of how football is," according to sports analyst Cameron Wilson, founding editor of Wild East Football, a digital outlet covering Chinese soccer.
"Countries successful in soccer do not have 'soccer kindergartens' because it's just not the way you do it," Wilson told Sixth Tone. "It's symptomatic of China's top-down nature, where they want to make or manage or control every single detail right from the beginning."
Instead, Wilson argued, proficiency in the sport must come from a genuine and voluntary interest. "People need to be able fall in love with football and want to spend time on it," he said.
Despite massive investment — China earmarked 20 billion yuan ($2.9 billion) for the sport from 2015–2017 and aims to build 60,000 soccer fields by 2020 — the country has a weak track record on the international stage. While the Chinese women's team has competed in the Women's World Cup multiple times, the men's team only made it to the World Cup once, in South Korea in 2002, where they failed to score a single goal.
Correction: A previous version of this story misstated the amount of funding China planned to invest in domestic soccer programs from 2015 to 2017.
Editor: Bibek Bhandari.
(Header image: Children take part in a soccer training session at Kangcheng Kindergarten in Shanghai, June 6, 2019. VCG)