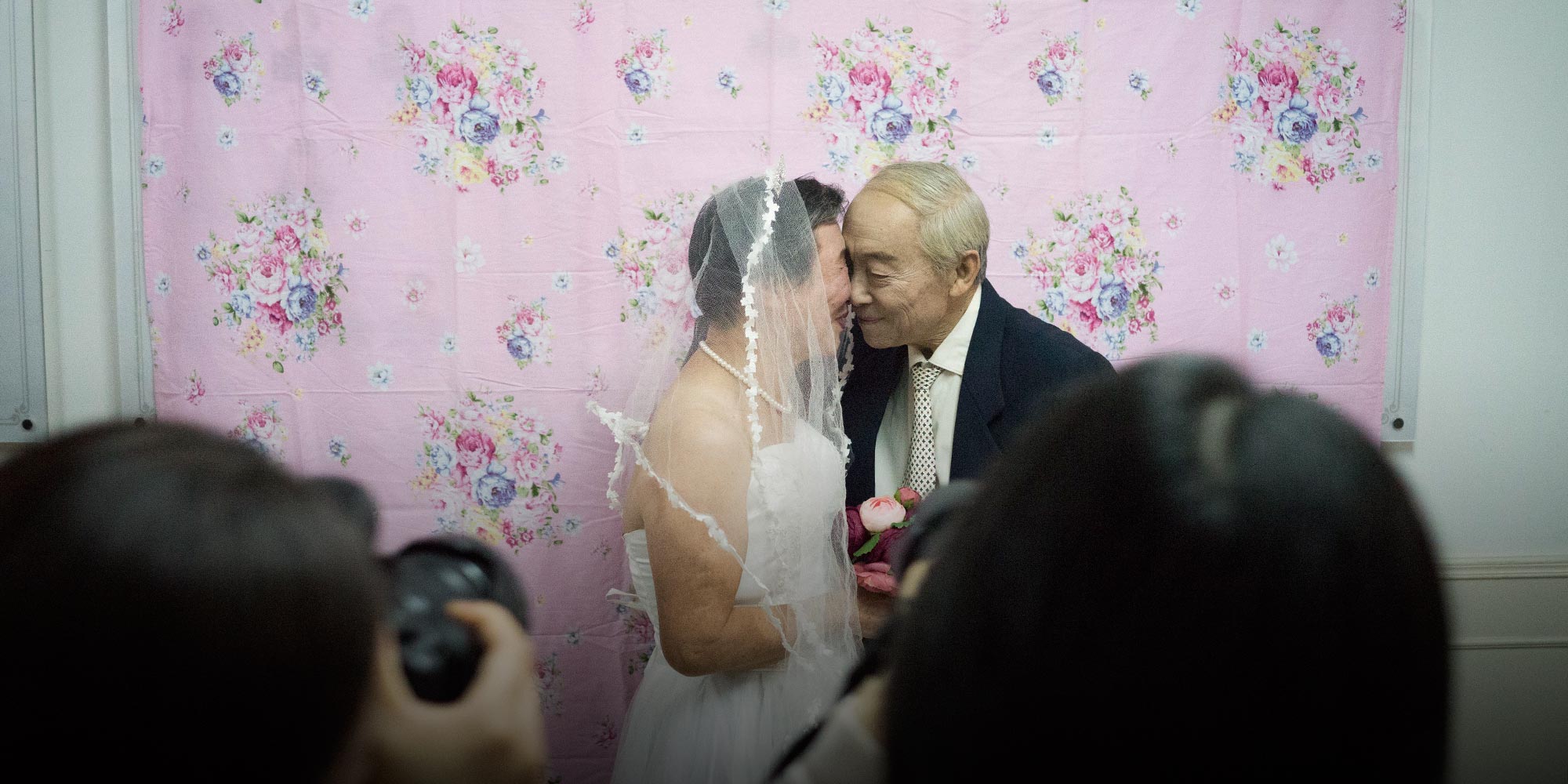 MULTIMEDIA
Something Old, Something New in China's 'Pre-Wedding Photos'
Australian filmmaker Olivia Martin-McGuire shares her thoughts on love and marriage in a country saying "I do" to lavish photoshoots.
Dressed in a suit and tie, wearing makeup for the first time, and clutching a bouquet of flowers, an anxious elderly man makes his way down a hallway. As those around him clap and cheer, he knocks on a door and waits for his wife of 50 years to answer — which she does, decked out in a white wedding dress and veil. Pausing for a moment, he announces: "I love you, my young sweetheart."
This scene is from "China Love," a documentary by Australian photographer and filmmaker Olivia Martin-McGuire. Like most newlyweds in the 1960s, the couple originally made do with a simple black-and-white passport-style photo to mark tying the knot, since elaborate photoshoots and colorful outfits were considered too ostentatious at the time. The husband and wife took their belated "pre-wedding photos" — intricate images of couples in wedding attire, usually taken before either gets officially married — in the year of their 50th wedding anniversary, with a floral bedsheet serving as a colorful backdrop. 
Things couldn't be more different for today's generation. Martin-McGuire's interest in the topic first piqued after her research found China's booming wedding industry had grown to over $80 billion dollars several years ago, while consulting firm AskCI put the figure at $216 billion for 2017. For the film, she followed five different couples, including one in which the two were from different cultural backgrounds and another in which the couple came from more rural areas in China, to find out why pre-wedding photos are so popular in the country.
"People don't really hear about where China's come from and what that means for people and their dreams," she says, adding that her documentary is a "softer" angle to examine the country.
A selection of photographs taken by Martin-McGuire to accompany the documentary are on display at the Shanghai Center of Photography (SCoP) until Aug. 9. Speaking with Sixth Tone, the filmmaker shares her experiences shooting the film, her take on marriage in China, and her ideas about the nuanced relationships between different generations. The interview has been edited for brevity and clarity.
Sixth Tone: What first made you decide to make a documentary about pre-wedding photos?
Martin-McGuire: I was working as a photojournalist and running early for a job. It was a summer's day with maybe 20 couples on the Bund, all in different-colored outfits. They'd take a quick photo, then they (the brides-to-be) would hike up their dresses and you'd see they had sneakers on and they'd be running really fast. I'd never seen anything like it. So, I pitched it as a photo series, and it got commissioned by an Australian newspaper, and then it was in Time magazine.
Initially, I suppose it looked like a sort of bizarre Chinese fantasy world, to have all adults dressing up. In the West, adults don't dress up. Only children dress up. When I started talking to people, I thought it was an interesting window into this moment in China — one that was not political. After interviewing so many people, we always came back to that period in history of people not being able to dress up. There's some kind of pressure on younger people to dress up and fill in that gap that was missing for the older generation.
Sixth Tone: Why do you think adults in Australia don't like to dress up?
Martin-McGuire: They dress up, but it's for the day; it's like an "adult dress-up." But (in China), you can put on any costume. People dress up like princes and kings — not what they really are. They're dressing up against fake backdrops, and it doesn't matter that the backdrops are fake. So, I think for Western people, it's confronting for an adult to do that.
Sixth Tone: Is it the role-playing adults that interested you?
Martin-McGuire: It's the first sparkle that makes it interesting: Why do all adults want to do that? Why will a whole nation of people want to dress up in "fake" outfits? In 10 or 20 years, there will be fewer and fewer Chinese people wanting to do "fake." It's just a moment, I think.
Pre-wedding photos are very much like a dream. It's a country dreaming, like the American dream. In 20 years, China won't be in a dreamtime anymore, and that kind of intense moment will have changed.
Sixth Tone: What kind of dream do you think pre-wedding photos are trying to realize in China?
Martin-McGuire: I think the dream is about freedom. And freedom is different for different people. For people who really struggled financially, it's about money. For people who have had a lot of other pressure, it's about maybe travel or the freedom of romance. 
But I don't think the couples necessarily want that freedom. It's like Viona (a Chinese woman who studied abroad and features in the film). It's not like she totally wants to be like a Western person or wants all that freedom. She wants to be filial and traditional, so she's trapped in the middle. I think the freedom is in the photos, but then marriage (itself) is much more serious; it's more about responsibility.
Sixth Tone: It's been a year since you finished the documentary. Did you gain any insights about Chinese notions of love and marriage?
Martin-McGuire: I would always feel quite humbled when I'd go to a wedding in China. When I'd talk to the elderly people there, I'd feel that although filial piety is controlling, in the West it's so much about the self and the individual. Now, I think there's stuff we can learn from China.
It really changed my perceptions a lot when I was witnessing people making decisions — particularly around love and dreams — that weren't just for themselves. It's a decision that involved family and people they cared about.
Sixth Tone: How do you think the female-led narrative influenced the film's storytelling methods? 
Martin-McGuire: The pre-wedding photos really are more significant for women. Lots of the men would talk about how they just do whatever the woman wants to do. So, it's more about the woman dressing up and the woman's mother getting an opportunity to see her child dressed up. If you look back to the Cultural Revolution, I've spoken to so many people that felt so happy they weren't in a uniform anymore and could be different. So, I think it's that women really just want to dress up. But also, it's good for women to tell stories and direct films that focus on women, because most stories are through (a male perspective).
Sixth Tone: Why call it 'China Love'?
Martin-McGuire: It was commissioned by ABC Television (in Australia) and the commissioner felt that "China Love" was like a love letter that I had written to China. When it went to DOC NYC (America's largest documentary festival) in New York, a couple of Chinese academics who worked there came up to me and said: "Thank you. I'm really grateful to see a foreigner make a film about China that's not really critical." I think it's important to make (such) films, but they need to be made by Chinese people. There are lots of journalists writing critical stuff, and it needs to be balanced.
Contributions: Zhao Yinyin; editors: David Ball and Ding Yining.
(Header image: A still from the documentary "China Love." Courtesy of Olivia Martin-McGuire)