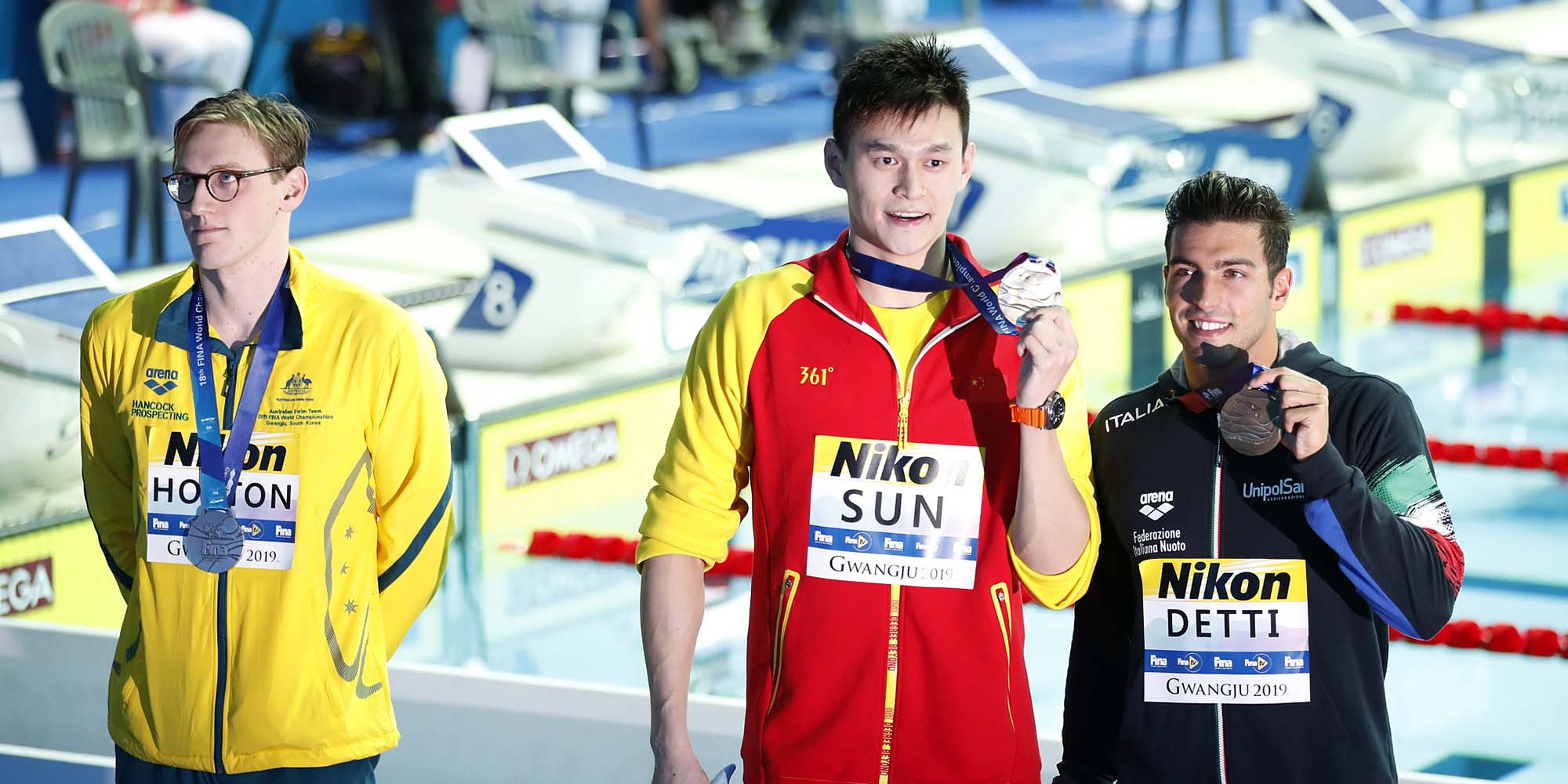 NEWS
Olympic Swimmers' Feud Makes a Splash at World Championships
The rivalry between Mack Horton and Sun Yang was on full display during Sunday's medal ceremony, when the Australian athlete refused to share the podium with the competitor he previously called a 'drug cheat.'
Chinese swimming champion Sun Yang may have millions of fans at home and abroad, but fellow Olympian Mack Horton certainly isn't one of them.
After an event Sunday at the FINA World Aquatics Championships, the Australian swimmer refused to stand on the medalists' podium alongside his Chinese competitor, apparently over an ongoing doping controversy. Yang had grabbed gold in the men's 400m freestyle in Gwangju, South Korea, while Horton and Italy's Gabriele Detti finished second and third, respectively.
"You can have a problem with me, but I think the awards ceremony is an important moment, as every athlete is representing their country," Sun said during a press conference afterward. "No matter how much you dislike it, you must stand on the podium. Disrespecting me was OK, but you must respect China."
The rivalry between the two Olympians dates back to the 2016 Summer Games in Rio de Janeiro, where Horton famously called Sun a "drug cheat" after beating him in the 400m freestyle event. Sun had indeed failed a drug test in 2014, prompting the Chinese Swimming Association to ban him from competition for three months beginning in July of that year.
However, Sun has always maintained his innocence, saying he was taking the drug for a heart condition without realizing it had been added to the banned substances list. In September 2014, he participated in the Asian Games in South Korea, winning gold in the 1,500m and 400m freestyle events as well as the 4x100 relay.
Sun found himself in the spotlight outside the pool in January of this year after the British newspaper Sunday Times reported that he was facing a lifetime ban over an alleged altercation with anti-doping authorities. According to the article, Sun and his personal security guard had used a hammer to smash a sealed vial containing the swimmer's blood sample.
Sun's lawyer dismissed the article as "false reporting" and demanded a retraction (which never came), while FINA, the sport's international governing body, said it would "not consider further speculation."
The controversy resurfaced last week after the Australian newspaper Sunday Telegraph claimed it had obtained an unpublished report from FINA's anti-doping panel confirming that Sun and his security team had smashed the vial.
On Friday, Sun's lawyers called the article "an incomplete and biased account." They further said they had requested a public hearing at the Court of Arbitration for Sport, an independent judicial authority, "to be fully transparent and clear his name."
Sun was the pride of China after becoming the country's first male athlete to win Olympic gold for swimming at the 2012 London Games. The 27-year-old's win Sunday was his fourth consecutive gold medal in the 400m freestyle event at the FINA World Aquatics Championships.
Editor: Bibek Bhandari.
(Header image: Mack Horton of Australia, Sun Yang of China, and Gabriele Detti of Italy receive their medals after the men's 400m freestyle final at the 2019 FINA World Aquatics Championships in Gwangju, South Korea, July 21, 2019. Maddie Meyer/Getty Images/VCG)