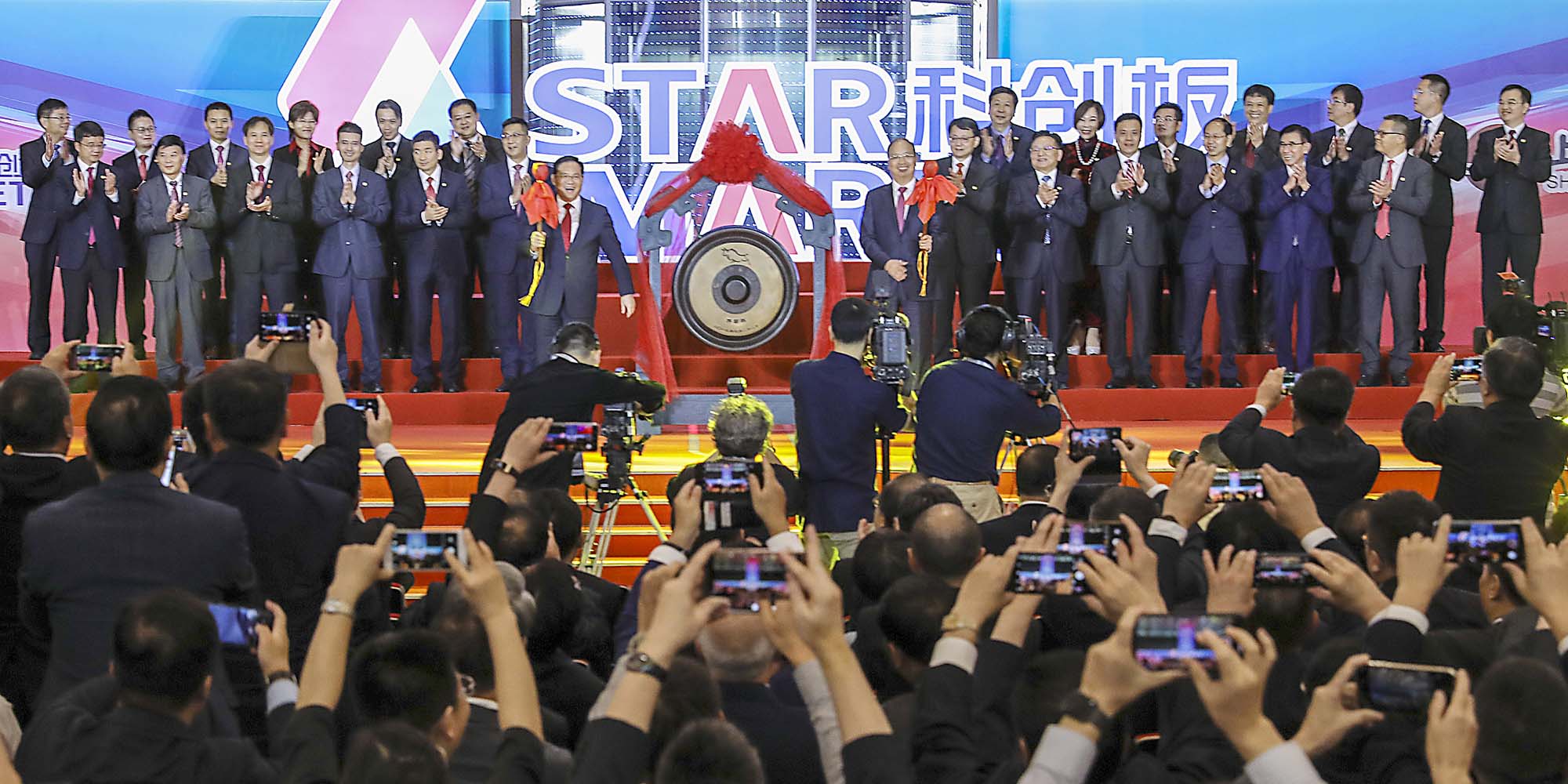 NEWS
Tech Stocks Soar With Opening of China's Answer to Nasdaq
With all the price inflation on the opening day of Shanghai's newest market, one analyst is predicting a swift descent back to reality.
Within hours of a gong strike marking the opening of China's newest hi-tech stock market on Monday, two dozen domestic tech companies saw their shares skyrocket by up to 400%.
The Science and Technology Innovation Board at the Shanghai Stock Exchange opened for trading with an initial batch of 25 companies from China's booming tech sector. The newly listed companies were off to a blistering start Monday, with each company climbing between 84% and 400% by the time trading closed at 3 p.m. local time.
"It exceeds people's expectations, seeing these little-known companies' valuations reaching tens of billions (of yuan) in the market today," Ding Daoshi, a Beijing-based internet expert and the founder of internet consultancy Sootoo, told Sixth Tone. "But for now, investors should stay cautious."
Also dubbed the STAR Market, the Science and Technology Innovation Board was first proposed by President Xi Jinping just eight months ago. Modeled after the Nasdaq Stock Market in the U.S., STAR is China's latest attempt to encourage investment in domestic tech innovators, thereby ensuring that such companies get the resources they need to develop — and also as an incentive to list at home, following complaints over Chinese tech giants like Alibaba and Tencent choosing to go public in places like New York and Hong Kong.
STAR is seen as a major step forward in China's campaign to reform its capital markets and promote domestic innovation in science and technology. The new exchange will also serve as a testing ground for several securities market reforms, relaxing restrictions on companies in several key ways. Rather than requiring a listing approval from regulators, it has adopted a registration-based initial public offering system. STAR also doesn't require that companies be profitable in order to be listed, provided they demonstrate promising research or a "core technology."
While other markets on the Chinese mainland have a built-in daily price change cap of 10% to control volatility, STAR stocks get longer leashes with a 20% cap — which will go into effect after the first week of trading. Unlike Nasdaq, STAR requires that investors hold at least 500,000 yuan ($72,600) in their stock accounts and demonstrate at least a two-year trading history — measures designed to protect inexperienced investors. And as in many foreign markets, listed companies must disclose information about their earnings and operations so that investors are able to make informed decisions. The end goal of these reforms is not only to lower the bar for companies hoping to list domestically, but also to ensure transparency.
"The exchange mechanism (of STAR) fits that of a market-driven economy and gives tech companies and investors maximum freedom," said Ding, who admitted that this more freewheeling format also presents certain risks. "With the great values these listed companies are given today," Ding said, "you could sense some institutions trying to ramp up the price to lure inexperienced individual investors and 'harvest' their riches."
The first-day performances of these stocks also confirm the public's concerns of market volatility and lack of governance over the new tech board, according to Ding. He notes that while the first batch of listed companies are small to medium in size, with average annual revenues in the hundreds of millions of yuan, after just one day, some are now valued at hundreds of billions of yuan. The annual revenue of ArcSoft, an AI company that listed today on STAR, was 450 million yuanlast year — but by 11 a.m., the company had seen its valuation jump to 30 billion yuan.
"If this case is representative, SenseTime and Megvii would be monsters with 1 trillion yuan valuations," said Ding, referring to two of China's unicorns in the field of artificial intelligence (AI). Ding predicts that, within a few days, share prices will nosedive as investors' enthusiasm cools down and they return to a more cautious approach.
STAR is not China's first attempt at a Nasdaq-style board. A similar market called ChiNext was launched on the Shenzhen exchange in 2009 and focused on high-growth technology startups in need of capital. But because of domestic market volatility and venture capitalists preferring to take their companies public overseas, ChiNext hasn't lived up to expectations.
The STAR Market's launch comes as the trade war between the U.S. and China threatens to stymie China's tech sector, and especially telecom giant Huawei. In the fields of chipmaking, biotechnology, and computer software, Chinese companies now face the prospect of being targeted by a U.S. presidential administration that's rarely shy when it comes to making accusations of intellectual property theft.
The STAR board will focus on companies in emerging sectors such as next-generation information technology, advanced equipment and materials, green energy, and biomedicine, according to the China Securities Regulatory Commission, the body that oversees the country's exchanges.
"As you can see, the first 25 companies listed still aren't the top players in their respective fields — the better players are still on their way," Ding said. Despite the impending nosedive he is predicting, however, Ding remains confident. "If STAR follows the principles of a free market and the regulators let go of the invisible hand, the hi-tech board will create an open and supportive environment for these homegrown companies, and we could absolutely see China's Google, China's Microsoft, emerge from this."
Editor: David Paulk.
(Header image: Government and party officials pose for a group photo during the launch ceremony of the Science and Technology Innovation Board in Shanghai, July 22, 2019. VCG)