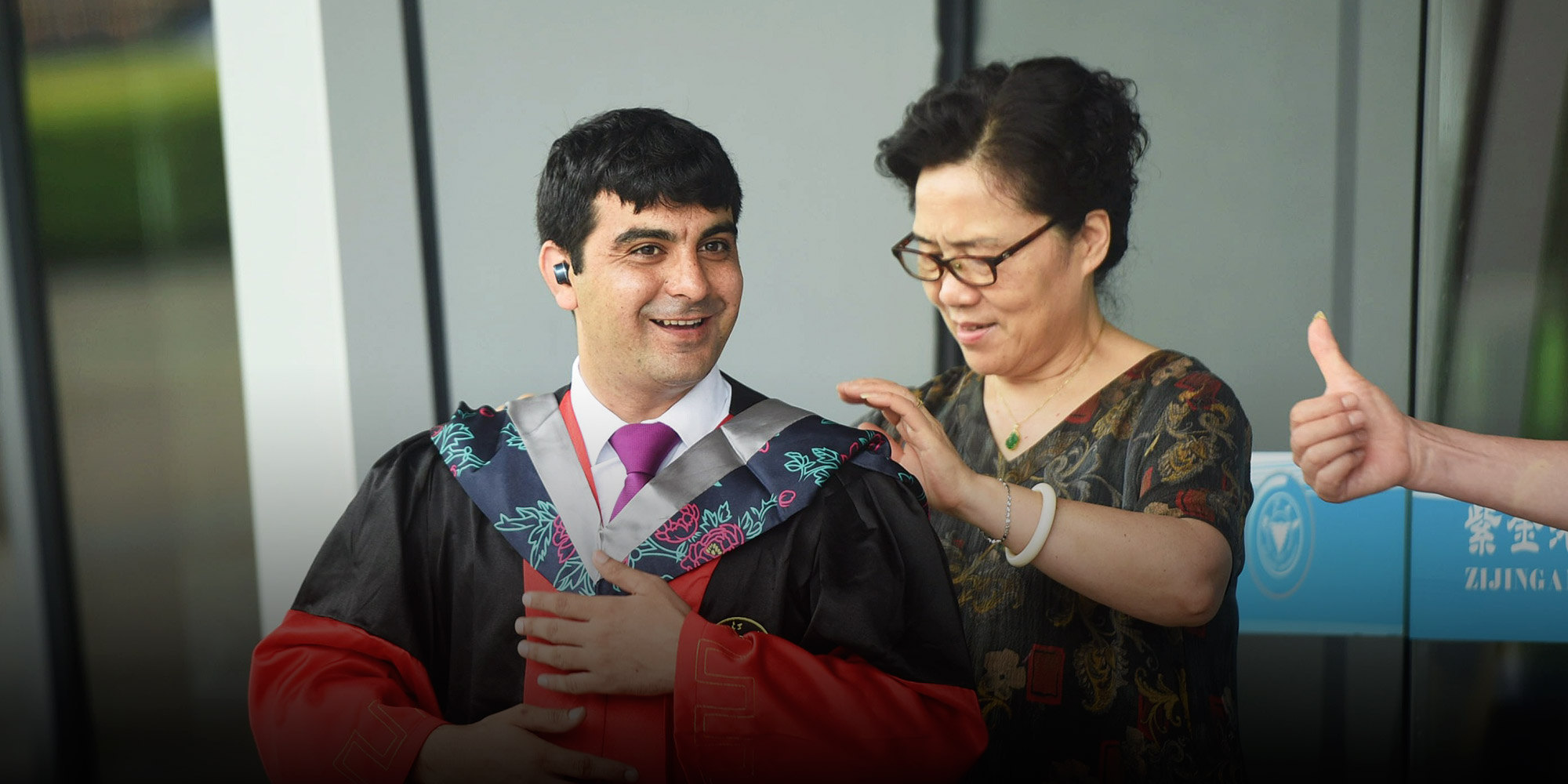 VOICES & OPINION
My Kafkaesque Experience as an International Student in China
Despite a push to create an 'international brand for Chinese education,' the country's universities remain a bureaucratic nightmare for international students.
A little more than a year ago, I should have been celebrating the completion of my Chinese-language thesis and graduation from Zhejiang University, or ZJU, with a master's degree in comparative and world literature. Instead, I was reeling from the school telling me that, because I was missing a one-credit class required for graduation, I wouldn't be receiving my diploma just yet.
In his book "Is Chinese Education Sick?", essayist and academic Zhang Ming explains that much of the focus for China's aspiring graduate students is on testing into a top school like Peking University, Tsinghua, or ZJU. Once they make it in, however, graduation is all but guaranteed.
"Right now, it's essentially a 'hard in, easy out' situation," Zhang writes. "Pretty much as long as you can test in, you can graduate, and do so on schedule."
For international students, it can sometimes feel like the opposite. In 2010, the Ministry of Education released a plan for "creating an international brand for Chinese education," aiming to increase the number of international students studying at Chinese schools from 260,000 to 500,000 in just 10 years. Critics of the plan say it has resulted in lower admissions standards that admit less-accomplished international students, but my experience suggests another failing: Although schools are recruiting as fast as they can, too many of them don't know what to do with their international students once they arrive on campus.
That's not for lack of trying. In what has become a recruitment arms race, many schools have built lavish dorms for their foreign populations. Shandong University, meanwhile, made headlines earlier this month for running a buddy program for international students that has largely resulted in opposite-sex pairings with their Chinese peers.
These flashy and frankly lopsided perks do little more than alienate international students from their domestic peers. On top of that, they don't address the core problem — an outmoded and opaque administrative system overshadows what would otherwise be an enriching experience for international students.
The administrative rigmarole I encountered at ZJU is certainly not restricted to the country's education system. Kafkaesque nightmares are so ubiquitous in China, they even feature in literary depictions of the underworld. But administration for international students on Chinese campuses can be a special kind of hell.
A carry-over from the 1970s, when the Ministry of Foreign Affairs had the ultimate say over international students, international student administration is typically split between the school's international department and students' academic departments.
At ZJU, we international students had little clue about what person or department was in charge of us or where to go for help — we were constantly ping-ponged between campuses and offices to resolve our questions. And we couldn't just rely on the kindness of classmates for help: I was the only international student in my class, and my Chinese peers were never sure which of our department's announcements applied to me. Even our credit requirements were different.
This confusing and disjointed setup meant everything when it came to my missing credit. While preparing my study plan ahead of my first semester, an office worker tried to explain the school's course registration system and requirements during an instructional training session, all while the software itself was inaccessible due to technical difficulties.
Growing frustrated, he quickly reeled off the names of the classes required only for Chinese students and then the ones required only for international students. I thought I understood, but I would soon make a seemingly miniscule mistake that would go unchallenged by my advisor or any administrative body for the next three years: I didn't select a one-credit class, since I thought it was only required for Chinese students.
It could have been worse: At least I could read and understand Chinese. Many schools, including ZJU, have launched programs for students with little to no Chinese-language proficiency. Students are either expected to learn it upon arrival, or they're enrolled in English-language degree programs.
Yet, the school routinely publishes crucial information only in Chinese. ZJU clearly announced the registration system outage on the Chinese version of its website, but not the English one, which still has no section for official notifications or announcements. And students in English-taught programs didn't even have access to an English-language registration system until last year.
The demand for more accessible information is obvious. At the international graduate student office, the line to meet the staff member responsible for overseeing students like me often stretched out the door.
Access to information is a problem at other Chinese schools, too. Earlier this year, a South African investigative reportspoke to former international students at Taiyuan University of Technology who said they ended up missing several weeks of class because they didn't receive school orientations. The students also claimed the lecturer in charge of helping them said he was only responsible for Chinese students, while the foreign students' office said it was not responsible for them because they were enrolled in Chinese-language courses rather than English ones.
Such chaos can taint the entire academic experience. Vanya Padalova, a friend and fellow international student at ZJU, described to me the fallout of what she called a lack of administrative support in the advisor selection process. The advisor she ended up with took advantage of her language abilities, at one point going in person to her dorm room with a USB flash drive full of journals he needed her to research, staying there for two hours until she had finished the task.
While exploitative advisor-student dynamics are unfortunately a common experience among Chinese graduates, even Padalova's Chinese classmates were shocked by her story. But for most of her time at the school, her experiences with the administration made her feel like asking for help was pointless. Once she did contact the right person, however, her advisor situation was quickly resolved — but she had to reach out first.
"When they say, 'Oh it must have been so difficult graduating from a Chinese university,' (I say) yes, but not for the reasons they think," she told me in a phone interview.
I was reminded of these issues when I attempted to contact ZJU early July for data on international student graduation rates, which the school doesn't detail in its graduation employment reports.
After being redirected from the international graduate affairs office, I reached the person in charge of both media inquiries and student affairs. He proceeded to cut me off midsentence and told me to look up the news department's contact info online. The link I found was broken, however, and I reached a dead end. Had this not been par for the course with my student experience, I might have been surprised.
And the thing is, I actually enjoyed my program, administration aside. I liked my professors, I got along with my classmates, and I felt good about my graduate thesis and the research I was able to do. After my first class on 19th-century novels, I remember my professor encouraging me to learn more so I could eventually write essays in Chinese. In an effort to rise to his challenge, I wrote out a cheat sheet of terms related to Victorian-era novels to memorize, and I prepared notes full of bilingual talking points for class.
These are the experiences that ultimately give international education programs value. But until schools stop focusing on raw numbers and start the tedious, difficult work of helping students in practical ways, the "international brand for Chinese education" will remain a tough sell.
In the end, I made up the class I was missing, received my diploma in December, and walked in ZJU's graduation ceremony in March of this year. But even this wasn't a total victory. Although the international department told me I could walk, on the actual day of the event, I wasn't on the list — apparently because I had technically already graduated in December. I ended up having to walk under someone else's name.
It should have been a moment of triumph. It should have been the culmination of years of hard work. It should have been a moment of celebration. But most importantly, it should have been a year ago.
Cai Yiwen contributed to this article.
Editor: Kilian O'Donnell.
(Header image: A woman adjusts an international student's graduation regalia at Zhejiang University, Hangzhou, Zhejiang province, June 29, 2019. Long Wei/VCG)