On a cold winter's afternoon in late 2016, I watched as 50 inmates dressed in thick gray cotton coats over autumn jackets squeezed into Prison Z's psychological health center. But they weren't there for a checkup. At the other end of the 100-square-meter hall, prisoners and officers were rehearsing a play for the closing ceremony of the prison's reading festival.
Like elsewhere, prisoners in China are typically subject to strict disciplinary rules. Even their posture is tightly governed. But at that moment, the atmosphere in the room was unusually relaxed. Some inmate-actors studied the action onstage attentively as they waited for their turn to practice; others were laughing and chatting among themselves and with their guards. And in the middle of it all stood Yu — to protect the identities of my research subjects, I've given them all pseudonyms and changed the name of my fieldwork site — a professional stage and TV actor who had been teaching drama at Prison Z for the previous six months.
The use of theater and drama in prison systems in Europe and America has been extensively documented, but although such theatrical performances have a long history in China, there is comparatively little literature on how these events influence prison life. Over the course of my doctoral research, I found that, while prison management sees dramatic performance as a tool for reforming and educating prisoners, the prisoners themselves see it as both a critical means of self-expression and a way to compete for material resources or even potential sentence reductions.
Built in the 1930s, Prison Z first began holding theatrical performances that featured prisoners during the 1970s, with mostly solo and small group dancing, singing, martial arts, or crosstalk acts. Usually held on sweltering summer evenings to help relieve the tension caused by hot weather or in honor of major festivals like the Lunar New Year, these small-scale performances are voluntary and rehearsed by the prisoners themselves without much interference from the guards.
A Lunar New Year performance I attended showcased street dancing, entertaining skits, and songs adapted to fit prison life. The guards and prisoners seemed to interact in a light-hearted manner, and the audience was boisterous. It was a rare moment in which the strict prison order had temporarily loosened. Prisoners felt free to enjoy themselves, and officers didn't feel obligated to keep a straight face or project authority.
Not all prison performances are cheery romps, however. Those run by the prison's education section are less about relieving the tedium of prison life and more about "correction through art": reforming and educating prisoners and helping them build a new life.
Prison authorities promote the act of performance as having five primary functions: It enriches prison life; evokes emotional responses to moral topics; showcases successful prison work, including rehabilitated prisoners and harmonious prisoner-guard relationships; corrects criminal thought and behavior; and educates prisoners on current policies.
The education section at Prison Z sponsors two types of performance. The first take place during the annual three-month-long reading festival. The year I observed, the theme of the theatrical competition was "Life Will Shine One Day." Every unit in the prison was required to prepare a five-minute skit to show in front of judges, officers, and other performers.
Traditional morality tales are a common choice. They're popular with prisoners — because they're widely known and easy to adapt — and with administrators because of their moral content. The skits I saw included a folklore-based tale of a thief punished by fate and a Confucian lesson on filial piety.
Prison officers judge each performance and announce each prison unit's rank at the end. For prison administrators, the festival provides an opportunity to evaluate prisoners and propagate desired values. The performances are recorded and some later shown on the prison's internal TV channel.
For prisoners, on the other hand, plays are a chance not only to win glory, but also material rewards. For large-scale competitions, the prisoner-performers from the top three prison units are awarded points toward reducing their prison sentences. Other, smaller rewards include things like an extra meal or a jar of chili sauce. There is not much enjoyment in prison life, so even these minor bonuses can feel quite important.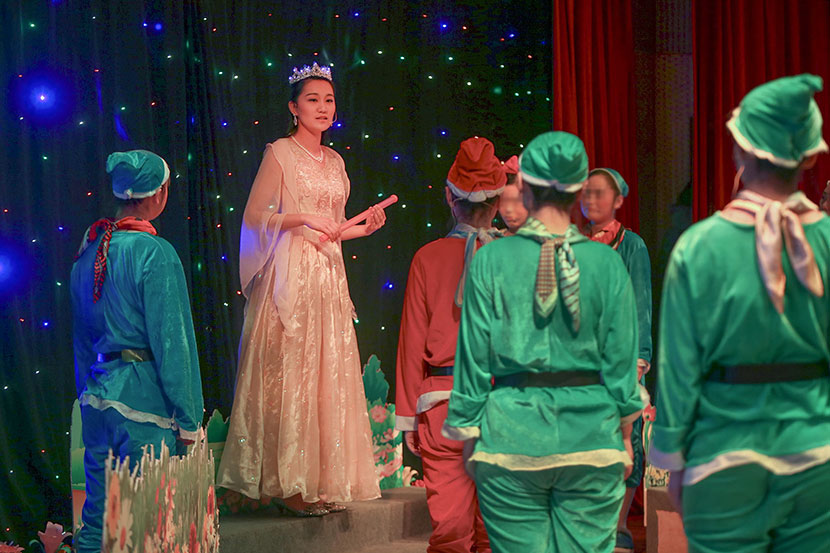 A policewoman (in white) and prisoners perform "Snow White" at a prison in Shanghai, March 7, 2018. VCG
The second education section-sponsored performance type, and probably the most important in the eyes of administrators, involves large-scale shows.
The themes of these shows mostly relate to current political catchphrases and campaigns, such as "Red Army Anniversary," "Socialist Core Values," and "Belt and Road." Involving anywhere from 50 to 100 prisoner-performers from each prison unit, they are only held during major national festivals or the closing ceremonies of big prison events.
One of the plays I saw during a grand show — written by a prisoner and based on events that had taken place at the prison — told the story of a terminally ill father who gave 12 letters to prison officials before he died. He asked the officials to give one of the letters to his imprisoned son every month, so the son wouldn't have to learn of his father's death while in prison. I saw several prisoners wiping tears from their eyes during the performance.
As with the reading festivals, material incentives get prisoners to take part, but putting on a costume, playing someone else, and being creative are also crucial motivations. The theater offers a temporary reprieve from the tedium of prison life. "Life inside is very passive; you do what you are told to do," one of the inmates said. "I like theater. It inspires people. You can't just get by: You need to love life."
In addition to prisoners, prison guards are also active participants in — and beneficiaries of — performances. Officer K began preparing prisoners for competitions when he joined Prison Z as a low-ranking guard. After successfully integrating communist-themed Red songs into Chinese operatic performances and organizing a choir group, he became the prison's director of cultural activities. "He wanted people with good voices, and he would search cell by cell to select members for the choir," a former participant in the choir told me.
Because officers also benefit from a successful show, theater gives prisoners an opportunity to strengthen their relationship with prison staff. Prisoner B participated in a number of staged shows during his four years in custody, doing well enough for his unit to win first prize at a competition.
"From then on, I entered Officer G's heart," he joked, referring to the guard who had asked him to take part. In recognition of his efforts, and Officer G's favor, other guards occasionally overlooked Prisoner B's minor violations of prison rules. In his case, this helped him win a six-month sentence reduction, despite the fact that he was a repeat offender.
The improved ties are not always transactional. Theater creates a space where interactions between prisoners and officers can be more casual, especially during the largely prisoner-led small galas. To quote an inmate's song, "Thrilled hearts, trembling hands — too bad there is no alcohol; Officer G educates me 1,000 times, I treat him as my first love; Officer Y sets the quota really high, but we can and must exceed it."
The close prisoner-officer collaboration during scripting and rehearsals fosters informal bonds and facilitates mutual understanding. This influences officers, too. Some guards, for example, expressed sympathy for the prisoners when cultural activities became too burdensome. However, outside the theater, the strict officer-prisoner hierarchy remains in place.
In general, prison inmates are expected to be absolutely obedient to their guards and prison administrators. Theater offers a rare opportunity for inmates to improve their material conditions, but it's about more than that. It's a moment when everyone — guard and prisoner alike — can express themselves through the creative process. In other words, it's a brief respite from not just the material poverty of prison life, but the spiritual poverty as well.
Editors: Cai Yiwen and Kilian O'Donnell; portrait artist: Zhang Zeqin.
(Header image: A prisoner performs during a Lunar New Year event at a prison in Changchun, Jilin province, Feb. 8, 2018. Shou Chen/VCG)