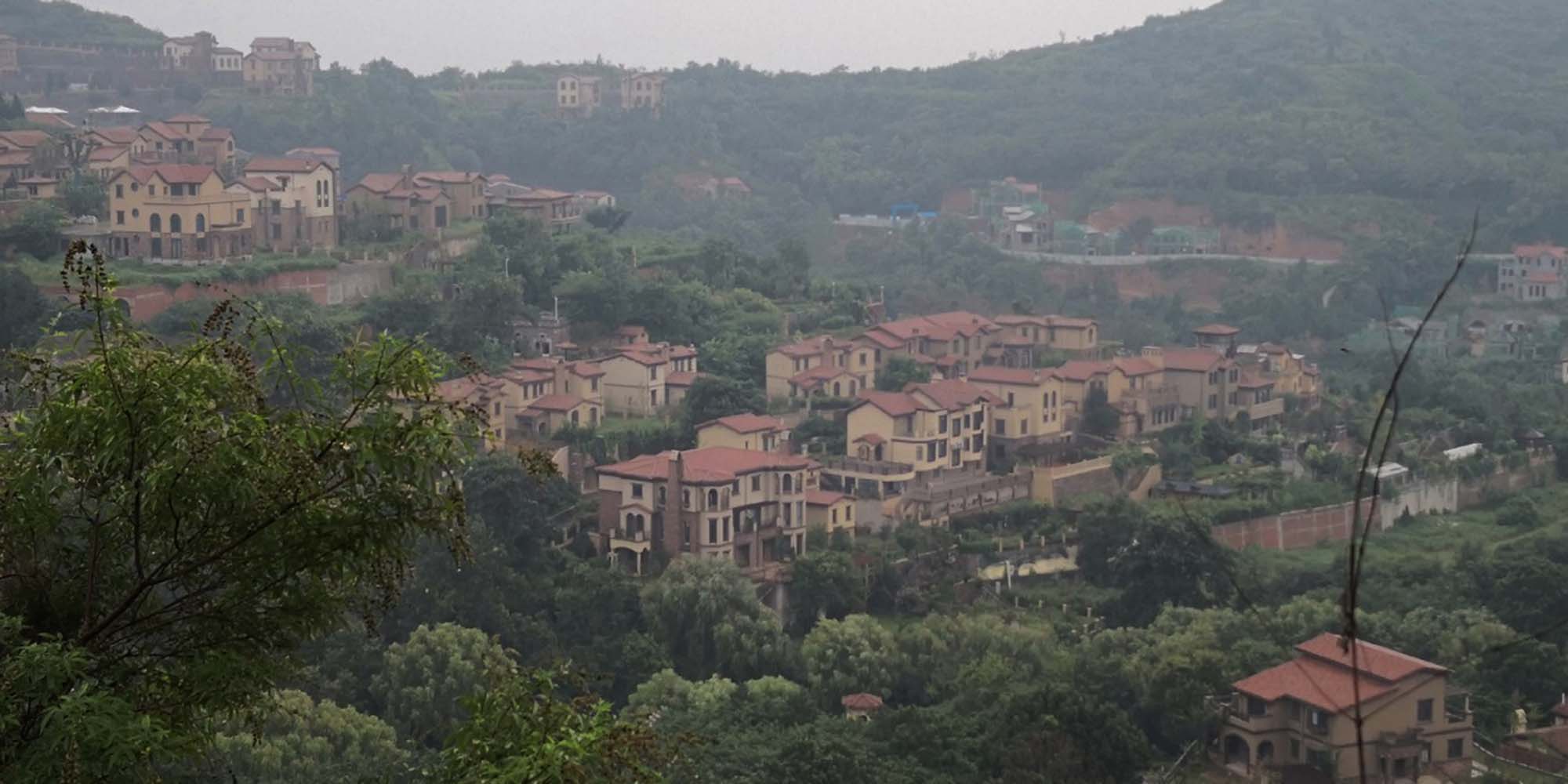 NEWS
Land Abuse Exposé Prompts Investigation in China's Heartland
The road to a members-only mountain resort with a golf course, equestrian facility, and dozens of luxury villas was paid for with poverty relief funds, People's Daily found.
Update: The golf course and equestrian facility on Wuyun Mountain are being demolished and will be cleared within three days, according to a report Tuesday by Shangyou News.
Authorities are investigating a potential land abuse scandal in central China's Henan province after state-run newspaper People's Daily reported on the misuse of poverty alleviation funds and illegal construction of golf courses as part of a luxury mountain resort.
According to Monday's report, Wuyun Mountain, a rural area that formerly accommodated four villages, has been developed without proper oversight into a resort town that is largely inaccessible to locals.
The enterprise behind the development — which initially included a golf course, an equestrian facility, and over 40 detached villas — is a "membership-based healthcare and happiness service provider" called Orenda Tribe.
According to a 2004 guideline from the State Council, China's Cabinet, the construction of golf courses in the country is prohibited except in cases where special approval is granted. Moreover, the People's Daily report said that 9 million yuan ($1.3 million) in poverty relief funds had been spent on a road connecting the equestrian facility and the villas, and that only members of the Orenda Tribe resort were allowed access to it.
In a letter included in the People's Daily report, a local resident said Wuyun Mountain had been converted into "a private area that ordinary people cannot enter freely." The villager said they had written the letter in hopes of drawing attention to what they and other locals view as an injustice. Prior to the resort's development, residents from the four villages on Wuyun Mountain were relocated.
After confirming the resident's claims, People's Daily discovered that the Shangjie District government, which administers Wuyun Mountain, had been called out by the Ministry of Natural Resources in 2011 for "arbitrarily changing land use conditions to build villas."
Specifically, the ministry criticized the Shangjie District government's housing and urban-rural planning bureau for licensing a developer to build villas on Wuyun Mountain without filing the necessary paperwork with the local development and reform commission. Shangjie authorities responded at the time by saying they had fined 35 villas for compliance violations and demolished eight others that "couldn't be rectified." However, when People's Daily visited the site recently, they found that new villas were still under construction.
Speaking with undercover reporters, Shangjie authorities denied allegations of mismanagement and impropriety, claiming that after 2011, they neither built an equestrian facility nor issued a license for a golf course. When reporters visited the area, local officials led them to the top of Wuyun Mountain and said an equestrian center that had been there was now gone. The reporters nonetheless observed another equestrian center elsewhere on the mountain.
In a post Monday on microblogging platform Weibo, the publicity department of Zhengzhou, the city that administers Wuyun Mountain, said a joint work group had been assigned to investigate the matter. "If there are any problems, we will deal with them," said the department.
Orenda Tribe and the Shangjie agricultural and rural work committee — the body responsible for local poverty relief initiatives — declined to comment when reached by Sixth Tone.
However, Liu Yi, the committee's director, has admitted that using poverty relief funds to construct the road on Wuyun Mountain was a mistake, telling People's Daily that "looking back now, the type of funding was wrong." But Liu doubled down on the road's utility, saying the improved infrastructure has been a boon to villagers and land values.
Local discipline inspectors, along with finance and poverty relief officials, are continuing their investigation, Liu said.
Editor: David Paulk.
(Header image: An aerial view of the luxury villas on Wuyun Mountain in Shangjie District, Henan province, Aug. 19, 2018. From @闲情偶不记 on Weibo)