The body of a 9-year-old girl missing since July 7 was found Saturday afternoon, with a preliminary investigation suggesting she was forcibly drowned, police in eastern China's Zhejiang province said in a statement Sunday.
The girl, Zhang Zixin, was found off the coast of Xiangshan County, administered by the city of Ningbo — about six hours' drive from her hometown of Hangzhou in the same province. Though the case is still being investigated, police have identified a couple who took Zixin away from her home as major suspects.
Zixin had been living with her grandparents in Hangzhou. On July 4, a couple lodging at the family's home — a 43-year-old man surnamed Liang and a 46-year-old woman surnamed Xie — asked if they could borrow Zixin for a few days and take her to a wedding in Shanghai.
According to Zixin's father, the couple were in regular contact with him until July 7, the day the two had promised to bring Zixin home. The family filed a missing person report with police on July 8. The same day, Liang and Xie were found drowned in a lake in Ningbo — an apparent double suicide — but Zixin's whereabouts remained unknown.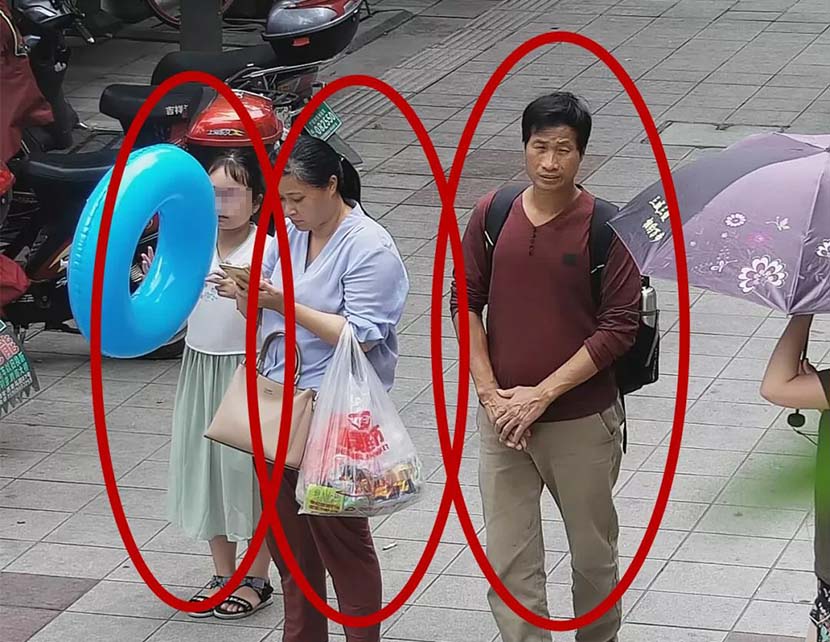 A screenshot taken from surveillance footage shows Zhang Zixin in front of a hotel along with the two suspected kidnappers in Xiangshan County, Ningbo, Zhejiang province, July 7, 2019. From The Paper
News of Zixin's disappearance and the ensuing weeklong search received nationwide attention, with many concerned that she might have been kidnapped by Liang and Xie, who had only known Zixin and her grandparents for less a month. There was even speculation that the two might have sacrificed Zixin as part of a religious ritual — a rumor police have dismissed.
Police told media that Liang and Xie had been planning to kill themselves for months. Both from the southern Guangdong province, the unmarried couple had lived together since 2005. For the past few years, police said, the two had resorted to scams and fraud to make ends meet.
Before cutting off contact with Zixin's father, the couple had brought the girl not to Shanghai, but to Fujian and then Guangdong. Police said they've found signs that the couple had planned to "commit suicide together with Zhang."
Aside from the shocking circumstances, Zixin's disappearance has also raised concerns over the lives of so-called left-behind children, many of whom live with their grandparents while their parents are working away from home. Such children are often less closely monitored, and are therefore more vulnerable to accidents and criminals. Because her parents had lived apart for years and her father worked in the northern port city of Tianjin, Zixin spent most of her time with her grandparents.
In the aftermath of the case, authorities are calling for heightened awareness of child safety to prevent such a tragedy from happening again.
Editor: David Paulk.
(Header image: The father of 9-year-old Zhang Zixin watches as people search for his daughter, who was reported missing after a couple that had invited her to attend a wedding with them in Shanghai failed to return her, Ningbo, Zhejiang province, July 11, 2019. VCG)