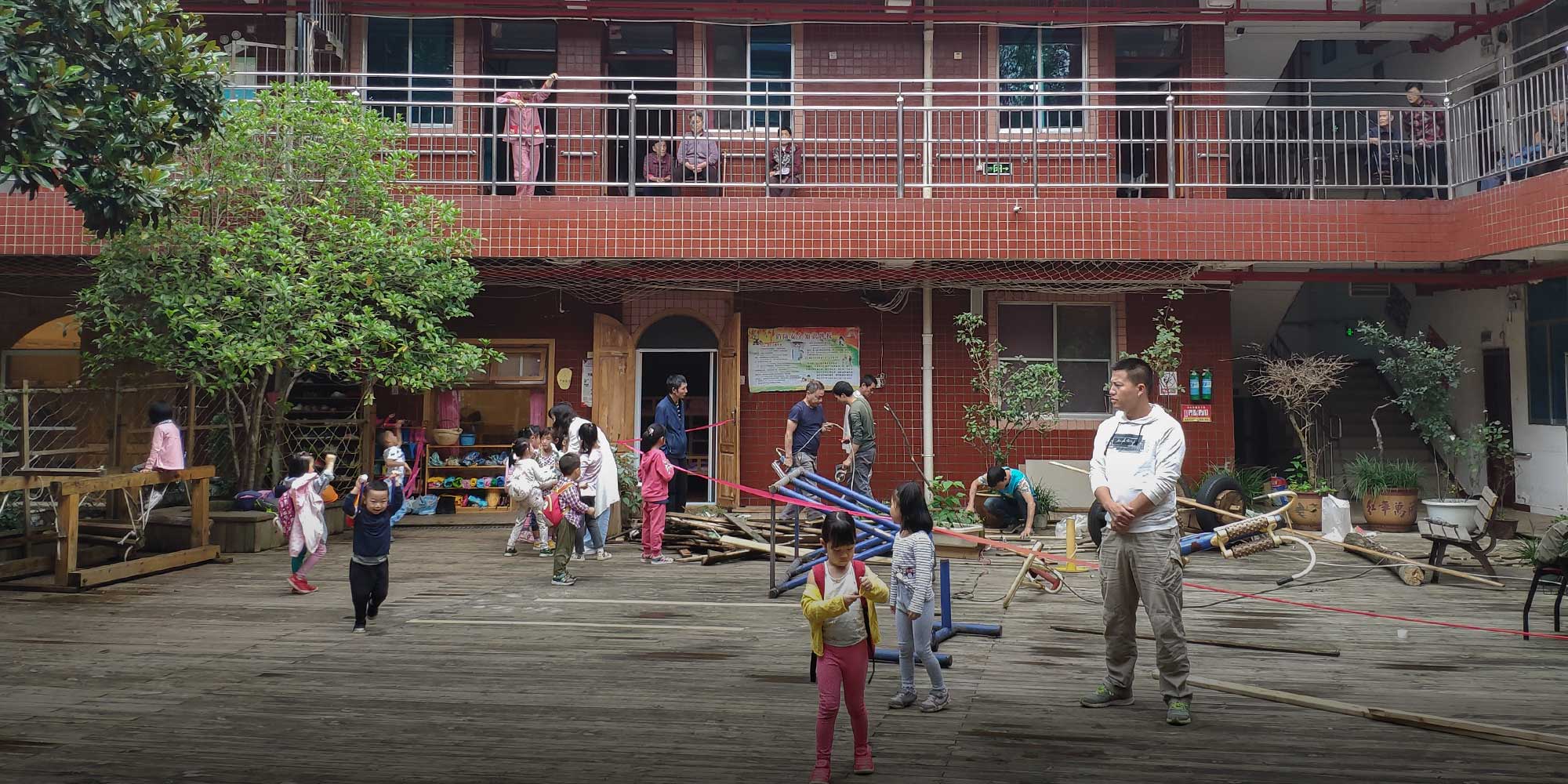 FEATURES
Pensioners and Preschoolers Mix it Up in Chinese Nursery
Though a rare intergenerational care experiment has proven a hit, widespread support remains elusive.
GUIZHOU, Southwest China — It's late afternoon, and, indifferent to the slight drizzle, children are chasing each other around the playground. A few floors above, a group of retirees is sitting on chairs or leaning against the railing, looking down. "It's my favorite time of the day," 85-year-old Liu Guirong says. "Watching them play is very invigorating and satisfying."
Liu lives in Xiyanghong, a combined retirement home and kindergarten in provincial capital Guiyang. Here, 3- to 6-year-old preschoolers and people aged 73 and up spend parts of the day together. This way, according to the home's philosophy, the young learn from the old, and the old stay young.
Worldwide discussion about intergenerational centers started when one opened in 1970s in Tokyo. In the decades since, they have spread across Japan, Europe, and North America. But unsupportive governments and hesitant parents have made the idea less popular in China. Despite a growing glut of lonely elderly, Xiyanghong is just one of two such centers in the country.
Xiyanghong — the name means "sunset glow" — wasn't an instant success, either. Established in 1996, it was Guizhou's first privately owned nursing home. A few years ago, founder Xue Mei was looking for a way to give Xiyanghong a homier atmosphere and met Deng Sha, who worked in early education. The pair decided to collaborate, and they turned the care home's ground floor into classrooms for about 50 kindergarteners, with all three floors available for around 80 elderly residents. Two to three people share each room, which comes with a bathroom, balcony, and mountain view.
But when the kindergarten opened in 2014, only one pupil joined. "Parents thought putting their kids with the 'dying' elderly would be hard to imagine," Deng, 32, says. There was also some behavior that needed correcting. Retirees sometimes failed to set a good example and would, for example, thoughtlessly discard bones on the floor during lunch. Rambunctious children had a habit of running full speed into their frail neighbors.
Another stumbling block was staff. "Nursing-home workers felt they were already exhausted from taking care of the elderly, while kindergarten teachers had a hard time getting used to the stubbornness of the older residents," says 69-year-old Xue.
But initial feedback was positive, and word-of-mouth recommendations attracted more and more parents. Now there is a waitlist for new kindergarteners, and staff are more on board. The one group that never needed much convincing was Xiyanghong's elderly residents. "I saw their eyes shine when watching the kids from upstairs," says Xue. "Before that, they were just muddling and waiting to die."
Xue says the presence of children improves seniors' physical and mental health, reducing loneliness and depression. "For children, interaction with older people supports their learning and boosts their social development," she says. It also teaches them the traditional Chinese virtue of respecting the elderly. "When kids see with their own eyes that older residents grab plates with trembling hands despite being much taller and bigger than them, they can see the fragility of life; they will take pity on the elderly and establish a sense of caring," explains head of kindergarten Deng. "Everyone is more responsible for one another."
Such anecdotes are in line with international experiences. Judith Ish-Horowicz, co-founder and principal of Apples and Honey Nightingale CIC, the U.K.'s first intergenerational nursery, says it hasn't encountered many problems since its launch in 2017. "The initial difficulty is to get people to understand that we are not going to leave the children in the care of the residents," she tells Sixth Tone. The mixing of generations has proven beneficial, according to the company's own evaluations. The elderly, especially those with dementia, enjoy the mental stimulation. Children have improved their language ability faster than before, and, Ish-Horowicz says, they enjoy the patience of people who aren't in a rush.
Sue Davidson, director of Bethlehem Intergenerational Center in the state of Michigan says the model is also relatively new to the U.S. The institution had been operating as a child care center for decades until it introduced the program to enrich the lives of the elderly two years ago. "Parents all love this idea," Davidson tells Sixth Tone. "It helps seniors find a new meaning of life."
In Bethlehem, the two age groups take part in organized activities together, such as reading books or baking cookies. However, in Xiyanghong, shared activities are mostly spontaneous. Children sing and share birthday cakes with the seniors or bring water to a resident's room for the nursing assistant to bathe them. Most of the day is spent apart. The senior apartments and kindergarten have their own dining rooms, living areas, and entrances.
Apples and Honey Nightingale CIC mentions in its case study report that it hopes to see 500 intergenerational institutes developed across the U.K. over the next five years. Such a rollout is unlikely in China. "We work twice as hard to take care of two vulnerable groups, but we don't get as much in return financially," says Deng. The kindergarten is responsible for its own profits. The government subsidizes a one-time 3,000 yuan ($437) operational fee for each bed in the nursing home, and 300 yuan a year for each elderly resident.
Elsewhere in China, intergenerational centers have proven unfeasible. When Hu Yanping attempted to experiment with this model over a decade ago, after visiting intergenerational centers in Japan, the lack of support and applicable governmental policies made her reconsider. Now, as the director of Golden Age, a high-end retirement community in the eastern city of Hangzhou, she cooperates with nearby kindergartens to organize activities in which children and elderly residents can interact. Hu says it's difficult to build a long-term program. "Every activity requires the strict approval from the education bureau, and sometimes the heads of the kindergartens feel that such extracurricular activities have safety risks and more," she says.
At the end of last year, an intergenerational center in the eastern city of Nanjing closed its nursing home after 16 years. Its head, Chen Qi, tells Sixth Tone that it's unrealistic to integrate the two vulnerable populations within one institution: "It's not in line with China's national conditions and people's mindsets." Chen explains that parents proved unwilling to let their children live with the elderly because of concerns about the group's manners and physical conditions. For many working Chinese parents who leave their children in the care of their aged parents, there are often conflicts in parenting styles. Some objections were also based on deeply held beliefs that people near death bring bad fortune. "As death is still a taboo for Chinese people, they're against the idea of having the kids and the elderly's hearse enter and exit through the same gate," says Chen.
Deng says seniors passing away hasn't been a problem in Xiyanghong, where both groups don't even share the same entrance to the building. The kindergarteners receive death education, in which they learn about the cycle of life, making death less of a shock to them, Deng says. "When they spend time with the elderly on a regular basis, they see the wrinkles and wheelchairs, and they realize people will get tired when they are older."
Chen Xuanjin — no relation to Chen Qi — visited her grandmother over the past decade when she resided in Xiyanghong. She recalls that, before the kindergarten opened, her grandmother and other residents didn't speak much. "I felt like they were just lying and dying," she says. "Their lives had become black and white; however, the children are like colorful strokes, giving them confidence and hope to live again." Her grandmother, who had a stroke and paralysis, made the effort to walk around to see what the children were doing. That convinced Chen to send her daughter to the kindergarten.
Every Thursday after their cooking lesson, Chen Xuanjin's daughter brought cakes to her great-grandmother's room and fed her. "Usually, we don't have a strong bond with our great-grandparents, but my daughter remembers my grandmother's bed and her favorite food, which I believe is the inheritance of family emotions," she says. "Maybe she can't integrate these feelings now, but the seed has been planted in her heart to teach her to respect and cherish lives."
When Hou Ying first visited Xiyanghong to see if it would be a good place to send her son, she noticed the elderly right away and wondered how the combination would work in practice. But when she saw how much residents enjoyed the children, she was reassured. "My grandfather and I had a very good relationship, but when I went to college, I had very little contact with him, which I regret," she says, tearing up at the thought of her grandfather, who passed away last year. "I want my son to have the love and care from the elderly while he's little, which I believe will make him strong and optimistic when he grows up."
Liu, the resident, moved to Guiyang from eastern Shandong province with her husband in 1964 to support railway construction in southwestern China. She's lived in Xiyanghong since 2012, moving in after her husband passed away. Her only child works in another city and visits her once a year. "Life was somewhat meaningless before these little babies came along," she tells Sixth Tone. "I was so lonely and waiting to die, until one day I heard the sounds of the children downstairs; all of a sudden, I felt like I had a reason to live again."
For last month's Dragon Boat Festival, the children and elderly made zongzi — glutinous rice with different fillings wrapped in bamboo leaves. When Liu recalls showing the children how to fold the leaves, she's all smiles. "They called me Grandma," she says. "They made a mess, but who cares?"
Additional reporting: Ai Jiabao; editor: Kevin Schoenmakers.
(Header image: Elderly residents upstairs watch kids playing after school at Xiyanghong, Guiyang, Guizhou province, June 17, 2019. Fan Yiying/Sixth Tone)