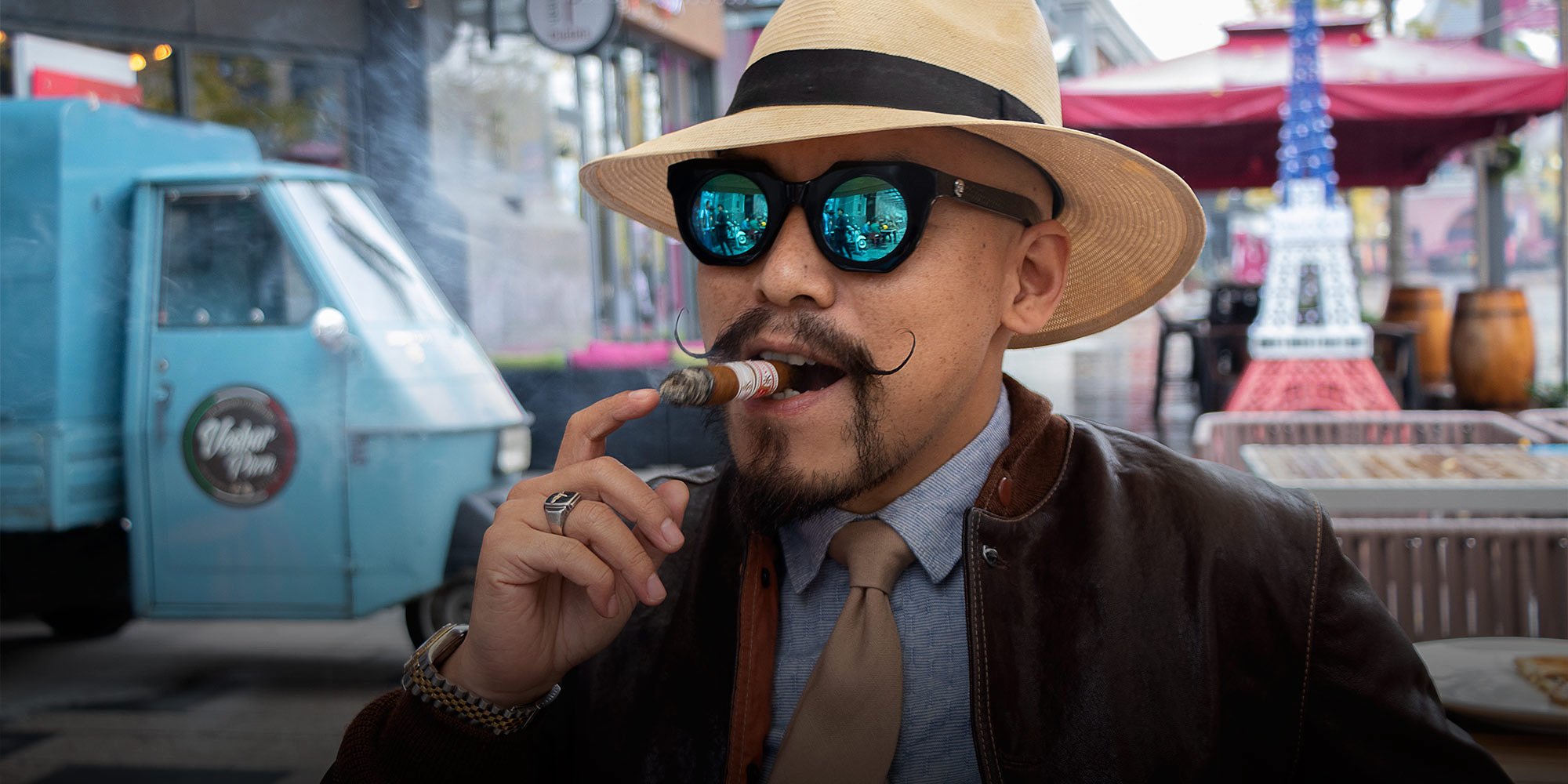 FEATURES
Make America Dated Again: The Chinese Reproducing US Vintage
A growing number of Chinese collectors and artisans are obsessing over items from America's past, but will their nostalgic subculture stand the test of time?
SHANGHAI — When Shen Wei smokes a Cuban cigar and plays big-band music through his decades-old American radio, he's whisked to a bygone era.
"The sound — it brings you back to that age," says the 38-year-old artist and entrepreneur. "You can imagine, 80 years ago maybe, a gorgeous lady sitting over there, listening to some beautiful music. You have some connection with it."
The cavernous ground-floor showroom where Shen traverses time is filled with U.S. military memorabilia he's collected over the years: uniforms, helmets, hats, sunglasses, gloves, jewelry, and watches. Under a wall-mounted American flag and model fighter plane sits the large tube radio Shen bought on eBay six years ago, produced by General Electric in 1940.
As for the replica World War II-era Air Force jackets hanging on racks, they're Shen's original creations. To emulate the look and feel of historical jackets, he uses vegetable tanning for the leather and attaches oxidized copper buttons. If customers wish, Shen can also stitch on military patches, or paint the backs with images of aircraft, pinup girls, and cartoon characters like Bugs Bunny — just like American pilots used to do. Such customized jackets can sell for over 20,000 yuan ($2,900) apiece.
"People are getting richer. They have money to spend on this," says Shen. "My customers are willing to pay this price to have something very unique."
As the owner of Shanghai-based vintage brand Lucky Forces, Shen is one of a growing number of Chinese entrepreneurs faithfully re-creating Western items from the 1930s to 1960s. He sells to a burgeoning community of newly minted vintage fans in the country — typically men in their 30s and 40s — who see in the objects a timeless aesthetic, an air of prestige, and an escape from the pressures of work. But while the group is developing fast, artisans say vintage culture is still misunderstood and that the market, with its small size and competition from copycat merchants, can be a challenge.
Shen developed a particular interest in U.S. Army vintage after seeing high-grossing period films like 2001's "Pearl Harbor" while in university. He remembers falling in love with the soldiers' clothing, moved by the use of painted jackets as a creative distraction from the realities of war.
Over a decade later, Shen now sees his vintage collecting as a means of glimpsing into a past he never experienced but feels nostalgia for nevertheless. While his view of yesteryear might be rather narrow and romanticized, he muses, it reflects a profound desire to be somewhere other than the present.
"I guess it's a longing, a longing for that age," says Shen. "It was different from our own." In Shanghai, this passion for relics from another era is shared by a small but devoted number of like-minded enthusiasts. In sharp contrast with the modern styles seen on the streets, guests at a vintage gathering Shen attended late last year mingled in quaint tweed suits, waistcoats, leather jackets, and bolo ties.
For Shen's clientele, vintage wear is a way of standing out and experiencing an item's heritage. "When you wear it, people around you might think this jacket looks really good … but they won't know the story behind it," says Shen. "People who wear flight jackets derive a sense of satisfaction from knowing more than others: They understand their historical and cultural background."
Lucky Forces may be all-American in its style, but the craft philosophy behind it originated in neighboring Japan. Shen was initially inspired to start his brand after learning of the Japanese fashion movement amekaji, or "American casual," on websites like the influential vintage forum 33oz. Nearly 40 years ago, Japanese brands began re-creating American clothing and designs dating from the 1940s to the '60s with a high degree of authenticity, with some even using looms and other manufacturing equipment from the era to make denim. Amekaji brands have since gained international attention for their take on old U.S. clothing, while department stores, thrift shops, fashion magazines, and events catering to the style have made Japan a mecca for Chinese vintage fans.
"After digging deeply into amekaji and vintage culture, a lot of 33oz forum users have ended up starting their own brands," says Li Ying, manager of 33oz. Li Ying says that although China's vintage subculture is rooted in amekaji, it has developed its own scene with a growing number of grassroots undertakings. 33oz has itself evolved from an online forum for denim fans into China's leading promoter of vintage culture, selling clothes, organizing community fairs, and churning out social media content on platforms such as Weibo and WeChat.
And that ethos isn't confined to apparel alone. Owner of  Han's Pipes Li Dongjie, no relation to Li Ying, spends his days handcrafting vintage tobacco pipes that fetch prices ranging from 680 yuan to 5,000 yuan each. His products, designed in European, American, or Native American styles, can take up to 80 hours to plan, design, and create. "It's just like amekaji: While respecting and inheriting pipe culture (from the West), we're producing these items with even more meticulous craftmanship," he says, noting how bamboo root and other Chinese aesthetics are often subtly incorporated.
U.S. vintage products embody what Li Dongjie sees as the heroic spirit of America's past: adventure, a willingness to expand and explore, and the pursuit of freedom and equality. "What's the whole look for that age?" he says in conversation with Sixth Tone. "Alcohol, pipes, cigars, plain and rough-looking clothing."
The market for tobacco pipes is tough, though. Importing materials from Europe and America adds to the cost of his pipes, and the hobby remains highly niche. "It's a foreign culture in China," says Li Dongjie. "Only people who are passionate about vintage culture will like pipes."
Cui Wei, a catering entrepreneur who organizes vintage-themed events in his spare time, has seen many Chinese artisans come and go from the domestic subculture — often failing because their meticulously handcrafted goods can be cheaply imitated and mass-produced by merchants on e-commerce platforms like Taobao.
"It's similar to the pop music I used to do," says Cui, a former professional singer. "Being original is hard, but making commercial music is easy." Cui hopes his events, which he pays for at his own expense, will nurture vintage culture in China and protect brands like Lucky Forces and Han's Pipes.
The spread of the hobby is slow, partly because it's costly. Cui says his understanding of vintage culture — particularly amekaji — developed over the 15 trips he has taken to Japan since 2016. Even replicas of vintage clothing are pricey, leading to an expression popular among local vintage fans: "You have to be really rich to look really poor." 
These concerns are shared by Feng Guangjun, founder of a vintage brand named Beachhunter that sells products like '60s-themed T-shirts. Feng reminisces about discussing denim with fellow enthusiasts on 33oz's forums, saying he's now hard-pressed to find other connoisseurs in China at his level. When Feng meets Sixth Tone in Shanghai just before heading to a rock concert, he slings off his 1950s Levi's denim jacket — valued at 8,000 yuan — and starts thumbing it, pointing out the double stitching, the large "e" in the brand's logo, and even the buttons' oxidation. "We used to research these jackets to this extent," he says.
Feng says that an overwhelming number of fashion subcultures and trends have entered China in recent decades, but beyond becoming corporate buzzwords for promoting sales, most don't take root. "'Japan-style,' 'Korean-style' — one thing is popular, and then another," he says. "(Chinese) have tended to just sample these things, to only engage with them superficially."
All the same, there's not one single route into vintage culture, according to Feng. He first got into vintage through his passion for denim; since then, he's developed a strong preference for past aesthetics more generally, such as the graphics in old magazines and advertisements. In the back of his store in eastern China's Hangzhou City, Feng maintains an extensive collection of timeworn items he's bought online from the U.S., from jackets used in various 20th-century wars to a shopping catalog from 1933. "There's so much! If only I lived abroad," he says with a sigh.
Zhang Xiaolei, owner of the vintage vehicle workshop Songsan Motors, is familiar with the challenges of carving out a niche market. His business creates motorbikes — designed in the U.S., then assembled in China — in both vintage and modern styles. It also imports classic American cars, which the company soon hopes to replicate and manufacture itself in China.
Zhang has largely found that China's nouveau riches have little appreciation for vintage products, preferring instead to buy increasingly expensive and modern supercars. "Our vehicles are only for people who understand cars, not for people who have money but no culture," says the 45-year-old, speaking as fast as the automobiles he sells. Indeed, classic-car culture has stalled in the country for a number of reasons: Imports are prohibitively expensive due to tariffs and mechanical adjustments required to make the cars street legal, and buyers don't see the value of locally produced versions.
Zhang is a convert to the subculture himself: He once owned a succession of Ferraris, Porsches, and Lamborghinis, but ultimately discovered that he preferred old cars for their character and back stories. Supercars — like young people — are constantly struggling to keep up with the latest technological and aesthetic standards, while classic models have a timeless style and quality that Zhang believes better suit mature, well-established men.
But more than this, Zhang says vintage products are like stress-relieving toys for men faced with the cutthroat pressures of running businesses in China. "Everyone can be like a group of primary school students, playing with these simple things together like kids," he says. He doesn't even learn the names or professional backgrounds of many of his fellow vintage-vehicle aficionados — these real-world formalities are left at the door.
Zhang's classic-car venture, which is propped up by his family's large furniture business, is currently running at a loss of several million yuan a year, but he's confident there's a future market for vintage-style vehicles in China. "Everyone has just become rich," he says. "They don't know what's good, so they need some people with knowledge, people who understand this culture, who can spread it, slowly but surely." He also points to quality brands like Huawei and Haier that are raising the prestige of the "Made in China" label.
But for Shen, the jacket-maker, the small size of the country's vintage market has its perks. He sees his role as maintaining the subculture through both its ups and downs — or, as old Air Force propaganda posters often say, to "keep 'em flying."
"If this were a major business, then big money would be coming, and investment would be flying in," says Shen. "But because this is a subculture, it's left for those of us who really love it."
Correction: A previous version of this story misspelled Li Dongjie's name.
Editor: Hannah Lund.
(Header image: Shen Wei poses for a photo in Shanghai, Nov. 17, 2018. Kenrick Davis/Sixth Tone)