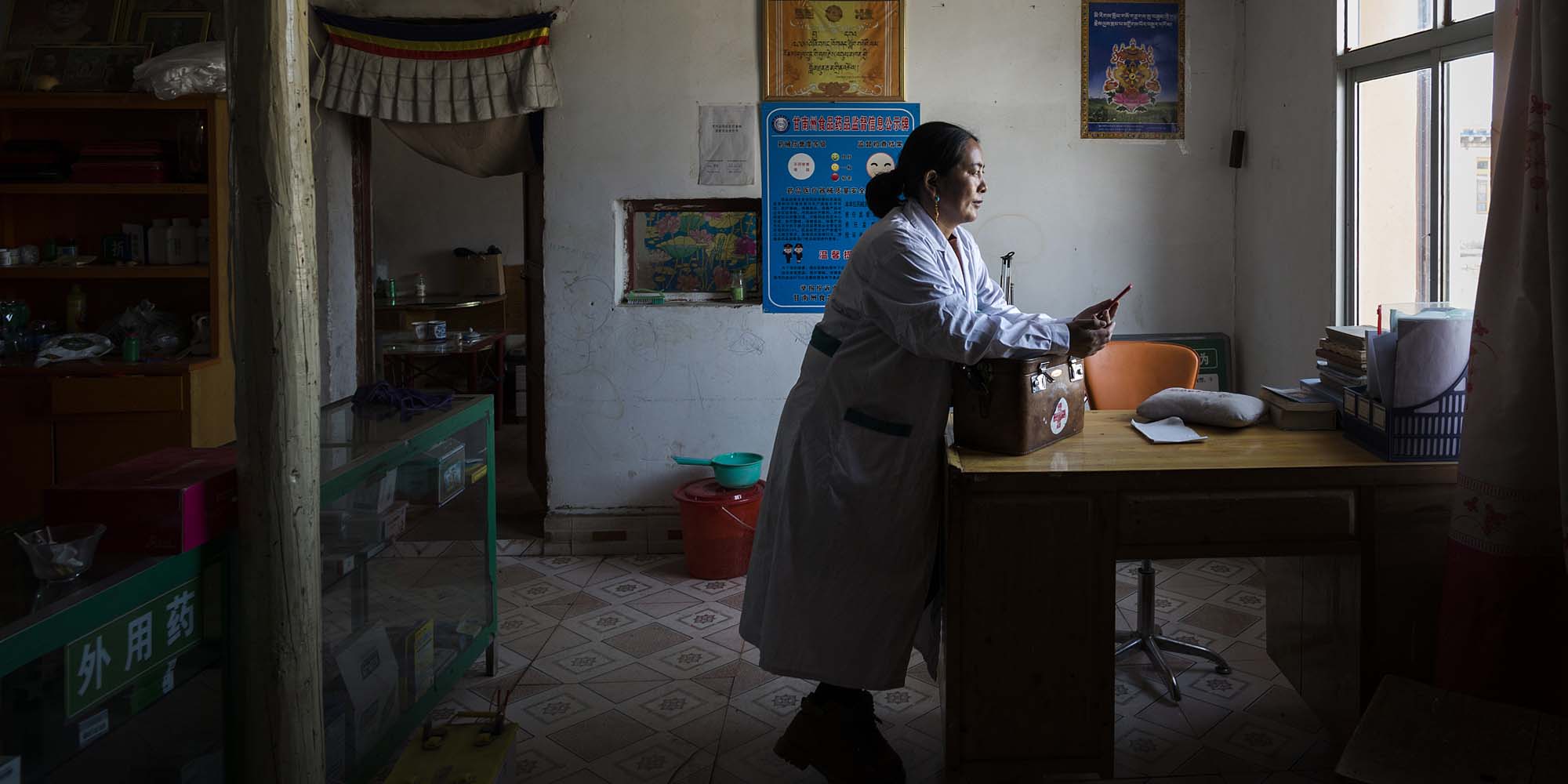 NEWS
China's Top Health Body Seeks Probe Into Henan Doctors' Pay Row
Dozens of doctors in a single town have resigned to protest alleged unpaid wages and funding cutbacks.
China's top health authority has demanded an investigation after a county government acknowledged payment violations related to the resignation of 36 village doctors in a single town.
During a press conference Tuesday morning, the National Health Commission said it has asked its branch overseeing the central Henan province to launch a probe into the affair, nearly two weeks after doctors in the province's Zhusha Town quit their positions en masse to call attention to a labor dispute.
The doctors say that they "cannot support themselves now" because "upper-level officials are docking" their pay, according to a group resignation letter that garnered attention after being republished Friday by a health-related public account on social platform WeChat. The letter, which is dated June 28, goes on to say that although "the upper-level (government) is allocating more and more funding, village doctors receive less and less." The WeChat post has since been deleted but remains accessible via a webpage archive.
The letter details multiple payment violations against the town's village doctors — a distinct category of medical workers in China. Known in the past as "barefoot doctors," village doctors are unlicensed practitioners who operate mainly in the countryside, where highly trained medical professionals are in short supply. Though historically underpaid, the country has sought to guarantee a stable income for village doctors since 2014 as part of a national plan for basic rural health care.
But in an audio file included in Friday's WeChat post, a village doctor surnamed Wang outlines attacks on the income streams relied on by the Zhusha practitioners to make ends meet.
Wang says the village doctors have received no payments this year from basic public health funding, which typically constitute half of their income. Thus, in 2018 they received less than 10 yuan ($1.50) per capita, a figure that gets multiplied by the number of villagers a doctor oversees to determine their payout from the health funds. This is significantly lower than the minimum of 22 yuan per capita effectively required by a national policy.
Despite the increases in rural public health funding outlined by national planning, payment to village doctors is often undercut in practice, Xu Yucai, an expert on medical reform in China, told Sixth Tone.
"Village doctors are only eligible for 40% of basic public health funding if they pass an annual evaluation," Xu said, referring to the percentage set aside for these doctors in national policy. And with evaluation standards largely opaque, some officials seek to fail village doctors in order to withhold the funding, he added.
In a statement Monday, the Tongxu County government — which oversees Zhusha Town — acknowledged a "delay" in payment for this year's funding but denied that it had underpaid the doctors in the previous year.
The statement further said that the doctors were effectively paid 14.53 yuan per capita for those in their care in 2018 — more than the doctors had claimed in their letter, but still significantly less than the amount required by law.
Wang, the doctor, also says in Friday's audio file that the government of Tongxu County has sought to cut down on payouts from a form of government-sponsored health care funding known as the new rural cooperative medical system, or NCMS, by 30%. With NCMS funding responsible for covering drug price subsidies and consultation fees owed to doctors, the 30% cut will allegedly reduce each doctor's annual income by more than 20,000 yuan. And the doctors are being asked to hand over an additional 5% to guarantee that they will not commit insurance fraud, according to Wang.
"Such practices are unheard of," Xu told Sixth Tone, adding that the alleged 30% cut from NCMS "has absolutely no legal basis." If the doctors' claims are true, he said, the doctors have received less than half of what they should have earned from the NCMS last year.
Xu suspects the alleged cut could be part of an aggressive local policy to clamp down on insurance fraud. "In some rural areas, cheating for insurance money is severe," he said. "It is possible that the local government set out to resolve this problem by simply cutting down on spending for village doctors' salaries."
In its statement Monday, the county government denied that such a cut was made. However, in an interview with domestic outlet Caixin on Sunday, a Tongxu official said the county had carried out a crackdown on insurance fraud from June 25 to June 28 — the date of the resignation letter — and that "a few" doctors were "rebellious" toward the official action.
Sixth Tone's calls and text messages to Wang, the village doctor, went unanswered on Monday. Wang had asked for Friday's WeChat post to be taken down after being summoned to speak with the Tongxu government, the health-related WeChat account later wrote.
On Sunday, 28 village doctors from another town in Tongxu County also resigned en masse, according to domestic outlet China News. The municipal government of Kaifeng, the city that oversees Tongxu, reportedly said it is looking into the matter.
Editor: Layne Flower.
(Header image: A village doctor waits for a call from a patient at a village in Gannan Tibetan Autonomous Prefecture, Gansu province, April 10, 2018. VCG)