A subway operator in eastern China's Shandong province is facing a PR nightmare after a tunnel collapse Thursday morning — a week after a subcontractor working on the project had warned of shoddy construction.
In a statement Thursday, Qingdao Metro Group Co. Ltd. said one worker was missing after a cave-in on an under-construction subway line in the coastal city. Qingdao Metro told Sixth Tone that the incident is being investigated but would not elaborate.
The city government of Qingdao is one of the state-owned subway company's major shareholders, according to publicly available business registration information.
Thursday's incident — the project's second tunnel collapse in two months — was followed by public appeals for an exhaustive investigation into the subway company. In May, five construction workers were trapped following a cave-in on a separate line under construction. They were all later confirmed dead.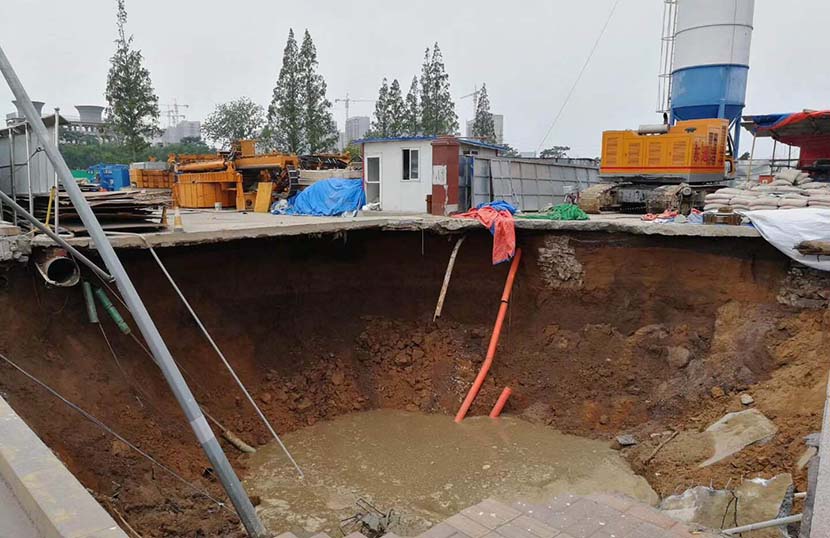 A 10-meter-wide sinkhole that caused a building to collapse at the construction site of the Line 1 metro in Qingdao, Shandong province, June 30, 2019. @科学刚 on Weibo
In late June, a subcontractor on the line where the collapse occurred stoked fear among the public by coming forward with allegations of illegal subcontracting and substandard construction. The whistleblower, Liu Feiyun, claimed to be responsible for the project's power supply.
In an interview with The Beijing News, Liu said that the construction project's contractor, China Gezhouba Group Electric Power Co. Ltd., had illegally subcontracted the installation of the site's power system at least three times since breaking ground in March. He also alleged that, to cut costs, the contractor had not been adhering to industry standards or the project's specifications: The thickness of the concrete foundation, Liu claimed, had been reduced by 10 centimeters.
After the exposé, the metro company launched an investigation that confirmed Liu's allegations of illegal subcontracting. However, regarding the claims of insufficient or inappropriate building materials being used, the investigation acknowledged only the problem of "uneven thickness." Though China Gezhouba Group denied being involved in illegal construction, it vowed to make rectifications.
According to the results of the investigation, Qingdao Metro blacklisted the contractor and demanded that it pay 1 million yuan ($145,000) in compensation.
Qingdao Metro had not responded to Sixth Tone's inquiry about whether Thursday's collapse had been related to the alleged construction problems by time of publication.
Editor: David Paulk.
(Header image: A train runs along the Line 11 metro in Qingdao, Shandong province, March 17, 2018. IC)