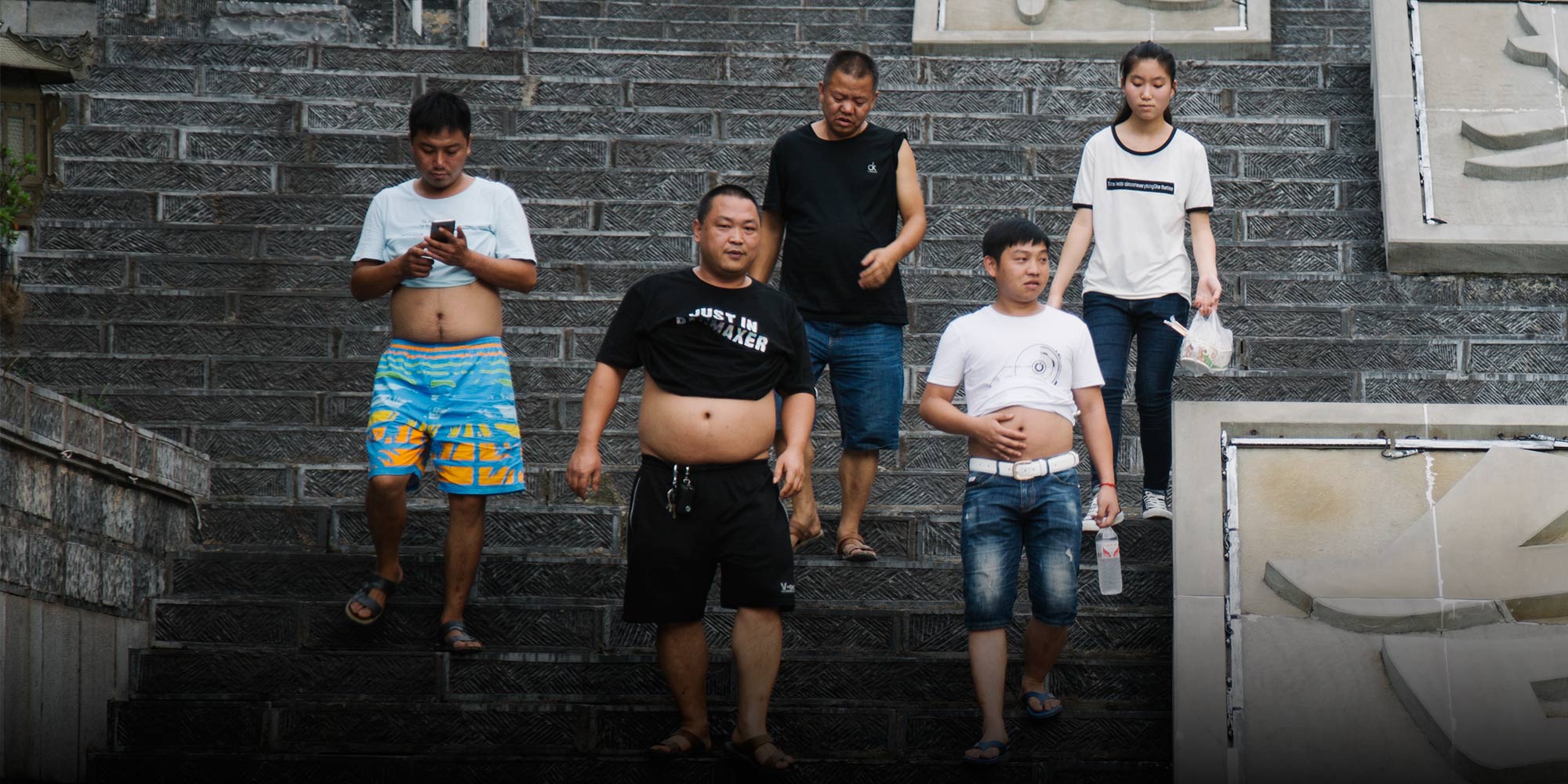 NEWS
Itsy-Bitsy Teeny-Weeny 'Beijing Bikini' Is Unseemly, City Says
Men in one eastern Chinese city have been warned against rolling up their shirts and baring their midriffs.
As the mercury rises during the summer, so do many Chinese men's shirts, often rolled up to expose ample bellies. Though this has long been a familiar sight in the country, straight-laced authorities are starting to push back.
On Tuesday, the eastern city of Jinan became the latest in China to target the so-called Beijing bikini with the release of a new guideline against "uncivilized behavior." Issued by the local government's Civility Department, the guideline takes aim specifically at bang ye, a Chinese term for the "topless old men" who can regularly be seen baring their midriffs in public.
A spokesperson for the Jinan Civility Department told domestic newspaper Beijing Youth Daily that those sporting the Beijing bikini are "uncivilized" and are tarnishing the city's image. Anyone caught exposing their belly will be given a verbal warning — or named and shamed, in the event of repeat offenders.
"In recent years, as people have become more civil, cases of people being shirtless have decreased," the spokesperson told the paper. "However, there are still some incidents that impact the city's image and its citizens' feelings."
Despite its name, the Beijing bikini can be seen on display in cities across China during the summer, with many men casually ambling around their residential communities with exposed midsections. Though the neologism's exact origins are unknown, state-run newspaper Global Times has suggested that the country's expat community may have coined the term.
Jinan's new regulation also discourages residents from a number of other boorish behaviors in public, such as taking off shoes to air out feet, swimming or bathing in bodies of water, spitting on the ground, and cutting in line.
Many online welcomed Jinan's decision and condemned such immodesty, while others said the custom was a natural way to beat the scorching summer heat.
"The streets are full of middle-aged men showing their bellies," wrote one aggrieved user on microblogging platform Weibo. "Those with genuine class will not do this. Women on the street do not wish to see your bodies!"
"The temperature has been around 38 degrees (Celsius), and it might be even hotter at home since the elderly are reluctant to switch on the air conditioning," argued another Weibo user. "They have no company at home and prefer to hang out in the shade below trees."
The Beijing bikini has faced a number of clampdowns over the years, including in several northern cities. Tianjin issued a guideline earlier this year stipulating fines of up to 200 yuan ($30) for those who show too much skin in public, while authorities in Handan distributed "civility shirts" to three men in 2015 as a warning that their fashion choices were distasteful.
Editor: Bibek Bhandari.
(Header image: Several men walk down stairs with their shirts rolled up and bellies exposed in Maotai Town, Guizhou province, July 15, 2017. Wu Huiyuan/Sixth Tone)