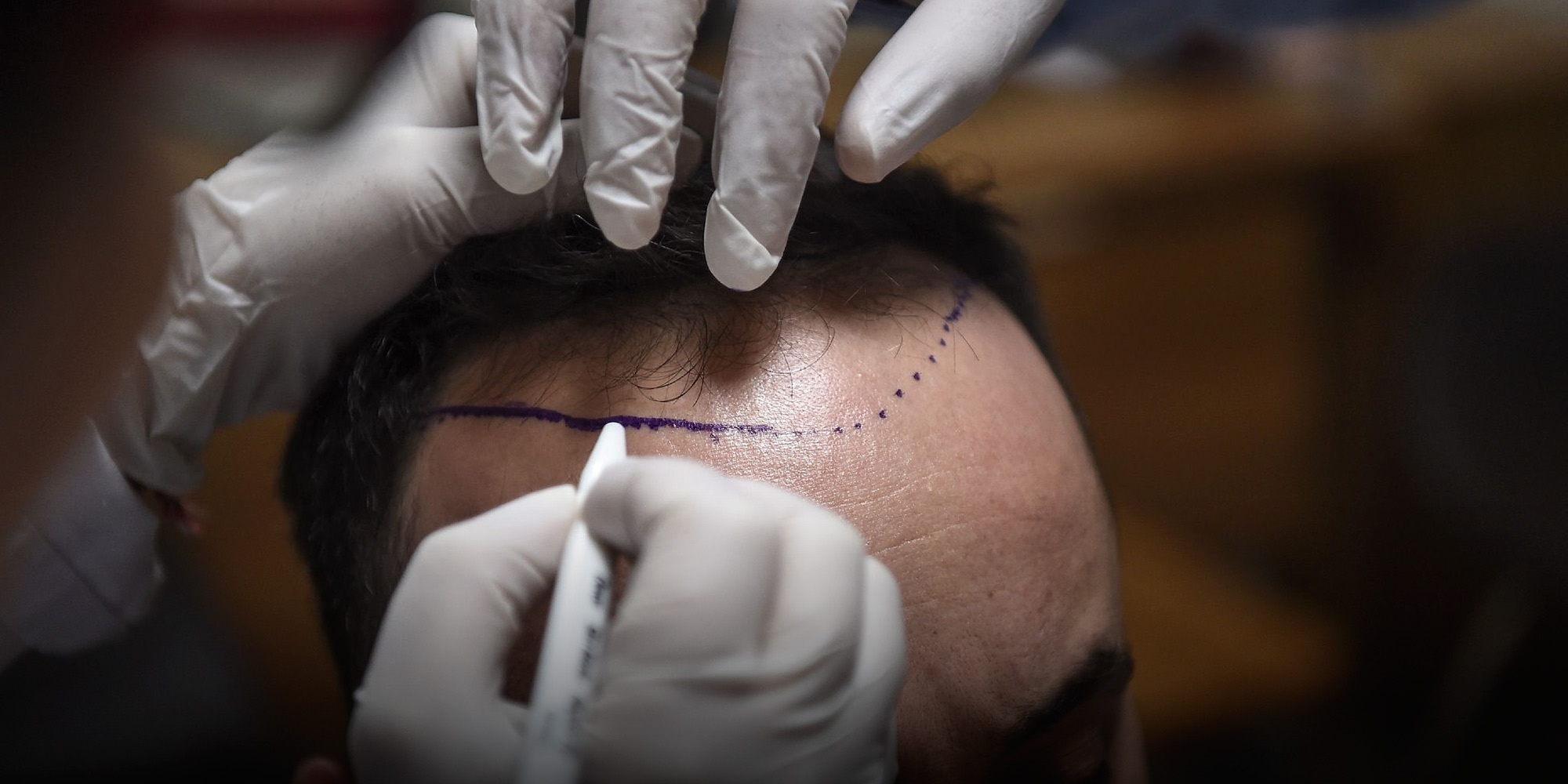 NEWS
Report Exposes China's Unlicensed Hair Transplant Industry
The country's growing market for cosmetic procedures has led to a proliferation of illegal training courses, some lasting only a few days.
A video report Monday exposing malpractice in China's hair transplant industry has alarmed many potential customers of the cosmetic surgery, a popular procedure given the estimated 250 million people in the country who suffer from hair loss.
The undercover report from The Beijing News revealed how a so-called training center in the Chinese capital provided students with just two days of instruction before assuring them that they were qualified to perform hair transplants on their own customers.
The students were briefed on the theory behind a hair transplant before beginning to practice on silicone sheets. They were asked to outline the shape of a beard or eyebrow, perforate it with a needle, and then insert hair follicles into the holes. Within hours of completing the exercise on silicone, the students were moved to another room to practice on a real patient — a man in his 30s. Here, the students were shown how to inject local anesthetic and a raising agent. They then plucked hair follicles from the sides of the balding man's head and inserted them elsewhere on his scalp.
At one point during the video, a "teacher" at the center tells the undercover reporter posing as a student that the class is lucky to have a volunteer patient that day. "Otherwise, you'd be practicing on each other," the teacher says.
The workshop — priced at 7,800 yuan ($1,140) and lasting two days despite being advertised as three — is not unique. An online search for "hair transplant workshop" returns numerous advertisements from self-described training centers and renowned instructors. After acquiring rudimentary skills from such workshops, many trainees go on to perform hair transplants at beauty salons, even though such businesses are not authorized to provide cosmetic surgeries. In China, only licensed medical personnel and facilities can administer hair transplants.
The rise of this underground industry is driven by a vast potential for profit. Last year, revenue generated from China's hair transplant market exceeded 10 billion yuan, and insiders expect continued growth for the market over the next three years, projecting that it will soon eclipse 100 billion yuan.
Sixth Tone's phone calls to the Beijing training center featured in the video went unanswered Tuesday. However, The Beijing News reported the same day that local health inspectors had visited the center and suspended its commercial operations, pending an investigation.
The case has gone viral on Chinese social media. On microblogging platform Weibo, a hashtag translating to "undercover reporter gets three-day hair transplant crash course" had been viewed 230 million times by Tuesday afternoon. Comments from netizens included "I'd rather stay bald than risk my life" and "This kind of malpractice in the cosmetic (surgery) industry is no different from killing people for money."
Zheng Hongjia, technologies director at Beijing Simson Hair Transplant Company, told Sixth Tone on Tuesday that only licensed doctors may perform cosmetic surgeries including hair transplants, and facilities where such procedures are performed must be approved by health authorities.
"Although hair transplants are relatively simple procedures, a surgeon must study for at least eight years prior to performing one independently — it's a joke to say that such professionals could be trained within three days," Zheng said. "Even for such a small procedure, a surgeon must be able to deal with potential emergencies, like an allergic reaction to anesthetic."
According to data from Gengmei — a popular cosmetic surgery app whose name translates to "more beautiful" — hair transplants ranked among the 10 bestselling cosmetic procedures during one of the app's sales events in May and was the most popular cosmetic procedure among male customers in Beijing. The app also said that from 2016 to 2018, the average price for a hair transplant procedure had increased from around 9,800 yuan to nearly 14,000 yuan.
Editor: David Paulk.
(Header image: Ozan Kose/AFP/VCG)