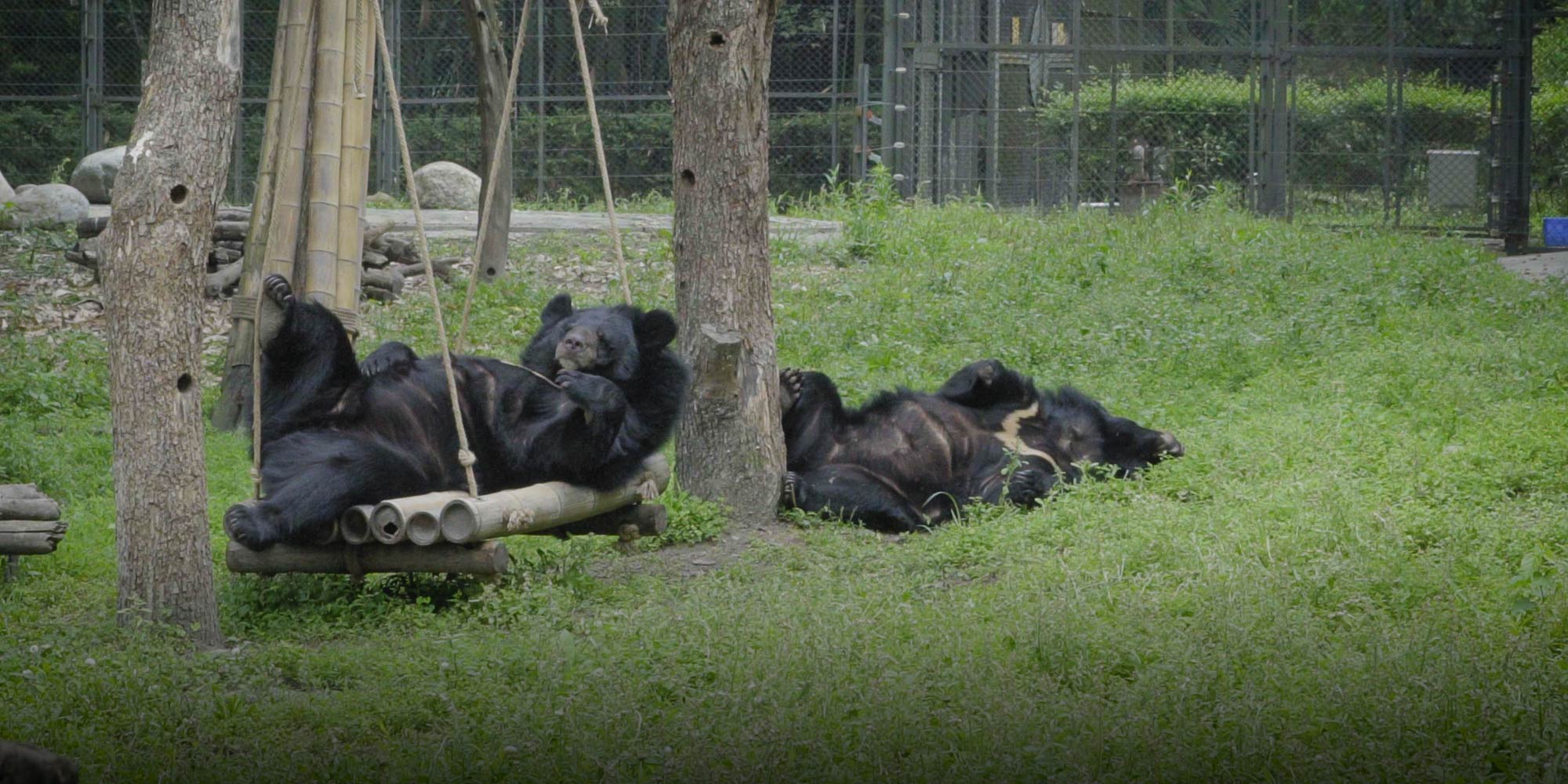 NEWS
The People Protecting Bears From China's Bile Farms
Asian black bears are controversially farmed across the country for their digestive fluids. Here are the people helping them recover.
SICHUAN, Southwest China — Back in May, Pixie, a female Asian black bear, underwent a health check at the Chengdu Bear Rescue Centre, one of China's first and largest bear sanctuaries. She's one of the 286 bears that have been saved by the center since it was founded in 2002 after the Animals Asia Foundation — a Hong Kong-headquartered nonprofit — collaborated with the Sichuan Forestry Department and the China Wildlife Conservation Association on the rescue of Asian black bears kept in illegal bear farms.
Pixie, like many other bears at the center, was previously kept on a farm, where her bile — a digestive fluid — was frequently harvested for use in traditional Chinese medicine to treat liver complaints and other ailments. Asian black bears — also known as moon bears, thanks to the crescent-shaped blazes of light-colored fur on their chests — often fall victim to the bear bile trade across Asia. Animal rights advocates have previously condemned the trade, as bears are often kept in cramped and distressing conditions while farmers extract their bile.
China lists the Asian black bear as a Class II protected species, meaning it's illegal to hunt, kill, or sell them. However, the population of wild Asian black bears, which are native to forests across southern and eastern China, has fallen due to illegal hunting and habitat loss, according to the World Wide Fund for Nature. The International Union for Conservation of Nature lists the Asian black bear as "vulnerable" and says exact populations are unclear.
Despite the bear's protected status, China was home to 68 licensed bear farms as of 2012. Although they are forbidden from capturing wild animals, farmers can still extract bile from specimens bred on their farms.
Fortunately for Pixie, her days on the farm are over. After coming to Chengdu, a veterinarian removed her inflamed gallbladder — the organ where bile is stored — and workers at the center helped her heal. Sixth Tone took a trip to the rescue center and a Sichuan-based nature reserve to find out how Pixie and other Asian black bears are recovering.
Clarification: The story has been updated to reflect that the Chengdu Bear Rescue Center was founded through a collaboration of the Animals Asia Foundation, the China Wildlife Conservation Association, and the Sichuan Forestry Department.
Editor: Matthew Walsh.
(Header image: Two Asian black bears relax at the Chengdu Bear Rescue Centre in Chengdu, Sichuan province, May 2019. Zhu Yuqing/Sixth Tone)