Government officials in northern China's Hebei province have launched an investigation into a supposed 40-million-yuan ($5.8 million) light show put on last year in what had been an officially designated impoverished area, according to an official notice published Tuesday.
In its statement, the district government of Wanquan — part of Zhangjiakou City, where parts of the 2022 Winter Olympics will take place — announced it would look into allegations against the multilevel subcontracting process used for the project, a tourism venture that used lasers to project a specially designed film over a water fountain.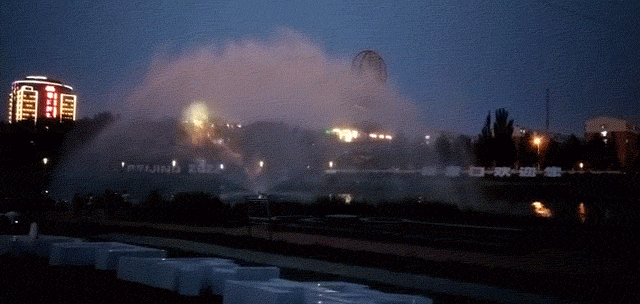 A GIF showing Wanquan's light show. Courtesy of Chen Xi
The allegations were first made Monday in a viral WeChat post by the show's Beijing-based director, Chen Xi. In the article, Chen claimed that the project had been subcontracted at least four times through middlemen, none of whom had any prior experience in the kind of film being made. He also said he still had not been paid in full for his work on the project.
In a phone interview with Sixth Tone Tuesday, Chen said he had joined the production last July at a friend's invitation, agreeing orally to be paid 100,000 yuan in exchange for writing and supervising the show. But after finishing work on the show last August, he received just 58,000 yuan, with the remaining withheld because it "had yet to be checked and accepted by the government."
Neither Wanquan District's publicity department, nor two of the contractors named in Chen's article, had responded to Sixth Tone's request for comment by time of publication. In its official statement, the district government said the project "was not yet complete."
According to the Wanquan District government website, the film was shown last August and required an investment of over 40 million yuan to produce.
Chen told Sixth Tone Tuesday that he had received the remaining 42,000 yuan on his contract after his article drew widespread attention Monday afternoon. "My motive for writing the article was to protect my own rights and get the unpaid money," said Chen. He said he deleted the article after receiving the payment.
The government's statement made no mention of wage arrears, but did say the district would set up a work team to investigate the subcontracting process.
Although Wanquan District was removed from the government's list of poverty-stricken areas this May, after the film's completion, the news that it may have spent millions on a light show drew harsh criticism from netizens, who called for a thorough investigation into the matter.
This is not the first time local governments in impoverished areas have been accused of extravagant spending. In January, China's Ministry of Housing and Urban-Rural Development reprimanded the government of Yuzhong County in the remote northwestern province of Gansu for spending 62 million yuan on statues and gates instead of "improving people's livelihoods."
Editor: Kilian O'Donnell.
(Header image: A screenshot showing the lightshow. Courtesy of Chen Xi)