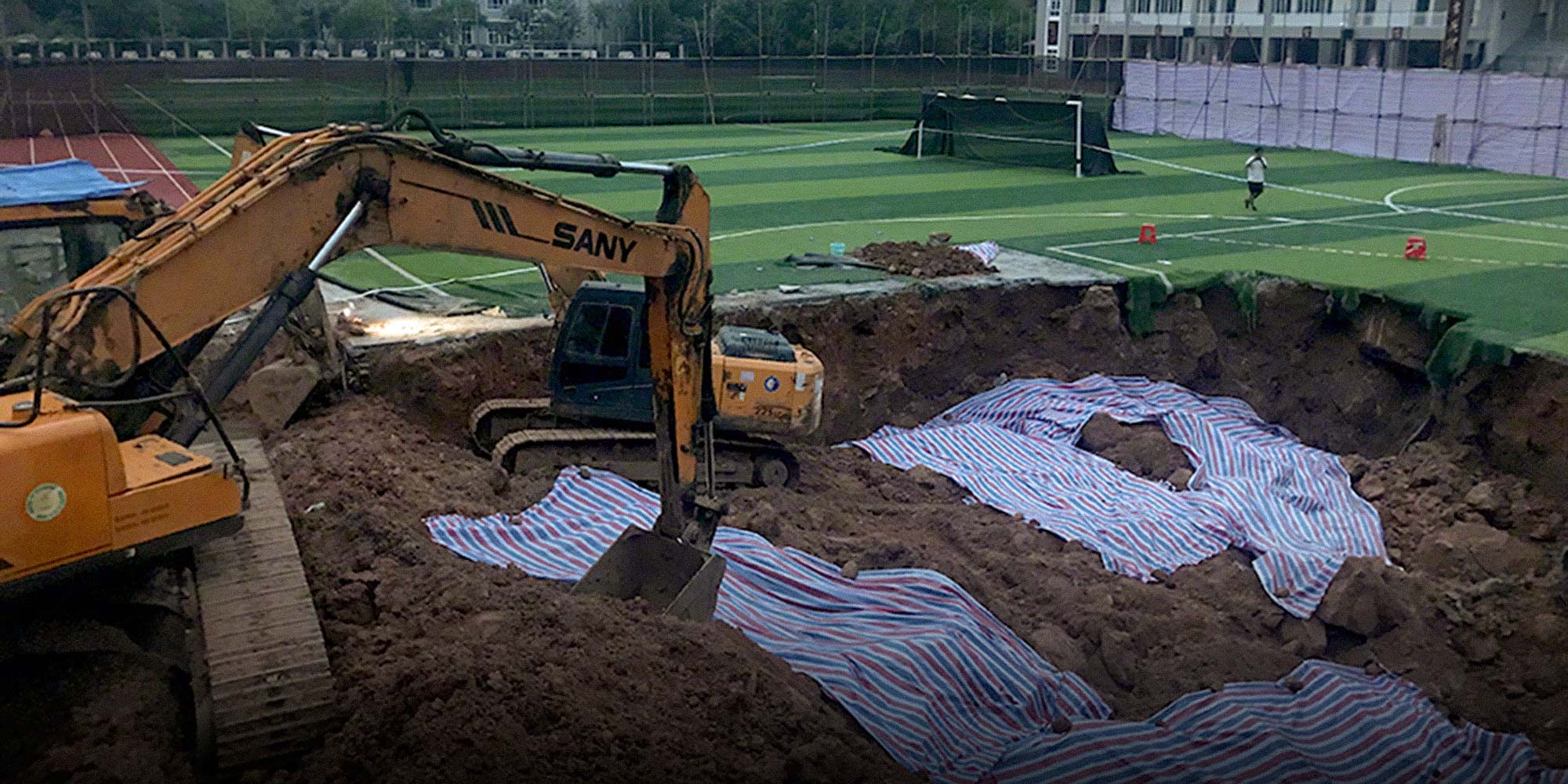 NEWS
Body Buried in School Soccer Field Leads to Arrests
The body is believed to be that of a former school administrator who disappeared over 16 years ago.
Update: On Dec. 18, the Huaihua Intermediate People's Court in Hunan province sentenced Du Shaoping to death and fined him 500,000 yuan ($71,400) for murdering a former school administrator, among other offences. Luo Guangzhong, an accomplice to the crime, was given a two-year suspended death sentence, while 12 others involved in gang-related activities with Du were sentenced to between one and eight years.
Police have detained a former secondary school principal along with more than 10 others in central China's Hunan province after investigators discovered a body buried in the school's soccer field, The Beijing News reported Thursday.
Early Thursday morning, police in Xinhuang Dong Autonomous County dug up human remains from underneath a track and field complex at Xinhuang No. 1 Middle School. According to a police statement published that evening, the remains may be those of a former administrator at the school, surnamed Deng, who disappeared in 2003.
A break in the case came in April, when a construction contractor, Du Shaoping, was arrested as part of a nationwide crackdown on organized crime. While in custody, Du confessed to Deng's murder, according to the official police statement.
Police say they are currently waiting on the results of a DNA analysis before confirming the identity of the uncovered body. Sixth Tone's repeated attempts to contact Xinhuang's Public Security Bureau for comment went unanswered by time of publication.
According to a report in Red Star News, Deng's family had long suspected Du was involved in the then-53-year-old's disappearance. Although they filed a missing persons report shortly after Deng failed to come home from work, the case went unsolved for over a decade.
Deng's son said that his father used to be the administrator in charge of campus construction at No. 1 Middle School. In 2003, the school's then-principal, surnamed Huang, signed a contract with Du, his nephew, to build a new running track and soccer field on school grounds, but Deng later learned that the school had already paid Du over 1.4 million yuan ($204,000) — almost twice the agreed-upon amount — before construction was even completed.
Deng reported his findings to the local education bureau, his son said. Shortly afterward, on Jan. 22, 2003, he disappeared.
Although the principal who signed the contract, Du's uncle, is now in police custody, the authorities have yet to release any details regarding his connection to the case, or that of any of the other detainees.
Friday, an administrator at Xinhuang No. 1 Middle School told Sixth Tone that the students were "not affected" by the incident and classes had not been canceled.
In a Friday afternoon social media post, Deng's son wrote that police had collected his DNA as part of their investigation. "I want to know the truth more than anyone else. I hope the person who killed my father will be held accountable and that justice will be done."
Editor: Kilian O'Donnell.
(Header image: Excavators dig up a soccer field at Xinhuang No. 1 High School in Huaihua, Hunan province, June 21, 2019. Jiang Gewei for Sixth Tone)