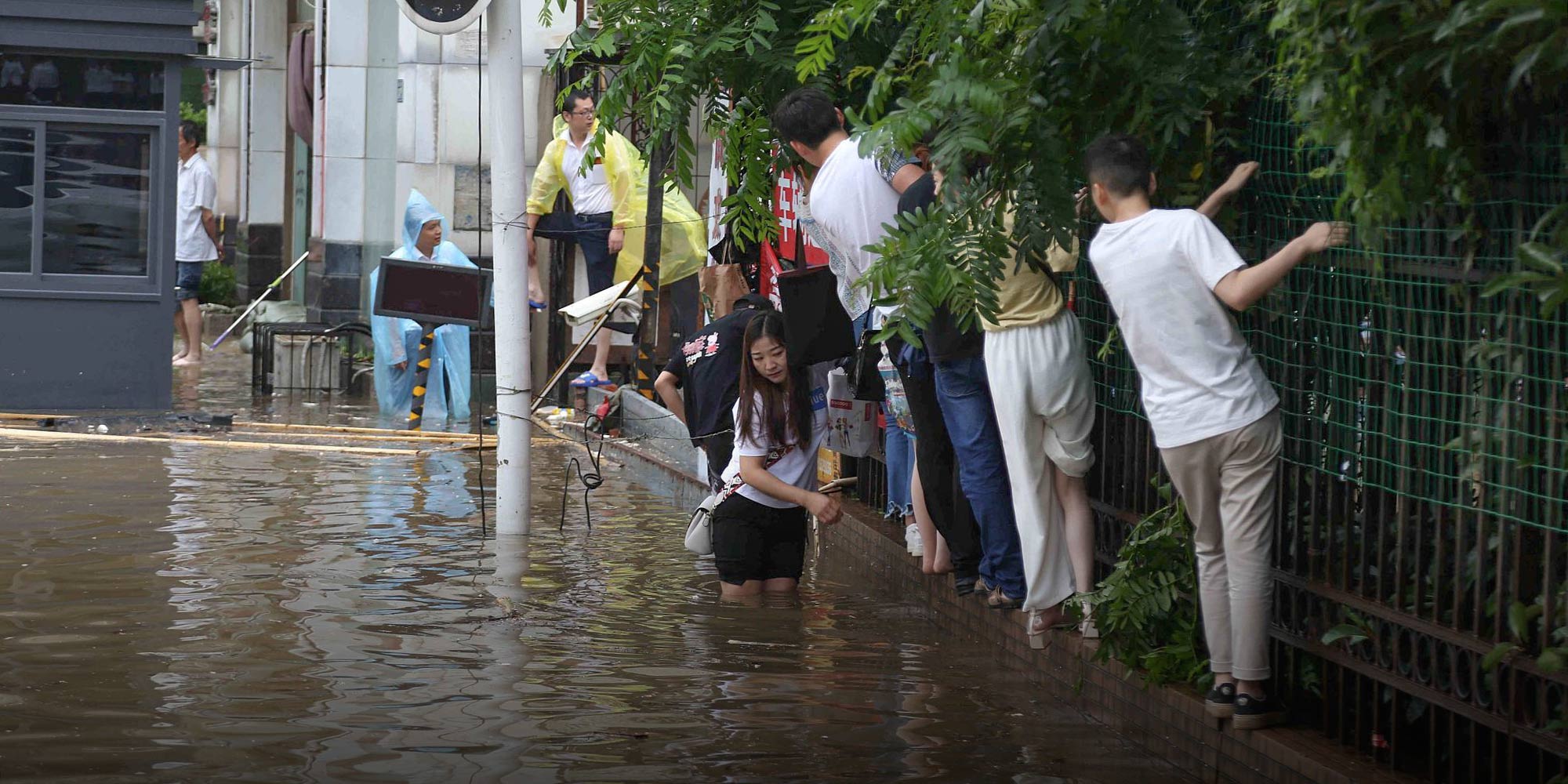 NEWS
After Heavy Rains, Flood-Control Fears Float to the Surface
Three years after a devastating flood, is Wuhan ready for the next big storm?
Heavy rains left parts of the capital of central Hubei province submerged Friday, jamming roads, flooding subways, and once again calling into question the effectiveness of the region's expensive flood-control infrastructure.
In expectation of continued heavy rainfall throughout Friday morning, the Wuhan City government issued a red alert for extreme rains and postponed the city's high school entrance exam by an hour, the first time the test had been delayed in over a decade.
China's rainy season has been particularly severe this year, according to government statistics. Earlier in the week, China's Ministry of Emergency Management announced that rain-induced disasters, including floods and landslides, had killed 88, left 17 missing, and caused 20.13 billion yuan ($2.92 billion) in direct economic damages across 8 southern provinces — not including Hubei — between June 1 and June 16. Accumulated precipitation for the month of June has been 50% to 100% above the long-term average across much of southern China.
All this rain is once again testing cities' flood-control infrastructure. In an April press conference, Wuhan officials declared that the city had greatly improved its flood-control system in the three years since 2016, when heavy rains flooded much of the city, killing 14, causing 2.26 billion yuan in economic damages, and leading one resident to file a public records request for information on how the city had spent over 13 billion yuan in municipal flood control funds.
But in videos circulating online Friday, Wuhan residents are pushing their partially submerged cars down the street, and at least one subway station is almost entirely underwater.
In a Friday phone interview, Lü Aifeng, a specialist in hydrology and water resources at China's Institute of Geographic Sciences and Natural Resources Research, told Sixth Tone that, besides its low elevation, one reason for Wuhan's susceptibility to floods may be the number of land reclamation projects the city has carried out. "Wuhan is prone to flooding because many lakes are gone," he said. "Lakes store and regulate floodwaters, but many of them have been filled in to build houses and roads."
Extreme rainfall poses serious challenges to China's already-stressed municipal flood-control infrastructure, Lü added. "China's drainage systems are mainly based on Soviet designs, and their pipes are narrow," he said, noting that urban construction projects have also been known to cause pipeline blockages.
To prevent yearly floods, Lü recommended cities enlarge their drainage pipelines, build underground cisterns to store excess rainwater, and make use of the natural floodwater regulation capabilities of nearby lakes.
Editor: Kilian O'Donnell.
(Header image: Residents try not to get wet in Wuhan, Hubei province, June 21, 2019. Zhang Chang/CNS/VCG)