Authorities in southern China have launched an investigation into a hidden camera discovered in a fitting room at fashion retailer Uniqlo, the latest in a series of high-profile voyeurism scandals to hit the country.
The probe was initiated after a shopper, surnamed Zhong, said she noticed the button-sized camera Saturday while trying on clothes at a Uniqlo store in Guangdong province's Shenzhen City, according to a report Monday by The Paper, Sixth Tone's sister publication.
A representative for the Japanese chain told Sixth Tone that the company did not know how long the camera had been in the fitting room or if the footage had been shared with a third party. He added that the company is cooperating with the investigation by Longhua District police.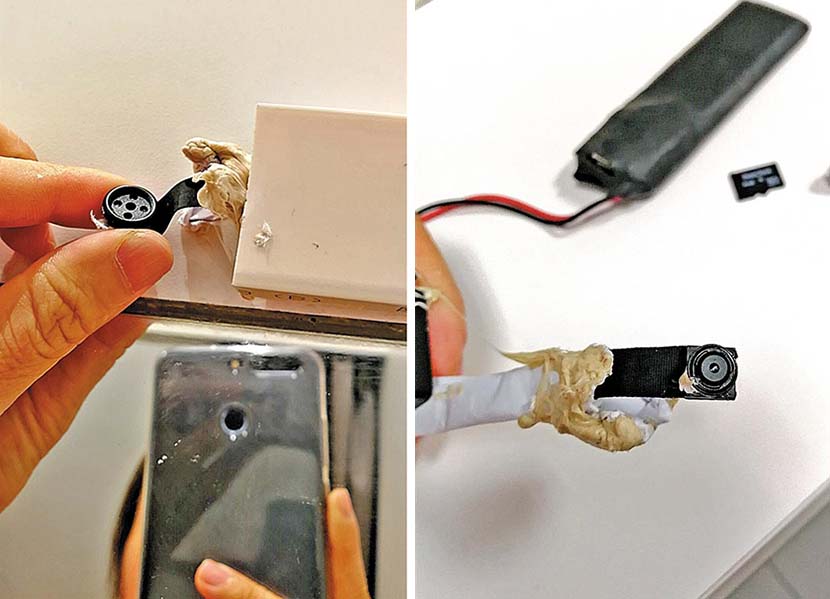 Photos show the camera found in a Uniqlo fitting room in Shenzhen, June 15, 2019. @宝安日报 on Weibo
The news comes about a month after a hidden camera was found by guests at a property rented through short-term lodging service Airbnb in eastern China. Weeks later, a guesthouse owner in another eastern Chinese city was detained after multiple hidden cameras were discovered in women's bathrooms.
Online, netizens are now calling for a crackdown on high-tech voyeurism and hidden-camera sales.
"Authorities need to pay attention to hidden cameras," wrote one user on microblogging platform Weibo. "The image resolution is getting better and they are getting harder to detect with the naked eye."
The user added that "anyone can buy a hidden camera on (e-commerce site) Taobao for a few hundred yuan, and ordinary people can't find them."
Nonconsensual voyeurism is not a criminal offense in China. Under the country's administrative punishments law, those who secretly photograph or record others face a maximum punishment of just 10 days in administrative detention and 500 yuan ($72) in fines.
"The current laws are not robust," Qu Zhenhong, a lawyer at Beijing Huayi Law Firm, told Sixth Tone on Tuesday.
"In cases of pure voyeurism, no criminal offense has been committed," she said. "Only if the footage is distributed can a case be considered under the crime of disseminating obscene material (for profit)."
According to Qu, victims of voyeurism can seek redress by filing civil lawsuits against perpetrators, but advocates for restricting access to hidden cameras are likely to be disappointed. It's unlikely that the government will be able to effectively regulate sales of small cameras without setting up a specialized monitoring department, she said.
Difficulties such as these have left many in China frustrated – especially over the lack of privacy for women.
"It suddenly feels so tiring to be female," one Weibo user wrote in response to Saturday's incident. "There's just no way to be safe."
Editor: Kilian O'Donnell and Layne Flower.
(Header image: An interior view of a Uniqlo fitting room in Changchun, Jilin province, July 15, 2015. VCG)