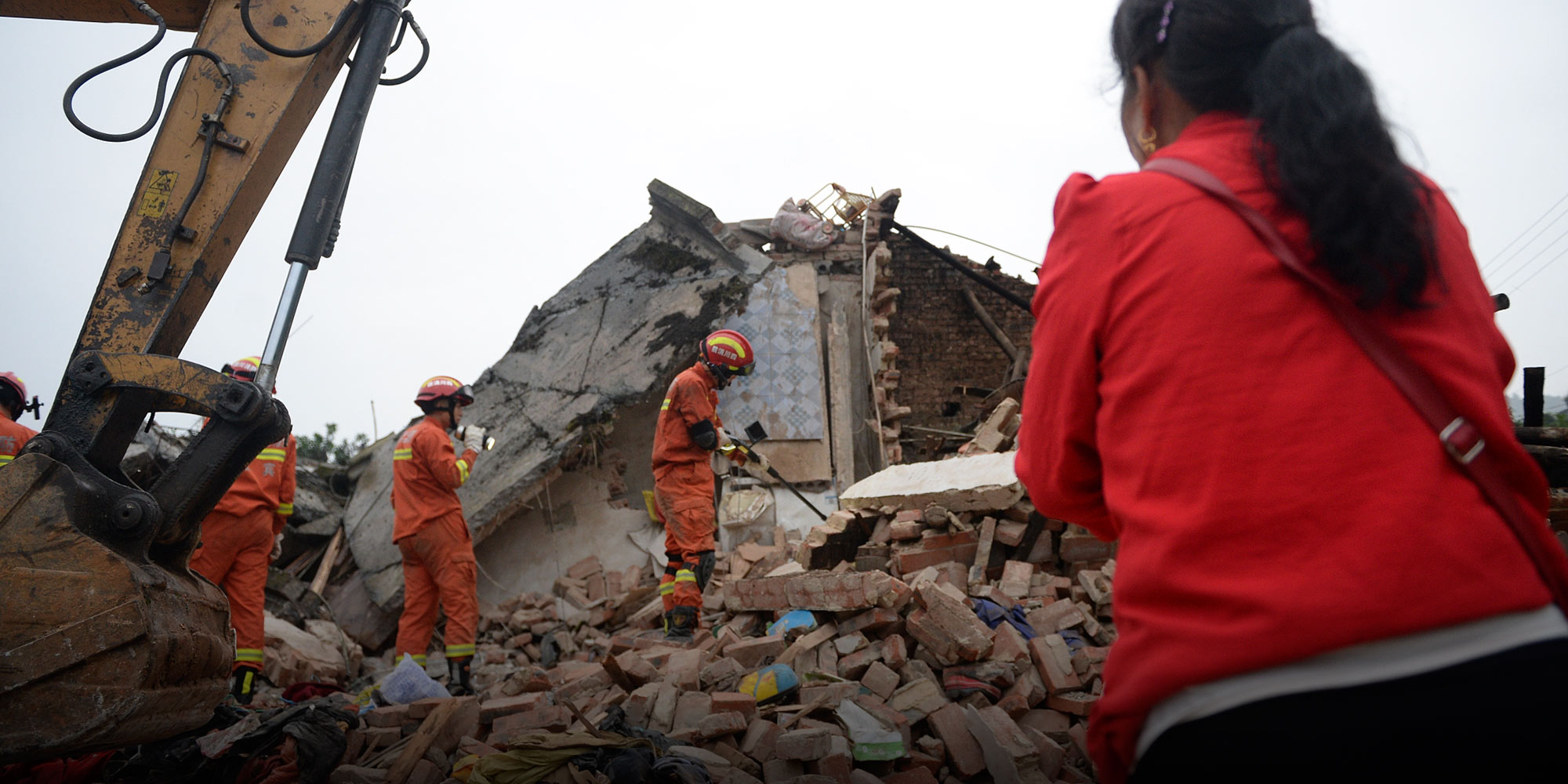 NEWS
In Quake's Wake, China Talks Early Warning Technology
Sichuan's seismic monitoring system is riding a wave of positive publicity after the region's latest earthquake, but some experts — and residents — remain skeptical.
China's nascent earthquake early warning industry received a very public test late Monday, when a magnitude 6.0 earthquake struck Changning County in the southwestern province of Sichuan, killing 13 and injuring 200.
In a widely circulated video taken in the provincial capital of Chengdu, a female voice can be heard warning residents of the impending quake over a local loudspeaker. Together with other, similar clips, the video sparked a robust online debate about the technology's effectiveness, and by 7 p.m. Tuesday afternoon, the hashtag "earthquake warning countdown" had been viewed 430 million times on Weibo, China's Twitter equivalent.
According to a report from The Paper, Sixth Tone's sister publication, the speakers featured in the video were part of a warning system developed by the Chengdu-based Institute of Care-Life (ICL). ICL launched the system — which includes loudspeakers, television broadcast alerts, and an app — last year, as the country commemorated the 10th anniversary of the earthquake in Wenchuan, which left more than 80,000 dead or missing in May 2008.
In the aftermath of Monday's quake, ICL's founder, Wang Tun, sought to capitalize on public interest in the system by claiming that it had successfully provided 61 seconds of warning to 180 schools and 110 residential communities in Chengdu, as well as 10 seconds of warning to residents of Yibin, the major city closest to the earthquake's epicenter.
"The way the underground cloud mapping system works is similar to meteorological prediction technology," Wang told Sixth Tone in an interview last year. In interviews with Chinese-language media outlets, he has also claimed that a warning of 10 seconds can reduce earthquake-related casualties by 39%.
Yet experts continue to voice doubts about the practicability and effectiveness of earthquake prediction technology.
"Areas close to the epicenter are so-called warning blind spots," Gu Linsheng, a professor who works with the Sichuan provincial government on disaster risk reduction, told Sixth Tone. "An early warning can help reduce the scale of a disaster, but this time its impact has been exaggerated."
Even Wang has admitted that, like weather forecasting, predicting earthquakes is not an exact science. "The system can predict the scale of an earthquake likely to occur within a couple of days — though it may only be 70% to 80% accurate."
Online, some netizens were pleasantly surprised by the early warning system and commented favorably on its rollout. But others questioned its utility in an emergency. In the words of one commenter: "I heard the alarm, but didn't really know what it was and couldn't hear it clearly. I didn't even know there was an earthquake warning system in my neighborhood. No one told me."
In Yibin, the closest major city to the quake's epicenter, residents pointed out that the warning didn't give them enough time to take action. "Even if I had the app, it wouldn't matter," Yibin resident Qin Yutian told Sixth Tone. "We're too close to the epicenter; 10 seconds isn't enough time to react."
China has invested heavily in earthquake preparedness over the past decade. It plans to retrofit or rebuild at least 18 million rural homes by 2020, when it also hopes to launch its own state-run earthquake early response and warning network.
But Gu cautioned against an overreliance on warning systems, calling claims that they can greatly reduce casualties in the event of a disaster "inaccurate." "The best way (to reduce the death toll) is to build quality housing," he said. "Survival skills and awareness are also very important."
While many schools and villages across Sichuan province have bolstered their housing stock and held training sessions in the decade since Wenchuan, a Changning resident surnamed Cai told Sixth Tone that overall preparedness has remained low in his village.
"No one cared about (earthquakes) before," he said, noting that residents continued to build housing that isn't earthquake-resistant. "The village hadn't organized any precautionary trainings or taken other measures, either."
Editor: Kilian O'Donnell.
(Header image: Rescue team members search a disaster site in Changning County, Sichuan province, June 18, 2019. Wang Xiao/Chengdu Business Daily/VCG)