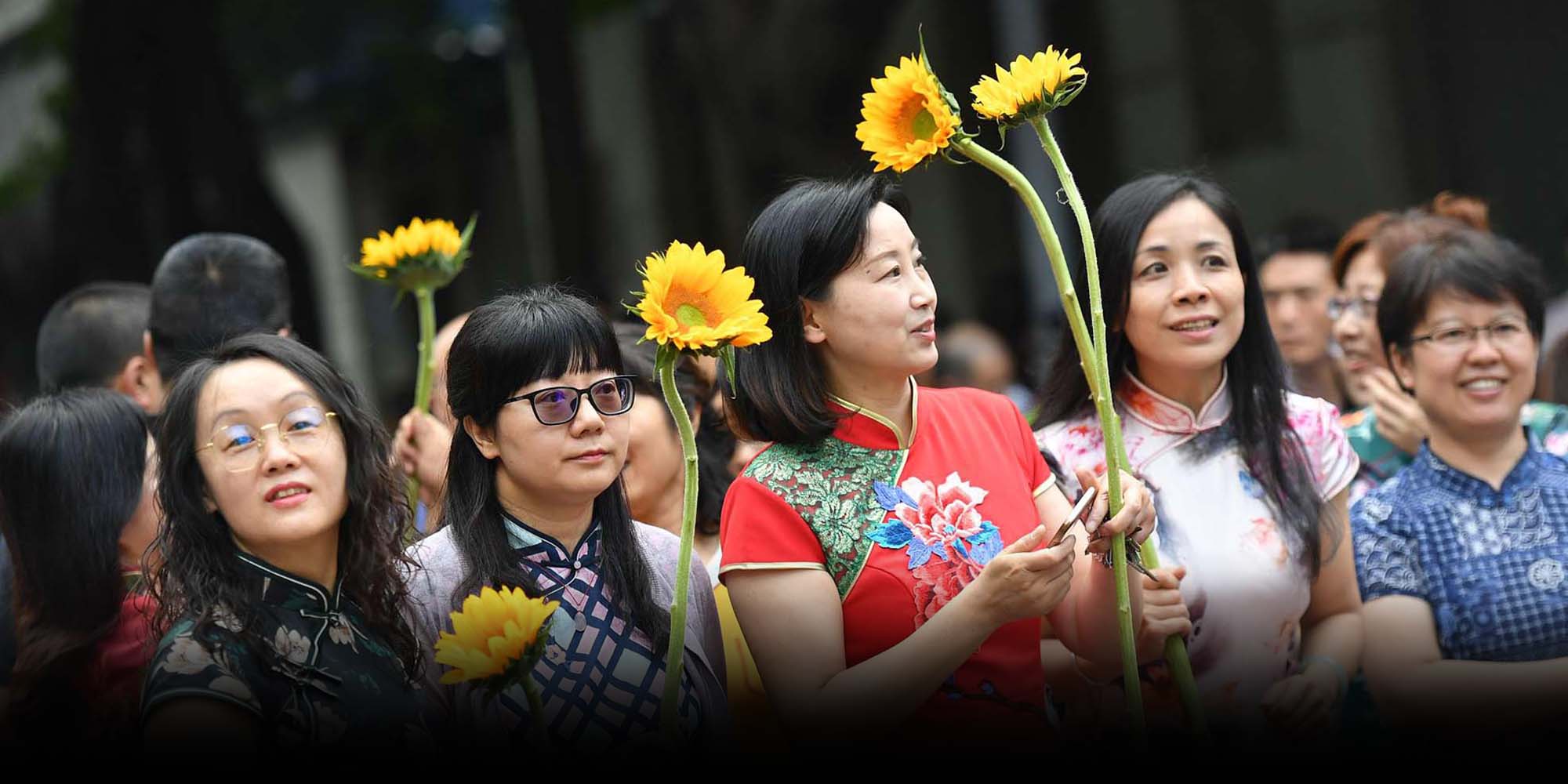 NEWS
The Viral Superstitions Surrounding This Year's 'Gaokao'
From sunflowers to purple underwear, Chinese high schoolers and their parents were full of novel approaches to conquering 2019's grueling college entrance exams.
China's national college entrance exams, the gaokao, kicked off on Friday, coinciding with this year's Dragon Boat Festival holiday — and as usual, parents came up with some creative ways to send love and blessings to their teenage test-takers.
A whopping 10.3 million students sat for this year's administration of the grueling two- or three-day test, according to China's education ministry. After the exam resumed in 1977, it quickly developed a reputation as the most important, most stressful evaluation a person might face in their lifetime. Each year, netizens use the social media hashtag "Gaokao, let's go!" on microblogging platform Weibo to cheer on the aspiring collegians.
During the exam season, people across the country harness their creativity to make cheery music videos, hang red banners bearing motivational slogans, and release lanterns into the sky, all in an effort to bring good fortune to students.
Sixth Tone takes a look at some of the more unique, more colorful superstitions that dominated this year's gaokao season, popularized by parents who would do anything for luck.
Sticky rice wraps
With this year's examinations coinciding with Dragon Boat Festival, the holiday's iconic snack — zongzi, or sticky rice wraps — was doubly the delicacy of the day. The bamboo leaf-wrapped treats became protective amulets for the candidates, as zong, the first character of their name, is a homophone for the last character in yiju gaozhong — an expression that roughly translates to "pass with flying colors in one go."
On Friday and Saturday before the exams, students at Guangzhou Tianhe High School in the country's southern Guangdong province lined up to touch zongzi hanging from a line near the main gate.
Sunflowers
The sunflower, too, became a popular symbol among test-takers' parents, as the Chinese word for the plant, xiangrikui, is a partial homophone with the expression yiju duokui — a blessing that the test-taker might similarly best the test in one fell swoop. During this year's exam period, many parents were spotted holding sunflowers while waiting on campus for their children to finish the exams.
On Saturday, parents in Beijing gathered outside Beijing Bayi High School despite the sweltering heat, hoping to welcome — and possibly console — their children right after they completed the test. "I brought sunflowers on both days, wishing that my child would triumph in one go," a parent surnamed Dai told The Paper, Sixth Tone's sister publication.
Traditional dress
The qipao — a form-fitting dress with a slit skirt and a mandarin collar — was the fashionable, fortuitous choice for many moms and teachers over the weekend. Qi, the first character in the garment's name, means "flag." It's also the first character in an idiom that literally means "to win victory upon raising the flag," and which has been appropriated to wish students sweeping success on their exams.
Fathers, too, are encouraged to wear magua — a front-buttoning jacket from the Qing dynasty — since ma, meaning "horse," is the first character of another idiom suggesting that a horse's arrival marks the moment of victory.
Days before the gaokao kicked off, a qipao store in Shanghai was overwhelmed with shoppers, forcing staff members to work until midnight to complete around 500 orders per day, according to China Daily. "Actually, we're quite busy throughout all of June. The gaokao comes first, and then there's also the high school entrance exam," said one employee.
Sportswear
If this year is any indication, some big-name brands might want to reconsider their logos during gaokao season.
Students hoping to get all of their answers correct have been gravitating toward Nike clothes and accessories thanks to the brand's iconic swoosh logo resembling a check mark. Another American sportswear brand, Champion, has also found new fans in China this month — perhaps winning converts from the now-unlucky Chinese sneaker brand XTEP, whose logo is a large red "X."
On Friday, teachers at a high school in the central Hubei province donned red Nike T-shirts to support their students. "The check means victory, so they'll know all the answers," one teacher told online media outlet Pear Video.
Purple underwear
In Northeast China, purple underwear is the hip new trend among gaokao candidates. In the local dialect, the phrase "purple bottom" sounds similar to an affirmation that a person will surely accomplish their goal.
An online vendor surnamed Wang told online news platform Beijing Time that he sold hundreds of pairs of purple underwear in the month leading up to the gaokao. Moreover, Wang said he expects the sales to continue with the high school entrance exams approaching later this summer.
Editor: David Paulk.
(Header image: Mothers wearing traditional Chinese garments hold sunflowers for good luck while waiting for their children to finish their college entrance exams at Shude High School in Chengdu, Sichuan province, June 7, 2019. Zhang Lang/CNS/VCG)