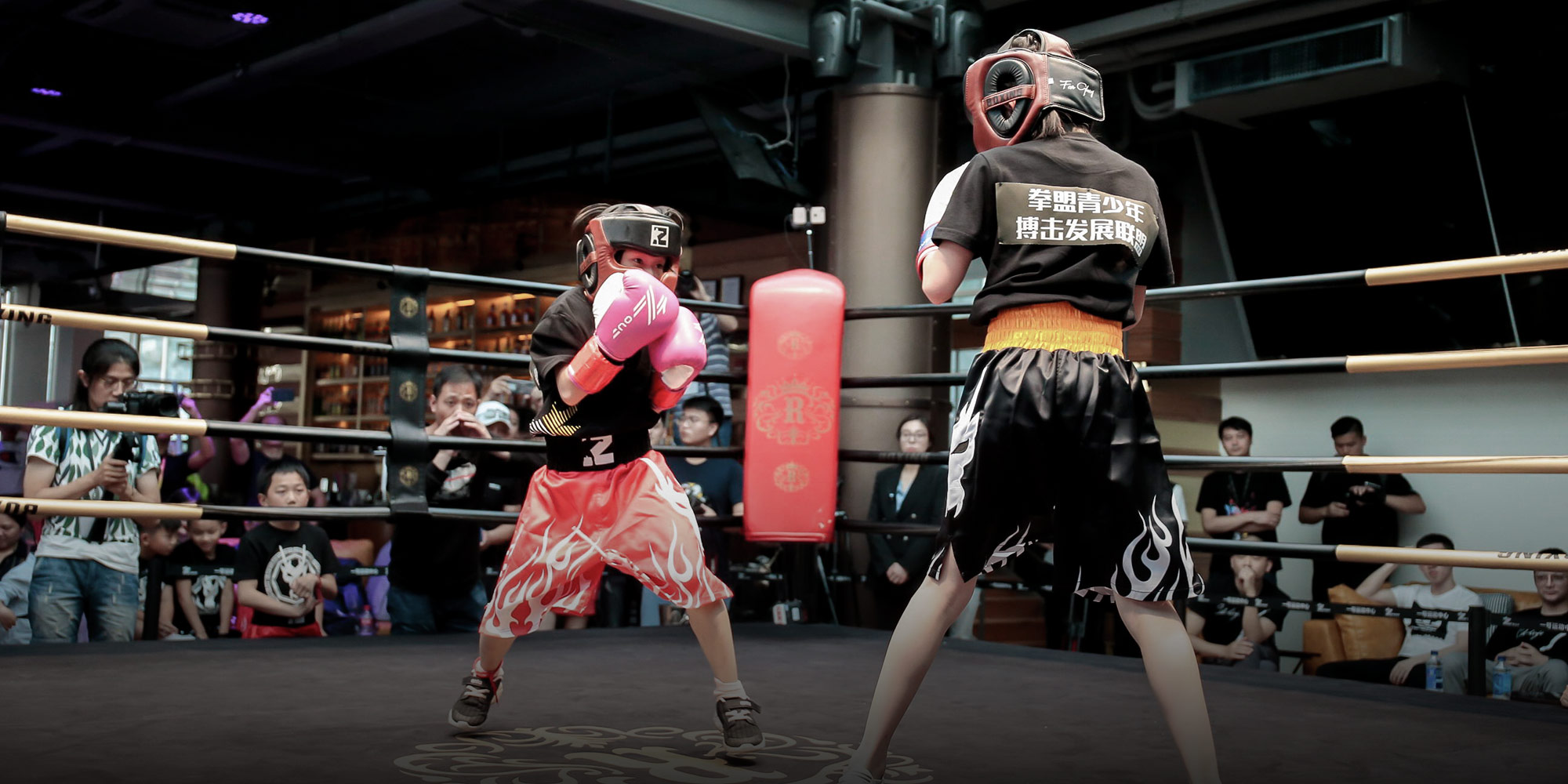 FEATURES
The Father Teaching His Kids to Pull No Punches
Zheng Weixin's two children gained fame for their fierce fighting. Now he's deciding who they'll take on next.
SHANGHAI — Most Chinese parents might pass Children's Day by taking their kids to the park or out for ice cream. But Zheng Weixin isn't like most parents. This year, he took his children out to beat up other kids.
Admittedly, it's just a friendly boxing match at a riverside boxing-themed bar in downtown Shanghai. All the same, Zheng — who's also his children's trainer — is telling them not to hold back. As thumping music signals the start of the competition, he's still persuading the organizers to let his 10-year-old son, Yuchen, and his 8-year-old daughter, Yaqi, fight without protective helmets. "It'll affect their movements and reactions," he protests, to no avail.
Yuchen and Yaqi are last-minute entries to today's match, which divides 12 young boxers between 8 and 14 years old into pairs and pits them against each other in three-round bouts. Zheng's two young fighters rose to online fame in May after he posted a series of videos of them squaring off against each other on Kuaishou, a popular video and livestreaming app.
When the clips — which see both children sustain bone-shaking blows to the head and body — went viral in May, they ignited a debate about the lengths that some parents in China's poorer regions will go to in order to lift their families out of poverty. While some netizens expressed awe at Yuchen's and Yaqi's prodigious talent, others wrote that they felt uneasy watching such young children attack each other so violently. Some even accused Zheng of child cruelty.
But for 31-year-old Zheng, a welder who earns 5,000 yuan ($720) a month as a migrant worker in southern China's Guangdong province, boxing — and online recognition — could lead to a better life. In Bijie, the mountainous region in southwestern China's Guizhou province where the family lives, rural households earn an average disposable income of less than 10,000 yuan a year. By comparison, the average disposable income for Shanghai residents in 2018 was 64,183 yuan.
Zheng, who divorced Yuchen and Yaqi's mother in 2014 and raises the kids alone, hopes the sport will accelerate his kids' ascent up the ladder to financial security. Despite having never fought himself, the longtime boxing fan — he idolizes the American former world heavyweight champion Mike Tyson — began teaching his children how to fight last summer. "I appreciate the art of violence," Zheng says. "Boxing is a sport for the brave. It can improve (my kids') immune systems and help them cultivate determination."
Yuchen and Yaqi usually train on the cement area in front of the family's 40-square-meter home in Bijie. With their seemingly natural talent for fighting, the pair quickly ran out of local sparring partners. "They have no opponents in our own village. They can only fight each other," Zheng says.
He has particularly high hopes for his daughter, Yaqi, whose somewhat cute nickname "Little Rice Dumpling" belies her quick feet, aggressive tactics, and quick-fire punches. Despite being shorter and lighter than her brother — Yaqi's only 122 centimeters tall and weighs just 22 kilograms — she more than holds her own against him. Indeed, Yaqi is so young that the organizers of today's event initially struggled to find a similar-sized partner to go up against her.
Zheng's viral videos helped vault Yuchen and Yaqi to the attention of Chinese boxing champions Xu Can and Zou Shiming. In late May, Xu invited the family to attend his WBA featherweight title defense in Fuzhou, in eastern China's Jiangxi province, and donated the 30,000 yuan he made from auctioning his boxing gloves to them. Meanwhile, Zou — who, like the Zhengs, also hails from Guizhou — invited the family to today's event in Shanghai, which he organized.
While Zou is impressed with Yuchen's and Yaqi's boxing skills, he has concerns about Zheng's training style. In an interview with Sixth Tone ahead of the Children's Day event, Zou says that the all-out power Zheng demands from Yuchen and Yaqi might cause them physical harm, especially to their still-developing brains. Indeed, many health organizations, including the American Academy of Pediatrics and the Canadian Paediatric Society, recommend that children and teens refrain from boxing due to the risk of concussions and other brain injuries.
Zou insists that as long as young fighters use the right methods — for example, focusing on movement and using punching bags instead of sparring one-on-one — they can minimize their risk of injury. But that's not how Yuchen and Yaqi train. "Judging from the videos, the fights between the two kids are quite fierce. I saw Little Rice Dumpling lose a tooth during one session," Zou tells Sixth Tone. "For me, the greatest danger is that they didn't have the right gear. The kids were using extremely small-sized gloves. The smaller the gloves, the bigger the shock each punch will send through their heads. That's very risky for young kids." Zou and other boxers have since donated more suitable equipment to the family.
Zou speaks from personal experience. When he started to train as a boxer at the age of 16, every fighter at his sports college had to share the same two pairs of gloves, and he rarely wrapped his hands in joint-protection bandages. Daily practice did permanent damage to his hands. "I understand the pain that the injuries will bring, and that they might stay with you for a lifetime," he says.
Zheng admits that last summer, at the start of their training, both kids "frequently" sustained injuries, adding that after one blow to the head, Yaqi's face and eye swelled up — causing a small coalition of online viewers to question whether Zheng should bear legal responsibility for her wound. Zheng, for his part, says he feels "heartbroken" when either child gets hurt, but that it's "unavoidable." He treats all injuries at home and has never taken the children to a hospital. "As they become more skillful, they won't get injured as much," he says.
Zou favors a gradual approach to training the next generation of fighters. He says young boxers should concentrate less on intense fighting and more on building mental confidence and determination. "Boxing is not about knocking out your opponent," he adds. "For beginners, training should not be based on one-on-one fights but on improving your agility and endurance."
Despite the fact that Zou's competition aims to inspire young people's interest in boxing, Zheng is fixated on the results of his children's fights. After a taxing journey of over 2,000 kilometers to Shanghai, Yaqi's legs seem heavy during the warmup. Zheng barks at her: "Are you out of your mind?" Later, when the family returns to their hotel around 11 p.m., Zheng tells Sixth Tone: "She's far from fighting in her best form — she's not fast, nor are her punches accurate or powerful enough."
When Sixth Tone suggests that Zheng might be trying to cash in on his children's talent a little too soon, however, the father is defiant. He points out that since his video went viral, TV producers have invited Yuchen and Yaqi to take part in at least three reality shows — all of which he declined. On Kuaishou, Zheng now has more than 270,000 followers and receives monetary gifts by livestreaming his children's practice fights. He declines to reveal how much extra money he earns through livestreaming.
Zheng justifies his unorthodox parenting techniques by saying he also places a high value on his kids' education. At the local primary school in Bijie, Yaqi is in second grade and Yuchen is in third grade. "They typically go to bed around 11 p.m., after finishing their homework and training," he says. "Apart from boxing, my two kids know nothing. I don't want their academic studies to suffer too much."
In the past few weeks, Zheng has received invitations from dozens of private boxing clubs and state-funded sports schools for teenagers, offering Yuchen and Yaqi the chance to train and perhaps one day go pro. Zheng is unsure which path to take: Are schools better in Guizhou or in other provinces? Should the kids purely study boxing, or study sanda, which includes certain forms of Chinese martial arts? "(The schools) promise to exempt the kids from all fees, but I still need to think twice before making a decision for them," he says.
As Yuchen and Yaqi take to the ring, Zheng is a ball of nervous energy. During the bouts, he shouts louder than the other parents, telling his kids to strike hard and cheering when one of them lands a heavy punch. Neither kid lets their father down. Compared with their opponents, Yuchen and Yaqi seem extraordinarily, almost brutally, aggressive. After the three rounds are over, both children stand victorious in the center of the ring, the referee lifting their arms high, their father clapping excitedly on the sidelines.
As the event draws to a close, all 12 young boxers are given certificates proclaiming them "rising stars" of Chinese boxing, regardless of the result. Sixth Tone asks Yaqi what she wants as a reward for her victory. Like her brother, the pint-sized fighter has been shy and incommunicative all day, deferring to her father whenever she's asked a question. This time, too, she stays silent, and Zheng instinctively butts in. "Winning is the best reward," he says bluntly.
Editor: Matthew Walsh.
(Header image: Zheng Yaqi (left) during a boxing match in Shanghai, June 1, 2019. Courtesy of No. 1 Sports Center)