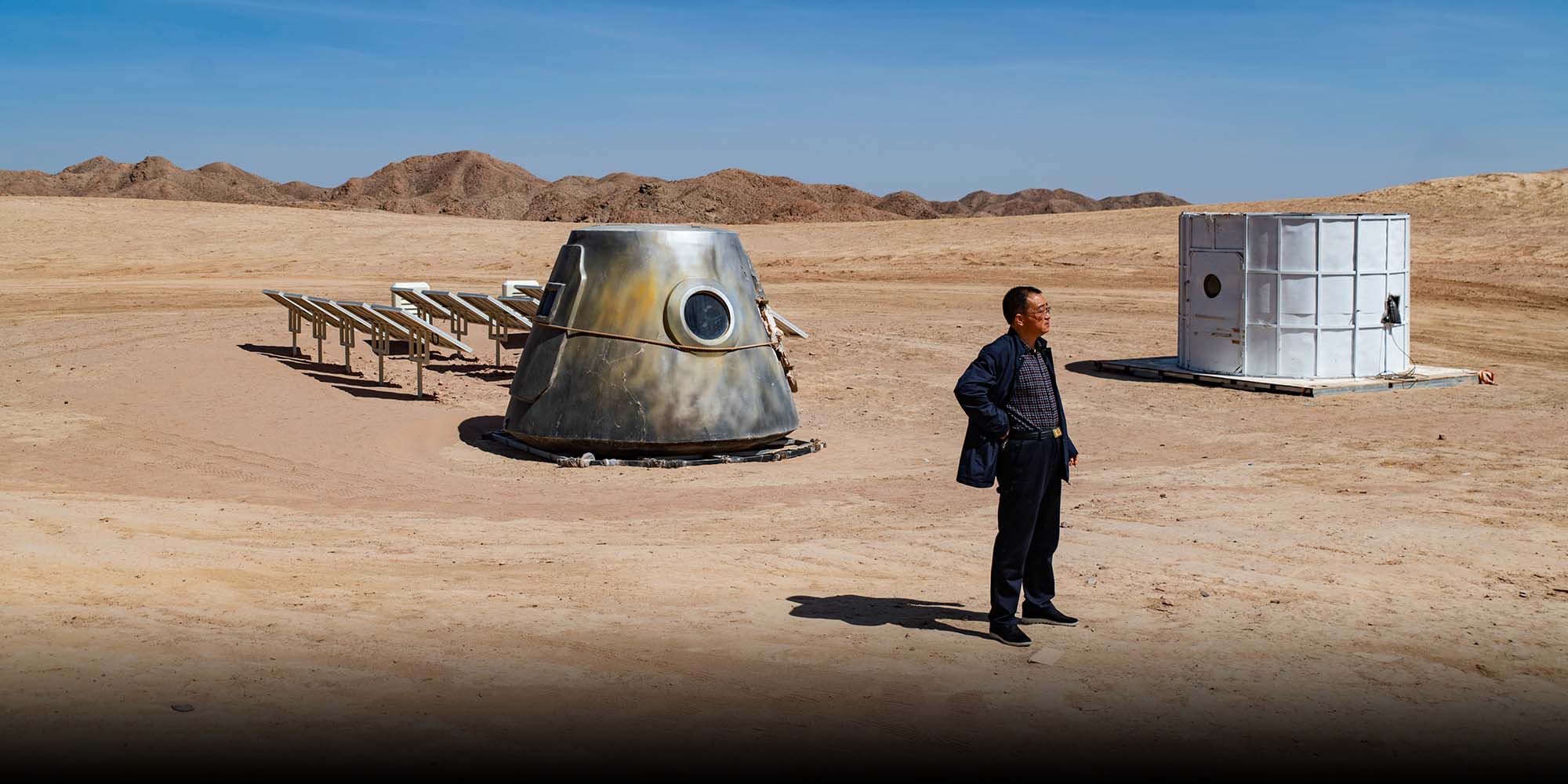 FEATURES
Evicted and Excluded, 'Space Base' Villagers Doubt Tourism Boom
A project in China's desert hinterland promises to bring in cash by simulating life on Mars. Locals are less sure.
GANSU, Northwest China — When 70-year-old restaurant owner Zhao Jinglin was young, the parched landscape around his desert hometown of Ningyuan was only good for herding a few hardy goats. But now, the barren earth supposedly carries cosmic significance.
In October, construction finished on the C-Space Project, a multimillion-yuan venture located some 7 kilometers outside Ningyuan that claims to simulate life on Mars. In reality, the project, which opened to much fanfare in April, is designed to draw space-obsessed tourists, filmmakers, and — eventually — scientists. Local officials hope to capitalize on the growing popularity of Chinese sci-fi, an industry that has recently been bolstered by bestselling novels, blockbuster movies, and space-themed business ventures.
But despite promises of a coming space-themed tourism boom, residents in Ningyuan, a fast-emptying village with a proud history, have mixed feelings about the base. Some claim the project will bring prosperity to an agricultural area where the average annual income is just 16,723 yuan ($2,430) — about half the equivalent figure in provincial capital Lanzhou. Others say the village itself will see little profit, adding that their family homes will be bulldozed to make way for further expansion.
C-Space consists of a gleaming white dome that vaguely recalls the marooned astronaut's dwelling in the 2015 movie "The Martian." Nearby stands a "landing cabin," a "Mars cave," several artificial craters, and a black stone monolith identical to the one in Stanley Kubrick's "2001: A Space Odyssey." The local government even trucked in red sand to make the site's soil look more forbidding.
The mastermind behind the C-Space Project is confident in its potential. Bai Fan is the founder of Huasheng Zhihai Cultural Communication Co. Ltd., the Beijing-headquartered private company that helped to fund and build the base. A vivacious 32-year-old who previously worked in London's media industry, Bai returned to China in the early 2010s to produce reality TV shows. He established Huasheng Zhihai in 2012 and began searching for a site for C-Space Project four years later. The company forked out 50 million to build the first phase of the base, bolstered by a reported 6.72 million yuan infrastructure investment from the local government in Jinchuan, the city that administers Ningyuan.
Currently, Bai admits, C-Space isn't suited for scientific research, though he has been quick to stress the involvement of space experts in the base's construction and his desire to see it grow into a research center in the future. For now, he's given over C-Space for the use of TV producers and filmmakers. Last year, Huasheng Zhihai co-produced a popular reality show called "Space Challenge" on the site, making celebrities complete tasks that astronauts may one day have to carry out on Mars. That winter, villagers say, countless travelers came to visit the site, even though it hadn't yet officially opened.
Bai claims the base will eventually become a thriving destination for both students and tourists. The government, too, says the base will bring in more than 1 million visitors annually from 2024 onward. Zhao, whose restaurant sits at the turnoff to the base, should be well-positioned to take advantage of the predicted spike in tourists. "It (the base) looks good — lots of lights, just like a film set," he says. "This is the best thing that's ever happened here … and I hope it will give my business a boost."
But Zhao may yet be left out in the cold. Bai says he plans to add a hotel and restaurants by next summer and eventually make the base into a "closed-loop industrial development" that would charge visitors thousands of yuan for each Mars-themed itinerary. The project would be accessible by car from the nearest airport in just 50 minutes, leaving no need to stop in Ningyuan and little room for revenue to trickle down into the village.
Several villagers tell Sixth Tone they feel excluded from the C-Space Project. Few seem to know any details about the venture — some elderly residents say they had no idea it was being built until they saw it on the national news or heard about it from their city-dwelling children. Locals were largely absent from the opening ceremony in April, when national and international media outlets and around 100 students descended on the base. And since the government cordoned off the road to the base last year and started employing security guards to screen anyone entering the site, curious villagers like Zhao have found it harder to gain access.
Most contentious of all, a local government decision to widen the road leading to the base means nearby residents must demolish their homes and build them elsewhere. The plans, which form part of a broader national policy to build a "beautiful countryside," would see hundreds of homes torn down and replaced with concrete-and-tile constructions. While officials claim the new houses will improve living standards and provide better access to the base, some villagers say they dislike the proposals and have been offered little compensation or relocation assistance.
One such person is Xue Haoxing, a 79-year-old widower who lives in a brick house in the affected area, who says local officials visited him in April and offered him compensation of 25,000 yuan to relocate. Xue, who has stomach cancer and whose two sons are unable to care for him due to poor health, found the offer derisory. "It costs at least 100,000 yuan to build a new house, and anyway, how am I supposed to relocate by myself?" he says. His neighbor — an elderly woman who declined to give her name as negotiations with the government are ongoing — says officials have made her the same disappointing offer.
Zhu Xueming, deputy director of the rural construction office in the township government that administers Ningyuan, acknowledges that the relocations have been difficult, but he defends the state's demolition plans. He says villagers will be relocated just a few meters away from their current homes and calls the proposed compensation "the highest we've offered in recent years." "If old villagers (like Xue) can't afford to rebuild, we can always put them in the village's nursing home," he tells Sixth Tone.
Still more villagers question why the government has staked Ningyuan's future on a business model instead of restoring its rich history — a deep source of pride among locals. The village has existed since the 15th century, when it was a military fortress designed to rebuff invading Mongols; it later became a regional political, economic, and religious hub known for its good feng shui and picturesque temples. "Their wooden carvings were so delicately ornate," says Liu Yuansheng, an 80-year-old resident of Ningyuan who used to wander the Ming dynasty town walls in his 20s and now spends his days working on a paper replica of the old town.
However, Ningyuan's influence has waned, and almost all of its temples were demolished during the political campaigns of the 1950s and '60s. To date, efforts to restore the village's historical sites and stimulate wider interest in the region's cultural heritage have been in vain. Although both villagers and the local government have been petitioning the higher authorities to restore the town's lost sites for the last 10 years, officials have blanched at the estimated cost of doing so, according to Jia Dejiang, an official in the local township government. "(They said) there was no money to do it," he explains, estimating that full renovations would today cost an eye-watering 800 million yuan.
Zhu, of the construction office, describes the petition to restore Ningyuan's historic sites as "unrealistic," citing prohibitive costs and the fact that only a few elderly locals, like Liu the model maker, remember how the village looked in its heyday. The government plans to renovate the landscape of the village with a nod to its history as a Ming-era garrison town, he adds, without providing specific details.
For now, it remains unclear just how much Ningyuan will profit from the otherworldly structure on its outskirts. Even Zhao, the usually upbeat restaurant owner, sheepishly admits that he brought in little extra business when visitors first flocked to the project last year. "When travelers see my signboard, they know it's time to turn right and drive up into the mountains," he says. "But they rarely stop for a rest."
Editor: Matthew Walsh.
(Header image: A man stands by space artifacts at Mars Base 1 in Jinchang, Gansu province, April 17, 2019. Matjaz Tancic for Sixth Tone)