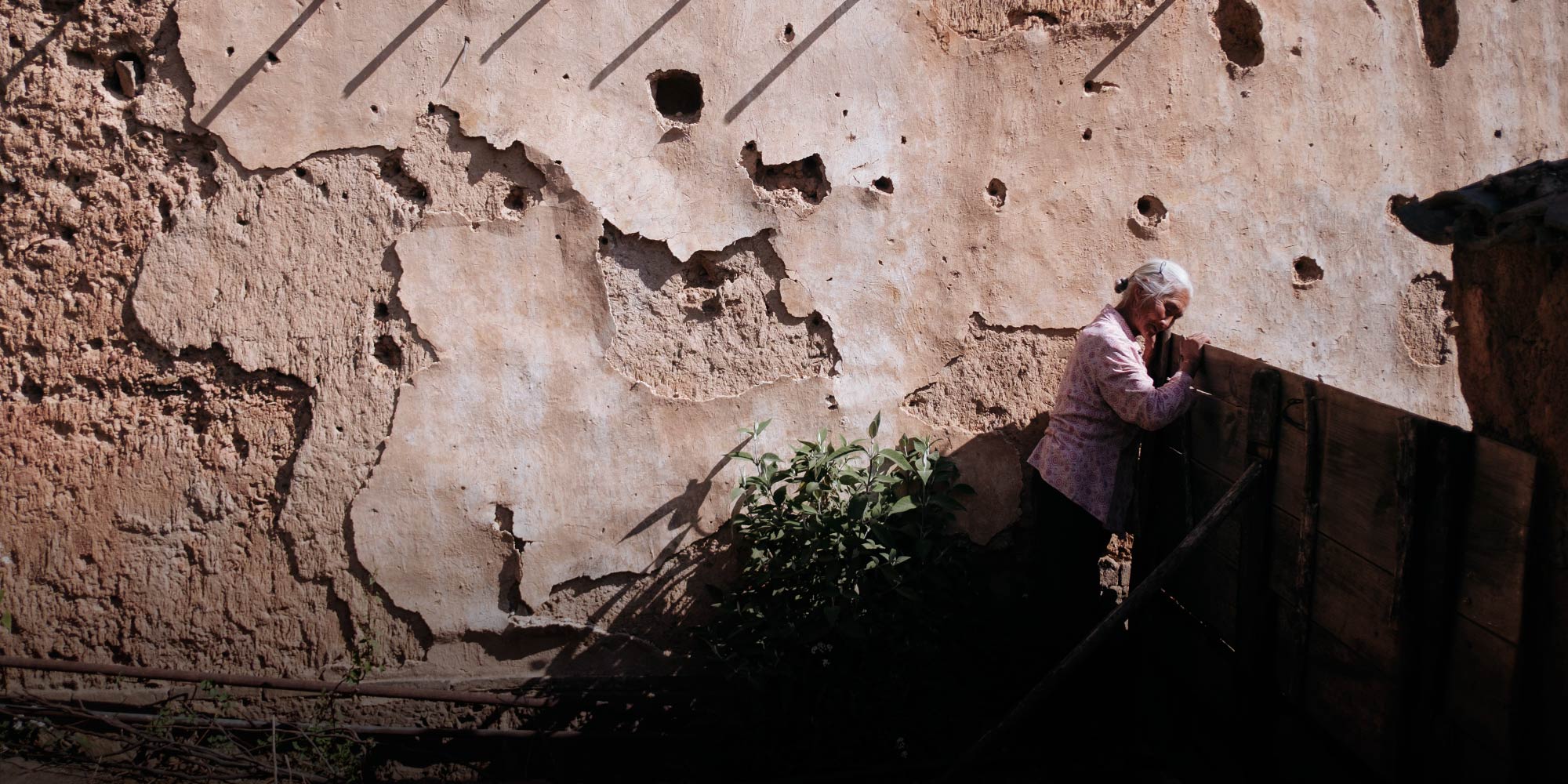 FEATURES
Scarred Lives: The Lasting Hurt of China's Leprosy Villages
Quarantined in far-flung settlements decades ago, many residents are now elderly, disabled, and burdened by biting poverty and lingering discrimination.
YUNNAN, Southwest China — Seventy-three-year-old Tao Linxian tries not to think about the life she could have had. What's the point, she asks, of dwelling on the disease that robbed her of a blissful marriage, drove her from her home, and slowly, inexorably, corroded her health?
But it's hard not to reflect on the past in Luoxianguan, the quiet, isolated mountain village where Tao has lived for nearly half a century. Nearly all of Luoxianguan's dozen or so elderly residents were quarantined here to receive treatment for leprosy — a chronic, infectious, and incapacitating disease that can cause extensive nerve damage, muscle weakness, and skin ulcers. Although they are now cured, many villagers, including Tao, have been left permanently disfigured or disabled.
Luoxianguan, which lies off a dusty track about an hour from the town of Xiangyun, is one of an archipelago of so-called leprosy villages established by the Chinese government in the 1950s to treat an estimated 380,000 people with the disease. From a high of some 1,200 villages, hospitals, and dispensaries in 1980, there were 657 such settlements left in China in 2012. And with the World Health Organization considering the disease eliminated as a public health issue in the country, the Chinese government has been trying to further close and consolidate leprosy villages, but ineffective governance, combined with enduring social discrimination, mean that many remain.
China's leprosy villages have a complicated legacy. Officials credit them with helping to check the spread of the disease and laying the foundation for its eventual eradication. The country's leprosy rates fell from 5.6 cases per 100,000 people in 1958 to just 0.1 cases per 100,000 people in 2009, according to medical journal The Lancet, which estimated there were just 6,600 people with the disease as of 2012. Most onetime leprosy village residents have reintegrated into society.
But the impressive statistics mask the tremendous human cost that government responses to leprosy have exacted over several decades. To prevent the disease from spreading, most settlements were placed in remote, sparsely populated areas, cutting residents off from the outside world. And to speak with many older residents of leprosy villages is to hear tales of lives ruptured by state-sanctioned separation, youngsters spurned by communities deeply fearful of the disease, and futures ruined by ill-advised government bans on getting married and having children.
The latter policy doomed the young Tao's marriage to the man she loved, Li Xiao. When she was diagnosed with leprosy at 18, Tao had recently wed Li and moved into his family home in rural Yunnan. The young couple was looking forward to a happy future together.
But Tao's diagnosis shattered those dreams. Unable to bear the thought of a childless union, they divorced in 1963. "We were both still so young — like two just-risen suns," Tao says. "I couldn't ruin his prospects. I divorced him so he could have a different life with someone else."
In 1960s China, there were few effective treatments for leprosy. Many people, including Chinese officials, mistakenly thought the disease was fast-spreading, incurable, and transmissible from mother to child during pregnancy. These beliefs shaped a powerful social stigma against people with leprosy and implicitly coerced them into moving to leprosy villages — also often the only places in the region where the government made specialist care easily accessible.
In fact, leprosy isn't highly contagious. Though it's not known exactly how the disease spreads — scientists think it is transmitted by inhaling particles from an infected person's coughs or sneezes — it takes months of close contact with untreated individuals to do so. Transmission does not take place through sexual contact or from a mother to her unborn child. Anti-leprosy medications have been available since the 1940s, and today most patients treat the disease through multidrug therapy.
But Tao didn't know any of that back then. In the following years, her disease slowly took hold, and in 1972, she was admitted to Luoxianguan for treatment. At its peak, the village housed between 300 and 400 residents. Tao and her neighbors lived off the land, growing rice, corn, and potatoes. Men and women lived separately and were not allowed to marry or have children. Tao was put on a course of the anti-leprosy drug dapsone, the standard treatment in Luoxianguan at the time. The medicine worked slowly, but by 1985, she was ready to be discharged.
Tao could leave and go back home, but for various reasons, she didn't. Li had remarried; discrimination meant life outside Luoxianguan would be difficult. And so she lingered — as have many other former patients in the remaining settlements. Economically unviable, these villages mean leprosy's hardships continue, even though the disease is no longer the threat it once seemed.
A Legacy of Poverty
Although living conditions in leprosy villages are improving, most remain poorer than their surrounding areas. Older residents, some of whom show the symptoms of age-related cognitive decline, struggle to take care of themselves without the support of state welfare payments and charitable organizations.
According to estimates by the HANDA Rehabilitation & Welfare Association — a philanthropic organization that provides medical, social, and economic assistance to 48 out of 129 leprosy villages in Yunnan — last year, more than half of all the residents it served lacked effective basic care, and nearly half of villages lacked safe, accessible living environments and public hygiene facilities.
In some cases, the destitution reverberates through generations. Not all leprosy villages banned residents from starting families, but as the healthy children and grandchildren of former patients come of age in regions chosen for their sheer seclusion, they struggle to overcome the lingering poverty and prejudice.
One such village is Manwangdong, a quiet and picturesque cluster of farmhouses overlooked by a gaping mountain cave that lies a three-hour journey out of the city of Wenshan, in southeastern Yunnan. As we drive, the highway first gives way to a winding mountain road, then finally to a thin concrete track. On the outskirts of the village, three or four elderly people mill around the yard of a nursing home for former leprosy patients.
Much of Manwangdong is eerily quiet, so we park and wander toward the only activity we can see: a group of around 10 people building a small pigsty. A middle-aged woman introduces herself as the daughter of two people admitted to Manwangdong with leprosy several decades ago — "but our generation doesn't have the disease," she quickly clarifies.
Most villagers in Manwangdong farm corn and rice, selling their produce to buyers who occasionally make the trip to the village. It's backbreaking work for paltry rewards: Each family only sells around 2 tons of corn per year — not much compared with the region's other farming communities — and earn less than 1 yuan ($0.14) from every 500 grams they sell, the woman explains, adding: "We're just too poor around here."
Dependence on agriculture and poor transportation links severely hinder economic development in many leprosy villages, says Wang Haifei, the Yunnan program coordinator at HANDA. "Initially, pretty much all these sites were chosen because they lie in mountainous areas far from other villages, so their geography and infrastructure are much worse than elsewhere," she says, adding that residents often struggle to transport their crop products out of their villages and into places where they can sell them.
Lately, as part of a drive to eliminate poverty in China by 2020, the local government has partly funded new homes in Manwangdong, encouraging residents to replace their decaying rammed earth farmhouses with brick-and-concrete dwellings. But despite the welcome investment, opportunities for self-improvement remain scant. Many young people in Manwangdong drop out of school without graduating and later leave the village to seek better-paid jobs in China's developed cities.
In wealthier parts of China, the government has plowed millions of yuan into projects that raise living standards for people who formerly had leprosy. In 2007, China's national government earmarked 276 million yuan to merge many of the country's remaining leprosy villages. Two years later, the government of Guangdong province, in southern China, announced that it planned to merge its 68 villages and hospitals into eight better-equipped care centers.
While some residents have been successfully rehoused, as of 2017 Guangdong had only closed down one leprosy village. And official foot-dragging has left some people mired in poverty. In Kangning New Village — a hamlet in Longmen County consisting of little more than a couple of two-story dormitories arranged around a central yard — 69-year-old Su Shanying, one of just two remaining residents, spends his days sitting outside the door to his room, hunched over a long wooden cane. Since going blind due to a degenerative eye disorder around a decade ago, Su rarely leaves this spot.
Su was 28 when he came to Kangning in 1978, after the community of boat dwellers in which he grew up banished him for having leprosy. Marooned on dry land, Su had to learn farming from scratch, growing rice, sugar cane, and cassava alongside 60 or so neighbors. Residents in Kangning were also forbidden to marry and have children, and the local government even banned them from leaving the village without approval.
Kangning's population has been shrinking since the mid-1980s, when cured residents started leaving and elderly residents started dying. The pattern was repeated across Guangdong: Today, 26 of the province's 67 leprosy villages and hospitals have fewer than 10 inhabitants, according to a report by HANDA. In addition, 32% of leprosy villagers in Guangdong are unable to take care of themselves, mostly due to disability and old age, the report says. Because the dwindling communities are often inaccessible and rarely house on-site medical staff, the surviving residents are often vulnerable to diseases and accidents.
After the government announced the merger policy, the hospital charged with maintaining public health in Kangning informed residents that the village would be incorporated into Bailu, a nearby leprosy village under the jurisdiction of Huizhou City. Years passed, but nothing happened. When villagers wrote to the hospital inquiring about the merger, they received no response.
Because local governments bear the cost of their welfare payments and certain medical treatments, mergers often lead to funding disputes between jurisdictions and make officials reluctant to rehouse leprosy villagers from outside their area, explains Yang Bin, director of Guangdong Provincial Dermatology Hospital, the institution charged with preventing and controlling leprosy in the province. Other conflicts emerge because hospital administrations that manage certain leprosy villages fear job losses after mergers are carried out, Yang explains: "When two villages merge, it eliminates certain positions, and both medical and managerial staff need to be assigned to new jobs that may not exist."
Because of his damaged eyesight, Su can't leave Kangning without help. He'd need an ID card to book an appointment at a public hospital, but the hospital department in charge of Su's care lost his card several years ago and hasn't replaced it, he says. "It's like he doesn't exist," says Feng Jiezhen, a staff member at HANDA who occasionally visits Kangning.
Su and his lone neighbor, 72-year-old Li Chunsen, don't talk much. Most days, Su wakes up, eats, takes pills to relieve his high blood pressure, and finds his way to his chair. Li, whose room is less spartan than Su's, watches television or tends to the fruit trees in his backyard. "It's so lonely here," Su sighs.
Although the pair have relatives outside Kangning, their only regular visitors are the hospital medical staff who come every few weeks to hand them their monthly welfare subsidies of 1,200 yuan and leave after saying a few words. Volunteers drop in around once a year, Su says; the rest of the time, the only people who come to Kangning are the thieves who steal the old men's chickens.
Rays of Hope
Su holds out hope of moving to Si'an Hospital, a large, greenery-shrouded institution in the wealthy city of Dongguan. In the last decade, Si'an has taken in dozens of residents from impoverished leprosy villages across Guangdong province, rehoused them in well-equipped rooms with easier access to health care, and allowed volunteer organizations to teach them skills like photography, painting, and composition. "Students and volunteers here kindly wash our bedsheets and clean our rooms for us," beams 81-year-old resident Peng Haidi.
Peng was diagnosed with leprosy in the 1950s, and in the '70s Peng moved from his hometown of Chaozhou to a leprosy village near Dongguan, where he took a job as a boatman. Worried about his aging mother, he worked hard to earn enough money to visit Chaozhou and paid little attention to his worsening sores. Eventually, doctors amputated most of his fingers and much of his left leg.
Peng moved to Si'an in 1975. Today, he lives on a government welfare allowance and raises money for charity by selling paintings and calligraphy, which he mastered despite his missing fingers. Each piece brings in several thousand yuan, and Peng donates most of the proceeds to charities supporting China's other leprosy villagers.
Thanks to the support and open-mindedness of the previous hospital administration, some of the stigma around leprosy has dissipated during his time at Si'an, says Peng. He fondly recalls when, a few years ago, a group of volunteers took him and other residents to the nearby historic town of Humen. "When the idea first came up, many of us were terrified. I asked them (the volunteers) how people like us could simply go off on a day trip. I thought we'd scare people away," he says, adding that many former leprosy patients, having endured discrimination for virtually their entire lives, lack the self-confidence to approach other people. "But people treated us nicely, and waiters at the restaurant even welcomed us. Things have changed so much over the years!"
In other ways, however, attitudes toward former leprosy patients are hardening. For undisclosed reasons, Si'an has refused to take in any new residents since 2017, the year when its current administration took office. In addition, the hospital has also tightened its visitor policy. Previously, visitors could come and go as they pleased, but residents, family members, and volunteers now say they have to go through strict application procedures before visiting people like Peng and that the hospital has rejected several applications in the past year.
Si'an residents have petitioned the national and provincial health departments, but little has changed. "We're not supposed to be the hospital's prisoners," Peng says. "Even death row inmates can have visitors."
Si'an's new rules have rekindled Peng's former feelings of loneliness. During the afternoon of Sixth Tone's visit, he gradually explains how leprosy transformed him from a strapping youth into a fragile patient; how he attempted suicide several times; and how his mother went from temple to temple, praying that he would regain his health. Sometimes, when Peng is trying to sleep, the solitude still moves him to tears. "Once you get this disease, the suffering never ends until the day you die," he says.
A Lifetime of Discrimination
While some people want to leave the villages, for others they offer sanctuary after years of discrimination and psychological issues. In Yunnan, for instance, HANDA estimates that around 80% of leprosy villagers the organization works with have self-perception problems, including feelings of inferiority and self-loathing.
During Sixth Tone's visit to Luoxianguan on a sun-drenched March day, residents have congregated in the central courtyard, quietly singing Christian hymns. For Luo Bingkang, this peaceful, inclusive way of spending the morning differs greatly from the stigma he faced before coming here.
Luo came to Luoxianguan as a teenager in 1959 and is one of the village's longest-standing residents. Born in a village near the city of Dali, also in Yunnan province, he estimates that he caught leprosy sometime between 8 and 10 years old, while in his second year of schooling. The first signs were a numbness in his fingers — some of which gradually began to atrophy — and a swelling in his face that, years later, would cause the corner of his mouth to droop.
The young Luo was terrified of leprosy and initially tried to conceal his disease. "In the old society (prior to the Communist takeover in 1949), they burned people with leprosy or buried them alive. I was really scared that the same would happen to me," he recalls.
But as Luo's fingers continued to deteriorate, his classmates began to shun him. "When the teacher called us up to write on the blackboard, they could hold the chalk properly and I couldn't," he says. "The other kids said my hand looked wrong. In the end, I stopped going to school. I just sat at home and thought how terrible it was that I had leprosy."
After Luo's fellow villagers learned of his disease, they started cold-shouldering him too — shrinking back from him in the street and refusing to eat or work near him. By his early teenage years, he was living an outcast's life, lodging with seven other sick people in a mountain shack. Even there, people sometimes came by and chased them away.
Leprosy stigma has existed in China since ancient times, according to research by Angela Ki Che Leung, a professor at the Hong Kong Institute for the Humanities and Social Sciences. In her book "Leprosy in China: A History," Leung notes that fears of a sexually transmissible, incurable leprosy-like disease apparently became widespread in China by the 15th century, and expulsions and incarcerations of diseased people became common soon afterward. During the early 20th century, as the Qing dynasty collapsed and China was at the mercy of the colonial powers, disease-fearing Chinese and Western observers depicted people with leprosy as an emblem of the country's backwardness: "The Chinese leper came to symbolize what was deplorable in China's past … physical and moral weakness expressed in repulsive sores and a crippled, incurable body," Leung writes.
Folk representations of leprosy were so pervasive that people with the disease faced severe discrimination long after 1949, says Wang, the program coordinator at HANDA. "Back then, the elderly would say that leprosy was a monstrous disease, because unlike other illnesses, it's very visible," she says. "It can make your whole face look quite shocking, and has always made people fear contagion from those who have it."
It wasn't until Luo moved to Luoxianguan in the late 1950s that he regained some of the sense of community he lost after his diagnosis. While working in the fields and caring for the older residents, he made many friends, reserving particular admiration for doctors, government officials, and other "educated people" — those who helped plug the gaps in his abridged education.
Luo's leprosy took more than a decade to be cured, but in 1975, when he was approaching his 30th birthday, he was discharged from Luoxianguan. Back home, he married a woman who'd also had the ailment, and the couple had a son. Some of his neighbors welcomed him back into the fold, but others bullied him as before. "A lot of them used to beat me," he recalls, before adding defiantly: "But they never won the fights."
Discrimination against people with leprosy persists in China today despite medical advances that stop the spread of the disease, Wang explains: "Once these attitudes get passed down, people fear (those with leprosy) and dare not interact with them. Even though most people have been cured since the '80s, they have permanent physical disabilities that put others off."
Luo stayed home for more than 30 years but struggled to feel settled once his son left home. When a local governor asked Luo to return to Luoxianguan, he agreed. He's remained there ever since, whiling away the days farming and chatting with fellow residents. The gate to the village looks out over the valley below, and on warm evenings, Luo sometimes sits and watches the shadows lengthen across the landscape. He visits his wife, who remains in their home village and lives on government welfare payments, every few weeks.
Despite years of persecution, Luo says he is satisfied with the way his life has turned out. Nonetheless, he — perhaps understandably — tends to frame his fulfillment in the slightly resentful terms characteristic of bullying victims who see their onetime tormentors get their comeuppance. Most of his former aggressors are now dead, he says, adding that few lived out their days in the modest comfort he does. "Other people comment that even an old leper like me ended up with a better life than them," he says.
Luo's fellow villager Tao — the woman who divorced because of leprosy when she was young — has found it harder to see the bright side. Years after her treatment started, Tao learned that people with leprosy can't pass the disease to their children after all and that patients in other leprosy villages had been allowed to marry and start families. But by that point, it was too late: Li had remarried and had kids of his own, while Tao was "too old" to start a family, she says.
For reasons Tao doesn't quite fully understand, Li still visits her family home now and then, though he hasn't come to Luoxianguan for many years. Decades after their divorce, tears still spring to Tao's eyes when she talks about him. "I couldn't bear to leave him. But after I got this disease, I had to," she laments. "I knew only the outdated knowledge passed down to me, not the science."
In recent years, the local government has partly regenerated Luoxianguan, constructing a few single-room concrete dwellings near the caved-in roofs of former dormitories, along with a white-tiled communal kitchen and a new toilet block.
Tao would rather live out her days in her former hospital than go home. "People here don't fear my condition, but they'd fear it elsewhere in the countryside," she says, absent-mindedly rubbing her misshapen fingers. "You can try and go back, but the fact is, you've had this disease. You carry it with you forever."
Editor: Kevin Schoenmakers.
(Header image: Seventy-year-old Li Shilan observes the chickens outside the fence in Luoxianguan's leprosy nursing home in Yunnan province, March 25, 2019. Wu Huiyuan/Sixth Tone)