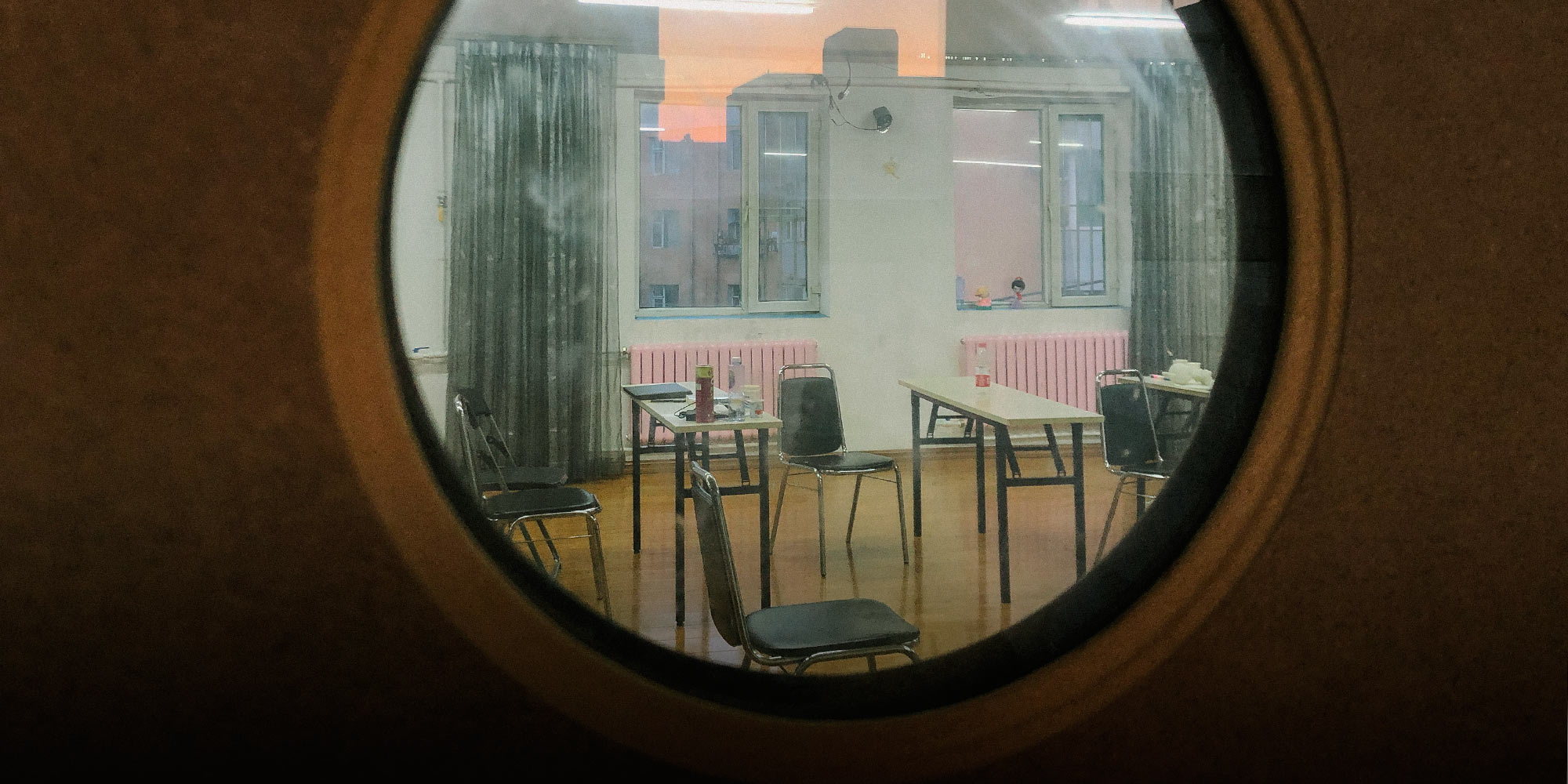 FEATURES
The Mental Health Camp Treating China's Troubled 'Gaokao' Kids
Local governments often fail to support students struggling to cope with the immense pressure of exam season.
JILIN, Northeast China — Last November, as Yishu was busy preparing for the dreaded gaokao — China's grueling college entrance examination, which concluded last weekend — he became unable to walk into a classroom. Every time, the 19-year-old's face would flush and his chest would tighten. No matter how hard he tried, he just couldn't attend class.
Yishu, who hails from the city of Chongqing in southwestern China, was later diagnosed with atypical bipolar disorder and left mainstream education. (He requested a pseudonym for this article, as he is still undergoing treatment.) Yishu doesn't know exactly what caused him to develop the condition, but genetics and years of study stress may have contributed to it, transforming him from a talented student with a shot at getting into China's renowned Peking or Tsinghua universities, to a dropout who wasn't sure whether or not he'd take the test at all.
The problem was that skipping the gaokao is never an easy option. In China, where competition in education is especially fierce, gaokao scores have profound effects not only on students' college applications, but also on their future careers and chances of social mobility. A popular expression summarizes it as "the one test defining the rest of your life."
Knowing the gaokao was virtually inescapable, Yishu and his family turned to their last resort: a remedial education camp for final-year students with mental health issues. The camp — one of only a handful in China — is in Changchun, the capital of northeastern China's Jilin province and some 2,700 kilometers away from Chongqing. Run by Duguo, a volunteer organization, it connects troubled students and their families with teachers and counselors. Although it doesn't completely release kids from their test-taking burdens, the camp tries to lighten their loads with psychological support and social events.
Organizations like Duguo play an important role in a country where many local governments fail to provide adequate support for children who drop out of school due to mental health issues. Compounding the problem is the fact that Chinese society remains largely unaware of psychological problems and treats them as taboo — meaning that students like Yishu often struggle to get help from their families and communities.
Yishu started to dislike studying in his last year of middle school. Although he was a capable student, his antipathy toward his education mounted as he progressed through high school — a public boarding school — and peaked after he joined a specialist class for prospective applicants to Peking and Tsinghua universities at the start of his final year.
As Yishu tells it, the teachers in his pre-college class demanded huge sacrifices from the students and provided little in the way of psychological support for those who were struggling. He studied for more than 10 hours a day and had to give up much-loved extracurricular activities like sports and the guitar. His classmates only cared about grades and rarely "wasted time" by chatting to each other, he says.
"The school was like a big factory churning out machine components. If the students turned out to be waste products, the school didn't care. They just continued producing the next batch," Yishu says. "Apart from studying and taking tests, I felt I was nothing. I couldn't do anything else."
At first, Yishu kept his negative feelings from his parents. While at school, he rarely saw his father, a businessman whom he believed was "too busy" to communicate with him. Although he'd see his mother — a 44-year-old accountant surnamed Li — on weekends, Yishu thought she spent too much time cooking his favorite spicy dishes and too little time trying to truly understand him.
So, in October, Yishu sought help from his school counselor. He waited two weeks for an appointment, nervous with anticipation. "I saw it as my lifeline," he recalls, before adding in a louder, angrier voice: "But I went there, and he didn't really listen to me. He just kept trying to persuade me (to focus on my studies)."
At the end of the appointment, the counselor suggested that Yishu see a doctor. Only then did Yishu finally tell Li about his problems. "He hated the teaching model and hated school," his mother recalls. "He came home saying he wanted to bomb the place."
Li took Yishu to several hospitals but found that different doctors gave different diagnoses. Some said Yishu had depression; some said it was bipolar disorder. The first doctor they saw prescribed him some antidepressants, but he had a strong negative reaction to them and had to go to the local psychiatric hospital to control his symptoms. During the several weeks it took to confirm that Yishu actually had bipolar disorder, his hospital bills stacked up: Li estimates that the family has spent between 2,000 and 5,000 yuan ($290 and $720) per month on their son's health since November.
That same month, Li also asked Yishu's school to give him a one-month leave of absence. Back home, her son rarely went out. The family hid his condition from friends and relatives. "If he left the house, other people would wonder why he wasn't at school. His relatives would all ask him about his gaokao studies." Li says.
Yishu's absence from school lasted more than a month. In fact, he never went back full-time. By April, with the gaokao just weeks away, the family was getting desperate. In the end, Li — who had stumbled across Duguo's public account on the social messaging app WeChat — packed Yishu two months' worth of clothes, school supplies, and medicine. The two of them then flew to Changchun, booked an extended stay in a hotel, and put Yishu in the hands of Duguo, paying the organization 18,000 yuan per month. (Despite being run by volunteers, Duguo says it charges participants a fee to cover food, teaching fees, and maintenance costs.)
Duguo camps in other cities sometimes accommodate up to 20 students, but in Changchun there were only six, most of them high-achieving students from other parts of China. Like Yishu, gaokao preparation had aggravated their depression or bipolar disorder, but the all-consuming importance of the test had made it impossible to quit entirely.
One such student is Jiaren, a pseudonym for a 16-year-old high school student from eastern China's Anhui province whom Yishu befriended within two weeks of joining the camp. Jiaren hoped to enroll at a first-rate medical university before being diagnosed with bipolar disorder last November. Her mother, 47-year-old Wang, accompanied her to Changchun.
On the afternoon Sixth Tone visits Changchun, Li and Wang are relaxing in the former's hotel room after a trip to the mall, where they drank bubble tea and watched a movie. Wang says such activities help both mothers briefly put aside the stress of caring for their children and recover a semblance of normality. "At certain moments, I'm able to forget the pain and relax a little," Wang says. "It was always hard to imagine that someone else was going through the same pain thousands of miles away."
Wang, a civil servant, has struggled to accept the realities of Jiaren's mental illness. She proudly tells Sixth Tone that when her daughter was small, she was the talk of their hometown. Not only was she good in school, Wang says, "she was so cute, and people really took to her."
But as the study pressure ramped up, and the gaokao loomed on the horizon, Jiaren's mental health began to decline. Unlike Yishu, whose condition went unnoticed by his family before joining the camp, Jiaren's parents knew about her condition several months before she was admitted. Her parents tried moving her into a less competitive class, took her to hospitals in nearby Jiangsu province and Shanghai, and even admitted her to a psychiatric institution for a short while. But nothing seemed to transform Jiaren back into the girl she once was.
Like Li, Wang sees the camp as Jiaren's last hope and speaks positively of Duguo's work. But for many families, confronting their child's condition can be emotionally traumatizing. Wang recalls Jiaren's first day at the center, when her daughter mentioned her bipolar disorder while introducing herself to her classmates. "She made herself sound so pitiful. I felt very sad that we'd seemingly put that label on her," Wang recalls tearfully. "I remember she said to me: 'Sorry, Mom, I've made you lose face. You can have another kid. Don't worry about me.'"
Wang has learned that Jiaren seems happiest when not under pressure to study. "She was our first child; we (Jiaren's father and I) didn't really know what we were doing," Wang continues. "We just tried to give her all our love, give her the best life we could. We tried not to do anything to hurt her."
Although many of Yishu's and Jiaren's symptoms persist, they generally feel better since joining the camp. Last weekend, both students took the gaokao back in their respective hometowns. They think the test went smoothly enough, but the last few months have forced them to temper their expectations. Yishu now hopes to attend Zhejiang University, in the eastern city of Hangzhou, later this year — not quite Peking or Tsinghua, but still a highly regarded school. Jiaren, meanwhile, is now targeting a so-called second-tier university. Wang hopes she'll consider a school in the eastern city of Hefei, where Wang can easily visit her.
It's too early to tell if Yishu and Jiaren will fully recover from bipolar disorder. Both Li and Wang still only partially understand the condition; sometimes, they can do little more than ensure their kids keep taking their medication. But Yishu thinks the early signs are good. Although he doesn't yet feel ready to return to his studies, he feels better in Changchun than he did in Chongqing. "I've made some new friends here," he says, smiling. "I feel like I've spoken much more in the last two weeks than in the past three years."
Editor: Matthew Walsh.
(Header image: A view of the classroom for "gaokao" students with mental illnesses in Changchun, Jilin province, April 11, 2019. Fu Danni/Sixth Tone)