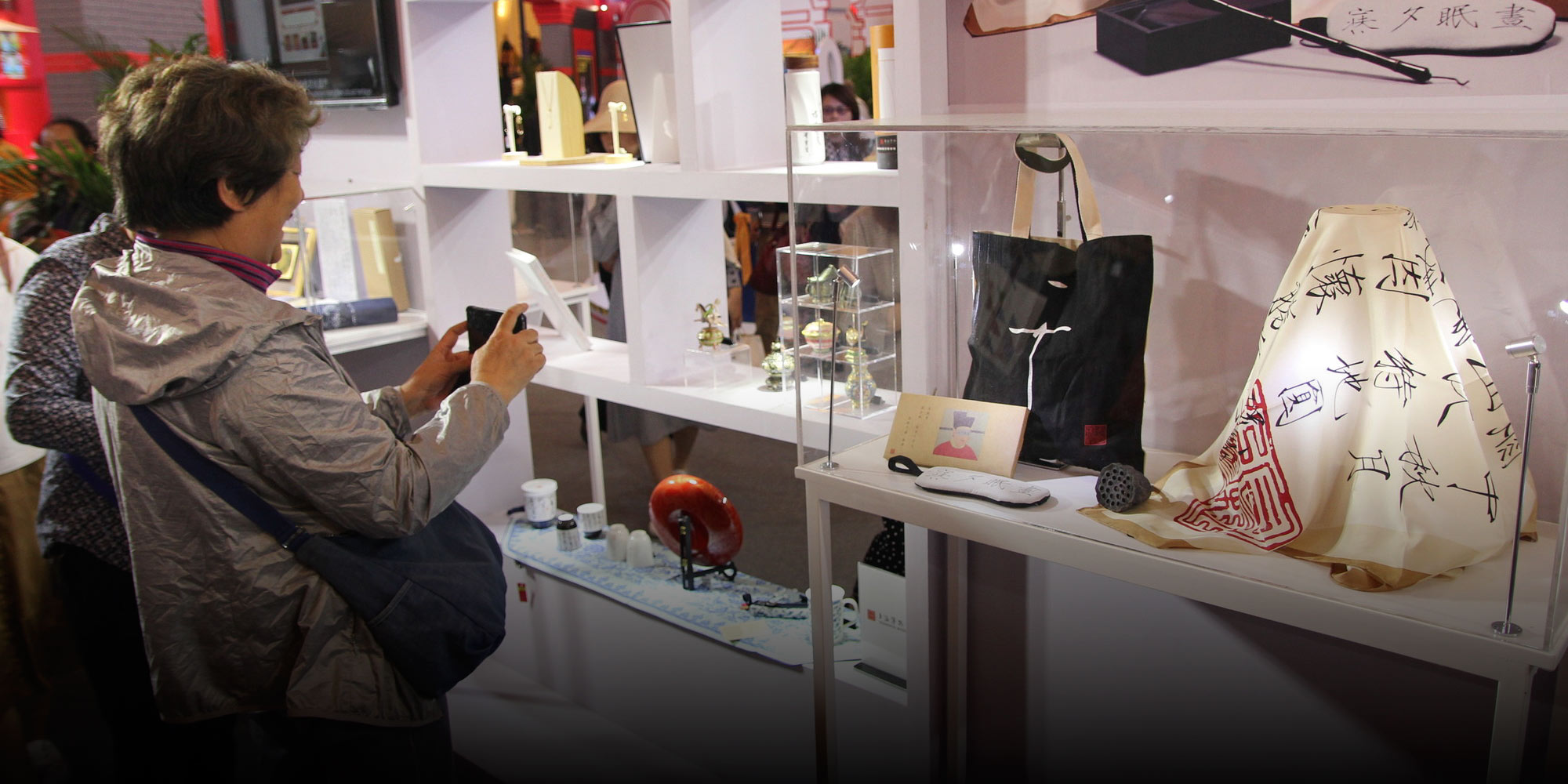 VOICES & OPINION
Why This Year's China Art Festival Was All About 'Wenchuang'
Trendy and stylish gift shop offerings are helping museums and galleries redefine their public images and connect with new, younger audiences.
Since 1987, the China Art Festival has offered a window into emerging trends in the Chinese art world. The talk of this year's expo — held last month in Shanghai — was wenchuang, inventive culturally and historically inspired commercial products sold by museums or other similar institutions. In between the regular exhibits, festivalgoers could find stacks of knickknacks, trinkets, souvenirs, and stationary of all kinds, from eye masks emblazoned with calligraphy by Song dynasty Emperor Huizong to colorful inkwells.
As I wandered the festival floor, I couldn't help but think back to my first trip to Europe, almost a decade and a half ago. Visiting the British Museum, the Louvre, and other renowned cultural institutions, I was struck not just by the elegance and splendor of the artwork on display, but also by the richness of their gift shops. If that surprises you, bear in mind that, at the time, it was hard to find even fridge magnets in museum gift shops on the Chinese mainland. Art lovers and travelers looking to memorialize their trips had to be content with keychains, bookmarks, or postcards.
Beginning a few years ago, however, Chinese museums embraced wenchuang. Profit was one motive, but the industry is also helping cultural institutions win over younger consumers and reinvent their public images.
The current wenchuang craze can be traced to 2013, when the Taipei Palace Museum's "emperor tape" — paper tape with the words "The emperor knows" printed on it in calligraphy — went viral on both sides of the Taiwan Strait.
A few rolls of emperor tape quickly became a must-buy for every tourist from the Chinese mainland visiting the island. But mainland-based art lovers also began asking pointed questions of their own cultural institutions: Why, with such rich and varied collections to draw from, were the souvenirs sold in mainland gift shops so bland and uninspired?
It took a few years, but the art world has finally answered their call. Whether measured by artistry or just sheer variety, the products on display at this year's art festival were at least on par with those found in Taipei, Paris, or London. In addition to the usual coasters, placemats, pillows, eye masks, cutlery, tea sets, tote bags, and T-shirts were more eccentric offerings: lacquerware USB drives, speakers in the shape of ancient bronze works, and desserts shaped like ancient pottery.
How did things change so fast? As is the case with so many other overnight success stories from the past 40 years, the wenchuang industry benefitted from a firm governmental push. In June 2016, China's Ministry of Culture joined with several other key government bodies to call on the country's museums, art galleries, libraries, and other cultural bodies to develop new commercial products. In response, museum and gallery directors around the country began looking for ways to leverage their museum's unique qualities to produce innovative, well-designed souvenirs and other mementos.
The Palace Museum in Beijing debuted a lipstick line; the Suzhou Museum designed a writing utensil holder meant to evoke the museum's natural surroundings. After years spent envying museumgoers abroad, Chinese consumers have gobbled up these domestic offerings. In 2017 alone, the Palace Museum recorded sales of more than 1.5 billion yuan (roughly $220 million).
Yet while the government may have started the push, the industry's success is thanks more to the conditions of the Chinese market. First, museums have greatly benefitted from the country's advanced manufacturing sector. According to Feng Wei, the assistant manager of the Shanghai Museum's gift shop, as long as she can think of an idea, it's easy to get it made quickly and cheaply.
Equally important is the consumerist mindset of many young Chinese. As China's economy and international influence have grown in recent years — and along with them, sentiments like national pride and cultural self-confidence — Chinese consumers have started looking inward, rediscovering and re-evaluating their own culture and traditions. This has spurred a growing demand for products with a Chinese flavor — sometimes quite literally, as in the case of Forbidden City-inspired Oreos. The days when museum gift shops catered primarily to foreign tourists are over: Today's product lineups are designed with the tastes of stylish young Chinese in mind.
In practice, that's involved a renewed focus on interactivity and usability. No longer are gift shop goods merely mementos to be displayed and cherished. Increasingly, museums have started selling artistic or culturally resonant takes on practical everyday items — products meant to be used and consumed as much as they're admired. Lipsticks, face masks, and other cosmetics are a popular choice, but so are more "high-tech" options, from T-shirts that change color to notebooks that can charge your phone.
In pursuit of the ever-elusive youth demographic, some museums have even designed wenchuang with the country's various subcultures in mind. It's now possible to buy museum products aimed at fans of meng cuteness or erciyuan anime, comics, and games (ACG) culture.
The Palace Museum, for example, won over young Chinese consumers by embracing all that's adorable. It released earphones beaded in the style of the ancient imperial court, stickers of 12 beautiful noblewomen from a Qing dynasty painting, and hand-held fans inscribed with the words "The emperor also misses you very much." They all went viral, and in the process helped the museum shed its musty reputation and rebrand itself as youthful, energetic, and accessible.
The Emperor Qin Shi Huang's Mausoleum Site Museum in the northwestern province of Shaanxi recently pushed this dynamic further with its King's Man series of terra cotta warrior figurines. Appealing to Chinese ACG fans, the series reimagined China's famed terra cotta warriors as ultra-stylized pencil and toothpick holders with slogans like, "Pick your teeth like you're king of the world!" The museum opened preorders on e-commerce site Taobao at 10 a.m. on May 29 and had sold out by that afternoon.
Yet while it's exciting to see museums and galleries trying to get more creative, I sometimes wonder whether they've lost sight of their original mission. There's nothing wrong with becoming more market- or youth-oriented, and I applaud attempts to use innovative and fun methods to grow sales and connect with new audiences. But the focus shouldn't just be on cool products, but on how to use those products to share and transmit classical culture. The best wenchuang should leave visitors feeling like they brought a bit of the museum home with them — a slice of history or art. In other words, they should be about the human side of art as much as the commercial side.
Nevertheless, I'm optimistic about the industry's future. By drawing on aspects of China's grand cultural tradition and integrating it into items that are at once both beautiful and practical, museums are making history feel fresh again.
Translator and editor: Kilian O'Donnell.
(Header image: A visitor takes pictures of 'wenchuang' printed with Emperor Huizong's calligraphy during the 12th China Art Festival in Shanghai, May 20, 2019. Xing Yun/IC)