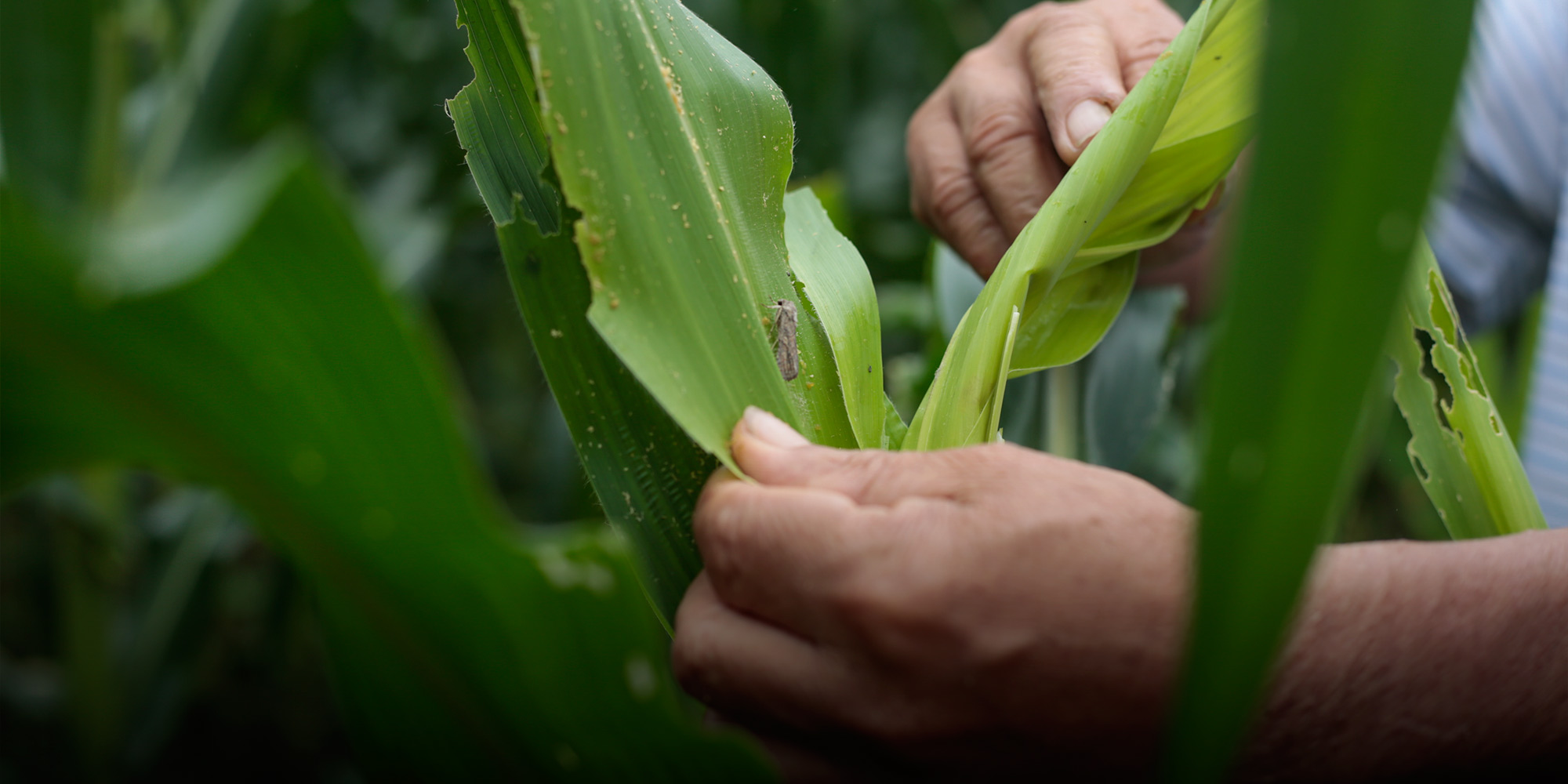 FEATURES
After Swine Fever, China's Farmers Battle Corn-Devouring Pest
Voracious fall armyworms are destroying crops across the southern regions. As summer arrives, they're threatening the country's corn-growing heartland.
GUANGXI, South China — It's been a dismal few months for Jiang Sigui. First, he lost his entire pig herd to African swine fever. Then, the 57-year-old farmer was dismayed to find his cornfields crawling with mysterious green caterpillars. Within weeks, his crop was ruined.
Jiang had planted the corn in February, intending to feed some to his livestock and sell the rest. His two yearly crops usually earn him a total of about 2,400 yuan ($347), close to half of his annual income. But this time, the caterpillars bored through his young corn husks and devoured the cobs. "There's none left," he laments. "What am I supposed to sell?"
Similar scenes have played out across southern China this spring, as corn and other crops have come under attack from the fall armyworm, an invasive species. The fast-spreading and voracious pest is already threatening food security in the world's second-largest corn-producing nation, hitting farmers' livelihoods, and further damaging an agriculture industry reeling from an ongoing African swine fever outbreak that could result in the deaths of millions of pigs.
The fall armyworm is the larval stage of a moth capable of flying up to 100 kilometers a night. Native to the Americas, the insect somehow made its way to Africa in 2016, where it has since spread to more than 40 countries. Following its appearance in India, Myanmar, and Thailand last year, China's first sightings of the pest took place in January in southwestern Yunnan province, which borders Myanmar.
Earlier Wednesday, China's Ministry of Agriculture and Rural Affairs (MARA) published a notice saying that the fall armyworm has spread to 18 provinces and regions, but it did not quantify the total affected area. However, in updates dated between May 10 and May 24, affected farmland increased from 1.08 million to 1.91 million mu (72,000 to 127,333 hectares). (The mu is a Chinese unit of measurement).
And it's unlikely the pest is yet finished. The USDA Foreign Agricultural Service says there is a "high probability" that the fall armyworm will spread to key corn-producing regions in northern and northeastern China by June, and it may also threaten other crops, including rice, wheat, sugar cane, cotton, and soybeans. According to MARA, the insect "seriously threatens China's agricultural and food-production security."
Compounding the fall armyworm's threat is the fact that it has no natural predators in China. In an email to Sixth Tone, the UN Food and Agriculture Organization (FAO) said that once the insect has arrived, "it can't be eradicated." However, integrated pest-management practices can help to mitigate the spread of fall armyworms, the organization added.
For now, though, infestations are already disrupting the incomes of China's small-scale farmers like Jiang, who lives in one of the worst-affected areas. In the Guangxi Zhuang Autonomous Region — an agriculture-dependent region that's also one of China's poorest — the fall armyworm has struck some 699,000 mu of farmland in 65 county-level jurisdictions to date, according to a MARA-affiliated body. Jiang's village of some 3,000 people, Gaoling, is administered by the city of Guigang. In the municipality's surrounding countryside, fall armyworms have damaged around half the total area of the spring corn crop, according to China National Radio.
Although Gaoling's fields burst with head-high cornstalks, their apparent virility is misleading. When Sixth Tone visits on a sticky morning in late May, several farmers strip back ragged leaves to reveal fat, squirming fall armyworms and young corncobs reduced to a pulpy mess. The larvae have appeared in great numbers during the last couple months, locals say — and they're unlike any pest that's come before. "Bugs usually only eat the outside leaves," sighs Jiang. "But this one is different — it goes for the cobs themselves."
Most farmers we speak to in Gaoling have lost at least part of their corn crops to the fall armyworm, but few have been hit as hard as Jiang. When the swarthy, straight-talking farmer discovered his infestation, he responded by using pesticides. He sprayed his corn three times, but to little avail: By that point, the writhing critters were too numerous to kill off completely.
More affected farmers have been frustrated by the ineffectiveness of pesticides. Li Huaiyan, who runs a farm goods store in the nearby village of Hengling, says sales of one kind of pesticide — which he claims kills both fall armyworms and other species — have risen by around 50% since April. But his customers aren't satisfied. "Farmers have come to me saying, 'Why is this bug so hard to get rid of? I've sprayed it so many times, and I still can't kill it,'" Li says.
In fact, the FAO cautions against knee-jerk responses like Jiang's. "One of the core messages when new infestation of FAW (fall armyworm) occurs is not to panic and resort to intensive use of often hazardous pesticides," the organization told Sixth Tone, adding that biological and agroecological controls should form the "backbone" of the pest's management in Asia.
On Tuesday, China's agriculture ministry earmarked 25 pesticides for emergency use against fall armyworms, while a Monday media report said that Chinese-owned seed producer Syngenta planned to introduce insecticide-treated corn seeds to combat the spread of the pest in Zimbabwe. Syngenta did not respond to Sixth Tone's requests for comment by the time of publication.
In other parts of the world, farmers have fought back against fall armyworms by growing corn alongside other crops, not planting late, hand-picking and destroying eggs and young larvae, and protecting populations of species that prey on the insect. While the FAO does not completely oppose the application of synthetic pesticides on fall armyworms, it encourages farmers to use them sparingly and in accordance with national and international laws and norms.
Initial efforts to mitigate a fall armyworm invasion should focus on raising awareness of the insect's biology and ecology, monitoring its spread, and developing the skills and capacities of government staff, field workers, and farmers, the FAO said.
The Chinese government has employed an emergency plan to combat the spread of the fall armyworm. Wang Huasheng, the deputy station chief of the state-affiliated Guangxi Plant Protection Network, told Sixth Tone in a phone interview that officials were pursuing a range of measures, including pheromone-based monitoring and field checks. State technicians were also providing farmers with on-site training in fall armyworm identification and control, Wang added. "The main thing is whether or not you're able to recognize the problem. If ordinary people can tell whether (they're looking at) larvae, or eggs, and then preventively remove them, then they're not an issue," he said.
But officials face an uphill battle to forewarn farming communities with no prior experience of the pest. In Cenxi, a village about a 30 minute drive from Gaoling, officials held a "training session" on April 30, teaching around 40 farmers how to spot and combat fall armyworms, according to Cenxi's party branch secretary Jiang Jinzhan — who is not related to Jiang Sigui. However, public awareness is still not up to snuff. "People have never seen a fall armyworm before," explains Jiang Jinzhan. "They'd understand if they saw it frequently while planting, but they've only discovered it this year."
Preventive measures seem to have only partly succeeded in other villages, too. In six or seven other settlements near Guigang where the fall armyworm has not generally wreaked as much havoc as in Gaoling, Sixth Tone's enquiries about the insect are met with looks of confusion. Few people seem familiar with its convoluted official Chinese name, and even its shorter, informal monikers are only sporadically understood.
When shown images of the fall armyworm, villagers generally say they haven't seen many on their crops — a likely enough scenario, given the limited effects of the outbreak so far — or that planting rice or sugar cane instead of corn saved their fields from harm. Other farmers declare that fall armyworms are present in their cornfields, but point out different species once we arrive. Although Sixth Tone did spot a number of what appeared to be fall armyworms in several villages, locals were unable to verify the species.
Overall, Wang, the station chief, concludes that while the current outbreak can be controlled, the path forward is uncertain. "China has sufficient stores of pesticides, but we lack understanding about what happens next," he says.
As affected farmers come to terms with spoiled crops and strained finances, the recriminations are beginning. Jiang Sigui wants the government to compensate him for his lost income. "I want subsidies, but I don't know if I'll get any," he says.
Guangxi's regional agriculture bureau told Sixth Tone in a phone call that no scheme currently exists to compensate corn farmers for losses sustained due to the fall armyworm and that no higher-level government organs had yet directed them to prepare for such a scheme. A woman at the Guigang branch of the Guangxi Plant Protection Network, who declined to give her name, said that the state rarely pays compensation to farmers in such cases, adding that while the region's rice farmers generally take out insurance against pest-related crop losses, corn farmers — who generally grow the plants on smaller scales — are not in the habit of buying insurance.
Now that his corn is ruined, Jiang Sigui will have to buy more feed to raise his ducks and chickens. He turns away from his stunted, decaying stalks. "I don't even want to look at that corn anymore," he groans.
Additional reporting: Li You; editor: Kevin Schoenmakers.
(Header image: An adult fall armyworm moth perches on a corn plant in Guigang, Guangxi Zhuang Autonomous Region, May 30, 2019. Li You/Sixth Tone)