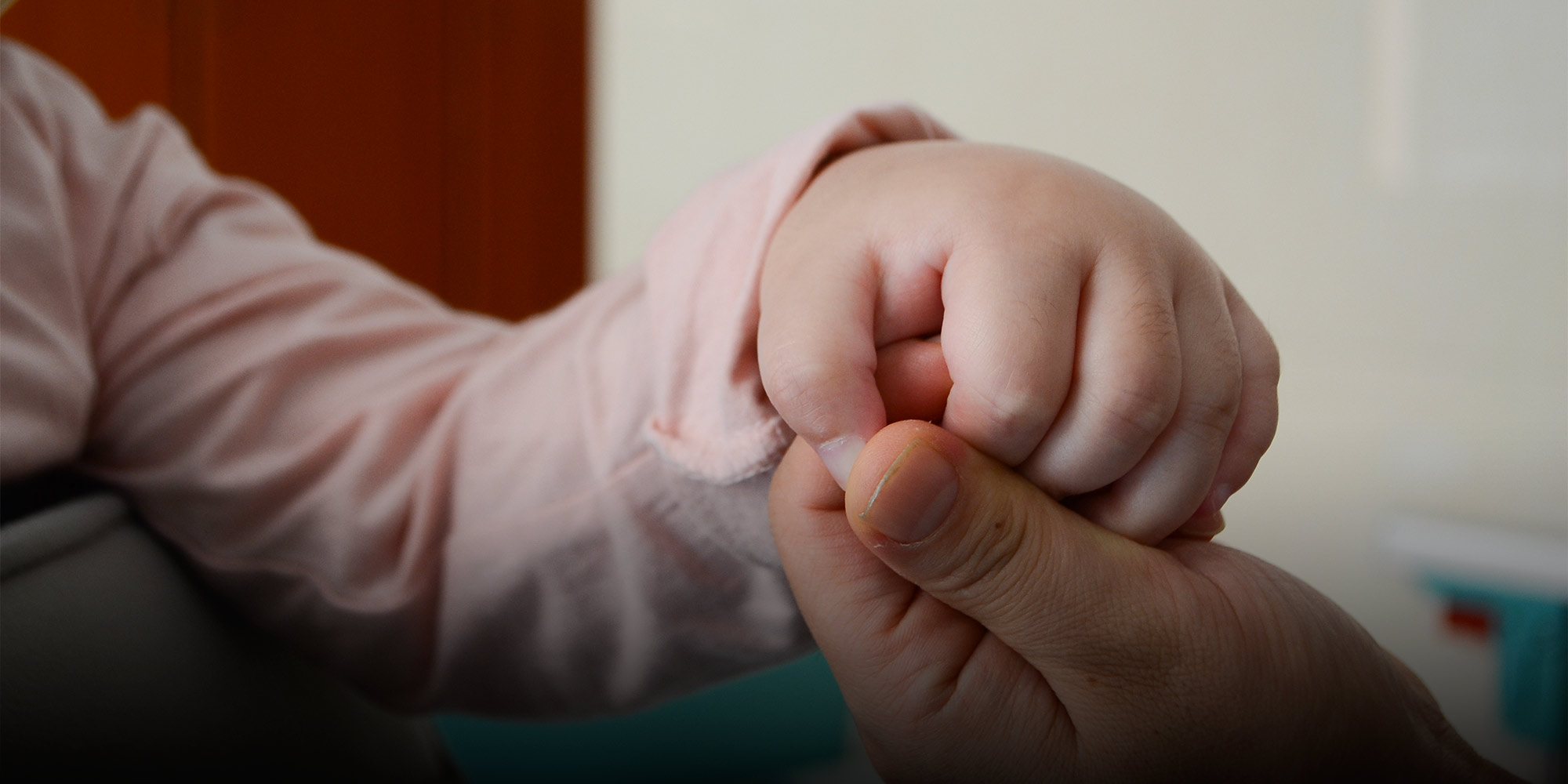 FEATURES
The Chinese Patients Stuck in a Consciousness 'Gray Zone'
Deep-seated shortcomings in the country's health care system are placing the families of people with disorders of consciousness under strain.
GUANGDONG, South China — Sitting in his daughter's ward, Zhang Shaofeng takes out a wrinkled piece of paper and painstakingly writes down all the dates last year when he had to transfer her between hospitals. The final count: 15 times. He smiles bitterly. He's gotten used to it.
The girl, 5-year-old Niuniu — a nickname — is in a vegetative state, unaware of herself or her surroundings. She is one of China's youngest patients with a disorder of consciousness (DOC), an umbrella term for conditions in which people have trouble staying awake or conscious due to severe brain injury. Neuroscientists describe them as floating in "the gray zone of consciousness."
Experts estimate there are 200,000 to 300,000 DOC patients in China and say this number is increasing because health care improvements mean more and more people survive serious accidents, strokes, or heart attacks. Nevertheless, China's health care system is badly equipped to deal with them. Hospitals do not provide DOC patients with the years of intensive attention they require. With just one private facility that specializes in long-term care for patients with DOC in the entire country, the heavy care burden usually falls on their families.
Zhang, a migrant worker from central China's Henan province, has stopped working to care for Niuniu. In 2015, the then-22-month-old got severe traumatic brain injury at the hands of her mother's then-boyfriend, leaving her in a monthslong coma. Ever since, Zhang has frequently run into the limitations of the health care system. Niuniu experiences recurrent complications for which general rehabilitation hospitals cannot treat her. At the hospitals that can, she is unable to stay long term. And so, father and daughter keep moving back and forth.
Hoping a change of scenery might help stimulate Niuniu, Zhang brought her from Beijing to Guangzhou, but the city's tropical monsoon climate aggravated Niuniu's mucus buildup, which has her constantly wheezing and gurgling. In mid-March, Niuniu was hurried into an intensive care unit at another hospital when this triggered a lung infection, a potentially deadly complication for DOC patients. "In less than two months, we have bounced between four hospitals in Guangzhou," says Zhang.
In a way, Zhang is more fortunate than others in his situation. After media covered the tragic details of Niuniu's case, people donated money and offered help. A small army of volunteers, most of whom are mothers, regularly visit and keep Niuniu company. Her medical costs and daily expenditures — which Zhang estimates have so far cost over 2 million yuan ($290,000) — are covered by the China Charities Aid Foundation for Children, a charity funded by donations from the public.
It has allowed Zhang to hire a full-time caregiver and have Niuniu live in hospitals, as well as afford treatments not provided in hospitals. The facility where Niuniu is staying does not offer any rehabilitation for DOC patients, and so Zhang has arranged it himself. For one, he bought a tilt-table, a device that can put Niuniu in straps and tip her upright, stimulating her muscles and other body parts and hopefully increasing her awareness.
After nearly an hour strapped to the table, Niuniu's face starts to pucker and flush. Tears well up in her eyes. She whimpers and clenches her fists, moving them toward the belt that ties her down. "She becomes impatient and wants to get off," Niuniu's caregiver Liu Xuejie explains. She moves the table back horizontally, lifts Niuniu up, and puts her into a wheelchair. Her eyes are nearly closed and her head keeps tilting to the side, but, Liu says, Niuniu is awake.
Despite all the help, Zhang worries that nobody will be able to take care of Niuniu all the way to the end. He is the only relative willing and able to look after Niuniu. Her mother was sentenced to 10 years in prison, because she didn't intervene in the abuse — the boyfriend got life imprisonment — and her maternal grandparents never visit. Zhang's father died when he was 10 years old, and his mother remarried into another family. He doesn't want to ponder the future too much. "Whenever I think about Niuniu's life once she's grown up, I can't fall asleep at night. I may just let nature take its course," says the 31-year-old.
The lack of systematic medical care is a major burden on the patients' families, says He Jianghong, one of China's leading neurosurgeons specializing in DOC treatment and the doctor in charge of Niuniu's treatment while she was in Beijing. In most cases, DOC patients are only eligible for acute care, such as when Niuniu contracted a lung infection. "The medical care available to DOC patients is like an intensive short course before an exam … It's a one-off," says He. "But neurological rehab is a very long process. It should be like the nine-year compulsory education system that includes both acute, life-saving treatment and cognitive rehabilitation."
Citing the different levels of care — including acute care hospitals, subacute rehabilitation hospitals, and nursing homes — that are available to DOC patients in the U.S., He says patients in China are forgotten once they leave the intensive care unit, even if an operation for trauma or disease left them with DOC. Patients with DOC can survive for eight to 10 years if they have attentive care, and one to two years if they are not.
In He's opinion, neither medical professionals nor the general public pays enough attention to people with DOC. Xie Qiuyou, a neuroscientist and rehabilitation therapist based in Guangzhou, agrees. "Medical insurance institutions do not lay out specific instructions on DOC, either as a chronic disease or critical illness, for example," Xie says. "This partly results from the misconception that people in a vegetative state are living dead, so their existence is meaningless."
Sitting next to Niuniu in the ward, Zhang rolls the corner of a tissue into a point, then moves it gently into Niuniu's nostril to trigger a sneeze to free up her airways. It only works halfway: She tilts her head back and opens her mouth slowly, but nothing happens. Still, Zhang is pleased by the rare interaction with his daughter. Before her injury, Niuniu had started toddling and could babble simple words, like "papa." "She would play with a phone charger or a broom, imitating the adults," Zhang remembers. Niuniu's body has kept growing in the past years. She weighs 25 kilograms and is 1 meter tall now, close to average for a 5-year-old.
In 2015, He, Xie, and other neurosurgeons from Beijing, Guangzhou, and Hangzhou surveyed family members of 63 DOC patients in the three cities. While more than half of the families had monthly incomes of at most 3,000 yuan, the majority needed to pay an average of 30,000 yuan per month for treatment. None of the families received financial aid. Besides the economic stress, the survey found that over half of the relatives who took on the burden of care experienced mental stress and that nearly 90% were frequently sleep-deprived. Most chose to ignore their own problems.
"When someone becomes a DOC patient, their whole family will be dragged into a black hole," says Wu Chao, a Guangzhou-based artist. When, in 2010, Wu's husband had to undergo rehabilitation due to paralysis on the right side of his body, the couple witnessed the hardships of DOC patient families. "Everyone there was dispirited, but they only cared about the physical instead of the psychological," Wu says. "There is insufficient support from society. There isn't even a patients association."
Together with a small group of neurosurgeons, psychologists, and art therapists, Wu started the Vitality Research Community to advocate a humanistic attitude toward patients with DOC and their families, one that goes beyond medical treatment and traditional, often monotonous rehabilitation practices. "His (My husband's) rehab was quite boring. The rehabilitation therapist who was in charge of his lingual ability kept reading the same article day after day. And the article was so silly!" says Wu. Last year, the community launched a project called "Break Plan", which aimed to give relatives a break by helping to take care of the patients. But the plan was cut short after its inception due to difficulties in finding funding and volunteers.
Organizations trying to provide more diverse treatment often face the challenge of securing support — financial or otherwise. Hospitals and other official institutions often require rigid evidence of a treatment's effectiveness before signing on. In mid-April, the only private care center for patients in a persistent vegetative state in Beijing, filed a lawsuit against its local branch of the Disabled Persons' Federation, because the federation failed to pay service fees that the center argues a 2016 contract obliges them to.
When it is time for lunch, Liu, the caregiver, moves Niuniu out of the wheelchair and lays her on her bed. Though her eyes remain half-closed, Niuniu tries to roll over, holding up one of her arms. "Whenever I say 'time to eat,' she will smack her lips. She is the most active person with DOC I've ever seen," says Liu. She thinks Niuniu understands what she says. But He, the Beijing doctor, says more time is needed to judge whether Niuniu can recover to a level where she can communicate with people, since she was injured at a young age and her consciousness is hard to assess.
"It's good to have hopes. I don't know to what extent she can recover. But I hope she can at least eat by herself and go to the toilet by herself," Zhang says. "I know she won't be the same as a normal person. I don't expect her to be the same."
In the past month, Zhang and Niuniu have been on the move again, first back to their hometown in Henan province. Then, Niuniu experienced another lung infection, and the family of two had to rush back to Beijing.
Editor: Kevin Schoenmakers.
(Header image: Zhang Shaofeng holds his daughter Niuniu's hand at a hospital in Guangzhou, Guangdong province, April 14, 2019. Fan Liya/Sixth Tone)