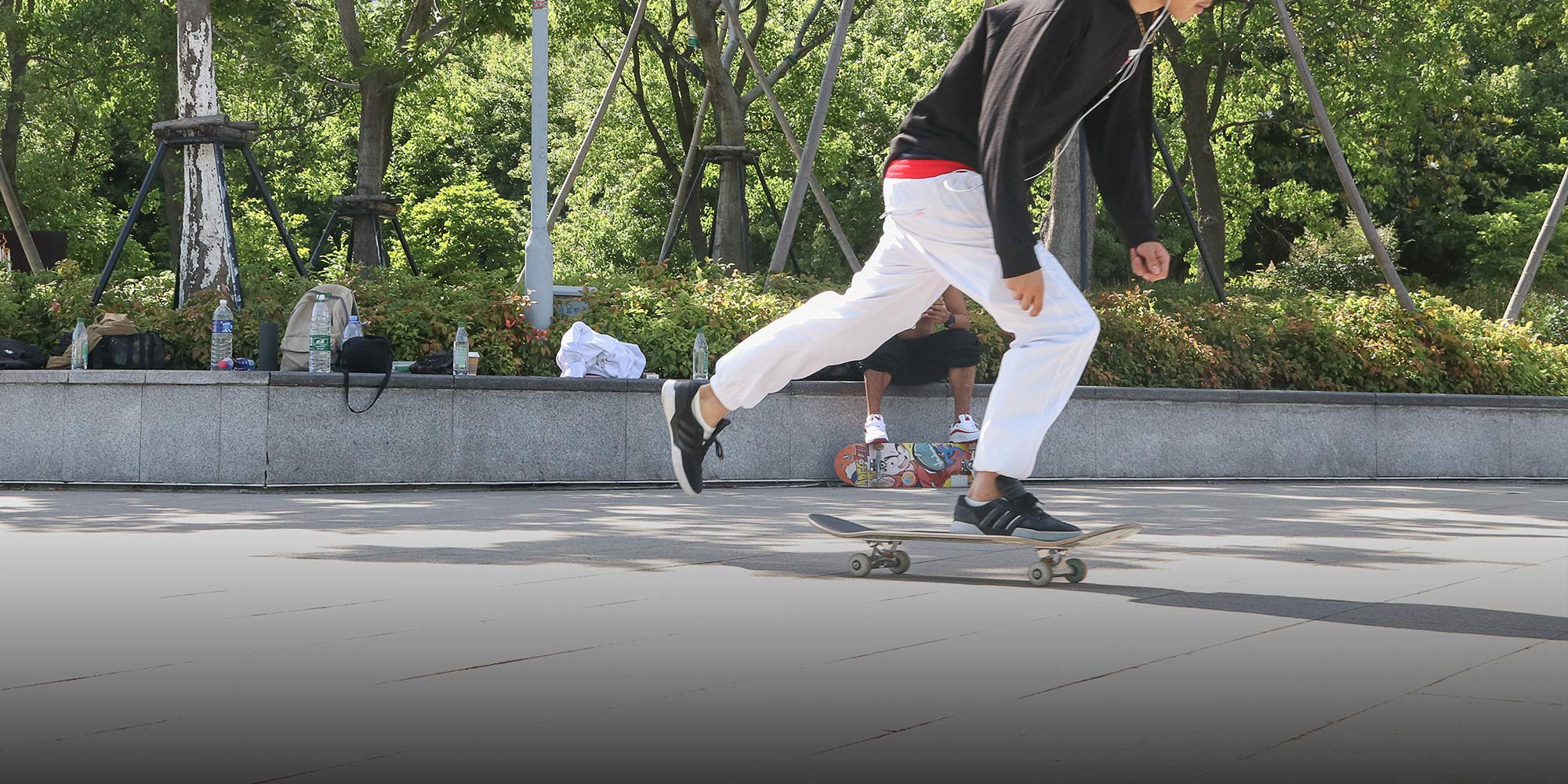 FEATURES
Shanghai's Skaters Vie for Space Atop Stricter Streets
A new documentary highlights a thriving scene that has to live between the lines of a crowded city.
SHANGHAI — Looking into the camera, a young Chinese skateboarder recalls the tricks he used to pull off in the park behind him, back before the area banned skating. Later, he dashes the wheels of his board against a sign reading, in English, "No Skate or Skateboard," leaving it dented and torn.
The scenes come from French filmmaker Charles Lanceplaine's short documentary "Shanghai 6," premiering Friday at Pushfest, a skateboarding-themed film festival run by Push Media, a company that Lanceplaine co-founded. Two years in the making, the movie is a follow-up to the 2010 work "Shanghai 5," which the 32-year-old Lanceplaine describes as "a love letter to the city." But whereas "Shanghai 5" celebrated the city's then-freewheeling skating community, its sequel includes several subdued enthusiasts reminiscing about bygone skateboarding hubs and tightening constraints on skating — issues that are forcing them out of the city center and threatening the development of the skating community, they say.
"Ten years ago, it (Shanghai) was such a different place," Lanceplaine says from his downtown office two weeks before the "Shanghai 6" premiere. "I just want people to realize that we had it really good, and it sucks losing the things we hold dear."
Lanceplaine's nostalgia feels odd, considering that in some ways, China's skateboarding culture seems stronger than ever. There are thriving scenes in the cities of Guangzhou and Chengdu, and local aficionados say skating is increasingly popular in Shanghai, too. This weekend, the city will host one of this year's X Games events, an international extreme-sports extravaganza that includes skateboarding. Municipal officials also aim to make the city a global sports hub to match the likes of Tokyo and Paris, which will host the next two Summer Olympics — events for which China is already training a national skateboarding team in the eastern city of Nanjing.
However, the city's lofty ambitions conceal tightening restrictions on much-loved skate hubs. A recent spring evening finds Sixth Tone wandering around the so-called Love Park, a downtown area around the Cadillac Shanghai Concert Hall whose ledges and steps are recalled wistfully in Lanceplaine's documentary. These days, the sidewalks are largely quiet, and the central area is blocked off by construction fences. A sign forbids the use of bicycles and skateboards, a ban that was instituted last summer due to safety concerns and complaints from locals and tourists, says Zhou Weijia, a staff member at the company that manages Love Park.
Such clampdowns are forcing dedicated skaters to venture farther from Shanghai's city center — a source of frustration for longtime members of the local skate scene like Canada-born Johnny Tang, who has been skating in China for over 10 years and has appeared in Lanceplaine's films. The 36-year-old says he has been an avid skater since he got his first skateboard at 13. "As soon as you learn how to flip your board and put two feet on it, that's it," Tang says. "You're addicted to it."
Since the Love Park ban, many skaters say it has been difficult finding a convenient new hub. The sprawling SMP Skate Park, in the northeastern Yangpu District, is both an hourlong journey via public transportation from the city center and charges an entrance fee. Many skaters visit the Vanke Qibao International Intellectual Park, located near the outlying Zhongchun Road subway station, though most say they prefer the terrain just outside the area's designated skate spot because of its better design. Another skate park is nearly completed in a less far-flung venue within Changning District, but skaters are not allowed in just yet, Tang says.
Shanghai does have one more centrally located, purpose-built, and free-to-use skate park — but skaters feel it's far from ideal. With its riverside location in the up-and-coming West Bund area, Xuhui Riverfront Skate Park — typically just referred to as binjiang, the Chinese word for "riverfront" — has all the facilities to keep skaters coming back for more. There's just one problem: The park is overrun by kids, skaters say. During a visit by Sixth Tone on a Thursday evening, the area is indeed teeming with young children rolling idly on brightly lit in-line skates and slowly sliding down the skating ramps. At one point, a skateboarder has to swerve to avoid hitting a child crawling on one of the obstacles.
"We tried to talk to the security guards, but it seems like they don't actually care," skateboarder Sun Qingtian, who hails from Nanjing, tells Sixth Tone. "They told us they have no right to kick anyone out. This is kind of like a public place. Anybody can come in and do whatever they want. But to our skaters, it's definitely a skate park."
The park's various drawbacks haven't dampened enthusiasm within the community, with groups of skateboarders gathering there nonetheless to laugh and cheer each other on as they try new tricks, regardless of how successfully they land them. However, several skaters tell Sixth Tone that they feel the general public doesn't understand their culture. Earlier this month, for example, the Shanghai-based newspaper Xinmin Evening News chastised a group of young people for skating in front of a downtown Nike store instead of in a skate park. BASE, an online publisher focusing on skateboarding, posted a response arguing that the city has made many skate parks inaccessible or inconvenient.
The tension between Shanghai's partial embrace of skating and its desire to confine it to certain areas frustrates those who say skate culture is impossible to restrain or control. Indeed, many in the Shanghai scene have a fascination with urban space — a preoccupation with the city's stairs, ledges, and ramps, regardless of whether they were built to accommodate a board. Some refer to a color-coded online map of the city's best spots alongside notes detailing how best to skate them. Often, the areas are nothing more than a single railing outside a library, or a little-used staircase on an otherwise crowded street.
"Shanghai is a giant skate park," Tang says, pointing to a set of stone benches across the street from the downtown skate shop where Sixth Tone interviews him. "That's a skate spot, right there," he says, adding that factors like smooth ground, pedestrian traffic, and the attitudes of local security guards help to determine whether a location is fit for skating.
But for Tang, a truly great skate spot is good for the community as a whole. That's why the best skate parks feature both beginner-friendly, accessible designs and more advanced equipment, he says. For new skater Winnie, who asked to be identified by her English nickname due to privacy concerns, finding a place that accommodates amateurs has been a challenge. Sitting on the steps outside the Xuhui skate park — where many skaters hang out instead of weaving through the romping kids inside — and clad in protective padding, the 29-year-old feels that practical obstacles occasionally temper her excitement for her adopted sport.
"I really wish there was a road outside that didn't have pedestrians on it," she says. "Even if we skate in the bike lane, there are still a lot of electric scooters, and they're fast ... Here, it's more open, you can feel the wind, and you just feel free."
As she talks with Sixth Tone, Winnie demonstrates how, despite her short time skating in Shanghai, she has already gained a sharp awareness of the park's security guards, pointing out where they tend to clamp down on skaters and where they largely ignore them. Later, as she gets ready to leave, a nearby group of skaters hunches over a cellphone, watching a video from the previous day of a skater being surrounded by four security officers who reprimand him for being shirtless.
Though tightened park security features heavily in "Shanghai 6," many interviewed in the film remain broadly optimistic that greater acceptance of skating will soon come. Tang says he hopes to see more parks commissioned by actual skaters who understand the community.
But ultimately, Tang hopes Lanceplaine's new documentary will "spark the flame" for skateboarding in Shanghai and encourage more to take up the activity. After all, those who snub it don't know what they're missing. "If you put a lot into skateboarding, you'll get a lot back from it," he says. "Skateboarding is the best thing in the world."
Additional reporting: Fan Yiying; editor: Matthew Walsh.
(Header image: A man goes skateboarding at a park in Shanghai, May 28, 2019. Gao Qianhui for Sixth Tone)