GUANGXI, South China — When the strange-looking trees were first planted more than a decade ago on the outskirts of Yong'an Village — population 2,500 — government officials heralded a coming economic boom. Then the water dried up.
Now, in a landmark case, around 150 Yong'an residents are suing both Guangxi Lee & Man Forestry Technology Ltd. — the timber company that operates the nearly 300,000-square-meter eucalyptus plantation — and the local government body that partnered with it. Villagers claim the eucalyptus sucks up water from three mountain springs, leaving little for them to use for cooking and rice farming farther downstream. They hope a court will cancel the company's contract and pay them compensation, but also face stiff opposition from both Guangxi Lee & Man and the local government, who say the villagers' claims are groundless.
"This case is the first of its kind in China," says Hu Dingfeng, the lawyer representing the villagers. "If it's successful, it could become a benchmark for similar cases involving the eucalyptus industry."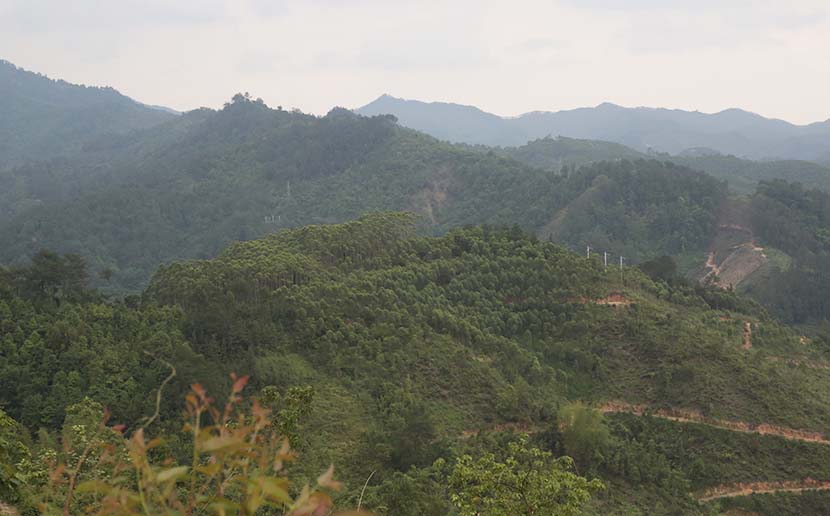 A eucalyptus plantation near Yong'an Village, Cenxi, Guangxi Zhuang Autonomous Region, April 29, 2019. Li You/Sixth Tone
Conflict between villagers and big business has been brewing for years, highlighting rural China's struggle to balance economic development with environmental protection. Beloved by Chinese planters for its fast-growing, high-quality wood, eucalyptus thrives on land cleared using slash-and-burn techniques, absorbs large quantities of water, and flourishes under heaps of artificial fertilizer. Most growers plant the trees as monocultures and log them within five years — a shorter time frame than for most other wood crops. All of these traits can threaten local water supplies and degrade soils, says Wu Hao, a forests campaigner at Greenpeace East Asia.
For villagers, the solution is clear. "We really hate the eucalyptus trees," grumbles 63-year-old farmer Qin Shaoming, head of the group of villagers who filed the collective lawsuit this March. "They need to be removed."
Although eucalyptus species are native to Australia, the trees have been widely cultivated across southern China since the late 1980s, helping to sate a growing appetite for wood products in a country that today is the world's top producer and consumer of wood-based panels and paper. Nowhere is the lure of eucalyptus felt more strongly than the Guangxi Zhuang Autonomous Region, the country's largest tree-growing provincial-level region, where 70% of the total timber output — around 21 million cubic meters — is eucalyptus, buttressing an industry worth 300 billion yuan ($43.4 billion). "Eucalyptus is simply the most important tree in China's timber supply," says Chen Shaoxiong, deputy head of the China Eucalypt Research Centre, a Guangdong-based research institute affiliated with the Chinese Academy of Forestry.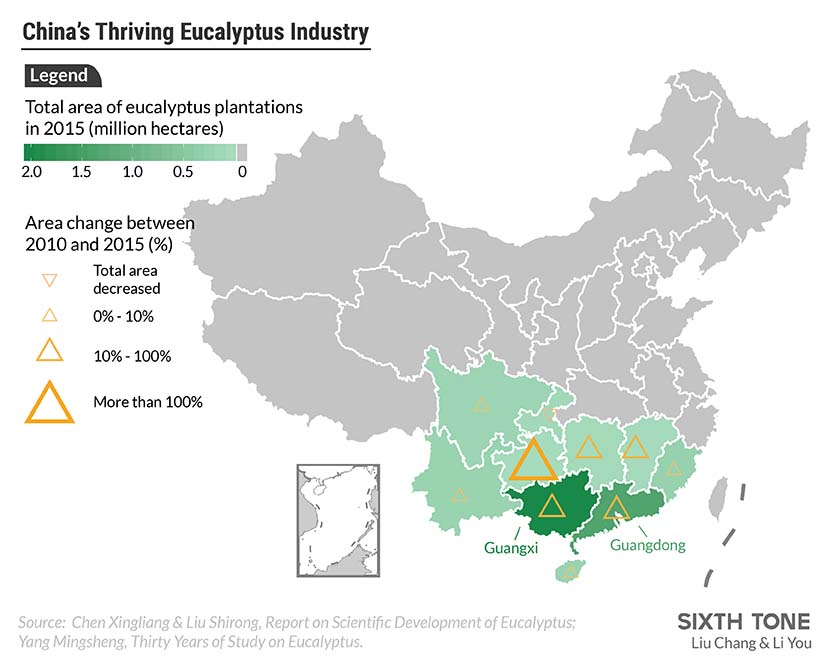 Yong'an's fraught relationship with eucalyptus dates from 2006, when its village committee requisitioned land leased by a number of local farmers and recontracted the plots to Guangxi Lee & Man for 30 years. The plan was part of a regional government initiative to increase eucalyptus coverage by an area equivalent to around 1,333 square kilometers per year. Qin Shaoming's brother, 69-year-old Shaowen, remembers how the committee told him to chop down his decade-old pine trees and leave the site. Later, plantation workers set fire to his painstakingly cultivated anise and cinnamon trees, planting eucalyptus saplings in their place.
But while the local timber industry flourished in the following years, rice farmers noticed that water levels in their paddies were gradually falling. Villagers began to suspect that the eucalyptus plantation was intercepting the spring water that fed their plots farther down the mountain. "We used to irrigate our land with that water, but now there's none left," complains farmer Qin Haiyin — no relation to Shaoming and Shaowen — as she gazes at the dried-up remains of a once-babbling brook.
The situation grew so bad that in 2013, Shaowen laid a 3-kilometer water pipe to connect his paddy to a fourth spring on another part of the mountain. Other farmers gave up rice completely or left Yong'an to look for work in the cities. Haiyin, who once earned 2,600 yuan per year growing rice, switched to cultivating passionfruit and now earns only 2,000 yuan. She and her husband supplement their income with illegal fishing.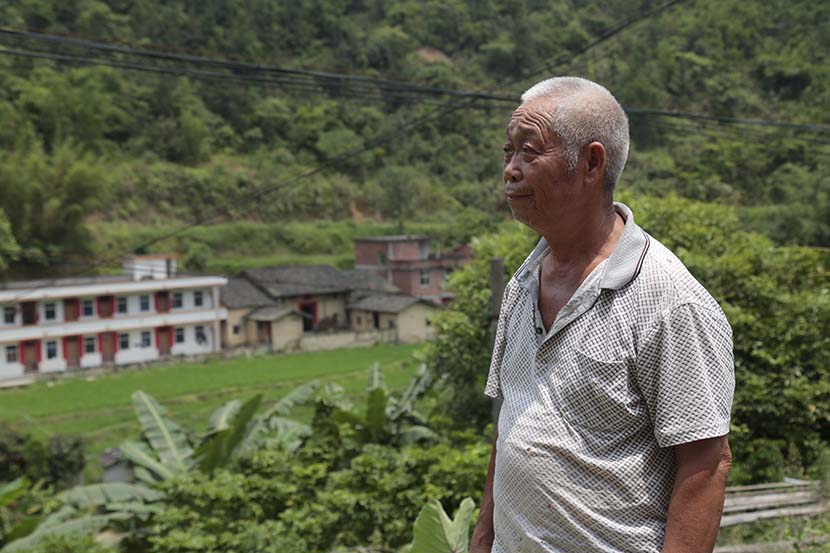 Qin Shaoming poses for a photo in Yong'an Village, Cenxi, Guangxi Zhuang Autonomous Region, April 29, 2019. Li You/Sixth Tone
Evidence that Yong'an's arid paddies are the result of eucalyptus planting is inconclusive, argue the village committee and Guangxi Lee & Man. In other parts of China, however, eucalyptus farms have been proven to damage the environment. In 2001, researchers at the Guangdong Institute of Eco-environmental and Soil Sciences found that in the province's southern Leizhou County — home to what was then the country's largest eucalyptus plantation — monoculture farming and mismanagement had caused soil erosion, a fall in water levels, and decreased soil fertility. Fears of water shortages also led people in Guangdong to cut down hundreds of eucalyptus trees in 2012, and prompted people in southwestern China to blame growers for exacerbating a severe drought in 2013, despite denials from experts.
As controversy festered, Nanning, the capital of Guangxi, banned eucalyptus growing in drinking-water conservation areas in June of 2014, following similar prohibitions in Fujian and Guangdong provinces. And that December, Guangxi's government announced sweeping reductions in the total planted area of eucalyptus within five years and their replacement with native species or mixed-culture plantations.
Despite petitioning the government several times since 2013, Yong'an villagers say little has changed. Tensions flared in 2017 and 2018, when third-party timber merchants visited Yong'an to log the eucalyptus. After the loggers arrived, some villagers blocked the roads leading away from the plantation, trapping the loggers on the site and refusing to budge until they had completely uprooted the trees so that they wouldn't grow back. Seven villagers were detained for disrupting business practices and later charged with extortion.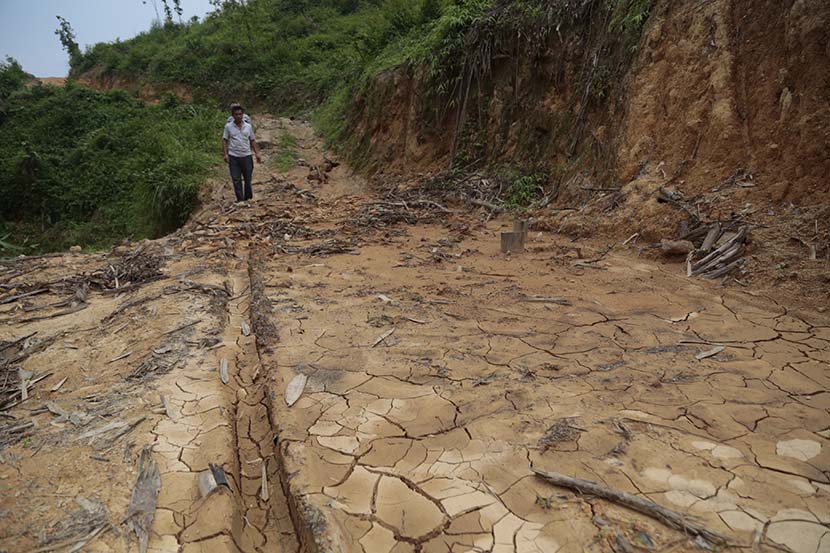 Mud cracks appear on a road near a eucalyptus plantation in Yong'an Village, Cenxi, Guangxi Zhuang Autonomous Region, April 29, 2019. Li You/Sixth Tone
Despite the odds mounting against them, last November a group of villagers filed a collective lawsuit against both the Yong'an Village Committee and Guangxi Lee & Man, accusing them of violating a clause in Chinese contract law that bans businesses from damaging public interests. They're seeking 800,000 yuan in compensation and the termination of the planters' contract.
Environmentalists say cases like Yong'an's are litmus tests for ensuring the future sustainability of China's forests. The country's voracious appetite for timber has given rise to the largest artificial forests in the world, yet the National Forestry and Grassland Administration still estimates that China's timber demand will outweigh domestic supply to the tune of 200 million cubic meters by 2020, driven by a ban on commercial logging in natural forests and increased environmental protections. As the country increasingly relies on imports, industry experts expect domestically grown eucalyptus to be given renewed importance.
Chen of the China Eucalypt Research Centre sees hope in current technical standards for eucalyptus plantations, which recommend that growers limit slash-and-burn agriculture, grow mixed forests to conserve biodiversity, and extend soil rotation periods to protect fertility. However, the standards remain nonbinding and expensive, making many private businesses reluctant to comply. "It all comes down to whether the planters are willing to implement them," he says.
On April 11, the trial opened at a court in Cenxi, the county-level town that administers Yong'an. Later, the court ordered an independent environmental impact assessment of the eucalyptus plantations, a first step "crucial for proving the causal relationship between the eucalyptus and the water loss," says Hu, the lawyer.
Guangxi Lee & Man's head of administration — who gave his surname as Huang — told Sixth Tone that the company had obtained all the legal permissions to operate in Yong'an and strictly follows national standards and regulations, but did not elaborate. Yong'an's village committee declined to comment on the case.
Although the court ruling is likely still several months away, Hu hopes for a speedy resolution. "These farmers are fighting for their right to subsist off the land," he says. As the case continues, new shoots sprout from the carcasses of last year's sawn-down trees.
Correction: Guangxi is an autonomous region, not a province.
Editor: Matthew Walsh.
(Header image: Workers load up eucalyptus trees in Foshan, Guangdong province, Dec. 17, 2018. VCG)