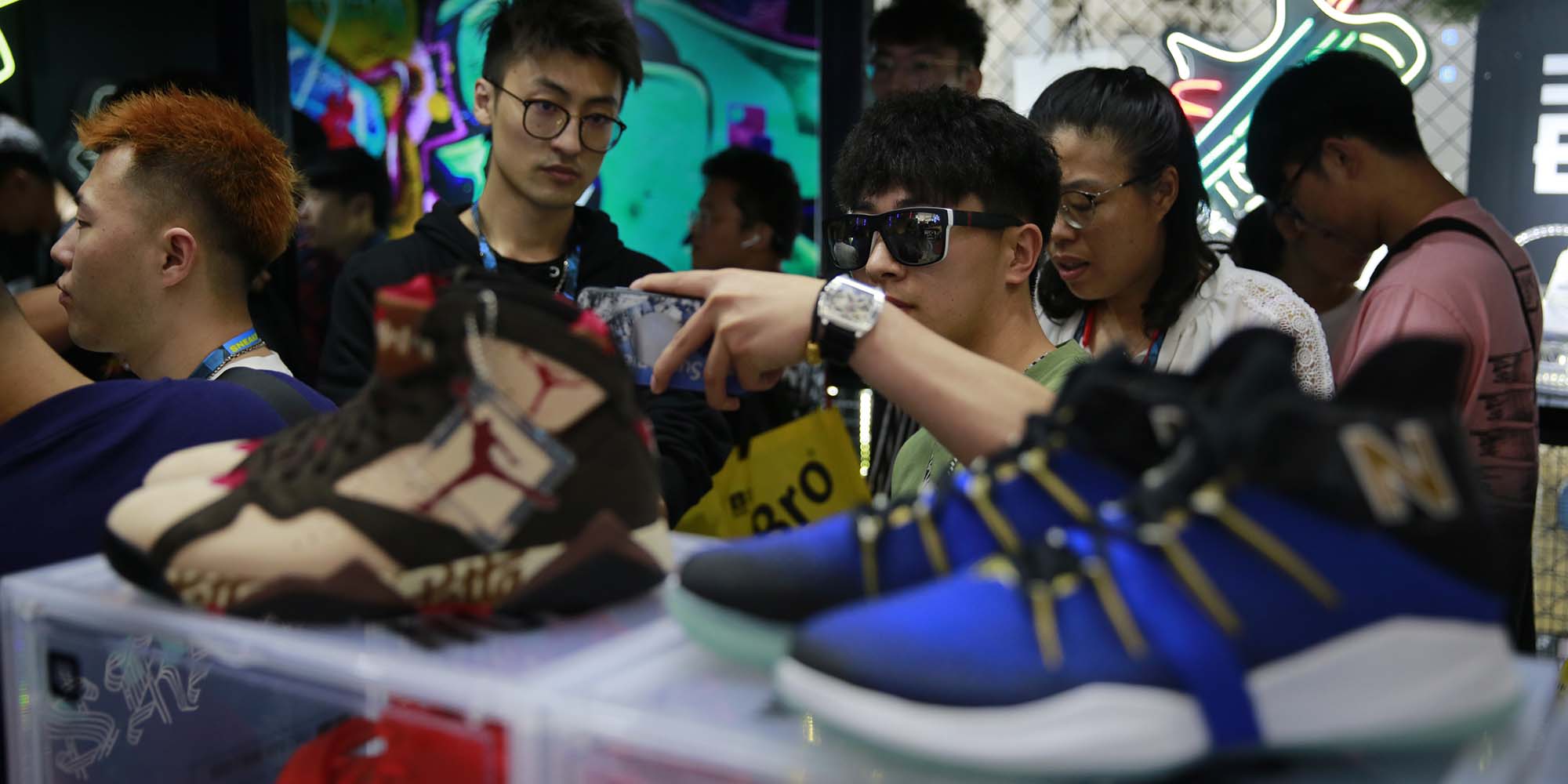 NEWS
The Chinese Sneakerheads Pursuing Passion, Profit
Over 20,000 shoe collectors gathered at Sneaker Con Shanghai last weekend to buy, sell, and trade with like-minded members of a burgeoning subculture.
SHANGHAI — Since starting his collection a decade ago, Zhang Xinlie estimates that he has accumulated around 1,000 pairs of sneakers. Last weekend, he was in the market to offload a few.
The 21-year-old university student spent Friday afternoon at Sneaker Con Shanghai, seated on the floor in an exhibition hall at the West Bund Art Center. In front of him were five pairs of shoes he had brought from his college dorm room in Beijing, laid out in a neat row for public perusal. "I view shoes as friends who accompany me through life and go places with me," says Zhang, who has a gold chain around his neck and contact lenses that make his pupils appear larger. "It's a hobby to some extent, but the shoes also hold a lot of personal meaning to me."
Zhang was one of over 20,000 visitors to the first Sneaker Con ever held on the Chinese mainland, from May 17 to 19 in Shanghai. The FAW-Volkswagen-sponsored event featured over 150 vendor tables and 45 exhibiting brands, as well as indoor basketball courts, a stage for guest speakers, and an art zone for designing custom shoes.
The hobby and subculture of sneaker collecting first emerged in the U.S. in the late 1980s. Sneaker hobbyists — or "sneakerheads" as they're also known — acquire troves of sports shoes, usually to display in their collections rather than wear.
Sneakerheads go to great lengths to keep their prized shoes in pristine condition, and even greater lengths to acquire them in the first place. According to one 2015 documentary, around 1,200 people die over Jordans, Yeezys, and other coveted kicks each year, whether from store stampedes or neighborhood muggings.
According to Wang Wei, marketing director for the Chinese sportswear brand PEAK, the subculture has grown fast in China over the past couple of years due in large part to the prodigious influence of the NBA: Basketball has long been hugely popular among Chinese young people thanks to household names like Kobe Bryant, Stephon Marbury, Jeremy Lin, and Steph Curry. In addition, Wang says, social media and popular street culture reality shows such as "Dunk of China" and "Street Dance of China" have elevated the trend.
Wang notes that more and more young collectors are starting to include sneakers from Chinese brands like PEAK in their collections, especially as such companies' designs and material technology have caught up with the likes of Nike's Air Max line. In January, a series of limited-edition PEAK sneakers created in collaboration with the Chinese cyberpunk action flick "Alita: Battle Angel" sold out on e-commerce site Tmall in under two hours — and were soon being resold elsewhere at more than double the price.
As in other design-related industries, intellectual property theft poses a relentless challenge to the sports shoe sector. "After the product we're promoting right now grew wildly popular, we saw many imitators, copycats, and fakes on the market," says Wang, who owns 100 pairs of sneakers himself. "This kind of shoe copying definitely hurts us."
Zhang, the student sneakerhead, also calls the deluge of imitations highly damaging to the hobby, which relies on products being genuine. Nonetheless, Zhang has watched sneaker-collecting take off in China, especially in the past couple of years. A decade ago, when he bought his first pair of 1,000-yuan (then $150) trainers, he was the only sneaker fan he knew of. A few years later, when he bought a pair using the 10,000 yuan his dad gave him for his 15th birthday, some members of his family strongly objected to what they saw as a highly unwise purchase.
"They just feel, 'Wow, spending so much for a pair of shoes? All this money added together could be put toward a car and a house — why would anyone invest it in sneakers?'" Zhang says.
Zhang has witnessed the gradual commercialization of sneaker-collecting with dismay. He believes collecting should be about passion over profits — though he admits he's able to cover a fair share of his living expenses, including his university tuition fees, from buying and reselling shoes.
He's not the only one to make a buck from the subculture's hordes of fans, either. At her own Sneaker Con booth, Lin Lihui sells shoe-centric art — crayon drawings and digital renderings of popular sneakers — for up to 700 yuan a pop. She even livestreams herself as she draws each piece, some of which take upward of eight hours to complete.
Lin got into sneakers through her cousin when she was 13. Today, she owns over 80 pairs, many of which she keeps safely preserved in plastic wrap. Her inspiration to start collecting was none other than Michael Jordan — or "the god of basketball," as she calls him. In fact, it was Lin's hobby of collecting sneakers that eventually got her into the NBA, rather than the other way around.
Some visitors at Sneaker Con were just trying to understand the craze. Street fashion influencer Xu Jiongtian — or Ku Sheshe as he's known online — says he traveled from the southern city of Guangzhou in order to get to know the sneakerhead subculture — and to shoot social media content for his fans, of course.
The way Xu sees it, Chinese sneaker fans buy a new pair of shoes to feel a closer connection with a particular sports star. While Xu doesn't follow the NBA himself, he says he's more likely to buy a product if he sees one of his favorite celebrities wearing it. And although he's more into casual brands like Vans and Converse, he says he's hoping to familiarize himself with sneaker collecting because it's growing so fast.
"There's really no limit to how big this trend may get," Xu tells Sixth Tone, explaining how the subculture has been facilitated by growing purchasing power and the numerous channels through which customers today can buy shoes.
"People are living better and better lives now," Xu says. "When I was young, it would have been unthinkable to ask my parents for a few thousand yuan to buy a pair of sports shoes — but kids these days, they're different."
Editor: David Paulk.
(Header image: A man wearing sunglasses takes photos of sneakers on display at Sneaker Con Shanghai, May 17, 2019. Kenrick Davis/Sixth Tone)