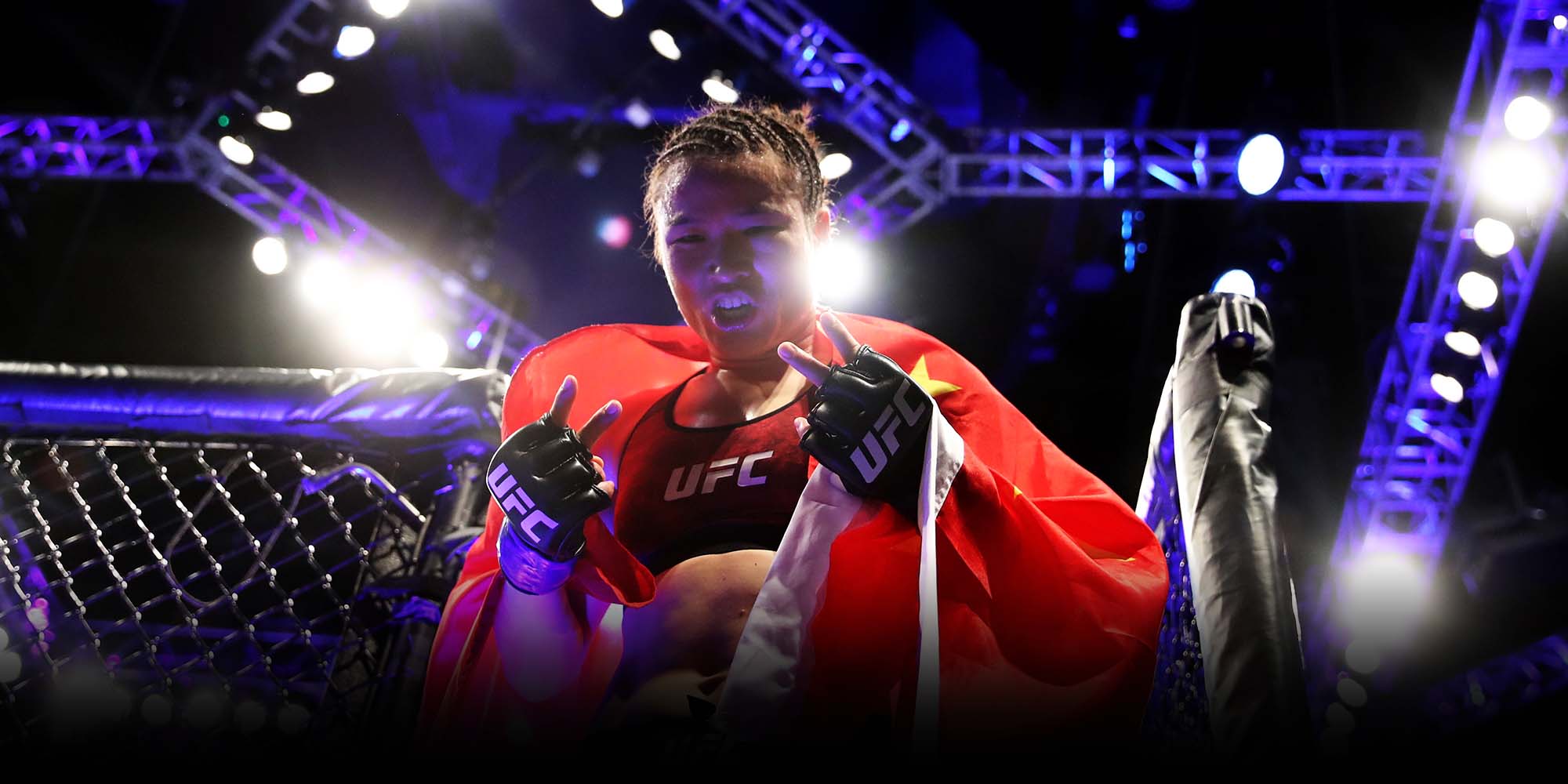 FEATURES
The Chinese MMA Fighter Punching Through Gender Stereotypes
With a 19-1 winning streak, Zhang Weili might become the country's first UFC champion, and she's not letting prejudices get in the way.
BEIJING — Boys used to punch Zhang Weili in the face so often, she'd get nosebleeds almost every day.
But that's how training worked at the sanda, or Chinese kickboxing, school she entered as a 12-year-old in northern Hebei province — with full-strength kicks and punches. There, trainers would punish male students if they held back against female counterparts, whom they outnumbered 500 to 30. For the next three years, Zhang trained with spartan discipline, waking up at 4:30 a.m. every day to go for two-hour runs, doing schoolwork in the morning, then practicing martial arts until as late as 9 p.m.
"It made me more independent and hard-working," says the now-29-year-old Zhang. "I feel that I can live under any conditions, that I can handle anything."
Zhang has since risen to become the highest-ranked Chinese fighter in the Ultimate Fighting Championship (UFC), the world's top mixed martial arts (MMA) promotion, and is tipped to become China's first UFC champion. Following her March victory against Florida native Tecia Torres in Beijing, she's now had a total of 19 wins and one loss across various leagues and is ranked sixth in the company's strawweight division.
Zhang's at the top of a sport that, largely unknown in China a decade ago, has been catching on in recent years through locally held events, licensing partnerships, a crop of newly opened MMA gyms, and the emergence of domestic fighters like welterweight Li "The Leech" Jingliang. UFC only entered China's market in 2011, but it already has a roster of 11 Chinese fighters, over 1 million domestic social media followers, and plans to open a multimillion-dollar MMA training complex in Shanghai next month.
MMA has already courted controversy for its inherent violence and its fighters' alleged superiority over practitioners of traditional Chinese martial arts, but perceptions of it and its athletes have drastically improved since its early days, says Zhang. Despite the progress, however, Zhang says that traditional gender attitudes mean that many consider the sport unsuitable for women and assume that those who do it are violent and dangerous.
Sixth Tone meets Zhang following a 2.5-hour session of Brazilian jiujitsu at Beijing's Black Tiger Fight Club. She trains every day, except Sunday, as she awaits her next UFC matchup.
Slouching back in a folding chair and holding a cold pack to her knee, Zhang's animated as she recounts memories with blistering speed: the time, aged 4, when she ran away from kindergarten by scaling her school's walls; watching action movies on a TV every Monday with 200 of her sanda schoolmates; the 2015 MMA fight in which she hammered a French competitor into submission by delivering 17 successive elbow strikes to the head — she even mimes the action.
During training, however, she's serious. Her dark eyebrows furrow in concentration as she quietly watches her trainer teach the class new submission holds, such as one that involves painfully twisting your opponent's foot, forcing them to tap out. And while sparring, her tightly plaited hair loosens and sticks to her sweat-beaded brow as she locks and binds in a ferocious dance of entwining limbs with her Brazilian trainer, a muscular man twice her size.
MMA has transformed Zhang's life, giving her wealth, fans — particularly through social media platforms TikTok and Weibo — and media attention. But while Zhang has felt increasing respect for her profession, she continues to contend with tired perceptions painting female fighters as brutal and dangerous.
Just last October, a journalist friend of Zhang's published an article about her that said she was actively looking for a marriage partner. It went viral, to Zhang's surprise, even ending up on social messaging app WeChat's "most read" chart. Zhang sees the article as a bit of fun and has ignored direct messages from love-struck suitors. But she says that its tongue-in-cheek title — "Don't fear, I don't hit people" — is an accurate depiction of what "99%" of men think of female fighters.
"The moment you say you train in this, men think 'you won't hit me, will you?' They'll feel you're prone to domestic violence," says Zhang. The prejudices have even made her consider masking her profession from potential partners in the future: "If I look for a marriage partner, I definitely won't say I'm trained in MMA. I'll just say I work out."
Such perspectives come down to traditional attitudes. "It's a widespread phenomenon in China ... They think that girls should be delicate and meek, that they need to be protected," she says, adding that many deem MMA unsuitable for the "frail bodies" and dispositions of women — an assessment with which she strongly disagrees. "Anything men can do, women can do, too — and we can do it just as well as them." She feels location also plays a part, with her career earning higher respect in China's more-developed cities than in smaller, more conservative ones.
Zhang's fighting dream began young, with childhood heroes Jackie Chan and Bruce Lee inspiring her to take up kung fu when she was 6. She convinced her parents, who worked for a coal mine, to send her to learn sanda at specialist sports colleges in Hebei's Handan, Shanghai, and the eastern city of Nanjing. But at 17, her sanda fighting career ended prematurely after recurring back injuries prevented her from training, which led to a six-year search for a different career. "I had no idea what other skill I wanted to learn, because, apart from boxing, I couldn't do anything," she recalls.
Zhang worked first as a night shift receptionist, then as a kindergarten teacher, and finally as a bodyguard for a female oil boss. She found all of them dull and uneventful — save for when she was told to fight a tall man being interviewed for a security position in the oil company; she floored him with a few deft moves. She kept training throughout, ultimately returning to fighting gyms, where she worked as a receptionist, sales representative, and trainer. She reentered competitive fighting in 2013, this time in the fast-growing sport of MMA.
Zhang's fighting career was fraught with difficulty. She lost her first MMA fight; then, in September 2014, she quit her day job and signed up to a professional MMA league — only to have her old injury flare up again and prevent her from competing. "I had no job, no competitions, and I couldn't train. I had nothing," says Zhang. "I was very low at the time … I thought to myself: Maybe I just can't do this sport." This time, however, she had the help of friends who knew more about recovery, and so was able to resume fighting within nine months.
It wasn't until December 2015, after months trying to secure fights, that Zhang finally got back into the ring. Zhang spent the next two years fighting — and winning — matches on a nearly monthly basis. In May 2018, UFC signed her on to be a fighter, and she has since won three more matches.
Now, Zhang's busy preparing for her future title bout, and she likes the simplicity of the day-in, day-out training lifestyle. By winning the UFC title, she hopes to promote MMA in China — especially among girls, who she thinks need a confidence boost — though it's undeniably also a matter of claiming long-sought-after personal glory.
"One of the attractions of fighting sports is that they represent competition at the very limit of human ability," says Zhang. "The championship — that's my target. I've been thinking about it for two years. I'm now getting closer and closer to it. It feels great."
Editors: Wu Haiyun and Hannah Lund.
(Header image: Zhang Weili leaves the octagon after her first UFC bout at the T-Mobile Arena in Las Vegas, March 2, 2019. Christian Petersen/Zuffa LLC/Zuffa LLC/Getty/VCG)