Pointing to a picture on display at a Brooklyn Public Library branch in New York City, Betty Grebenschikoff exclaimed, "That's me!" There to give a talk as part of the library's ongoing "Jewish Refugees in Shanghai" exhibition, the 89-year-old explained how a Jewish girl born in Berlin in 1929 had found a new life over 8,000 kilometers away in Shanghai.
A full 80 years ago, in 1939, Grebenschikoff's family joined the exodus of refugees fleeing Nazism. At a time when ships of refugees were being turned away by countries all around the world, Shanghai's status as an open port without passport controls made it a particularly attractive destination. According to estimates, more than 20,000 Jews arrived in Shanghai before and during World War II, with 1939 seeing the largest influx of any single year. According to reports, prior to the Japanese takeover of the city in December 1941, Shanghai took in more Jewish refugees than Canada, Australia, India, South Africa, and New Zealand combined.
To hear Grebenschikoff tell it, while Shanghai in the '30s may have lacked the culture of interwar Europe, the Shanghainese she met were kind, and her neighbors helped provide her family with a house, simple meals, and hard-to-come-by work opportunities. Life was hard, but they had enough to survive. And most importantly, no one cursed her on the streets for being a Jew.
As the curator of the Shanghai Jewish Refugees Museum, which was established in Oct. 2007 to tell the story of this community, I was hanging on her every word. After years spent living in Shanghai, Grebenschikoff eventually moved to Australia and then the United States. She now has five children, seven grandchildren, and six great-grandchildren. Her tale of survival and perseverance is a potent reminder of just how important it is to protect and collect stories like hers for future generations.
Betty Grebenschikoff visits the "Jewish Refugees in Shanghai" exhibition in Brooklyn, 2019. Courtesy of the museum
In the nearly 12 years since the Shanghai Jewish Refugees Museum opened its doors, our single greatest challenge has been collecting and collating the scattered historical record of that period. At first, we relied on guests of the museum — some of them former residents of the city, others descendants of refugees — asking them if they'd consider donating records or items they still had left from that time. Many later helped us by canvassing relatives, friends, and international experts.
To this end, our guides receive special training: We expect them not just to introduce the museum's various exhibits, but to take the time to understand where guests come from, who they are, and what their connection is, if any, to Shanghai's refugee community. When guides do encounter someone with a personal link to that period, we introduce our mission to them in the hopes of winning their support and assistance.
I never cease to be amazed by what former refugees and their families are willing to do for our institution. One individual in particular stands out in my memory. Ruth Callman had fled to Shanghai as a young woman, returning in 2008 to visit our then-newly opened museum. She brought with her an old passport book and sandalwood fan, two relics of her time in Shanghai, telling me of how she had used that fan to make it through Shanghai's oppressive summer heat — and how the breeze it provided smelled so sweet. Even as the head of a museum dedicated to Shanghai's Jewish refugee population, it was the first time I'd ever handled a refugee's personal effects. Stunned, I politely asked her if she would consider donating them to us.
She told me that she had long since given away most of her belongings from that time to other museums around the world. What she had left had personal meaning to her: They were a part of her life, and she couldn't bear to part with them. I understood, of course, and simply asked her to remember us in the future.
Five years passed, then one day in 2013 a woman arrived at our doors and asked to speak to me. The woman told me Ruth had passed away but that before she had died, she had specifically requested that all five of the passports she'd carried during her life be donated to our museum. The woman went on to say that Ruth wished to express her regret that she couldn't include the sandalwood fan in the donation, as it had been broken in the intervening years. Clutching Ruth's decades-old passports in my hands, I was speechless.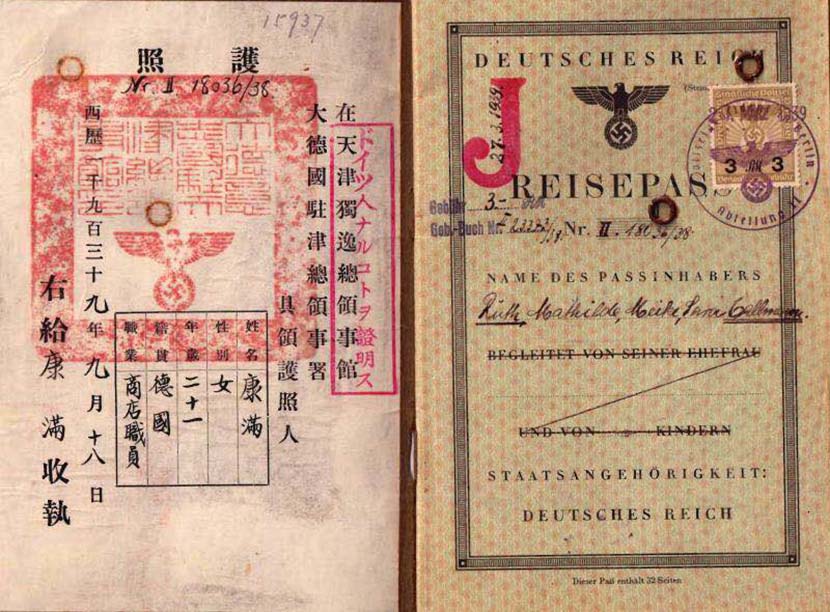 One of Ruth Callman's passports from the 1930s. Courtesy of the Shanghai Jewish Refugees Museum
The Shanghai Jewish Refugees Museum is located on the outskirts of where the city's old Restricted Sector for Stateless Refugees, colloquially known as the Shanghai Ghetto, previously stood. Once home to almost 25,000 Jewish people and roughly 100,000 locals, the vast majority of refugees left after the war, often leaving their furniture and other difficult-to-move items behind. We've conducted surveys throughout our neighborhood, and whenever we find an item of furniture that we can confirm once belonged to a refugee, we ask its current owner if they are willing to donate it — or let us purchase it. So far, we've acquired more than 10 items in this fashion.
For years, progress was slow. But since we began organizing international traveling exhibits in 2011, we've been able to greatly improve both our collection and our understanding of Shanghai's Jewish community. To date, we've put on exhibits in Germany, Israel, the United States, and Australia — all countries intimately connected to the Jewish refugee exodus of the 1930s. In the process, we've forged closer connections with those who lived through those dark days and their families. We've also made visits to some of the houses that Shanghai's refugees were forced to abandon, all in order to better understand their former lives.
We were particularly fortunate at the multi-branch Brooklyn exhibition. Brooklyn is home to a number of former residents of the Shanghai Ghetto, as well as their descendants. Many of them came to our exhibit, while others called or sent letters expressing a desire to share their family heirlooms and personal effects.
I take heart in the success we have had gradually building up our museum's collection, but I also know that such work is merely a means to an end. Sadly, the history of Shanghai's Jewish community is not well known globally. Our goal can't only be to safeguard the artifacts of that time — we must also take steps to preserve and share the stories behind these pieces with future generations.
The sad but inevitable truth is that one day not too long from now, there will be no one left with firsthand accounts of Shanghai's Jewish refugee community. It's up to us to protect their history, tell their stories, and ensure that no one ever forgets their struggle — or their eventual triumph.
As told to Sixth Tone's Wu Haiyun.
Translator: Kilian O'Donnell; editors: Lu Hua and Kilian O'Donnell; portrait artist: Zhang Zeqin.

(Header image: An exterior view of the Shanghai Jewish Refugees Museum, 2019. Courtesy of the museum. Courtesy of the museum)