China's sharing economy took off with bicycles. Then came phone chargers, umbrellas, and wheelchairs. Now, even dads are supposedly on offer.
But rather than being a real service, "dad sharing" is only a metaphor in a marketing campaign aimed at promoting family values, according to the company behind it. Developed by Chinese furniture maker Oppein, a so-called mini app for the unreal amenity was released Tuesday on multipurpose platform WeChat on the eve of the United Nations' International Day of Families.
The company reiterated on Wednesday that the motive behind its marketing tactic was to promote good parenting, especially by urging working fathers to spend more time with their families. The absence of dads from family life amid increasing workloads, which in turn leaves mothers overburdened at home, is so common that the Chinese internet even coined the phrase "widowed parenting" to describe it.
A five-minute video promoting the mini app — and advertising the Oppein brand — tries to illustrate the familiar problem. It chronicles the life of a man named William who is employed as a shared dad, working relentlessly to shoulder fatherly roles for families whose male breadwinners are often absent for events such as hospital visits, parent-teacher meetings, and dinners.
But ironically, William spends so much time as a hired father to strangers that he cannot make time for his own kids. He has a moment of clarity when he sees his son celebrating a birthday with another shared dad that his family has rented to take his place. "I don't know if there's such a thing as a perfect dad," William says, "but one thing I'm sure of is that in this era when everything can be shared, the love for family [cannot be shared]."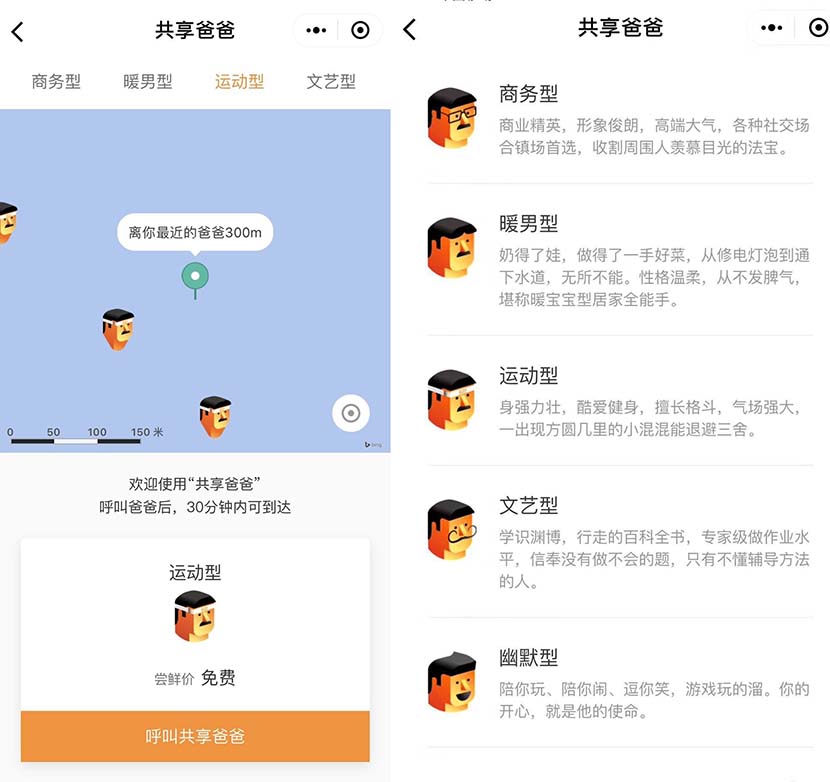 Screenshots from the "shared dad" mini app, which is accessible within WeChat.
Though the company says the message behind its advertising campaign is well-intentioned, the mini app and accompanying video have received mixed reactions online. While some social media users hailed the marketing ploy for casting a spotlight on widowed parenting, others argued that they felt deceived by the mini app, as it does not provide a bona fide dad-sharing service.
"Our tradition emphasizes that men are the breadwinners and women the homemakers," one Chinese netizen wrote on microblogging platform Weibo in response to the campaign. "But though men are responsible for providing an income and a better life for their families, paternal love cannot be measured by money."
But according to a lawyer quoted by a domestic media outlet, the company may have violated the country's advertising law by touting a service that it isn't truly offering. Jiang Luxian from Chengdu Taihetai Law Firm said that the dad-sharing mini app appears to be misleading consumers and may fall afoul of "moral concept."
Editor: Bibek Bhandari.
(Header image: A promotional image for the "dad-sharing" marketing campaign by Chinese furniture brand Oppein. From the company's Weibo account)