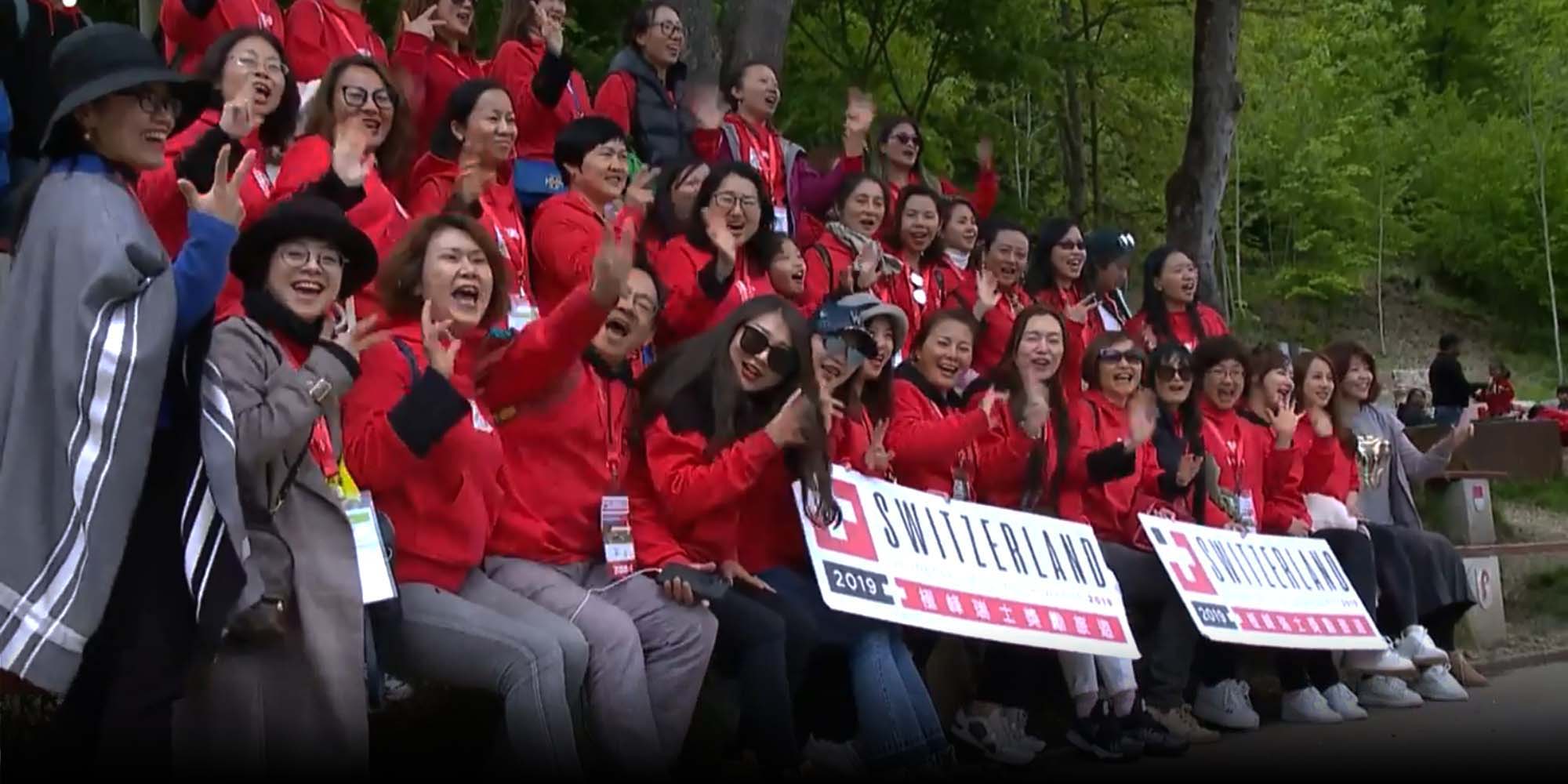 NEWS
12,000 Chinese Descend on Switzerland in Record-Setting Tour
The gargantuan trip is a reward for employees of Jeunesse Global, a U.S. direct sales company previously scrutinized in China over its business operations.
Some 12,000 Chinese tourists are visiting Switzerland this month on massive group trips organized by a U.S. direct sales company, Chinese media outlet Global Times reported Monday.
Jeunesse Global, a U.S. multilevel-marketing company offering health and beauty products, organized the international expedition to reward employees who reached their annual sales targets, according to the outlet's coverage of Swiss media reports from the past week. The 12,000 have been divided into three subgroups that are each taking six-day tours of cities such as Lucerne and Bern, with the first batch of 4,000 having arrived in Zurich on Thursday.
Representatives for Swiss tourism have expressed enthusiasm for the excursion. Ueli Heer, a spokesman for Zurich's tourism office, emphasized the positive effects that the Chinese visitors are having on local tourism, while Lien Burkard, a spokeswoman with Switzerland's national tourism agency, told U.S. financial news outlet Bloomberg that this month's trip is "the biggest tourist group Switzerland has ever seen," with the travelers expected to generate millions of dollars in revenue domestically.
But the country has begun to feel the strain of hosting the hordes. On Friday, police officers were deployed to maintain order during trips to scenic spots such as the Rhine Falls and the Titlis mountain, and the initial group of 4,000 had to be subdivided even further in order to patronize local cafes and restaurants. Reports have also noted the logistical challenges regarding transportation: Nearly 100 buses, for example, had to be reserved for a trip this week to Lucern.
The affair has since received scrutiny on Chinese social media. In footage published Monday by Chinese media outlet Pear Video, the tourists can be seen strolling down the street in matching garb, taking group photos, and herding together under the watch of a guide. Under Pear's post of the video on microblogging platform Weibo, netizens expressed sympathy for local Swiss who had to endure such unwieldy groups of newcomers.
Beneath another Weibo post about the trip, meanwhile, netizens criticized organizer Jeunesse Global as a pyramid scheme. In 2016, the company was found to be operating in China without a direct-selling license, which is required by law, and faced accusations of false advertising by the country's food and drug administration, according to domestic media reports.
Neither the Swiss national tourism agency nor Jeunesse Global had responded to Sixth Tone's interview requests by time of publication.
Editor: Layne Flower.
(Header image: A video screenshot shows a group of the Jeunesse Global sales agents from China posing for a photo during their trip to Switzerland, May 2019. From CH Media)