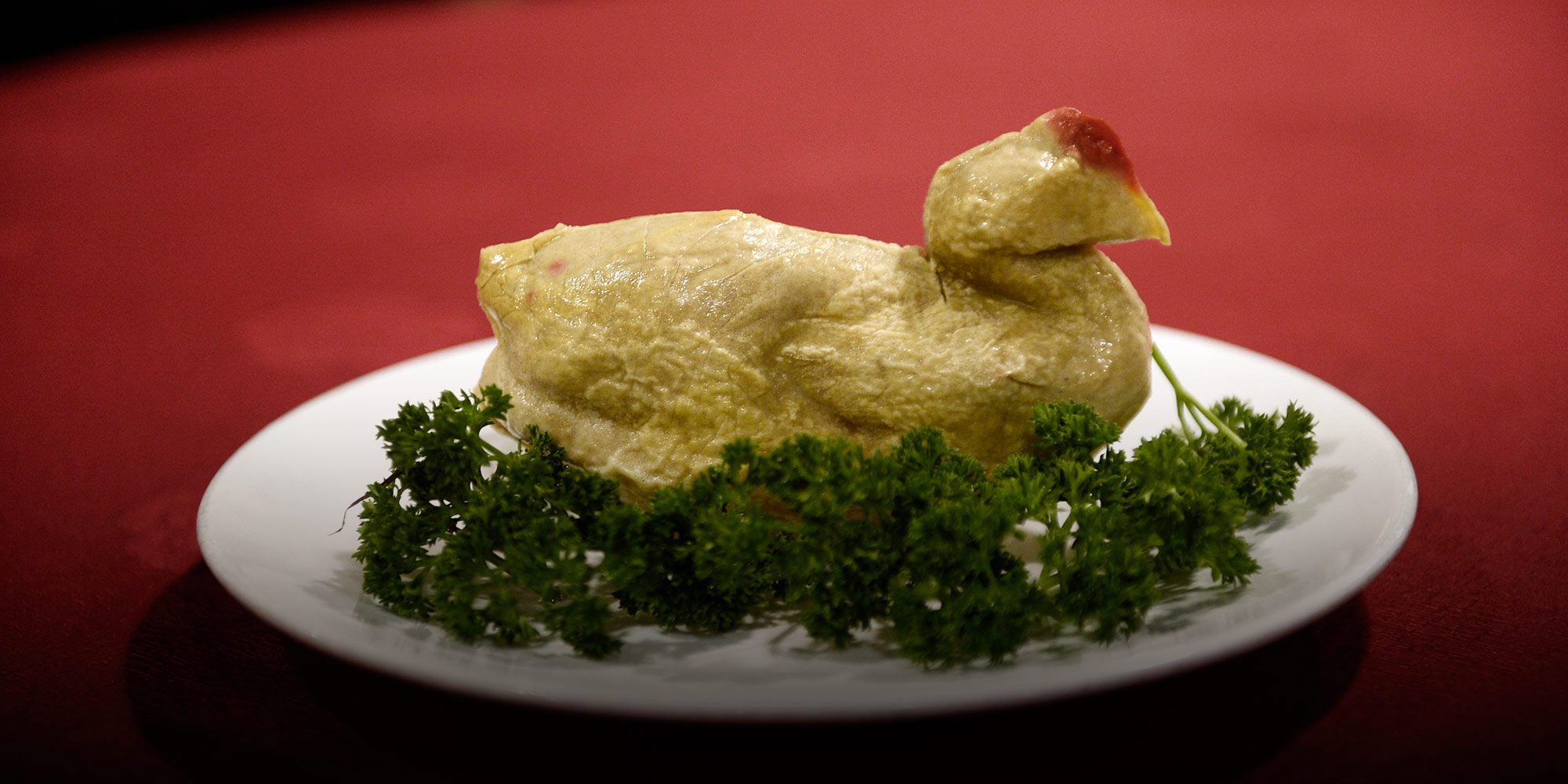 VOICES & OPINION
How the Seeds of a Meatless Revolution Are Taking Root in China
Consumer studies show that "mock meat" could be serious business in the world's largest market for protein.
Any unsuspecting carnivores who showed up to last month's "Meat Fest" food festival in downtown Shanghai were in for a surprise. Despite the name, all the meat at the Vegans of Shanghai-organized Meat Fest was plant-based, from the burgers to the cuts of abalone.
Buddhist-influenced practices of vegetarianism and the consumption of "mock meat" — meat made from plant products — go back a long time in China, to at least the Southern Song dynasty. For centuries, Buddhist monasteries have served up mock meat dishes to vegetarians and non-vegetarians alike, a tradition that popular Buddhist-inspired vegetarian chains like Gong De Lin have carried into the present day.
China's appetite for meat has grown rapidly over the past few decades as incomes have increased and the middle class has expanded, and today the country is the world's largest consumer of meat products — though on a per capita basis, consumption still lags behind a number of developed countries. That doesn't mean mock meat is on the way out, however. If anything, new technologies and growing public and state concerns about the negative health and environmental impacts of meat consumption are well-positioned to drive consumer interest in meat alternatives, if the industry can take advantage of them.
In January 2019 the market research firm CB Insights noted that China's total protein consumption is set to continue growing at a rate of 3%-4% each year, and the country is projected to account for 35% of the global protein market by 2025. The question now becomes: How much of this demand will be met by animal protein, and how much by protein from other sources?
A recent study published in the academic journal Frontiers in Sustainable Food Systems suggests that Chinese consumers are quite open to substitutes for traditional animal-sourced meat products, much more so than Americans. (The authors caution, however, that the average Chinese respondent tended to be more urban and better-educated than the national average).
According to the paper's authors, almost 96% of Chinese respondents reported that they would be "somewhat" or "extremely" likely to purchase so-called plant-based meat – mock meat designed to mimic the taste and texture of conventional meat — and over 93% said the same of "clean meat," meat grown from animal cells that doesn't go through a slaughterhouse. By comparison, about 75% and 76% of Americans surveyed expressed any interest in plant-based and clean meat products, respectively.
Most recent advances in meat substitute products have taken place in the U.S., where major industry players like Beyond Meat and Impossible Foods are based. But as the above numbers suggest, China is a major potential market for such technology. The lead author of the study, Christopher Bryant, stressed this point. "We hope that this research highlights opportunities for clean meat companies in China," he told me in an interview. Both Beyond Meat and Impossible Foods have launched products in Hong Kong, Macao, and Singapore in recent years, and it's been reported that both plan to expand into the Chinese mainland in the near future.
Beyond Meat and Impossible Foods have ushered in a new generation of mock meat that seeks to compete with traditional animal products by mimicking what consumers like about meat: the price, flavor, and convenience. These new-style mock meats are marketed to meat eaters more than vegetarians, who make up a scant 7% of Beyond Meat's consumer base, according to the company's CEO. In a sign of investor confidence, earlier this month, Beyond Meat became the first plant-based meat company to go public, raising almost a quarter of a billion dollars at a valuation of around $1.5 billion, despite warning it might never turn a profit.
There are signs that China-based companies are catching on. Last month, Qishan Food, one of China's largest plant-based meat producers, announced a partnership with the American retail conglomerate Walmart. Qishan says it will work with Walmart, which has over 400 locations in China, to launch plant-based meat products through the latter's in-store displays. Qishan was also one of the eight Chinese plant-based meat companies featured at last month's Meat Fest.
Meanwhile, the Hong Kong-based Right Treat plans to launch their flagship product, Omnipork, on the Chinese mainland later this year. The mock pork product, which is made from mushrooms, peas, and rice, is already widely available in Hong Kong, Macao, and Taiwan. "Omnipork was designed with Asian cooking applications in mind," David Yeung, founder of Right Treat, told me in an interview.
The meat market in China is ripe for a shake-up. More than half of the meat consumed in China is pork, and the country is home to around half of the world's pigs. In recent months, however, African swine fever has ravaged the country's pork industry, resulting in the slaughter of over 1 million pigs, according to official estimates. The disease, which is incurable but harmless to humans, has spread to every province in China and is expected to push up pork prices this year.
In addition, a survey published last year by a New Zealand research institute found that 39% of Chinese are reducing their meat consumption. The most commonly given reasons for the diet change were health-related, while 42% of respondents reported that they were interested in more environmentally friendly options.
This makes sense, as China is home to the most diabetics and the largest number of obese people in the world, both of which have been linked to high levels of meat consumption. A wave of food scandals has hit the country in recent years, including several incidents of fake meat and tainted milk, and consumer desires for safe, healthy food have become a key driver of domestic market trends.
The government has also recognised the negative impacts of meat consumption and is taking measures to curb it. China's most recent dietary guidelines, issued in 2016, aim to cut citizens' meat consumption in half by 2030. In 2017, the country announced a $300 million deal to import clean meat from Israel. It's become common to see public service announcements in major cities calling on residents to reduce their meat consumption. "Manufacturers producing products for the Chinese market might want to explore ways of improving the nutritional profile of their products compared to conventional meat," Bryant said.
Ultimately, for meat alternatives to become mainstream, they cannot just be something that only vegetarians eat — they must appeal to meat eaters as well. That's why new-style meat alternatives like Beyond Meat and Qishan are so important: They encourage consumers to diversify beyond animal products without forcing them to give up everything they like about them. This is especially crucial in China, where there is an entrenched tradition of building meals around a combination of both vegetables and meat.
China's openness to novel foods, its tradition of consuming mock meat, and government efforts to reduce meat consumption all mean the country is in a good position to take advantage of newly developed meat alternatives. The eventual success or failure of these products will have ramifications well beyond companies' bottom lines — it will shape our consumption habits, health, and environment for years to come.
Editors: Lu Hua and Kilian O'Donnell.
(Header image: A chicken-shaped mock meat dish at a vegetarian restaurant in Fuzhou, Fujian province, Nov. 21, 2013. Liu Tao/VCG)