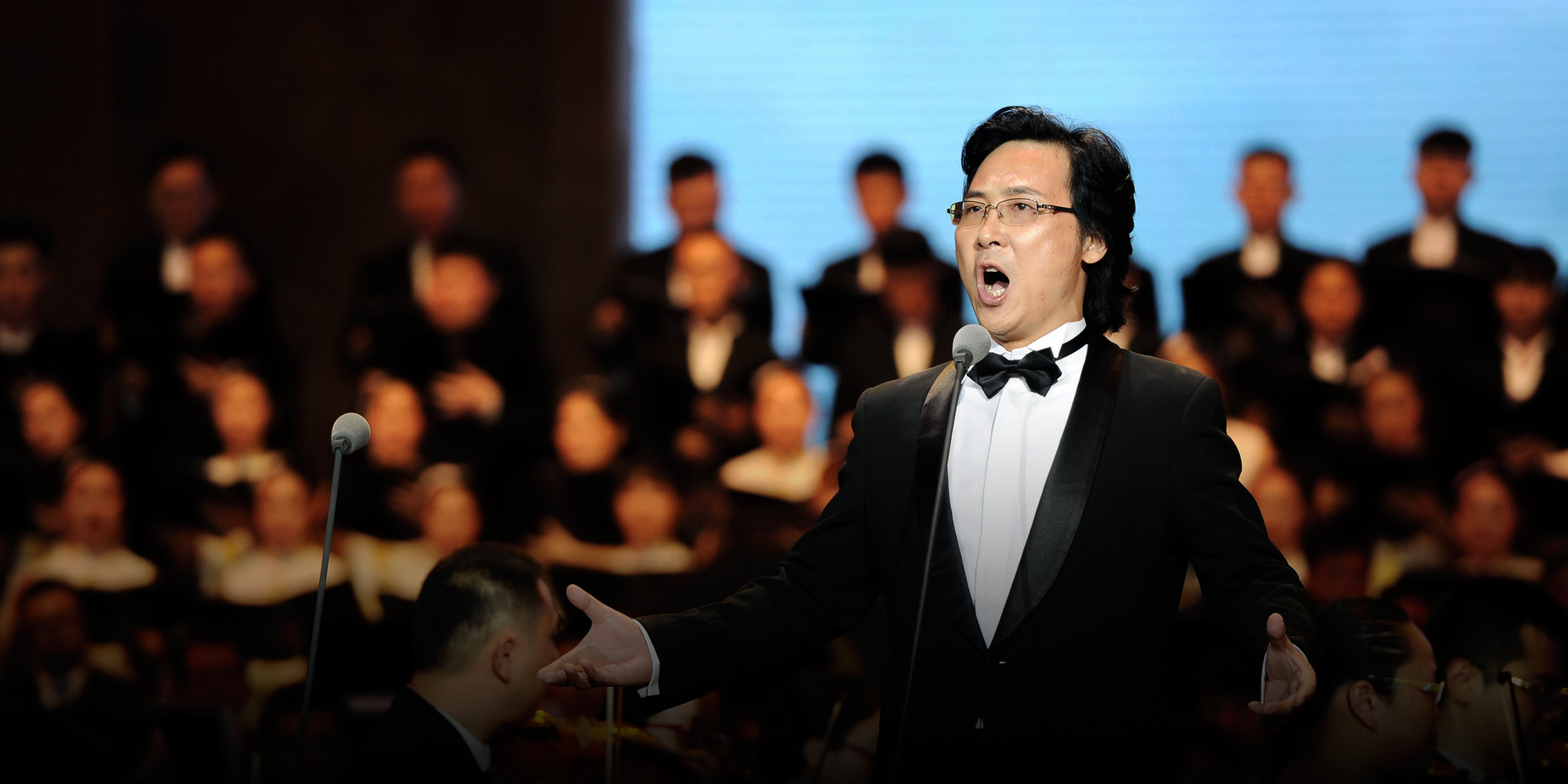 FEATURES
The Classical Star Putting an Old Spin on New Records
Shanghai-based baritone Liao Changyong is known for his vocal talents, but what happens when classic art meets pop culture?
SHANGHAI — You might not think to bring glow sticks to a bel canto singing performance, but fans of China's recent hit TV talent show "Super-Vocal" would tell you otherwise. Packing into stadiums and theaters, they flood social media feeds with beautified photos of their favorite basses, baritones, and tenors.
"Super-Vocal," which ended its first season in January, is driving enthusiasm in China for more highbrow classical music — an art that has been attracting younger crowds and a surge in the number of professional symphony orchestras in recent years. In each episode of the talent show, 36 professionally trained classical singers get into groups and compete with each other for one of six lead positions and a chance to tour and release albums. Along the way, they perform anything from 19th-century composer Franz Schubert's "Die Forelle" to Taiwanese pop star Jay Chou's "Cowboy is Very Busy."
The program's brought fame to several of the young contestants, but it's also introduced viewers to the country's more distinguished classical music figures — none more so than acclaimed baritone Liao Changyong, a judge on the show and currently one of the most well-known vocal artists in China.
Born and raised in Pi County in Chengdu, the capital of southwestern China's Sichuan province, Liao found his passion for opera when he heard a tenor's performance of the classic "O Sole Mio" on the radio. Though in a language he didn't understand, the then-14-year-old was hooked. Over a decade later, Liao obtained his master's degree from the Shanghai Conservatory of Music and soon after won three major international competitions. Since then, Liao's made stunning debuts on the world's most-watched stages, such as at the Kennedy Center with the Washington National Opera. The 50-year-old remains an active opera performer, with his most recent solo performance on May 7 this year at the UN office at Vienna's Chinese Language Day.
However, the artist had never experienced pop culture fandom until "Super-Vocal." Video clips from his previous performances have been uploaded onto youth-oriented streaming site Bilibili, and his new fans are not shy about expressing their admiration of his prowess, kindness, and even so-called cuteness with "bullet screens" — barrages of comments flitting across videos. All of this has coincided with his appointment in January as the new president at the Shanghai Conservatory of Music, China's oldest institution of higher learning for music education.
Sixth Tone sat down with Liao at the conservatory to chat about popularizing more classic forms of art, transmitting music to younger generations, and introducing Chinese music to the outside world. The interview has been edited for brevity and clarity.
Sixth Tone: Many don't think classical musicians and televised talent shows are compatible. Why did you agree to get on board?
Liao Changyong: When the TV show's production team first reached out to me, I had my reservations. I didn't want the TV program to be completely entertainment-oriented and hoped it would guarantee a certain amount of quality. After talking with the production team, I found we actually shared the same goal of having a high-quality program aimed at promoting culture.
The fact is, I'm willing to cooperate with anything that can help promote classical music so long as it stays true to some basic principles.
Sixth Tone: What drives you to promote classical music?
Liao: I want as many people as possible to know that fine music is not an antique, left dormant in museums. It's connected to our lives and times. I also want to clear up one common misunderstanding about us academics. Many think since we're scholarly, we're very conservative. But in fact, we academics are quite avant-garde and experimental.
In this explosive age of information, the question is how to make the public appreciate the greatness of this genre of music. Usually high-quality goods sell themselves, but sometimes even they need a push.
Sixth Tone: Have you observed any changes in the public since the show?
Liao: I have witnessed very obvious changes firsthand. This January, the tickets for my concert in (the southern city of) Guangzhou sold out almost instantly. Zheng Yunlong, one of the contestants, also had a full house for his performance in a musical. You can't even secure a ticket for the national tour of the winning contestants.
Earlier this year, when the music conservatories held entrance exams, there was an increase in students wanting to pursue majors in opera or musical theater. Such TV shows help nurture artistic creation as well as talent.
Sixth Tone: What do you think about the fan culture, and how is it affecting classical singers?
Liao: To be honest, I am not very familiar with today's fandom. But as a performer, you definitely hope to have others paying attention to you. The more people care, the more successful your career. Such fandom is in fact recognition of your work and efforts.
But at the same time, it serves as motivation. Fans might like you, but they also have requirements for you. Artists should not be obsessed with being sought after. They should not be fixated on how to boost their fan base. It's best for them to earn affection through their dedication to the craft. Trying to please fans with other gimmicks is unsustainable.
Sixth Tone: Are you worried that the fandom might undermine the dignity of classical music on the TV show?
Liao: It won't. While making the TV show, we managed to keep elegance and solemnity in mind. This isn't affected by the fangirls. Your fandom will become more and more professional if your production stays professional.
Sixth Tone: You have recently been appointed the president of the Shanghai Conservatory of Music. What are you looking forward to in this role?
Liao: I want to introduce Chinese-style music to the world. The Shanghai Conservatory of Music has spent years studying and creating Chinese music, and this work is becoming increasingly important.
For example, in 2016, the conservatory presented an original opera called "Tang Xianzu." It was a sensation when it toured foreign countries, because we used the characteristics and singing methods of (the ancient operatic style of) kunqu, as well as traditional Chinese musical instruments. When the audience heard the sound of the two-stringed erhu and saw our costumes, set, and props, they sensed that it had Chinese aesthetics and was totally different from a Western opera.
Sixth Tone: What makes music "Chinese," in your opinion?
Liao: First of all, China's art songs (vocal classical music compositions) must be based on traditional Chinese literature, like "The Book of Songs," Tang dynasty poems, and Song dynasty verses. The songs must be created in line with Chinese philosophy and pentatonic scales (a series of sequenced tones using five notes, rather than the more typical seven in Western music). And of course, Chinese music has its own style as well as characteristics. Our composers get inspiration from Chinese folk songs and traditional operas.
A video clip of Liao Changyong singing in the opera "Tang Xianzu."
For me, there is a difference between singing a Western art song and singing a Chinese one. Although I use the same performance techniques, my reaction to lines are more immediate while singing in Chinese. I have a more emotional link to Chinese music and don't need to try to translate and learn about the stories behind the songs.
Editors: Wu Haiyun and Hannah Lund.
(Header image: Liao Changyong performs at a concert in Chengdu, Sichuan province, Sept. 25, 2016. Yu Yanxi/IC)