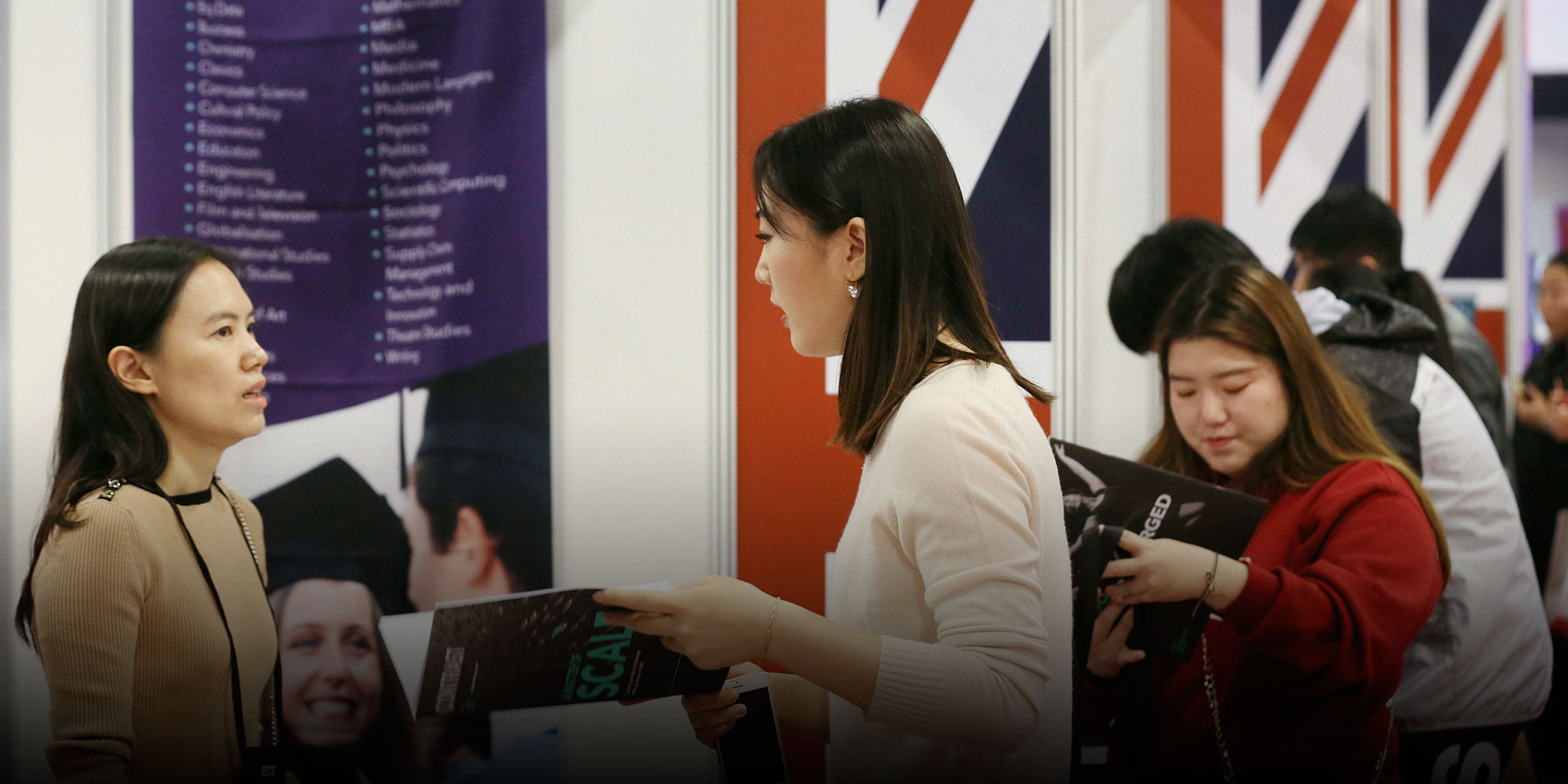 NEWS
More Chinese Prefer UK and Canada for Study Abroad, Report Says
The survey commissioned by China's largest private education provider also says that more Chinese who study abroad are opting to return home immediately after graduating.
More Chinese students who study abroad are returning home for work upon completing their degrees, and the United States is facing stiff competition from the U.K. and other countries when it comes to Chinese students' preferred destinations for overseas study, according to a new report.
The 2019 white paper on China's overseas students was published Tuesday by an education consultancy under New Oriental Education & Technology Group, China's biggest private education provider. The annual report presents survey responses from 6,228 individuals, including students and parents of students who plan to study overseas or have returned to China after graduating from a foreign university. The results are then compared to those of the previous four years to find trends in China's overseas education sector.
The recently published report shows more diversified choices among Chinese who study abroad. Although the U.S. still dominates as the top country where Chinese students hope to go, statistics show that the percentage of respondents who rank the country as their top choice has dropped to 43%, down from 44% in 2018 and 49% in 2017. Meanwhile, the U.K. has gained ground as the second most popular country among China's study abroad hopefuls, up to 41% from last year's 35%. Australia and Canada remain the third and fourth most popular destinations for overseas study, respectively, followed by Hong Kong, Germany, and Japan, which all saw a higher preference last year compared with 2017.
Sun Tao, the president of Beijing New Oriental Vision Overseas Consulting Co. Ltd., the company that conducted the survey, pointed out that increasing competition among applicants who want to attend American universities and recent tensions between the U.S. and China may be contributing to why students are branching out and seeking study destinations other than the U.S. The reason more Chinese students are favoring the U.K. may have to do with the country's relatively low tuition costs compared to the U.S. as well as less-competitive admissions, Sun said at a press conference after the report was released.
"Going to the U.K. for a master's degree may be a common choice for Chinese students," Sun said. "Spending one year on a master's program is fairly attractive, considering the costs and study requirements." At American universities, master's programs typically require two years to complete.
The report further found that more students now prefer to return to China for employment right after graduation. According to statistics from China's Ministry of Education, the number of Chinese who went abroad to study in 2018 was 662,100, up around 9% year-on-year. The number of returnees from overseas was 519,000 last year, or 39,000 more than in 2017. Of the white paper's survey respondents, 48% said they planned to return to China after gaining some work experience abroad — down from 51% in each of the previous two years — and 28% of students said they would return to China immediately after graduation, up from 25% in 2018 and 24% in 2017.
The report also indicated that studying overseas is no longer a luxury reserved exclusively for China's wealthy and well-connected families. The percentage of study abroad students who said their parents hold low-level positions is increasing, according to the survey. Parents identified as mid-level managers accounted for 35%, while those identified as high-level executives accounted for 22%. The increase in Chinese students from ordinary backgrounds studying abroad may stem from more accessible international education opportunities and increasing competition for jobs in China, said Sun.
In April, amid murmurings that the U.S. State Department was planning to limit student visas awarded to Chinese citizens as part of the Trump administration's clampdown on alleged intellectual property theft by Chinese companies, financial news outlet Caixin reported on Chinese students who found themselves stuck in limbo, unable to get back into the U.S. to finish their courses after spending school holidays in China. Meanwhile, in recent years the Chinese government has introduced various incentive schemes to lure overseas students back home. Bright young stars in the science and technology fields in particular are eligible for generous research funding and professional opportunities.
Earlier this year, the Wall Street Journal revealed that a Chinese student at Stanford University was implicated in the large-scale college admissions scandal known as Operation Varsity Blues: Stanford expelled the student after learning that her parents had allegedly paid $6.5 million to secure her admission.
In China, some are voicing concerns that the scandal could negatively impact students hoping to get into American universities. Responding to a question about whether the scandal might make the road to the U.S. more difficult for China's study abroad hopefuls, Sun said: "The exposure will definitely improve the transparency and fairness of college admissions. We suggest that parents return to focusing on developing students' qualities and grades to increase their chances of admission."
Editor: David Paulk.
(Header image: A young woman talks with an overseas admissions counselor at the China Education Expo in Beijing, Oct. 21, 2017. VCG)