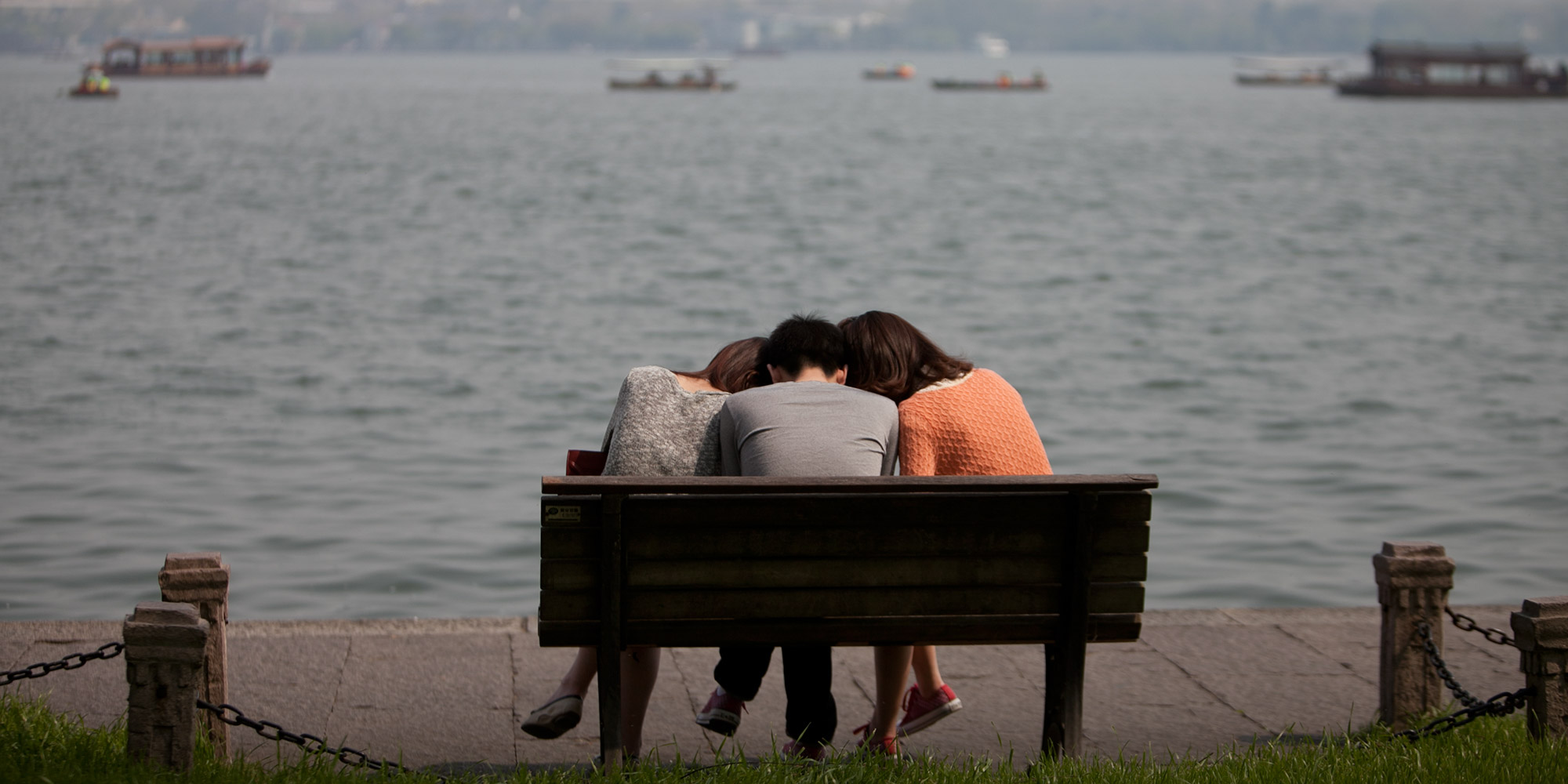 VOICES & OPINION
Women's Work: How 'Ernai' Mistresses Bolster Fragile Masculinity
Not all extramarital relationships are about sex. Some Chinese men keep "ernai," or financially dependent mistresses, for reasons as much emotional as they are physical.
This article is the first in a two-part series on Chinese "ernai."
It was a warm winter afternoon when I arrived at Ah-Fei's door — to protect the identities of my research subjects, I've given them all pseudonyms — and I found her watching soap operas in her 70-square-meter suburban apartment. Her boyfriend, Ah-Dong, who helps manage a construction company in the southern city of Guangzhou where they live, had just left. He'd likely gone home to see his wife and family.
"We did nothing; we just chatted, and he cuddled me for a bit," Ah-Fei said, before confiding in me that it had been a long time since they'd had sex. "He's not in good shape. He can't last more than a round or two, and he wants to save that for his wife."
Ah-Fei isn't a run-of-the-mill mistress or extramarital fling: She's what's known in China as an ernai, a colloquial term for a woman involved in a financially dependent relationship with a married man. While Chinese typically assume that the primary reason a man would have an ernai is for sex, many of these couples don't have sex on a regular basis, and some don't have it at all. Instead, men value ernai for their willingness to be feminine in a way calculated to meet the emotional needs of their "husbands" — which in turn generally vary according to class.
To better understand what lies behind this phenomenon, I interviewed 16 ernai or former ernai, as well as seven men involved in ernai relationships, in Guangzhou and the eastern city of Ningbo between 2005 and 2007. I found that keeping an ernai is less about sex and more about gender: Specifically, ernai help men reconstruct or perform masculinity by engaging in a variety of domestic, emotional, and symbolic activities. As part of this, the women involved are expected to put up with treatment that can range from emotionally taxing to abusive.
In the 40 years since China launched its market reforms, intimate and familial relationships have undergone a dramatic shift. During the Mao era, women were active outside the home and expected to take an equal role in the work of economic construction. However, the late 1970s and early '80s saw a reemergence of conservative marital and gender norms, in which men's main role was to work and earn money to feed their families, whereas the primary role of women was to look after the household.
At the same time, working- and lower middle-class urbanites have increasingly found themselves on the wrong side of an ever-widening wealth gap. In a country in which one's masculinity is in no small part defined by one's income, the chasm between rich and poor has financially emasculated working- and lower middle-class men. While men may once have compensated for this by expecting their wives to be submissive and care for them, this is increasingly infeasible in modern China, as women wield more economic power and have started expecting their husbands to contribute more to household chores.
At the time of my study, Ah-Cai was a 40-year-old salesman who worked for a state-owned company in the eastern province of Zhejiang. His job required him to work between 10 and 15 days a month in Guangzhou, time he spent living with his ernai, Ah-Run.
Although their apartment was on the shabby side, Ah-Run managed to keep it remarkably tidy. When Ah-Cai was in town, his 38-year-old ernai from the neighboring Guangxi Zhuang Autonomous Region prepared breakfast for him, cleaned his room, washed his clothes, and cooked his favorite dishes for dinner. Ah-Cai paid for her rent and covered her expenses during that time. He also sent her an additional 800 yuan ($100) every month.
Back home in Zhejiang, Ah-Cai was the one responsible for all the household chores. His wife was an accountant who earned about the same as him each month. When he was away on business, she had to juggle her professional duties with child care and housework, so when Ah-Cai got back, he took on the lion's share of the cooking and cleaning. During his time with Ah-Run, on the other hand, he could sit back and enjoy her care.
There is a notable difference in the qualities lower-class men and their wealthier counterparts look for in an ernai. For working- or lower middle-class men like Ah-Cai, their primary concern is usually reclaiming their traditional dominant role in the family. Thus, their ernai typically focus on caring for their partner and offering them emotional comfort and support. By acting obedient and quietly providing gendered emotional labor, they help produce, consolidate, and enhance their men's sense of self-worth and dignity, allowing their partners to feel like they're providers again.
But while lower-class men generally see their ernai as a way of reconstructing their masculinity in the private realm, the wealthy and powerful look for something else out of their second wives: a trophy and visible symbol of their virility.
Businessmen's ernai therefore don't spend as much time on housework as their lower-class counterparts. Instead, their focus is on making their partner look as good as possible, in part by helping them gain face, validating their authority, and affirming their charm.
Attractive women are often regarded as the most valuable male trophies, especially among nouveau riche entrepreneurs and businessmen. Businessmen's ernai must therefore work hard to project the image of a doting, attractive mate. When considering this, they typically receive far more money per month than working-class ernai. At the time of my study, a businessman's ernai could earn anywhere from 5,000 to 10,000 yuan a month, a not insignificant sum.
As part of their duties, they're expected to escort their partners to social and networking events in nightclubs and other entertainment venues. One's real wife is rarely welcome on such occasions, as they are seen as sexless killjoys, whereas other men in attendance deem the presence of ernai both proper and desirable. The abovementioned Ah-Fei, for example, once went with Ah-Dong to play mahjong with his friends every night for two straight weeks, staying up until around 5 a.m. every time to do so.
Yet, once they return home, businessmen's ernai are expected to be just as docile and submissive as their working-class counterparts. It's common for ernai of all kinds to experience verbal abuse from their partners. Once, when Ah-Fei complained that Ah-Dong was not spending enough time with her, he responded by shouting at her. ''You bitch!" he cried. "You've been f---ed by so many men! What, do you think you're a virgin? How dare you complain about how I treat you!''
His words hurt Ah-Fei, but she said nothing, rationalizing that he was stressed for work-related reasons and thus easily annoyed. More importantly, she knew that fighting back would only make things worse, and he might stop providing for her.
Like Ah-Fei, many ernai of wealthier men reported that their partners lost their tempers at them frequently once their extramarital relationship had stabilized. Some of them said they tried fighting back, but their lack of economic security made it difficult. Those who have done so successfully were usually locals with strong support networks. For example, local women will sometimes form support groups and help each other defend their economic and emotional interests.
Despite the abuse, some still see the arrangement as their best option. Ah-Run's actual husband ran out on her, leaving her deeply in debt, and she said she enjoys the stability of her life with Ah-Cai. Taking care of Ah-Cai, who she saw as an ideal husband-figure compared with her actual spouse, made Ah-Run happy. It also let her fulfill her own fantasies of what a marriage should be like — one in which the man earns the money, and the woman can devote herself to taking care of her family.
In contemporary China, men from lower-class backgrounds experience class disadvantages through emasculation, both at home and in the workplace, and therefore look to perform traditionally masculine roles in their extramarital relationships. Economic elites, on the other hand, seek to use their economic power to cultivate a public image of themselves as virile and desirable. But in both cases, it's the work of women — in this case, ernai — that enables men to perform their idealized gender and class roles.
Clarification: An earlier version of this article translated'ernai'as'second wife.'While accurate, this may give the impression that such relationships are legally sanctioned. The article has been updated to reflect that fact.
Editors: Cai Yiwen and Kilian O'Donnell.
(Header image: Chen Ronghui/Sixth Tone)