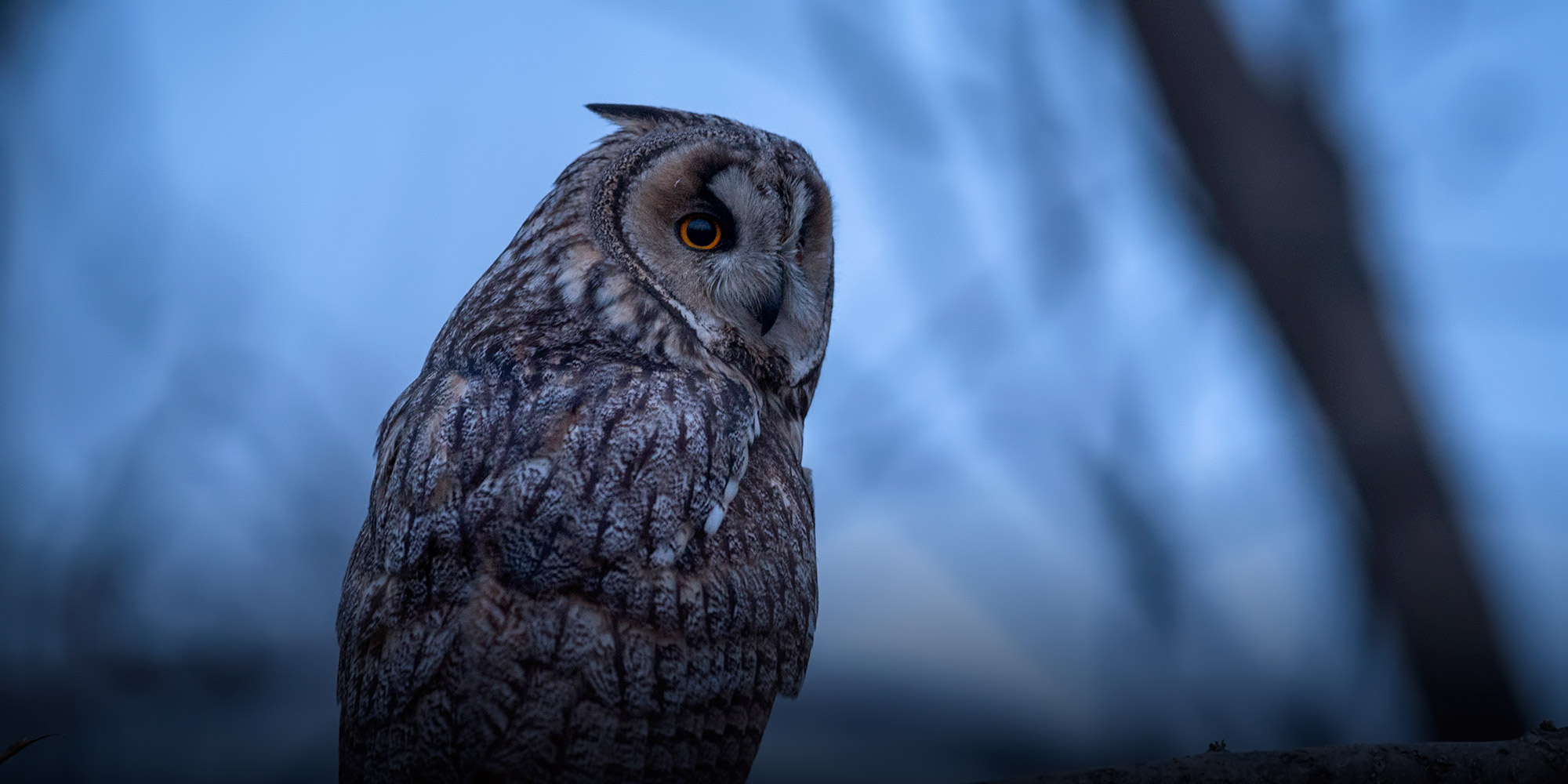 FEATURES
Beijing Urbanizes, and a Much-Loved Bird Vanishes From the City
Habitat disruption and a lack of prey are forcing iconic long-eared owls out of the capital — but locals are finally starting to give a hoot about protecting them.
BEIJING — When Yue Ying gazed back at the big, fluffy bird looking at her through the pine trees, she knew it was love at first sight. "I never thought I'd see such a big bird in this city," she says.
It was the winter of 1998, and the then-20-year-old Beijing native was wandering through the grounds of the Temple of Heaven — an imperial sacrificial altar in the southwest of the city — looking out for birds. The one staring back at her was a long-eared owl, a creature with distinctive fluffy ears and large, yellow-and-black eyes that migrates from northern Asia to parts of China, including Beijing, for the winter. In a capital city known for its noise, congestion, and pollution, the serene-looking long-eared owl is an iconic species.
Not that you see many today. That year, Yue counted more than 70 long-eared owls at the Temple of Heaven, but the last time she spotted one there was in 2015. Owls are vanishing from central Beijing's other green spaces, too, she says. "The ones at the Guozijian disappeared even earlier," she says, referring to the former imperial academy in the city's Dongcheng District. Other bird-watchers tell Sixth Tone they haven't seen a single long-eared owl in years.
The long-eared owl is not an endangered species worldwide, but its departure from Beijing's more urban area is causing concern among Beijing's bird lovers. Evidence suggests the main culprits are habitat disruption and a lessening of prey. However, a lack of long-term research on the owl's decline means that much of the received wisdom on the subject is speculative and anecdotal.
Long-eared owls prefer quiet, wooded places, where they usually roost in large, old cypresses and junipers during the day. Since 2008, suitable roosting sites have shrunk at both the Temple of Heaven and the Guozijian, according to a 2015 study. In 2007, management at the Temple of Heaven complex revoked the status of a conservation zone in the southeastern part of the Temple of Heaven park — an area in which you could find the majority of the park's long-eared owls, according to Yue. Since then, the number of owls in the park have decreased by 3 or 4 animals each year, the study said.
The owls' plight might be worsening due to an ongoing lack of food, experts say. Long-eared owls emerge at night and prey on rats, bats, and smaller birds. But since a rat-linked hepatitis outbreak in Shanghai claimed 47 lives back in 1988, Beijing's municipal government has maintained a preventative policy of eradicating the rodents, which has dramatically reduced rat numbers. In 2008, when the city held the Olympic Games, the capital expanded the policy to include cockroaches, flies, and mosquitoes in a bid to make the city cleaner and more "civilized." The policy is still enforced today, albeit more loosely.
Nonetheless, the methods seem to have proven strikingly effective: Last winter and this spring, a research team led by Deng Wenhong, an ornithologist at Beijing Normal University, set up two catch-and-release experiments on the grassy outskirts of Daxing International Airport in southern suburban Beijing, relatively removed from any human constructions. Despite laying 100 traps per experiment, they ended up catching only one rat in total.
The dearth of rats seems to have affected the diets of the capital's long-eared owls. Research conducted between 2003 and 2006 found the proportion of rat in the owls' diets was declining in urban Beijing. Between 2000 and 2001, Yue herself collected and analyzed 1,047 long-eared owls' boluses — ball-like mixtures of food and saliva that contain the fur and bones of the owls' prey — and found that around 36% of their diet consisted of bats, while rats occupied 46%. By comparison, a 2017 study found that one rat species comprised nearly 90% of the diets of long-eared owls in suburban Shanghai and eastern China's Jiangsu province, where rat populations are thought to be higher. Deng argues that the change in diet makes the owls' hunting practices more energy-intensive. "It's tougher for long-eared owls to catch bats than rats," he says.
But Beijing's bats are declining, too. Studies conducted in 2005 and 2012 found that as more and more of central Beijing's older residential housing is demolished to make way for high-rise apartment blocks, the number of bats has fallen dramatically. Bats in the city's suburban caves are also disappearing in both species and number as a result of human activity, the studies say.
Humans are interfering with the owls in a number of other ways, bird lovers say. Dai Zhaohui, a local bird-watcher who devotes most of his weekends counting birds in citizen science projects in Beijing, says many photographers — motivated by the pursuit of good photos — will do anything to keep the eyes of a long-eared owl open. "Sometimes they kick trees so that the owls stay alert," he says.
Deng, the professor, points to people who partake in sports, games, and group activities that disrupt the owls' much-needed sleep. "Square dancing, diabolo — these (activities) are common in parks … Some elderly people practice cracking whips, which can be very loud," he says, adding that such actions could disturb long-eared owls' daytime rest and force them out of their preferred habitats.
Another threat comes from the azure-winged magpie, a common species that nonetheless receives special protection in Beijing for guzzling tree-damaging pine moths. Deng says he has witnessed magpies harassing a roosting long-eared owl during daytime, forcing it out of its tree.
Deng worries that the loss of so many long-eared owls is a sign that Beijing's ecosystem is becoming unstable. The owls are apex predators, meaning that their disappearance may signal severe stress at the lower levels of the ecosystem. "If the owls vanish, then the numbers of other species — such as birds and mammals — will also change," he says. "That brings more bad news than good news."
The plight of Beijing's long-eared owls may reflect a global trend linking urbanization to declines in bird populations. Researchers in the U.S. have found that human activities like changing plant cover, waste production, and the introduction of nonnative species can profoundly affect other species' behavior and population structure.
Some people, like Yue, see it as an unavoidable cost of urban development. "They are not disappearing," she says, explaining that the long-eared owls are moving to quieter, less urban places in suburban Beijing.
But others are less sure: Song Dazhao, an animal protection activist who tracks long-eared owls in Tongzhou, a once-remote suburb now touted as a future commercial hub, says that although the local owl population has remained stable in the last few years, ongoing construction projects could "ruin all of that." On May 5, when Song visited a bird-watching spot in a formerly wooded part of Tongzhou, he found that all the trees had been cut down and the last "seven or eight" long-eared owls in the area had disappeared.
While other Beijing species, such as the abovementioned azure magpies and Beijing swifts, have adapted relatively well to human development, long-eared owls have not proven as flexible. As they fly over the capital, some owls get tangled in anti-bird nets at airports, collide with glass walls, or fly into overhead electric wires, says Dai Chang, a wildlife veterinarian at the Beijing Raptor Rescue Center. The organization, which takes in, monitors, and releases local predatory birds, admits at least 10 long-eared owls each year, according to Dai.
A census of the species population is necessary to determine whether they are simply moving out of the city center or are also declining in the suburbs, scientists say. Deng's own analysis, conducted earlier this year, estimates that between 300 and 700 long-eared owls still live in Beijing. But he says it's only a rough estimation. "So far, there's been no systematic documentation of the bird," he says.
A lack of researchers has stymied bird population analysis in China for decades, but there are signs the tide is finally shifting. Last year, around 100 volunteers participated in a project documenting the Beijing swift; this year, that number has risen to 200, according to Dai Zhaohui. More volunteers means more observation spots and, in the swift's case at least, more birds spotted — from around 3,000 in 2014 to an estimated 6,000 last July.
Yue is optimistic that similar citizen science projects could help to protect long-eared owls and other birds. Now a biology teacher at a science and technology center in southwestern Beijing, she regularly organizes bird-watching trips for primary and secondary school students, showing them how to spot and analyze the boluses of long-eared owls, among other skills. Ten years ago, only a few students would join her on such trips; now, she often leads groups of around 20. This year, one of Yue's students, a middle-school boy, petitioned the Chinese People's Political Consultative Conference — the country's legislative advisory body — with a nationwide plan for wild bird protection, she says proudly.
A shelf near Yue's desk is lined with models of owls, some fluffy and glittering, some made of wood. They are all gifts from students, she says with a smile. "When I started bird-watching in 1998, it opened up a whole new world to me," she says. "Now, more and more people are finally becoming interested in it."
Editor: Matthew Walsh.
(Header image: A long-eared owl perches on a tree in Tongzhou, suburban Beijing, April 2019. Courtesy of Song Dazhao/Chinese Felid Conversation Alliance)