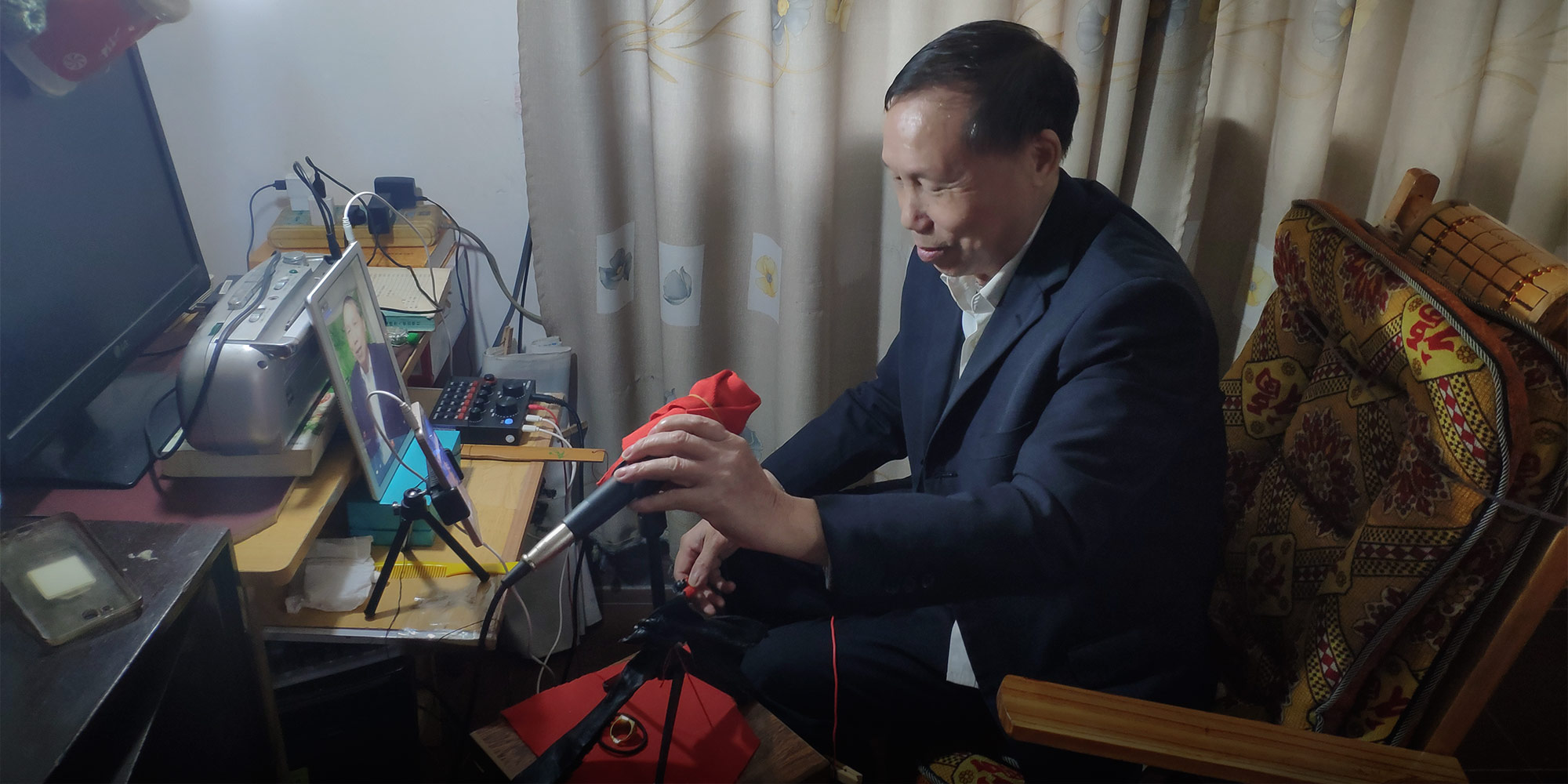 FEATURES
Silent for So Long, Elderly Gays Livestream at Full Volume
A generation that has long kept silent is breaking into song through livestreaming.
HUNAN, Central China — Hu Pingsheng never knew there was a name for his feelings until a younger man explained it to him: He was gay. Despite a desire to live his true self, however, he has kept that revelation from his family. But a few months ago, he finally found a place to be who he wants to be, and he's even found some small-time fame in the process.
On a rainy afternoon in Chenzhou, the relatively small city some 400 kilometers north of Hong Kong where Hu has a sixth-floor apartment, the 68-year-old dons his favorite navy blue suit and sits down in front of his camera. He's about to livestream on Blued, China's largest social networking app for gay men and the one place where the twice-divorced Hu feels like he can be himself. "When I was young, I didn't know who I was, and I didn't have the chance to get to know men I adore," he says. "I feel like I'm now making up for my loss."
A Blued spokesperson says the app's livestreaming feature, available since 2016, has seen "hundreds of thousands" of users turn their cameras on themselves. Though the majority of them are young, Blued has noticed a rise in livestreamers aged over 50 since the second half of 2018. Hu attributes this to the closeted lives that gay men of his generation lead. "We have a limited circle of friends, and most of us haven't come out to our families," says Hu. "Without livestreaming, my life is boring and stressful."
Hu fills his hourslong livestreams mostly by singing. He kicks off today's show with his greatest hit, "Qinghai-Tibet Plateau," one of the best-known tracks in China. Though Hu cannot quite master the high notes at the end of the song without his voice cracking, it still wins him a few dozen likes. He then performs "Over the Golden Hill of Beijing," which became a household song in the early 1970s. "Chairman Mao is like the bright golden sun," he sings, gently swaying with the rhythm.
Hu, who calls himself "Tasty Mango" on Blued, has learned to sing some 200 songs and has hundreds more downloaded to his phone that he wants to add to his repertoire. Red classics about Chairman Mao and Communist Party history are his favorites, he says. On a good day, he'll have over 1,000 viewers — but he averages a couple hundred. He greets each of them as they join the stream.
As on other Chinese platforms, viewers on Blued can buy virtual gifts for livestreamers, which they can then exchange back into money. So far, Hu has earned more than 10,000 so-called beans, which amounts to 1,000 yuan ($150). But Hu's not in it for the money. The retired accountant has a monthly pension of over 3,000 yuan, which he says can ensure him a comfortable life in Chenzhou.
Compared with more developed coastal cities such as Shanghai and Guangzhou, where people are more open about and tolerant toward sexual minorities, public gay life in inland cities such as Chenzhou is almost nonexistent. "I realized many people here still don't know what 'gay' means," says Liang Junjie, a swimming coach who hails from Guangzhou but has been living in Chenzhou for a few years. He is a fan of Hu and has sent him virtual gifts. "I think he's handsome, and I'm happy that he can do things he really enjoys," says the 26-year-old.
Liang has known he was gay since middle school. A few years ago, he came out to his parents — which he says is something people his age would consider doing, but is rare for older generations. Hu, for his part, didn't know he was gay until 2000, a year before homosexuality was declassified as a mental illness in China. A young man approached him at a park in Chenzhou and took him to a gay bar. There, someone told him he was gay. "I always knew I admired men, but it had never occurred to me that there is a word to define my sexuality," he says.
Born and raised in the countryside, Hu always longed for an urban lifestyle. He moved to the local county seat in his late teens and in 1984 married his first wife after they'd been introduced by a matchmaker. A few years later, fed up with her short temper, he filed for divorce and moved to Chenzhou, where he married his second wife. This union also ended with a separation, on account of "personality clashes." He's not sure whether his sexuality played any role in the divorces.
Hu has two daughters — one with each of his ex-wives. He hasn't come out to either of them and doesn't plan to, uncertain of whether they will accept it. Hu's family also doesn't know about his antics on Blued, but he doesn't worry about what might happen if his relatives saw him on the platform. "I'm not doing anything nasty or wrong," he says. "I'm just doing what I love: singing."
While it's just a passion project for Hu, others hope the nascent popularity of elderly livestreamers will become a source of income. Wang Liyun, originally from the northeastern province of Jilin, stepped into the senior gay livestreaming business after hearing about its profit-generating potential from friends. China's livestreaming market is already huge and still growing: According to a 2018 National Copyright Administration report, the market was worth nearly 40 billion yuan in 2017, fueled by virtual gift-giving. Popular streamers can earn a living wage, if not significantly more.
Wang's approach was to start a group — a common format in which several singers live together and alternate behind the microphone. A "boss," like Wang, organizes the group and provides accommodation and food. Participants get a cut from the gifts they earn. According to Wang's own observations, there are over 200 groups of men over 45 on Blued. Their fans are of all ages. "A successful group can attract over 8,000 fans and receive as much as 60,000 beans per day," Wang, 55, tells Sixth Tone.
With that goal in mind, Wang started looking for candidates all over the country to join his group in his home in Dongguan, a city in the southern province of Guangdong. Wang, who identifies as gay, only wants to hire gay men — he scoffs at groups on Blued that hire straight, amateur singers pretending to be queer — who are between 40 and 60 years old, decent-looking, and good at singing and interacting with fans.
Since he started in March, over a dozen men have livestreamed with Wang's group, but turnover is high, especially when gift-giving disappoints. "When they realize they are incapable of getting beans, they just leave after a few days," Wang sighs. He has invested over 30,000 yuan into his venture with returns, so far, of about 10,000 yuan. "When I start to make a profit, I'll buy fancy lights and LED wallpaper to decorate the studio," he says.
Last November, Hu joined a similar group. He took the train to Zhuzhou, a city about 300 kilometers north of Chenzhou, and sang with a group called Magic Dragons, consisting of four men — all gay and about the same age. For eight hours a day they sang from a living room-turned-studio, adorned with a color-changing crystal ceiling light and background wallpaper featuring the Great Wall. "It was more gorgeous and magnificent than any karaoke rooms that I've been to," he recalls.
Before Hu would start his shifts, an announcer would hype up the audience and introduce him: "Now let's welcome Uncle Hu from Chenzhou, Hunan. He's 68 years old, 165 centimeters tall, and weighs 60 kilograms. Look: He's slim, light-skinned, and handsome! Show your love with flowers, grass, or whatever (digital gifts)!" Hu says he felt embarrassed at first, but later started playing along, asking for more beans. He enjoyed singing with others and was paid 1,600 yuan for half a month's work.
But most of all, Hu feels relieved finally knowing who he is, as do many gay men his age, he says. He's got trips planned to the eastern cities of Nantong and Shanghai, as well as southern Shenzhen, to join livestream groups there. "If there's a platform where I can do what I love," he says, "I don't want to waste another minute regretting not doing things that make me happy."
Editor: Kevin Schoenmakers.
(Header image: Hu Pingsheng tests his microphone during a livestream at his home in Chenzhou, Hunan province, April 14, 2019. Fan Yiying/Sixth Tone)