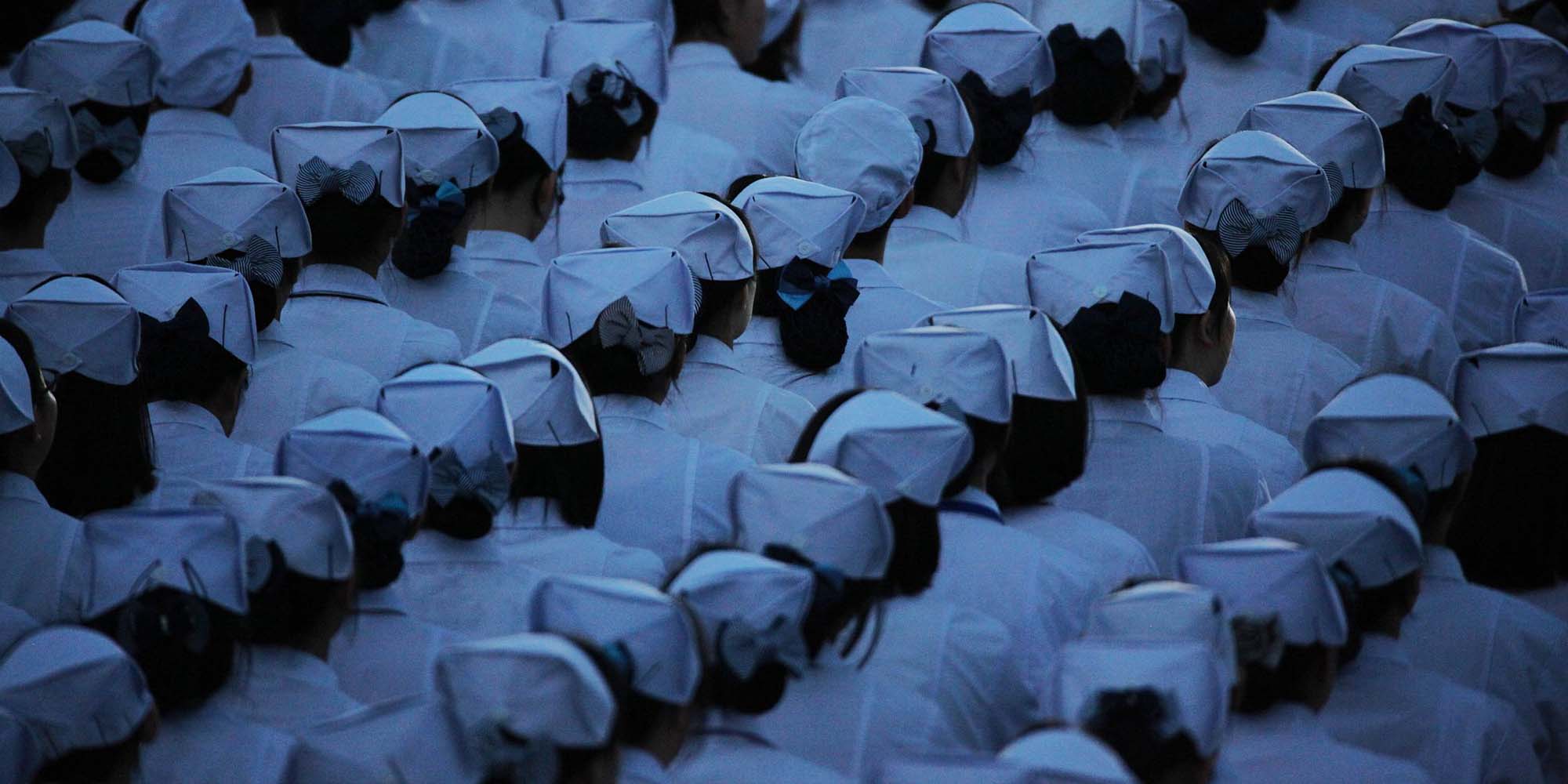 NEWS
Nanjing School Heads Detained Over Fake Nursing Programs
Weeks after student protests were reportedly met with violence, the Nanjing government has said the president and chairman of two vocational schools were detained Wednesday on suspicion of fraud.
Top administrators at two vocational schools in the eastern city of Nanjing have been apprehended on suspicion of fraud after students and parents in late April protested an unapproved nursing program being offered by the schools, according to an official announcement Wednesday.
The announcement said that Zhang Jing, president of the Nanjing School of Applied Technology, or NSAT, and Wang Zhongping, chairman of Nanjing Oriental Arts and Sciences College and former Communist Party secretary of Yingtian Vocational and Technical College, were criminally detained Wednesday for alleged fraud. The city government added that a working group appointed by the provincial education and human resources departments had been dispatched to the campus shared by the two schools to resolve any lingering issues and "uphold the legitimate rights of the students." It further stated that a committee had been formed to oversee teaching and general management at all three schools.
The news comes after authorities in Nanjing began investigating NSAT following a campus protest by students and parents last month, according to an official statement released April 29. The statement said NSAT had signed a cooperation agreement with Nanjing Oriental Arts and Sciences College in 2015 without obtaining the required approval from Nanjing's human resources and social security bureau, which oversees vocational and technical schools in the city. Then in 2016, using NSAT's name, Nanjing Oriental began enrolling students in the unauthorized nursing program, promising registrants a diploma and a guaranteed job placement after graduation.
The alleged fraud at the schools made national headlines when angry netizens took to microblogging platform Weibo to complain. In a post from April 26, a user claiming to be the sister of one of the nursing students wrote that a group of students and parents had gone to the school that day to demand answers about the program's official status but were met with "brutality." The following day, a Weibo user claiming to represent all the program's nursing students who had enrolled in 2016 posted GIFs that seemed to show students being beaten and dragged away by members of the Chinese security forces known as teqin.
Several media outlets subsequently reported that NSAT had told the nursing students a week earlier to transfer to another institution — Yingtian Vocational and Technical College — or they wouldn't graduate. After the warning, the students found that they were had been registered as "housekeeping (care worker) management" majors without their knowledge or consent.
In a statement on April 27, the public security bureau in Nanjing said that the violent incident at NSAT had been "stirred up" by unenrolled "idlers" and former students who had been expelled from the school. The statement also said that police had apprehended a 19-year-old man surnamed Wu, along with several others, on suspicion of inciting people to "cause trouble" and destroy school property.
On May 7, the city government said that 405 of the 409 nursing students had been offered "solutions" that were agreeable to both them and their parents. The authorities also said that two people surnamed Wang — each from a different province — had been criminally detained on suspicion of "picking quarrels and provoking trouble" after they had published an article on social app WeChat that allegedly spread rumors about the clash between students, parents, and teqin.
A day the city government's announcement, Wang Jiping, director of the Ministry of Education's vocational education department, said in a press conference that the ministry would continue to crack down on false or misleading enrollment promotions, and that it had ordered local governments to check for and resolve similar cases of fraud in higher education.
Editors: Bibek Bhandari and David Paulk.
(Header image: VCG)