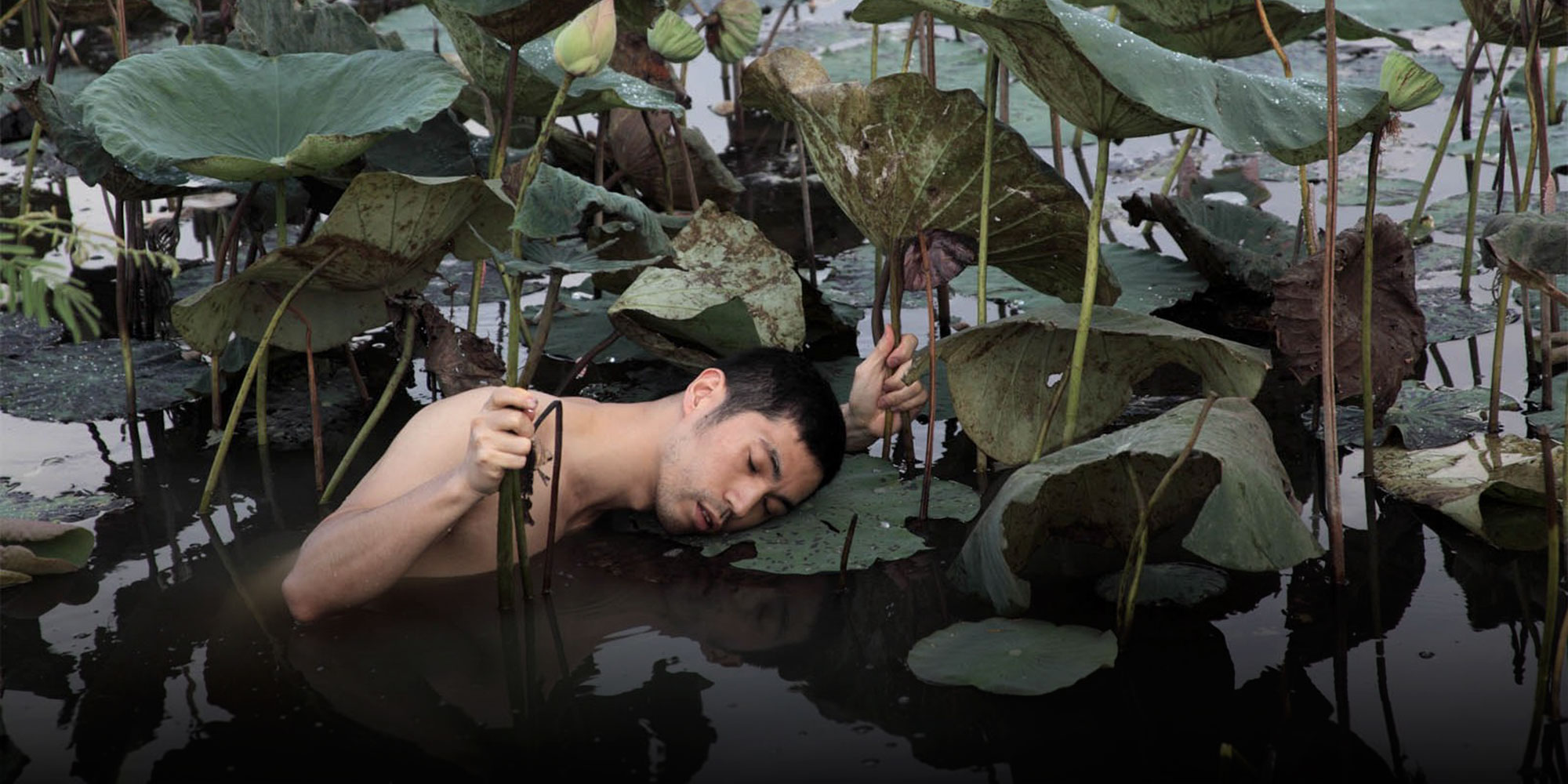 FEATURES
China, Laid Bare: The Nostalgic Photography of Shen Wei
The Shanghai-born, U.S. based artist talks to Sixth Tone about his connection to his homeland and his ongoing series of nude self-portraits.
This is the second article in a series on overseas photographers of Chinese origin. The first article can be found here.

FUJIAN, East China — A black swan crooks its neck while floating on a lake pockmarked by raindrops. A man lies facedown on a bed shrouded in mosquito nets, his back bearing large purple marks from cupping therapy. People play mahjong in a crowded room, dimly lit by LED lights.
These images, part of photographer Shen Wei's "Chinese Sentiment" series, possess a dreamlike quality that bridges the gap between the private and the public. Shot between 2008 and 2010 in cities across China, the series perhaps best captures the 42-year-old's peaceful, poetic photographic style.
Born in Shanghai, Shen moved to the United States in 2000 to study art and photography at the Minneapolis College of Art and Design before heading to New York City four years later. He returned to China in the spring of 2008 to capture his connection to his home country — an endeavor he describes as sentimental and nostalgic. "China has been transformed so fast, and I wanted to capture (it) before it's completely transformed," Shen says.
While other photographers might react to China's changes by focusing on its vast urban and industrial landscapes, Shen dwells on more personal, almost childlike moments: the softness of a melting stick of candy, a lonely cable car suspended between concrete skyscrapers.
The almost unnerving intimacy is a theme of Shen's other series. "Almost Naked," shot between 2003 and 2008, is a selection of nude or seminude portraits taken in the U.S., where Shen often found models online or asked people on the street he felt could model for him. "Chinese Sentiment," too, includes nudity, but convincing strangers to strip for the camera was harder in Shen's home country, and he was forced to rely on personal references from more relatively open-minded friends. "Chinese people are more shy and more cautious (than Americans), so they want to know why you're making these images and where those pictures are going to end up," he says.
Shen's latest project, due for exhibition in London this May, is called "Broken Sleeve." The name refers to the apocryphal story of a Han dynasty emperor who, after waking to find his male lover soundly asleep on the corner of his robe, chose to cut off his sleeve rather than disturb him. Shen's inspiration for the project drew on what could be defined as slightly stereotypical representations of China in pop culture — Peking opera singers, Republican-era gangsters, and even the scheming palace mandarins seen in popular TV dramas.
Alongside his one-off series, Shen is also constantly adding to what he calls a "lifelong project" of self-portraits, titled "I Miss You Already." Since 2009, he has amassed more than 200 shots of himself in various landscapes, from a woodland orchard to an apartment balcony. Shen, who describes the project as "almost like writing a diary," adds: "I hope my self-portrait is not just … a simple image of a man. It has different identities, different roles, and different emotions."
Correction: Shen Wei has amassed 200 self-portraits since 2009, not 2,000.
Editor: Matthew Walsh.
(Header image: "Self-portrait (Lotus)," from the "I Miss You Already" series, 2012. Courtesy of Shen Wei and Flowers Gallery)