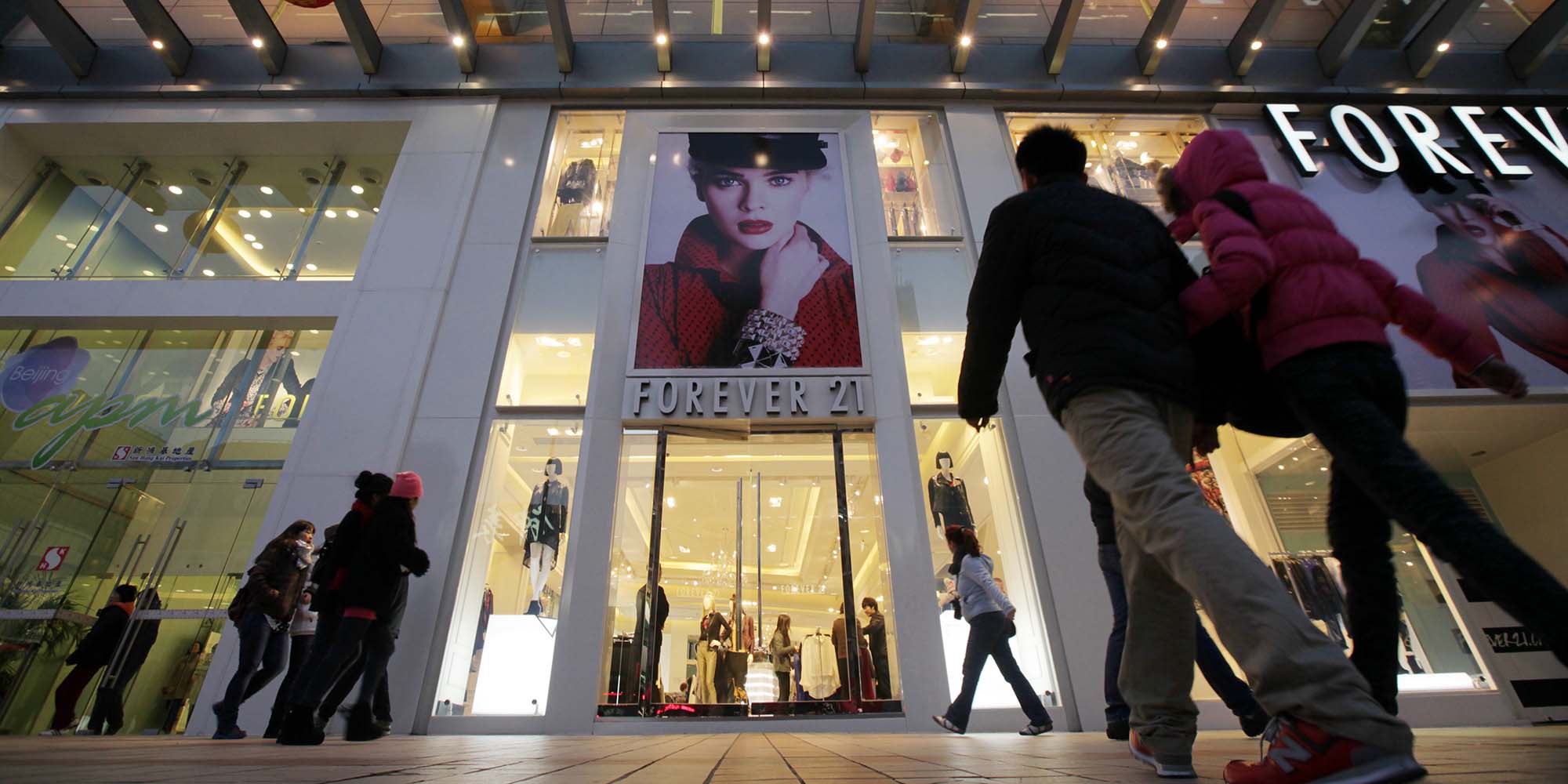 NEWS
Fast Fashion Retailer Forever 21 Closes Shop in China
After more than a decade in the country, the American clothing brand is shutting down its online shops and heavily discounting its offline merchandise.
American clothing retailer Forever 21 will close its online shops in China amid ongoing clearance sales at its remaining brick-and-mortar locations, the company announced Thursday on several e-commerce platforms.
"Due to strategic adjustments to international operations," one notice read, " all items will be taken offline on April 29." The company had not responded to Sixth Tone's interview requests by time of publication.
Founded in Los Angeles in 1984, Forever 21 is a fast fashion staple known for trendy, practical, and affordably priced clothes that appeal particularly to young customers. In 2008, the company opened its first Chinese store in the eastern city of Changshu. Though this store closed the following year, Forever 21 opened several more locations in major cities like Beijing, Tianjin, Shanghai, and Shenzhen. On Shanghai's East Nanjing Road — the city's ritzy commercial thoroughfare — is a 7,000-square-meter Forever 21 store that's now offering discounts of up to 75 percent. Forever 21 currently has 11 locations in China, according to the company's website.
On microblogging platform Weibo, a hashtag translating to "Forever 21 withdraws" had been viewed 475,000 times by Friday afternoon, with many users quipping that "forever" obviously doesn't seem to apply to China or advising their followers to take advantage of the huge discounts.
"Forever 21 is quitting the China market, just like I'm no longer 21 years old," wrote one Weibo user. "Girls, you'd better go check out Forever 21, it's ridiculously cheap!" posted another, along with a screenshot of the company's withdrawal notice from online marketplace Tmall. 
Last year, a handful of other household names — including British brands Topshop and Marks & Spencer — also closed down their operations in China.
On Thursday, luxury fashion house Hermès released its quarterly earnings report, citing 17% growth in Asia excluding Japan thanks to "extremely good sales growth driven by Chinese mainland." But according to Shanghai-based branding specialist Wu Junyan, Hermès is the exception rather than the rule.
"That's because Hermès is Hermès," Wu told Sixth Tone, adding that Chinese millennials love to splurge on such upscale goods. "While it may be strong in China, the luxury market isn't doing well overall."
In Forever 21's case, Wu attributed the company's underwhelming performance in China to shortsighted store planning and bad marketing compared with its peers in the industry. "Its prices are low, but its offline shops are too big, with high operating costs," Wu said. "Meanwhile, there's stiff competition: Taobao, Zara, and Urban Revivo all outshine them."
Editor: David Paulk.
(Header image: An exterior view of a Forever 21 store in a commercial district of Beijing, Nov. 11, 2012. Tomohiro Ohsumi/Bloomberg via Getty Images)