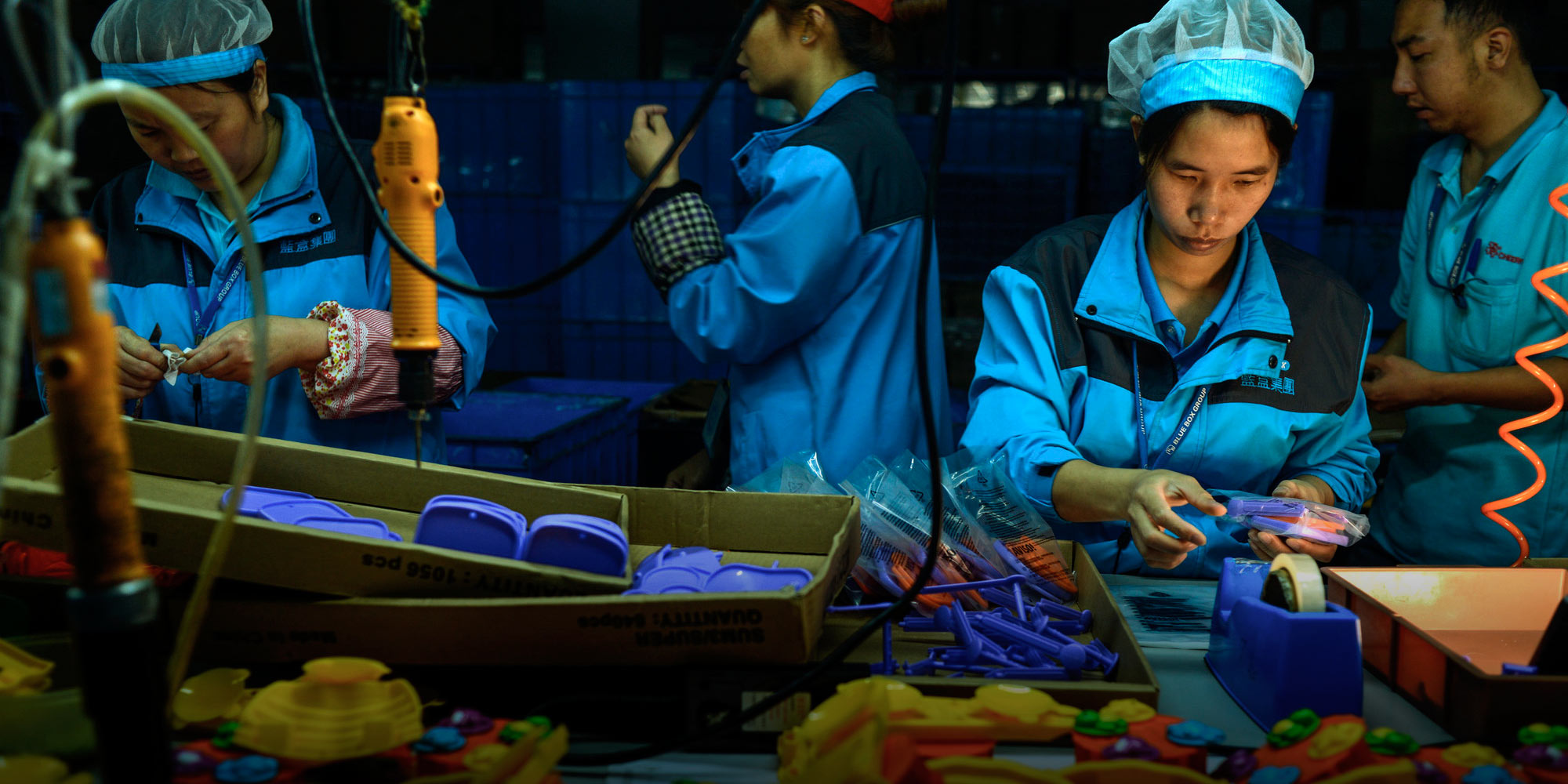 VOICES & OPINION
Factory Psychology: My Time Counseling China's Migrant Workers
As one of a handful of factory-affiliated mental health professionals in a city of 5 million industrial workers, I know firsthand just how hard it is for migrants to find help.
I was 22 years old when I left my East China hometown and joined the tidal wave of migrant workers in the booming factory towns along China's southern coast.
For the next 13 years, my experiences mirrored those of the millions of other migrant laborers then living and working in the province. I worked on the factory floor, as an HR representative, and even spent time in sales. Then, in 2006, I completed a vocational training program in psychology offered by the Chinese Academy of Sciences and got a job as a full-time psychological counselor at a factory. Today, I am one of only five factory-affiliated psychological counselors in the southern city of Dongguan, a manufacturing hub that's home to more than 5 million industrial workers.
In the following years, I've listened to, talked with, and done my best to help more factory workers than I can count. At my current job, I'm expected to provide psychological consulting services to a staff of over 10,000, and I spend every day talking to workers and managers one on one. It's a service provided by very few factories in China, but a vital one nonetheless. I've seen enough to know just how difficult it is to be a migrant worker — and how much help they need.
In the first factory where I worked, at least one person jumped off a building every year. Counseling was a new concept then, and workers generally wouldn't seek me out on their own. Those that did were typically looking to let off steam or had been facing serious issues at home or in their marriages.
I felt like a firefighter: I was only called in when something had gone terribly wrong. Yet in some ways it was simpler. In those days, factory workers came from a generation raised in true poverty. In my experience, they spent less time thinking about the future or worrying about their mental states and more time trying to figure out how to make as much money as they could, as quickly as possible.
Over time, more and more of the factory workforce has become comprised of millennials. On the one hand, this generation is typified by a certain optimism — and no shortage of big dreams. One employee I knew used to shoot videos every day for the short-video sharing app Douyin — the Chinese version of TikTok — in the hope of one day becoming a star.
At the same time, however, many Chinese millennials — including those from rural backgrounds — experienced traumatic upbringings separated from their parents, who had gone to cities in search of work. Others grew up rootless, drifting along with their families as their relatives bounced from job to job.
A 2017 study shows that over 36% of Chinese migrant workers born after 1980 had experienced symptoms of psychological distress. Millennial migrant workers were 30% more likely to experience psychological distress than those born prior to 1980, and are more likely to show symptoms of obsessive-compulsive disorder, depression, and anxiety.
In my own work, I've noticed a significant uptick in the number of people with depression, obsessive-compulsive disorder, and anxiety, as well as those who've committed acts of self-harm. Recently, I met with two workers who were both under the age of 20. They were struggling with relationship problems and had begun to engage in self-harm.
Their case was obviously an extremely serious matter, but neither of the young workers understood that their problems stemmed from underlying psychological issues. I've also had conversations with workers who said they first thought about suicide as early as primary school.
The good news is, thanks to the internet, young workers are much more informed about mental health than previous generations and are more willing to seek help when they encounter difficulties. But they also tend to jump between jobs more often, and it's hard for counselors to track them down once they leave the factory.
With an adequate psychological support network, migrant workers would know that they are not alone, even when they're away from home or dealing with major problems. In the absence of that network, however, workers are effectively unable to see a counselor. Private services are too expensive for them, and many migrant workers instead choose to deal with their issues on their own, sometimes by harming themselves or even others.
So, it's frustrating to me that, as far as I'm aware, only a handful of factories in Dongguan actually offer psychological counseling services. And those that do are clearly more concerned with avoiding liability and mitigating risk than providing real treatment. Such services aren't designed with employee needs in mind, but with an eye toward monitoring them and preventing major incidents.
In my opinion, providing psychological services for workers is a matter of the utmost urgency, and I would personally like to see every company hire its own mental health counselor. But I also know that staffing counseling offices presents its own challenges.
Back when I started working as a psychological counselor, I mainly saw the job as a way to make a living. It didn't pay a lot, but at least it was relatively stable. But I soon discovered just how physically and psychologically taxing it can be to provide counseling services. I was working 11 hours a day, six days a week. Over the years, in addition to meeting with employees one-on-one, I've also been expected to give talks to workers on topics ranging from marriage, family, and relationships, to methods for reducing stress and adapting to the workplace environment.
When I started out, there were no experienced counselors I could look to for guidance — I had to find books on the subject and learn on the job. For the first six months, I could feel myself growing increasingly negative, and I was having trouble sleeping. Sometimes, during counseling sessions, I could feel my head pounding.
More than a year later, a couple of factory HR representatives opened a consulting office downtown. They organized a psychology study group where those of us working in factories could meet up and share our experiences. This helped me deal with some of the stress and loneliness of my job. For full-time psychological counselors at factories, a support network is vital. But since factories generally only hire a single counselor, most are usually isolated, and few last very long.
I've learned a lot over the course of my 13-year career as a counselor, and I've developed a real sense of affinity for the migrant workers with whom I work. We both live far away from home, we've both experienced the feeling of being looked down upon by society, and we've both had to swim against the current to achieve our goals.
The only difference between us is our job title. I consider myself a supporter and companion as much as a counselor. And for as long as I have this job, I intend to keep helping workers resolve their inner turmoil and overcome whatever psychological difficulties they're going through.
In China, the Beijing Suicide Research and Prevention Center can be reached for free at 800-810-1117 or 010-82951332. In the United States, the National Suicide Prevention Lifeline can be reached for free at 1-800-273-8255. A fuller list of prevention services by country can be found here.
Translator: David Ball; editors: Cai Yiwen and Kilian O'Donnell; portrait artist: Zhang Zeqin.
(Header image: Migrant workers on a toy factory assembly line in Dongguan, Guangdong province, April 13, 2015. Zhan Youbing/IC)