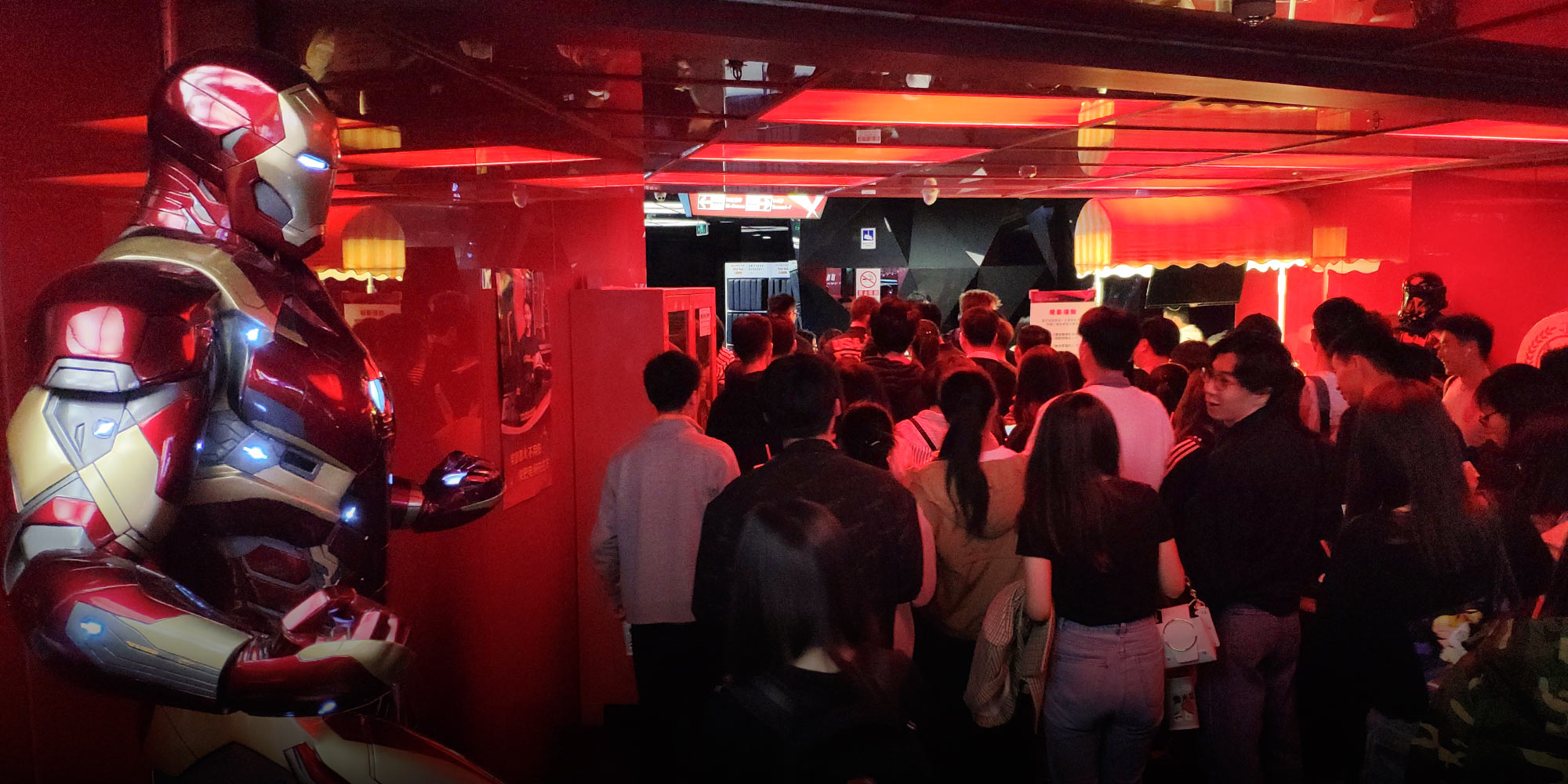 FEATURES
With 'Endgame,' Chinese Superfans Renew a Love Affair With Marvel
Some watch it for the thrills. Others say it gives them a fresh view on identity and gender.
BEIJING — It's close to midnight on April 23, and the entrance hall of Sanlitun District's underground Megabox cinema is noisy and packed. Under brightly colored screens, visitors armed with popcorn, soda, and coffee pose for pictures besides life-size statues of Iron Man and Ant Man.
They're about to watch the midnight premiere of "Avengers: Endgame," the three-hour finale to the Marvel series about Earth's mightiest superheroes' battle to save the universe. The blockbuster, which has smashed local records by racking up presale ticket sales totaling 700 million yuan ($104 million), is being released in China two days before the United States.
"China will be the earliest place in the world to know the ending. It feels so good: I'll be able to go on foreign websites and spoil the plot for others," jokes Ling Quan, a 35-year-old IT worker who's come to Megabox to watch the premiere with his wife. "When the third Avengers movie came out, I had to go to Japan to watch it, because it was released pretty late in China."
The Marvel Cinematic Universe (MCU) has developed a large and dedicated fan base in China since its first installment, "Iron Man," was released in 2008. Since then, three of the MCU's now-22 blockbusters have individually raked in over 1 billion yuan at the domestic box office. When "father of Marvel" Stan Lee passed away in January, an outpouring of grief followed from fans across the country. Beyond gorging on movies and digging into Marvel's 70-year comic-book archive, China's Marvel community busies itself creating and sharing fan art, writings, translations, and films. But the franchise is more than just fun: Fans say it offers personal inspiration and has opened the window to fresh perspectives on issues such as identity and gender.
Zhu, a master's student of translation in Shanghai who declined to give her full name out of privacy concerns, tells Sixth Tone that when she started exploring Marvel, it was the women of the universe who really caught her eye. "I found the women to be strong, and independent! And they weren't in the slightest bit shy in the presence of their male co-heroes … I was instantly drawn in," she says, adding that these superwomen — in particular Captain Marvel — stand in stark contrast to the gentle and docile female characters found in traditional Chinese culture.
Like many Marvel fans, Zhu's first taste of the franchise came with "Iron Man," but she didn't get into Marvel until after watching the cartoon "The Avengers: Earth's Mightiest Heroes" in 2011. After that, she delved into the world of Marvel by reading comics and Wikipedia-like encyclopedias online. She has since translated over 50 Marvel comics into Chinese in a bid to expand its Chinese fan base.
For 17-year-old high school student Li Ziyao, Marvel is a source of inspiration when things get rough. "During my sports exams, (male superhero) Captain America's relentless and tenacious sprit inspired me to carry on," he tells Sixth Tone. The franchise has also led him to make several friends — both on- and offline — who share the same passion. He's often chatting in a 419-person group on chat app WeChat, which is aptly named "Marvel Fan Communication Chat" and has a constant stream of Marvel news, merchandise, stickers, and memes.
The native of China's southern Guangdong province watched the midnight premiere — he got two tickets for 42 yuan, though other cinemas had been selling them for close to 500 on ticketing platforms.
Xi Zifei, a 22-year-old design student and friend of Zhu's, says it's the humanity and courage of her favorite character Hawkeye, the keen-eyed, superpowerless archer, that inspires her. "He makes me think that anyone can be a superhero: You have your own skills and you have your own powers … and you should be confident," says the Shanghai native. She's read digital copies of every single Hawkeye comic, all the way back to his first appearance in the '60s.
When she's not reading comics, Xi also cosplays and films re-creations of classic scenes with friends at the city's comic-book events. One of her friends has gained a large following by creating manga-like Marvel fan art, while another translates English fan fiction into Chinese. Xi likes collecting Marvel superhero figurines, such as the X-Men, that cost up to 2,000 yuan — they're stacked up behind her TV at home — as well as the physical copies of her favorite comics.
Besides the movies' gripping plots and visuals, Xi says that the large dedicated Marvel fan base in her age group has to do with the franchise becoming popular when they were teenagers. "That just happens to be a time when you're most likely to appreciate other cultures, and for China's Marvel fans, it represents a cultural icon and a totally different value system." Reading the comics, she says she was impressed by the individualism and tolerance behind Marvel heroes, each of whom come from wildly different backgrounds and professions and have their own flaws and dark pasts. By contrast, she often felt pushed toward collective achievement at school while growing up in China and says she felt as though flaws were unforgivable.
Lin Pin, a lecturer at the College of Literature at Capital Normal University, draws parallels between Marvel's success in China and the country's thriving tongren culture — a form of single-minded, obsessive fandom imported from Japan. "In the process of producing, disseminating, and interacting with fandom-produced works, Marvel fans have formed themselves into a tribe — one built upon the basis of a shared interest and hobby," Lin says.
But others see Marvel's China success as more economics than movie magic. Gao Hanning, a postdoctoral researcher in literature at the Chinese Academy of Social Sciences, thinks the films are just blockbusters that satisfy mainstream interest and come out at just the right time. Gao cites how the Star Wars franchise, which only enjoys a niche following in China, first gained popularity in the '70s and '80s — when China had few cinemas. In contrast, Marvel's first films were released as China's cinema market was experiencing unprecedented growth and — unlike Star Wars — didn't have to wait over a decade before being aired.
However, Wu Zhaojie, the founder of the online media outlet "Marvel Fans" — which includes the active chat group of which Li is a member — sees some risks for the brand's future growth in China.
The 31-year-old says mainstream fandom for the series is strongly linked to the actors that play the superheroes. He adds that as actors swap over and retire, some of the films' appeal may be lost. (With the recent film "Captain Marvel," many Chinese audiences felt that Brie Larson, who was acting in her first movie for the franchise, wasn't physically attractive enough to carry the titular role). Additionally, Wu says that with every new movie, the bar to becoming a bone fide Marvel fan is raised. After "Endgame," Marvel newbies will now have to watch 22 movies to be up-to-date.
But he remains optimistic. The explosive growth in popularity of the MCU is due to the franchise's expansive existing world, the consistent management between movies, and the reams of Easter eggs — or in-film references to the Marvel universe — that fans sink their teeth into.
Fans often say they rukeng — which means "falling into a pit" — to describe their Marvel addictions. "If you rukeng into Marvel, you'll find you want to watch this movie, and then want to watch that other one, until you've watched all 21," says Wu, before the release of "Endgame." "Every time you watch them, you'll discover new details and surprises."
Editor: Wu Haiyun.
(Header image: Audiences wait to watch the midnight premiere of "Avengers: Endgame" at a theater in Beijing, April 23, 2019. Kenrick Davis/Sixth Tone)