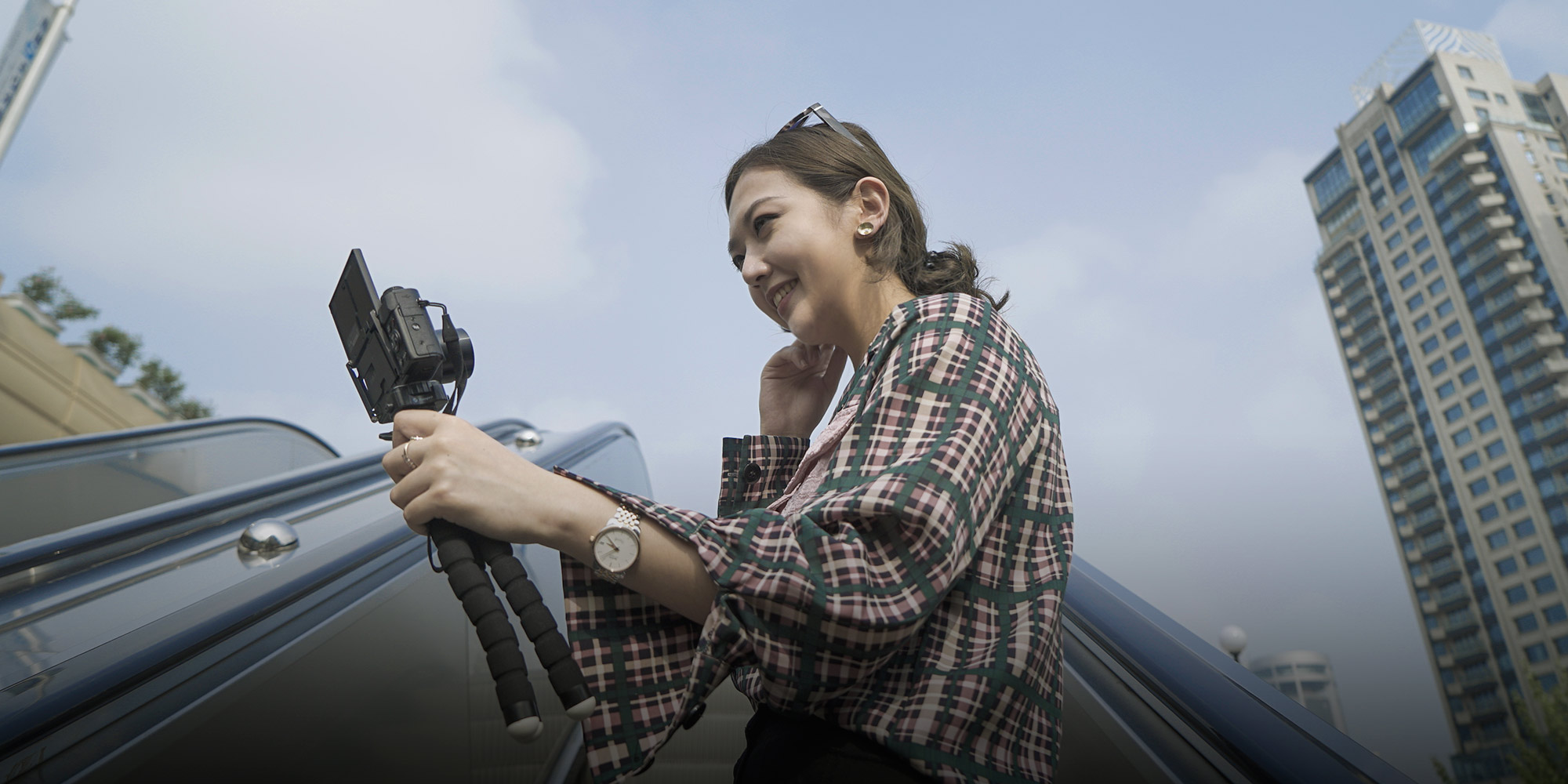 FEATURES
Vlogs, Once Ignored in China, Are Suddenly in Vogue
Tech companies hungry for the newest hype turn to a tested format.
BEIJING — The content of Jing Yue's vlogs isn't what you'd usually call exciting. One episode opens with him introducing the various items on his desk: a cup of instant coffee, lunch leftovers, Lego bricks, and a dead plant. Nevertheless, the mundane goings-on of his daily life have given Jing an audience of millions, making him one of the country's most popular vloggers.
That's in part because he never had much competition. Though vlogs — short for video blogs — have been a staple on YouTube for years and China's internet is rife with livestreaming and short video platforms, vlogs never really caught on in the country. While "vlog" entered the Merriam-Webster dictionary in 2009, it's still a novel concept in China. Back in January 2018, when Jing uploaded his 19th vlog, one viewer seemed confused, asking: "Can anyone tell me what a 'vlog' is?"
But their popularity is surging. That same episode has now been watched over 8 million times.
In the second half of last year, vlogging — the unscripted documentation of life — started to gain momentum in China. This was in no small part due to the sudden enthusiasm of tech corporations, content creators, celebrities, and gadget manufacturers, apparently out to find thenext big social media format.
According to Baidu Index, which tracks terms used on the Chinese search engine, interest in the word "vlog" shot up after September 2018, producing several spikes of increasing height. This coincided with a series of vlogging drives by the likes of Sina — which operates Weibo, the country's closest comparison to Twitter. Since Weibo initiated its campaign, the site has verified thousands of users as vloggers, because they uploaded at least four such videos in 30 days.
Among them was 25-year-old Yin Bei, who has a modest following of over 10,000 fans. When she posted her very first vlog, "VLOG000," in February 2018, searching for "vlog" on the Chinese internet would return few results, she remembers. Talking to Sixth Tone in her Beijing apartment, she says she didn't even know how to pronounce this foreign term when she first saw it on YouTube.
A year later, she has noticed more and more people around her trying their hands at vlogging. When she landed at the tiny airport of southwestern China's touristic city of Shangri-La during her winter holiday, she spotted several people filming themselves with the exact same camera — a new gadget launched in November 2018, which is designed for and marketed to vloggers.
Yin has also noticed how her own life has changed. Sitting cross-legged in front of the desk where she often edits into the early hours, she says the biggest change has been carrying a camera with her whenever and wherever. It's been tough to combine with her full-time job as a product manager at Weibo — her work and hobby are separate — but she enjoys the vlogging lifestyle and has been conscious about not going overboard trying to perfectly document every moment. "My friend told me about a vlogger at the next table who asked the waiter to serve a dish four times so that he could capture the shot," Yin says with a hint of disgust. "I think this is a horrible example."
Besides posting on Weibo, Yin is also active on Bilibili, or "B Station," a youth-oriented video streaming website known for its user-uploaded content. As one of the many platforms trying to attract the post-millennial Generation Z, Bilibili launched a 30-day vlog challenge in January to celebrate the new year. It followed with another campaign, "'B' A Vlogger," calling on users to "record the extraordinary." According to data provided by Bilibili, the number of vlogs and views on the platform increased sixteenfold and eighteenfold, respectively, over 2018, compared with the previous year. The site pays around 2,000 yuan ($300) for every million views.
Meanwhile, apps such as VUE, a popular video editing and filming tool, are trying to turn themselves into online communities of vloggers by adding social sharing features, with VUE even changing its name to VUE Vlog. Like Bilibili, VUE awards money to popular users. Tencent, which owns popular chat-apps QQ and WeChat, also acquired Maobing, another vlog editing app.
With so many big players joining the party, a handful of first-generation vloggers is feeling the heat. Like many of China's early-adopters, Wang Xiaoguang, 38, got his inspiration from Casey Neistat, a well-known American YouTube vlogger. He studied Neistat's high-quality images and fast-paced editing style and still uses the same music archive that Neistat once recommended. Under his online nickname cbvivi, Wang posted his first vlog in June 2016 — long enough ago to make him the go-to person for domestic media when they want an interview about the history of vlogging in China.
"Now we are witnessing it become a new buzzword," says Wang, in black-framed glasses. "Three major players have started to notice this concept — namely, streaming sites, brands, and agencies." He's worried that the attention from the capital-rich players will smother grassroots creativity, as he says they have done with other "trendy concepts," such as livestreaming. "In the end, commercial deals go to the hottest vloggers from the agencies, and the platforms share the benefits with them, which leaves newbies with very few opportunities," he says.
Wang has noticed web celebrities such as beauty bloggers and entertainment stars have started turning their daily lives into vlogs to grow their fan bases. For example, Ouyang Nana, a Taiwanese actress, gained enormous attention and plenty of praise for her down-to-earth vlogs about her student life at Berklee College of Music, in Boston, USA. Collaborating with ByteDance, China's most valuable media startup, she built a public persona of an average student who eats breakfast, goes to the gym, studies at the library, and hangs out with friends. Some online joked that the vlog series was so successful in changing Ouyang's reputation, it made people forget about her subpar acting skills.
However, it is a different story for relative nobodies. The most prevalent type of vlog is a daily journal with the hashtag #adaywithme, but most people's lives are too repetitive to regularly produce interesting vlogs. "It is very difficult for a nobody to vlog," says Jing, "especially if you are an average-looking person who has an average job and lives an average life."
Though sites offer some monetary rewards to users who drive up traffic, even the most popular vloggers — like Jing, who has over 1.8 million followers on Weibo — cannot depend solely on platform-generated money. "It wouldn't even cover the cost of a meal," he jokes. Unlike livestreaming, vlogging hasn't established a mature business mode that could enable livestreamers to survive on virtual gifts from viewers. According to Jing, he's one of probably less than five full-time vloggers across China.
Another is 30-year-old Shao Jingzhu, a Beijing native who has spent the past decade in the UK, where, after graduating with a master's degree, she established her own wedding photo studio. This year, the self-described risk-taker decided to move back to Beijing and explore the possibility of becoming a full-time vlogger.
For more than a year, she kept up the pace, producing six videos a month. Every Sunday, she updates a weekly vlog on three different platforms, including Weibo and Bilibili. She also films two commercial endorsements a month, the only way she can make ends meet as a full-time vlogger. She tried product placements in her normal vlogs, but soon found that she was uncomfortable with what she calls "soft advertisements." (China does not require clarification on whether or not a video is an ad).
"In China, the commercialization of vlogs only happened in the last year," Shao says. Using a famous Chinese expression about looking for new ways to make money, she adds: "In fact, me or the fellow vloggers I know, we're all crossing the river by feeling the stones."
Editor: Kevin Schoenmakers.
(Header image: Shi Yangkun/Sixth Tone)